Finally making the grade
Made in Dagenham didn't tell the whole story. John Bohanna takes up the tale, with pictures by Carlos Guarita

February 2011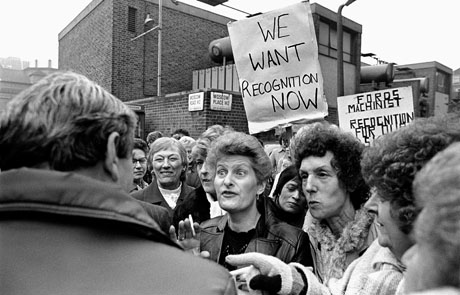 The 1968 strike

The 1968 strike of sewing machinists at Ford factories in both Dagenham, east London, and Halewood, Liverpool, began as a grading grievance. In 1967 a new grading system for all Ford hourly-paid workers was created. This placed the women on the least skilled production grade, receiving 15 per cent less than male workers on the same grade, simply because they were women.

The strike is remembered as an inspiration to other women trade unionists and a breakthrough in the campaign for equal pay legislation following the intervention of the employment secretary Barbara Castle. The Equal Pay Act, passed by Labour in 1970, became law in 1975 – after the defeat of the 1970-1974 Tory government.

The strike ended after three weeks with a deal that gave the women an immediate pay increase and eventual parity with men on the same grade. But the original grading grievance – that the sewing machinists were not on a skilled rate – remained a sore point until the memorable year of 1984. 

The 1984 strike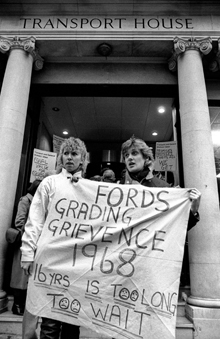 The sewing machinists did not forget this long injustice and in 1980 they began seriously to put right the unfairness by lodging once again the same grading grievance as in 1968. By 1984 they realised that they would not get the support they needed from the overwhelmingly male workforce and national union committees – they had to organise a strike themselves and then demand official backing. They succeeded in doing both. Their experience was documented in Making The Grade, an independent production by Open Eye Film, Video and Animation Workshop, which followed the unfinished business and the uneven support their struggle received.

By 1984 huge changes were being introduced to the car industry. For the women sewing machinists the decisive change was that men were being brought into sewing production. At the same time, the women were prevented from working elsewhere in the company. As late as 1984, an equal opportunities policy for women did not exist at Ford. Making the Grade shows a well-qualified woman machinist from Dagenham who had applied for 19 different staff administration jobs over a 20-year period without success.

The women were also being asked to repair their machines without an increase to skilled or semi-skilled rate. When they were offered Sunday work, they asked if it would that be at a skilled rate; when the company said 'no', they gave their own 'no' in response.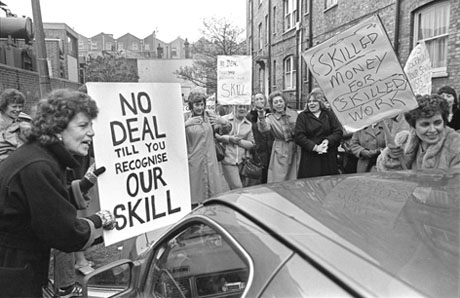 The strike lasted over Christmas 1984 and resulted in thousands of production workers being laid off. This was no different from countless lay-offs the women and many other workers experienced through other disputes that did not directly involve them, but it made many male workers angry. Some refused to support the women at all, and some were understanding about the justice of the argument but complained that the time was wrong. Only some of them were supportive, insisting 'if the workers are right – the time is right'.

Other unions showed anger with the women as well, because they couldn't finalise the annual agreement on wages and conditions due to the women's outstanding grading grievance. The official strike continued until an agreement to accept an independent inquiry to examine the dispute brought a return to work early in January 1985.

Through the inquiry the women at last won their grading grievance and recognition as the skilled workers they had always been. They had been robbed and discriminated against for many years in one of the biggest union organised workplaces in Britain.

 Their success was short lived, however. Ultimately, all of the sewing machinists' jobs were outsourced to another firm not far from Halewood. To add insult to injury, the local paper joyfully advertised the outsourcing as 'New jobs are coming to supply Ford Halewood!' This was itself challenged – but that's another story.
---
John Bohanna is a retired Ford worker and former shop steward at the Halewood plant
---
No comments yet. Be the first