For most companies, the more people have heard of them, the more successful they are. But for Bell Pottinger, one of the UK's most powerful PR firms, it's a problem if they make the headlines. It's their job to stay behind the scenes, managing other people's reputation disasters as they unfold. Things have gone awry when the PR company itself becomes the story.

In 2011, undercover journalists secretly recorded a meeting with Bell Pottinger. Posing as agents for the government of Uzbekistan, a brutal dictatorship responsible for killings, human rights violations and child labour, they claimed to be interested in the services the company was willing to offer for a £1 million fee. The Bell Pottinger executives boasted about their access to the prime minister and foreign secretary and their ability to use 'dark arts' to 'drown out' negative coverage of human rights violations and child labour: manipulating Google results, 'sorting' Wikipedia pages, creating ostensibly independent blogs and placing articles in the mainstream press.

Another tactic they claimed to employ to attack negative news stories was making official complaints to the Press Complaints Commission (PCC). True to their word, when this exposé was published in the Independent, Bell Pottinger reported it to the PCC, on the grounds that it was based on information obtained through subterfuge. The complaint was rejected, as the investigation was deemed to be of sufficient public interest to be reported.

This is not the only time Bell Pottinger has had its own reputation undermined. As the fracking debate heated to boiling point last summer, a member of Greenpeace armed with secret recording equipment spoke to a Bell Pottinger executive, who said, 'I know that everything I say sounds like utter fucking bullshit', and admitted that fracking wouldn't bring down energy prices – contrary to the company's public comments on the matter.

A recent Guardian interview with Lord Tim Bell – the Bell in Bell Pottinger – paints a seedy picture of the 'cigarette-fogged', leather-chaired office of the spin doctor who created media smoke screens for the dictators of Chile, Sri Lanka, Thailand, Belarus, Bahrain, Egypt and Syria, as well as the polluting oil company Trafigura and, most recently, the fracking company Cuadrilla. With close ties to the Conservatives, Bell Pottinger doesn't tend to side with lefties. After all, 'You don't want an advisor that doesn't agree with you', as Bell put it during the interview. Following three successful election campaigns for the Tories as Margaret Thatcher's advisor, Bell was knighted in 1990.
The UK has the second biggest PR and lobbying industry in the world, worth £7.5 billion. It is a powerful machine to throw a spanner into
In the Trafigura case, Bell Pottinger represented the oil company involved in one of the worst pollution disasters in recent history. Hundreds of tons of toxic oil waste was dumped in a densely populated area of the Ivory Coast, with devastating effects. Trafigura had been insisting for three years that its waste was 'absolutely not dangerous', but leaked internal emails revealed the company's knowledge of the toxicity levels from the outset.

Any journalist who tried to report this was gagged using legal threats and demands for the correction and removal of media articles and programmes. Yet Trafigura eventually paid out damages of more than £100 million in one of the biggest group actions in legal history, with British law firm Leigh Day representing 31,000 Africans injured by the spill.

Undercover recordings are one way to highlight Bell Pottinger's 'controversial' connections. Another is to superglue yourself to their front door, an action we and four others took as part of the Reclaim the Power action camp, on a day when fracking company Cuadrilla were hit from every possible angle: their drilling site in Balcombe, their Lichfield headquarters, their sidekick politicians – and their spin doctors Bell Pottinger. We stayed in place at Bell Pottinger HQ for five hours, blasting out the Greenpeace 'bullshit' recording on a megaphone to passers by before being removed by police and arrested.

Even if only for a day, we shed light on the threat that PR bodies such as Bell Pottinger pose to democracy. Lobbying the government to protect the fracking industry and misleading the public about prices affects society's ability to make informed choices about where our energy comes from. The UK has the second biggest PR and lobbying industry in the world, worth £7.5 billion. It is a powerful machine to throw a spanner into.

As we prepare for trial on 23-24 January at Westminster Court, charged with aggravated trespass and £4 of criminal damage for half an hour of a cleaner's time to wipe glue reside off the window, the battle continues between the filthy rich and those who campaign for an open democracy.

Bell Pottinger like to work behind the scenes, staying out of the limelight as other people's PR disasters unfold – or don't, if they're successful. But they must be held to account, thrust into the light for all to see. A PR disaster of its own is the last thing the company wants. As industry magazine PR Week pointed out: 'The Reclaim the Power protesters who superglued themselves to Bell Pottinger's front door on Monday did little more than make a nuisance of themselves... The damage done to the firm by the PR agency becoming the story is another matter.'
---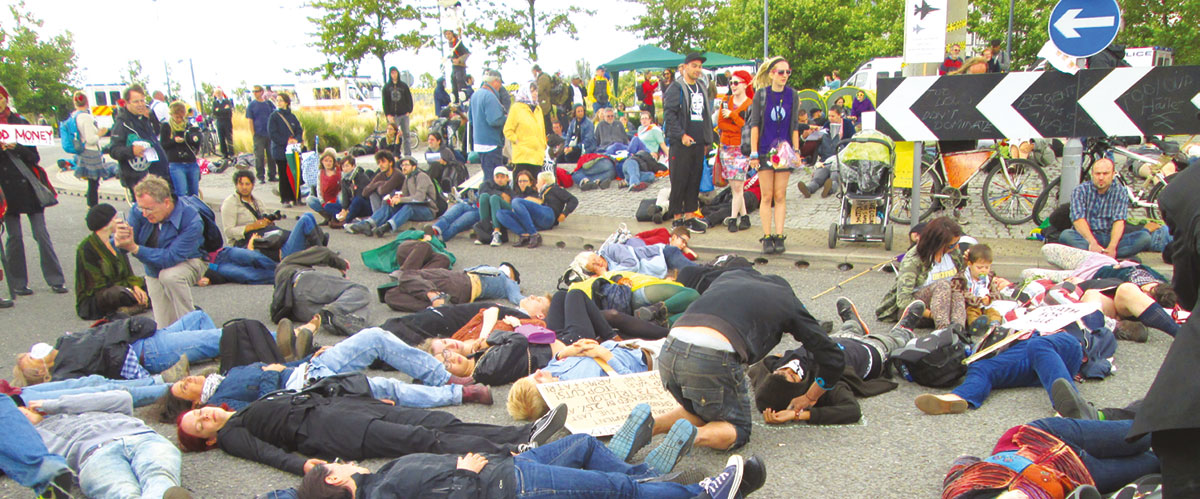 Andrew Smith writes about the campaign against London's biennial arms fair and ending the worldwide arms trade