25 November 2014:

Protestors in Ferguson have posted an open letter after a grand jury decided not to indict police officer Darren Wilson for the fatal shooting of unarmed 18-year old Michael Brown back in August 2014

The message, in its entirety, has been posted below.
The Results Are In. An Open Letter from Protestors On The Grand Jury Decision (11.24.14)

In Ferguson, a wound bleeds.

For 108 days, we have been in a state of prolonged and protracted grief. In that time, we have found community with one another, bonding together as family around the simple notion that our love for our community compels us to fight for our community. We have had no choice but to cling together in hope, faith, love, and indomitable determination to capture that ever-escaping reality of justice.

After 108 days, that bleeding wound has been reopened, salt poured in, insult added to the deepest of injury. On August 9th, we found ourselves pushed into unknown territory, learning day by day, minute by minute, to lead and support a movement bigger than ourselves, the most important of our lifetime. We were indeed unprepared to begin with, and even in our maturation through these 108 days, we find ourselves reinjured, continually heartbroken, and robbed of even the remote possibility of judicial resolution. A life has been violently taken before it could barely begin. In this moment, we know, beyond any doubt, that no one will be held accountable within the confines of a system to which we were taught to pledge allegiance. The very hands with which we pledged that allegiance were not enough to save Mike in surrender.

Once again, in our community, in our country, that pledge has returned to us void.

For 108 days, we have continuously been admonished that we should "let the system work," and wait to see what the results are.

The results are in.

And we still don't have justice.

This fight for the dignity of our people, for the importance of our lives, for the protection of our children, is one that did not begin Michael's murder and will not end with this announcement. The 'system' you have told us to rely on has kept us on the margins of society. This system has housed us in her worst homes, educated our children in her worst schools, locked up our men at disproportionate rates and shamed our women for receiving the support they need to be our mothers. This system you have admonished us to believe in has consistently, unfailingly, and unabashedly let us down and kicked us out, time and time again.

This same system in which you've told us to trust - this same system meant to serve and protect citizens - has once again killed two more of our unarmed brothers: Walking up a staircase and shot down in cold blood, we fight for Akai Gurley; Playing with a toy after police had been warned that he held a bb gun and not a real gun at only twelve years old, we fight for Tamir Rice.

So you will likely ask yourself, now that the announcement has been made, why we will still take to the streets? Why we will still raise our voices to protect our community? Why will still cry tears of heartbreak and sing songs of determination?

We will continue to struggle because without struggle, there is no progress.

We will continue to disrupt life, because without disruption we fear for our lives.

We will continue because Assata reminds us daily that "it is our duty to fight for freedom. It is our duty to win. We must love and support one another. We have nothing to lose but our chains."

Those chains have bound us-all of us- up for too long. And do not be mistaken- if one of us is bound, we all are. We are, altogether, bound up in a system that continues to treat some men better than others. A system that preserves some and disregards others. A system that protects the rights of some and does not guard the rights of all.

And until this system is dismantled, until the status quo that deems us less valuable than others is no longer acceptable or profitable, we will struggle. We will fight. We will protest.

Grief, even in its most righteous state, cannot last forever. No community can sustain itself this way.

So we still continue to stand for progress, and stand alongside anyone who will make a personal investment in ending our grief and will take a personal stake in achieving justice.

We march on with purpose. The work continues. This is not a moment but a movement. The movement lives.

This letter was written and signed by numerous protestors and supporters, too many to list. Permission is granted in advance for reproduction by all outlets.
---
20 November 2014:

Saturday 22 November marks the 10th anniversary of the annual march to reclaim the streets for women. Stefano Fumagalli reports.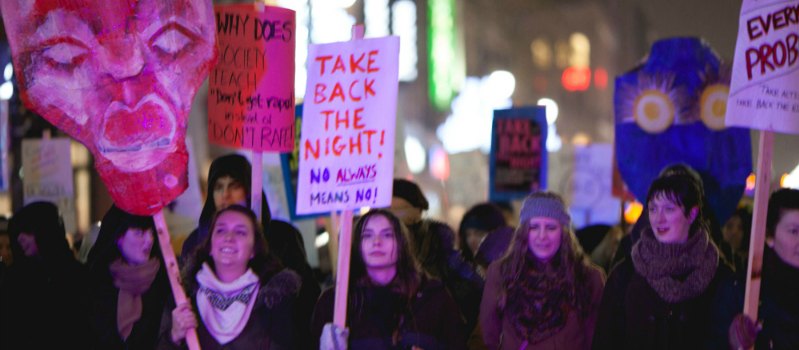 Reclaim the Night is a women-only* march that shouts NO to rape and all forms of male violence against women. Participants march for the same reasons today as in the seventies.

In January 2013 it was reported (by the Ministry of Justice, the ONS and the Home Office) that approximately 85,000 women are raped on average in England and Wales every year; that over 400,000 women are sexually assaulted; and that 1 in 5 women has experienced some form of sexual violence since the age of 16. The report also stated that around 90 per cent of victims of the most serious sexual offences knew the perpetrator.

Jo Bagshaw, a Reclaim the Night organiser, said: 'The problem is endemic in our society and is often hidden behind closed doors. The march is important because we bring it out into the open.'


The Reclaim the Night march aims to give women a voice and insists women should be allowed to feel safe in the streets, especially at night. A survey by the young women's magazine More in 2005 found that 95 per cent of women feel unsafe on the streets at night and 65 per cent during the day.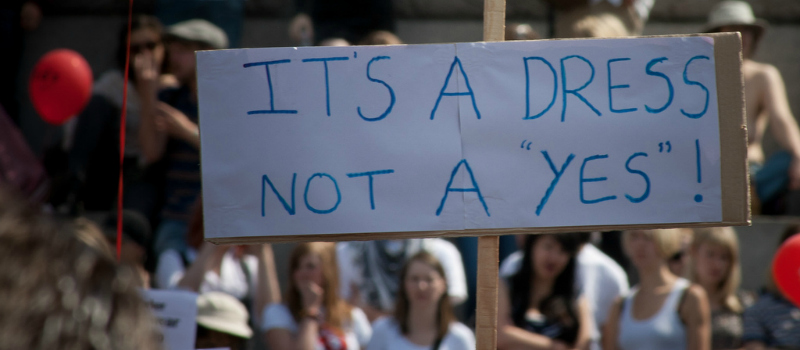 (image by roga muffin on Flickr.com)

Sarah Bell, also one of the organisers said: 'Traditionally women are expected to only take to the streets at night with a male chaperone. RTN totally rejects this and provides a safe women only space and demands this be the norm.' 


Now in its 10th year in London, the event will take place on 22 November at 6pm, starting at Whitehall Place and marching to the Camden Centre where there will be a rally and a party. Although the event is for self-identifying women only, men can support or join the final mixed rally.

Bagshaw added; 'Sadly the problem does not seem to be getting any better as conviction rates are still low, victim blaming still happens and women suffer abuse daily in this country and abroad. Misogyny is rife on the internet which will only perpetuate the problem as young men learn the behaviour of abusers.'

'As feminist activists we will not stop until women are free from the threat of male violence and sexual violence.'

* The march is open to self-identifying women; all colours, cultures, ages, disabled and non-disabled, heterosexual, lesbians, trans women, bisexual women, refugee and asylum-seeking women welcome.

Marches are planned for London, Newcastle, Belfast, Dundee, Sheffield and more, find your nearest March.

Top image by Howl Arts Collective on flickr.com


---
18 November 2014:

Why I'm not just marching against fees but against all student debt. By Fanny Malinen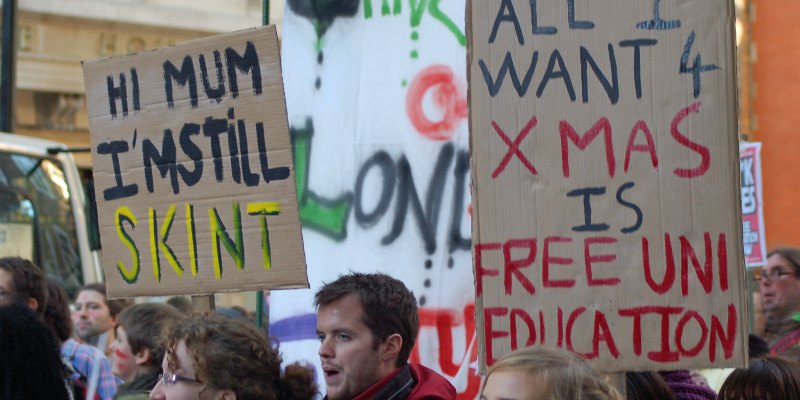 Next summer, the class of 2015 will proudly wear their graduation gowns. As the first generation to finish a 3-year university course since the trebling of tuition fees in England and Wales, they will enter their brave new futures with an average of over £40,000 of debt. That is nearly 80% more than for those who studied before the £9,000 tuition fee cap.

The statistics are grim: most graduates will be paying their debts into their 40s and even 50s, adding an extra burden at the time they are likely to have children and be paying off mortgages. An estimated 60 per cent will never pay their loans back in full before the remaining amount is written off after 30 years; this compares to a 15 per cent when the write-off time 25 years. If that is not enough, a real interest rate that varies between 0 and 3 per cent was introduced with the student loan reforms that came into place with the new university funding system in 2012.

Student loan repayments are income-contingent: that means they are fixed-rate deductions of salary once it exceeds a certain threshold. That threshold was raised from around £16,000 to £21,000, the government arguing that no prospective students would be held back by raised fees because they would not need to pay them unless they earned enough.

The bonds of debt that shape graduates' lives

The government's argument is based on the understanding of debt as an economic burden, not a social relation. It is not the case that debt only affects people when it affects them financially. There are other issues to consider, for example, to what extent does the prospect of repayment dictate graduates' life choices?

Debt and the commodification it brings about dictates the type of knowledge that is valued and produced in society. Applications for social sciences saw a decline after 2012, and so did arts and languages. Degrees are becoming a commodity, subject to a cost-benefit analysis at the point of application: should I follow my passion or instead go for a safer option that will get me a job? Or should I opt out of higher education completely?

The UK government's austerity agenda forms a direct continuum with three decades of neoliberal policies worldwide. They steer society away from critical thinking and into the realm of hard, money-making business - it is hardly a coincidence that the higher education reforms were the first austerity measures the coalition announced in 2010.

Sinister as it sounds, the political nature of the changes is demonstrated by the fact that they are already failing after only a few years. The estimated non-repayment ratio of student loans, now at 45 per cent, has been rising since the implementation of the reforms and is only a few percentage points from where they have cost more than the system they replaced. Many departments, especially those of arts, humanities and languages, are struggling. It is also important to note that while academic and support staff's real wages have been declining for five years now, managers have benefited. Marketing has become a vital part of higher education institutions and outsourcing of services is increasing. The austerity and privatisation agenda has winners, despite the majority being at the losing end.

There are alternatives

It is crucial to recognise that a different approach to higher education exists; one that recognises the intrinsic value of learning. Germany recently scrapped tuition fees due to popular resistance and Scotland has maintained free education for home students. Nordic countries too not only subsidise education but offer grants for students. This means levels of maintenance loans are much lower, and truly enables young people from all backgrounds to access university. Students are under less time pressure to complete their degrees, and can freely explore their interests in a range of subjects.

These countries fund their public services with higher levels of and more progressive taxation. With the austerity agenda failing as it was always set to, it is clearer than ever that Britain needs real alternatives to level out inequality in both income terms and socially. Scrapping tuition fees could reverse the trend of growing inequality and open up opportunities for those who now can only dream of higher education; it could also transform academia from the current consumer mindset of students towards critical thinking and feeding imagination, thereby fostering much needed systemic change.

For the latest on the national student demonstration, 19 November, visit the website of the National Campaign Against Fees and Cuts
---
18 November 2014:

Plus an excellent FREE book worth £12.99 when you buy a gift subscription this year.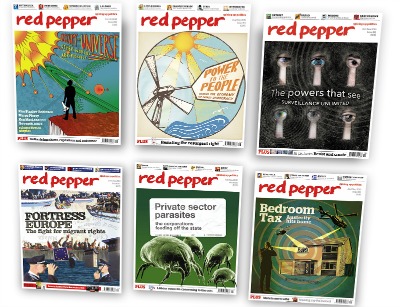 The perfect present for anyone who wants a more just and sustainable world. Don't waste money on the usual festive tat,  give them something that will last all year - give them a subscription to Red Pepper.

Recipients will receive the bi-monthly magazine containing events, competitions, analysis and debate, covering everything from the struggle against austerity, to inspiring environmental projects from around the world.

"Red Pepper helps us make sense of the world and imagine a better one" -  Owen Jones.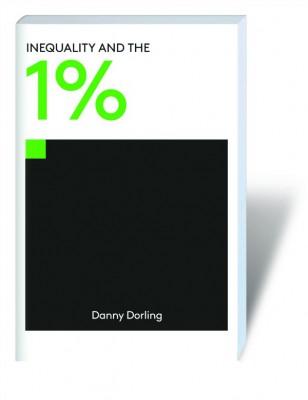 In addition, they will also receive a copy of Danny Dorling's latest book, 'Inequality and the 1%' - essential reading for anyone with an interest in radical politics. This powerful, timely book from Verso Books shows how inequality is about more than just economics, and calls for a 'slow revolution' against the 1%.

"Dorling asks questions about inequality that fast become answerable  can we afford the superrich? Can society prosper? Can we realise our potential?" - Zoe Williams, Guardian.

A gift subscription costs just £29, but hurry, you must place your order by Wednesday 17 December for delivery before Christmas.
---
12 November 2014:

We are looking for an enthusiastic and organised person to join our team of staff and volunteers.

2014 marks the 20th anniversary of Red Pepper magazine - it is an exciting time to get involved with us! Red Pepper magazine needs a new Red Pepper Coordinator.

£25,000 per annum, three days a week (flexibility with days), based in our London office.

The role of Red Pepper Coordinator has become vacant due to our current Coordinator leaving in January 2015. This role will now also include subscriptions management because we have recently brought our subscriptions in-house. This means that we are looking for someone that has the necessary skills and experience of fulfilling both these key areas.

Although the two areas do overlap in some respects, we estimate that you will spend two days a week on coordinator tasks, and one day a week on the subscriptions management tasks, and try to keep the two workloads fairly separate.

Please find below links to the job description and person specification, the application form and our equal opportunities and monitoring form.

If you would like to apply, please complete and return the application form (a CV is not an acceptable alternative) by Wednesday 10 December. We would be grateful if you could also return the Equal Opportunities monitoring form, although you are under no obligation to do so.

Please send your application as an attachment in an email to Kitty Webster at kitty [@] redpepper.org.uk with 'Red Pepper Coordinator application' in the subject line.

Red Pepper promotes equal opportunities and actively encourage women and BAME candidates to apply.

Deadline for applications: 6pm Wednesday 10 December 2014
---
11 November 2014:

Ahead of its first meeting this weekend, Ted Knight makes the case for the South London Borough's community assembly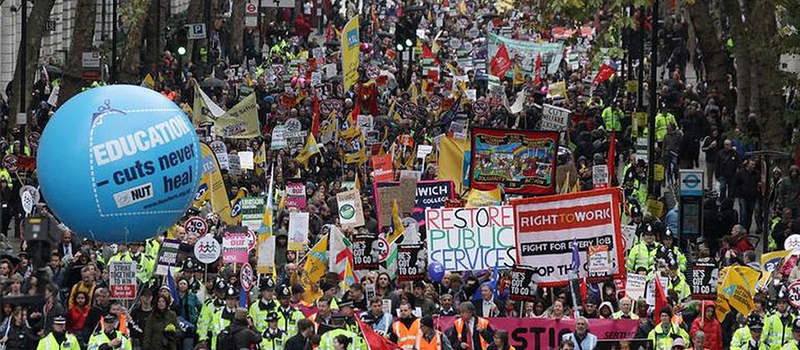 The rise of UKIP in the European elections this summer—confirmed at recent by-elections in Kent and Manchester—is the starkest indication yet that the present political system is dying on its feet. The three major parties find it increasingly difficult to differentiate themselves from each other, reinforcing what can fairly be termed as a crisis of democracy.

Increasing numbers of people are alienated from a politics that is too often regarded as self-serving and unrepresentative. This is no small matter for working people, who were at the forefront of the struggle for political representation through the vote in the 19th century and the building of the Labour Party in the 20th.

In this light, Croydon Trades Union Council decided to sponsor an assembly, taking place on Saturday, November 15 (10am-4.30pm). The aim is to give local trade unionists, activists, environmentalists, community groups and campaigners across the board an independent, collective voice. They are being invited to take part in a working organisation: a gathering that goes beyond simply sharing the disturbing experiences of life in Cameron's Britain.

The all-day event will be built around working groups, while guest speakers will be asked to set out the challenges we face in building a movement for change. John McDonnell MP, Mark Serwotka (General Secretary, PCS Union), Philipa Harvey (NUT) and Nero Ughwujabo (Croydon Black and Ethnic Minority Forum) will be among those on the platform.

We want people to participate fully in developing policy ideas and strategies that go further than the usual shopping lists. The plan is that the working groups will continue to meet after November 15 and take their ideas into the broader community. The assembly is designed to give working people confidence in their ability to create change for themselves.

The Scottish independence referendum showed a massive appetite for debate and discussion when people saw they had a possibility of changing an entire political framework. Initiatives such as ours, together with the People's Assembly Against Austerity and movements like Occupy, can help towards bringing about the fairer, more democratic society we all want.

Please lend the assembly your support, whether you live in the borough or not.

Croydon Assembly: 10.00am - 4.30pm, Saturday November 15, 2014

Ruskin House, 23 Coombe Road, CR0 1BD

To register interest, sign up on Facebook or register on Eventbrite

Ted Knight is an executive member of Croydon Trades Union Council; picture credit BBC
---
6 November 2014:

The Scottsboro Boys is a musical with a difference - an all singing, all dancing show about racism in 1930s America
Following its sell out, award-winning season at the Young Vic, the critically acclaimed The Scottsboro Boys transfers to the West End for a strictly limited season.

Step right up and jump on board for this sensational musical which brings to life the extraordinary true story of nine black teenagers, in a case that changed history forever.

In 1931 nine black youths, who are on a train on the Southern Railway line between Chattanooga and Memphis, are hauled off and accused of raping two white women. In those days of rough justice, the youths were swiftly tried, convicted and sentenced to death.

Winner of the Critics' Circle Best Musical Award 2013 and nominated for 6 Olivier Awards, don't miss this all-singing, all-dancing, exhilarating and bold new musical.

The play is showing until 21 February 2015 at the Garrick Theatre, in London.

To get your hands on a pair of free tickets just email kitty@redpepper.org.uk with the subject line SCOTTSBORO by 24 November to be in with a chance of winning.*



*Tickets valid for Monday-Thursday performances, subject to availability, until 31st December (excluding week of 22 December). There is no cash alternative to the prizes, they are non-refundable and non-transferable and not for resale.
---
5 November 2014:

Andrew Smith and Matthew Burnett-Stuart from Campaign Against Arms Trade look at the role of arms companies in World War One and how they are trying to exploit Remembrance Day.
There are few industries with as much to be ashamed of as the arms trade. It is a trade that for generations has profiteered from grotesque human rights abuses and deadly wars and conflicts. Every year its weapons facilitate the deaths of hundreds of thousands of people, as it hands over extortionate profits and dividends to rich businessmen that appear to care little for the damage done by their wars.

As the nation marks Remembrance Day you might expect that if there is one industry that should be keeping a low profile it's the arms trade.

Unfortunately not. Despite its history of war profiteering it has only been too happy to exploit the legacy of those who have died in conflicts and to brazenly associate itself with the annual memorials.

One arms company that has a long and inglorious history of arming some of the world's most brutal dictatorships, Thales, has taken the opportunity to brand the entrance of Westminster underground station with a poppy covered billboard.

Lockheed Martin, the world's biggest arms company, is the main sponsor of the British Legion Young Professionals' Poppy Rocks event. Unfortunately this is far from the first time that the Legion has taken money from the arms trade. The UK's biggest arms company, BAE Systems, has been a long-standing 'supporter'. In the past it has sponsored national poppy appeals and donated to fund-raising drives. It's influence is still there, but now it keep a lower profile. This year they will be sponsoring the annual Poppy Ball white tie dinner, and specific offices and arms factories will be hosting their own local events.

The Legion has been co-opted for the interests of the arms trade before. In 2012 a newspaper investigation forced the then president of the Legion, Lieutenant General Sir John Kiszely, to resign over allegations that former commanders were using their connections to lobby on behalf of arms companies. Kiszely himself told an undercover reporter, who was pretending to work for a South Korean arms company, that the annual Remembrance Day ceremony was a 'tremendous networking opportunity' before boasting of the access it gave him to powerful people.

Arms companies and World War One

All of these companies would rather we ignored the role their industry has played in enabling war, both during World War One and in subsequent conflicts.

The Arming All Sides project exposes the hidden history of World War One. It tells of how a global network of arms companies fuelled war by selling a new generation of advanced weapons to anyone who would pay for them.

It was this drive for profits at all costs that led British arms companies, Armstrong and Vickers - which later merged to become BAE - to sell weapons to the Ottoman Empire that would soon be turned on British soldiers.

Moreover, as international tensions created new business opportunities, some arms companies purposely created war scares in order to increase the arms race. For example, Herbert Mulliner, director of Coventry Ordnance Works, persuaded the British government in 1909, with the support of the Daily Mail, that Germany was secretly accelerating its naval programme. The scare stimulated massive naval expenditure and created an atmosphere of mutual suspicion, making war more likely. Even Winston Churchill later accepted that the claims were entirely false.

World War One was shaped by weapons. It was the first global conflict since the industrial revolution, and the new generation of mechanised arms led to devastating casualties. Attempts had been made to ban Chemical Warfare as early as 1899, but the arms trade persevered, and gas killed 25,000 on the Western front alone.

It's for this reason that the tragedies of the time should never be forgotten, let alone airbrushed over by an arms trade that is trying to give the impression of legitimacy.

The arms trade and public spaces

It is not just Remembrance Day that arms companies seek to exploit, it's also other major civic events. Only last month Guildford Borough Council took the unusual step of suspending its own ethical sponsorship policy in order to allow it to take money from arms companies for Armed Forced Day in 2015. Likewise, this year drone company Selex ES was among the main sponsors of the Commonwealth Games in Glasgow.

Arms companies have also been more than happy to associate themselves with some of the country's best known museums and attractions. The last few years alone have seen the Science Museum, London Transport Museum, National Gallery and Edinburgh Science Festival among those that have taken money from the arms trade.

Arms companies do not do this because they care about the war dead, or because they want to promote art and culture. They do it because it is good for their business. By agreeing to take money from arms companies these organisations are giving practical support and a veneer of credibility to an industry that profits from the same war and repression that they seek to commemorate.

Andrew and Matt are spokespeople for Campaign Against Arms Trade. You can follow CAAT on Twitter at @wwwcaatorguk


---
3 November 2014:

The most vulnerable patients already attend too little, not too much, and don't need to be made to feel more guilty about what they are costing the NHS. Dr. Jonathan Tomlinson writes.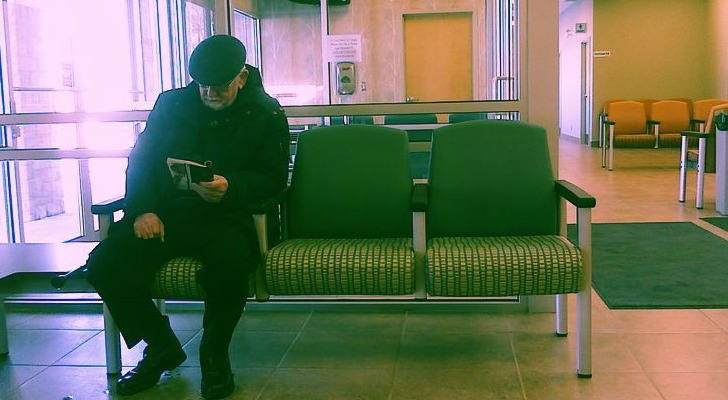 Tory MP Jesse Norman last week proposed that we should send everyone who uses the NHS an Annual Healthcare Statement. The statement would show them how much they have cost the NHS and 'by implication the value of NHS services'. It is designed, it says, to dissuade people from presenting to hospital or GP surgeries unnecessarily. The report also suggests 'more incentives' could be added in the future.

Fear that a free NHS would result in overwhelming demand has been around since the very idea of an NHS arose. It's an idea that has been superbly deconstructed by Julian Tudor Hart. Politicians and economists couldn't believe that free healthcare wouldn't result in unsustainable demand. In a panic they introduced prescription charges, which led to Nye Bevan's resignation. But in fact:

'In 1951 the first postwar Conservative government set up a Royal Commission to measure abuse and extravagance. After painstaking studies the Guillebaud Commission found no evidence of either, only hard-working staff and stoical patients, underfunded and lacking investment.

Study of a poor inner city area in the early 1970s showed that for each person who consulted with a minor problem, more than two others failed to consult at all, despite recent severe or worrying symptoms. Contrary to subjective impressions of overworked doctors, fear and denial of illness were more powerful than avidity for free consultations. Despite free universal access to the NHS, for most important chronic conditions less than half are medically recognised, of which roughly half are treated, and roughly half of these are controlled. Far from expecting infinitely, NHS patients expect too little.'

The most vulnerable patients already fear that they are a burden on the NHS. As a result they attend too little. Or they fail to attend because they are feeling ashamed, or even when they are feeling too unwell. Parents of young children struggle too, feeling 'strongly influenced by a sense of responsibility to act as competent parents and the fear of overwhelming guilt should they fail to do so'.

I have had a patient present with a breast cancer that had almost completely destroyed one breast, another that had a stroke but waited 3 days until they could see me, instead of going to A&E, another who ended up on a ventilator because she thought she was wasting NHS resources because her asthma is so difficult to control.

For the last two years GPs have been required to review all their patients who attend out of hours, A&E and the GP surgery frequently in order to try to identify whether they can be better cared for. The majority of patients who attend frequently are very sick, with, for example, severe heart, lung or neurological diseases, often requiring admission for intensive care.

Others have serious mental illnesses, sometimes compounded by illicit drug or alcohol use.

Under Jesse Norman's proposal those who require the most intensive care would be presented with by far the highest bills. I can think of one patient who spent 6 months in hospitals with recurrent perforations of his intestine due to his Crohn's disease.

What is an emergency?

There are certain groups of patients who attend frequently, who on superficial analysis might be assumed to be attending inappropriately. Some of them are suffering from 'medically unexplained symptoms'. These are physical symptoms like chest and abdominal pain, headaches, blurred vision, numbness and tingling, weakness and so on. In some cases they represent serious, difficult to diagnose disease, and in other cases the symptoms are a manifestation of unresolved and often unresolvable psychological pain.

Other groups that frequently attend are patients who are extremely anxious, those that are suffering domestic violence, those that have been abused and the very lonely. Experienced GP John Launer has asked, 'What is an emergency?' He recalls diagnosing a child with meningitis who appeared, at the time they came into his surgery, entirely well. He continues,

'I will happily accept having seen tens of thousands of mildly snotty toddlers over the years, giving their anxious parents a bit of friendly advice and education, and seeing them on their way in less than 5 min. We cannot, in other words, preach the importance of our own expertise and at the same time berate people for making use of it.'

Jesse Norman said to me that it was 'easy to see a GP reviewing a statement with a very vulnerable patient and encouraging better use with better outcomes'. He said that it would be 'especially valuable to the most vulnerable patients'.

When we meet with our most vulnerable patients, we spend the time trying to work out how best to help them. Usually we know them very well, because they come to their GP a lot as well. I have a pretty good idea about the impact of an Annual Statement. It will almost certainly add to their sense of being a burden on society and the NHS, something that they already feel. It will add to the anxiety parents of young children feel when they try to identify the goldilocks zone where their child is sick enough to warrant medical advice, but not so sick that they've left it too late.

It will encourage a superficial view of healthcare as a commodity, rather than care as something complex that happens between people. Something recorded as a minor illness on a hospital letter happens to someone with a history and a home-life, hopes and fears.

Once you start to understand these, you might come to the conclusion that there's no such thing as a trivial consultation.

Jonathan Tomlinson is a Hackney-based GP. He blogs at A Better NHS. This article was first published on Open Democracy's Our NHS section. Photo by Sharon Drummond on flickr.com
---
28 October 2014:

Sophie Baumert explains how a year of student campaigning caused the University of Glasgow to divest from the fossil fuel industry.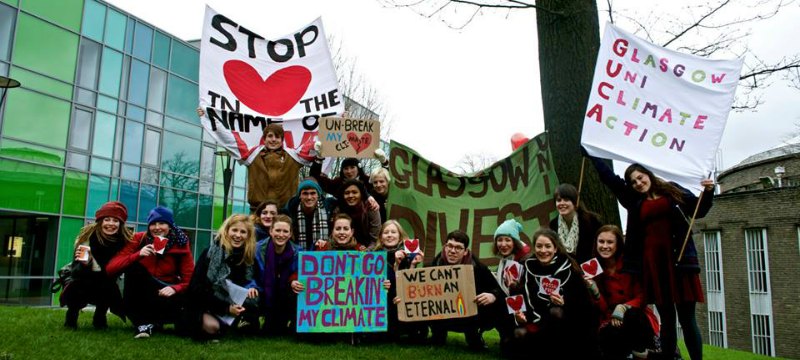 On October 8, we became the first university in Europe to stop investing money in companies like Shell, BP and Chevron, due to their role in driving climate change by unearthing more fossil fuels than the Earth's atmosphere can safely absorb.

Bill McKibben's movie 'Do the Math' inspired us to launch our own fossil free campaign and we started with a petition to gather student support. Throughout the year we organised a panel discussion, hosted film screenings and published articles in student media. We held regular actions on campus, staging fake oil spills and dropping banners from university buildings. Gaining a public profile for the campaign meant that we had more power to leverage with the university. With more at stake, we were taken more seriously.

Our first small win came when we convinced our Student Representative Council (SRC) to present our cause to the University Court, the decision-making body for financial management. This meant our proposal would be officially considered by the university! When the SRC brought our motion forward to the University Court, a working group was founded to inform itself about divestment and share its conclusions with the court.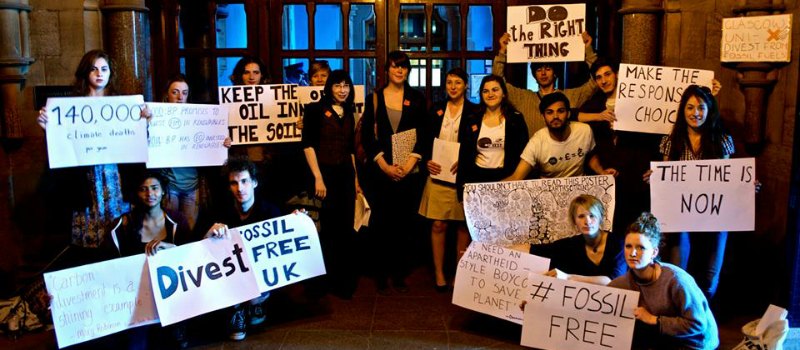 To have any real chance of being successful, we knew that we had to convince this working group. So we worked day and night to adapt a very extensive research document on climate change and arguments for divestment from a Canadian (Thanks 350.org Toronto!) into a UK context. This was extremely labour-intensive, but in March we were able to hand over the document, along with our petition, to the Secretary of Court.

Unfortunately the court delayed the decision due to unanswered questions on divestment. This was devastating. The next session was due in October, giving us very little time after the start of term in late September to build up momentum.

When the time finally came, we had to do everything at once. After quickly training up our new team members, we created public pressure by holding a demonstration, issuing press releases, and telling everyone to flood the university's social media accounts. At this point we were unable to approach decision-makers directly, this was taken out of our hands.

But the University of Glasgow proved that it was not deaf to its students' concerns about climate change and their university's role in it. It took a committed stance and extended its response to climate change to the management of the university's finances.

The minutes published by the Glasgow University Court reveal that we won the campaign on our moral argument. The minutes state that, '[The Working Group] supported the ethical case for disinvesting from the fossil fuel extraction industry... the group had been strongly persuaded by the quality of the arguments presented.'

Very often, divestment campaigns lose traction by getting sucked into financial arguments. Considering the fact that 80 per cent of proven fossil fuel reserves have to stay underground in order to avoid the most dangerous effects of climate change, the fossil fuel industry's net worth is overvalued. Divesting from fossil fuels is therefore financially prudent. But financial arguments are not where our power as a movement lies. It's wrong to profit from wrecking the climate – that's the reason for our campaign, and that's what we should be arguing about.

Photos by Laurie King
---