5 October 2015:

Ireland's movement against water charges is being criminalised by a nervous state, writes Oliver Eagleton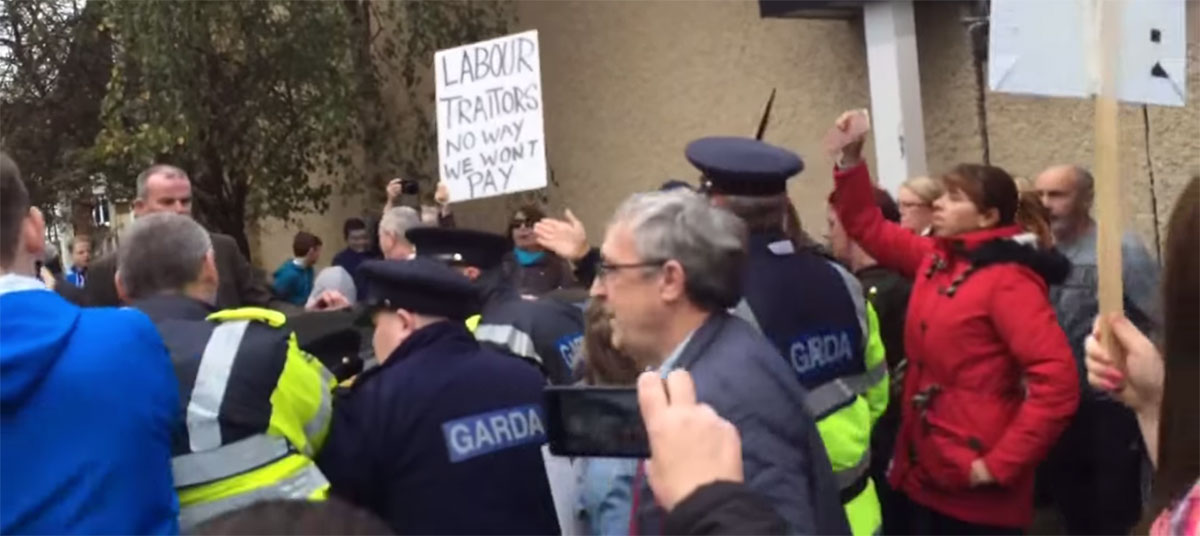 A still from a Youtube video of the Jobstown protest

Anti-austerity protesters in Ireland are facing possible life imprisonment as the state cracks down on the huge non-payment movement against water charges.

The 'Jobstown 23' were charged over their involvement in a sit-down protest that saw Joan Burton – leader of the Labour Party – delayed in her car in the West Dublin suburb of Jobstown in November last year. The angry protesters in the historically pro-Labour area called her a 'traitor' over Labour's support for austerity and the water charges as part of the current coalition government.

Back in February, those involved in the Jobstown protest were arrested in a series of dawn raids, with protesters including the Anti-Austerity Alliance TD (MP) Paul Murphy apprehended by up to 10 police officers. They now face trial for 'false imprisonment' – an offense which carries a maximum sentence of life.

Despite Labour collapsing in the polls and provoking past supporters into acts of civil disobedience, it has not relented on its stance. Instead the attitude to the Jobstown protesters is just one of the government's attempts at overt suppression of the movement. One politician from centre-right party Fine Gael, the other part of the government coalition, has even stated that Ireland is 'facing an ISIS situation' from the protesters.

There is now, for example, a court injunction banning protesting within 20 metres of a water meter installation. Five demonstrators found to have violated this ruling have been given jail sentences ranging from 28 to 56 days. The United Left's Joan Collins has been charged with contravention of the Public Order Act for her participation in an anti-austerity protest, where it is alleged she caused 'apprehension for the safety of persons and property' by 'loitering in a public place'. In Collins' own words, 'I was simply standing on a public footpath.'

A Dublin-based Garda (police) team named Operation Mizen has, according to the Irish Daily Mail, 'spent six months monitoring protesters, compiling profiles and gathering intelligence on their whereabouts', as well as 'closely monitor[ing] social media and track[ing]…the leaders' of the anti-austerity movement. The unit is set to be expanded nationwide.

The government has tried to brush aside accusations that this adds up to 'political policing'. Yet it has emerged that Garda commissioner Nóirín O'Sullivan questioned candidates for the position of deputy commissioner about their views on 'left-wing extremism', 'left-wing politicians', and the Jobstown protest. One interviewee, assistant commissioner John Finton Fanning, said he was 'uncomfortable' at this infringement on his legal obligation to remain politically unaffiliated. He was later told he did not have 'the breadth of strategic thinking' necessary for the job.

Police have even denied the Anti-Austerity Alliance a permit to collect donations door-to-door in Dublin, on the grounds that the funds 'would be used in such a manner as to encourage…the commission of an unlawful act'. Paul Murphy told The Irish Times, 'the Gardaí are acting in an overtly political manner to decide what the Anti-Austerity Alliance can and cannot campaign for'.

With 57 per cent of households yet to pay their water charges, it is clear why the coalition government has launched this campaign of intimidation, spying and criminalisation of protest. But with a turnout of 100,000 at Dublin's last anti-austerity march, it is equally clear that these tactics are counterproductive. Our task is to make their failure manifest at the 2016 election, and exonerate the victims of politically-motivated policing.


---
28 September 2015:

Leeds TIDAL invite you to join them on 30-31 October to help to build a different story for global justice


Building a Different Story is a night and a day of workshops, speakers, art, kids activities, food, film and inspiration on 30 and 31 October at Woodhouse Community Centre in Leeds.

What's on?

Here's a little taste of what's to come...





Zimbabwean poet, Dumi Senda, discussing the power of the spoken word in building a different story against the status quo



The Truth about the Transatlantic Trade and Investment Partnership - Book Launch with guest author Gabriel Siles-Brugge



Black Lives Matter in the fight against climate change – from colonial legacy in India to droughts in Kenya, why climate change is an issue of racial justice



Beautiful trouble – building a different story through artful resistance with Dan Glass



Occupation and migration – how the Boycott, Divestment and Sanctions movement and recent #RefugeesWelcome campaigns are shaking up stories



We are not to blame for austerity with the Poverty Truth Challenge – real stories of living with austerity in Leeds



Fracking coming to South Leeds?! Busting myths and fighting back





Why 'Building a Different Story'?

There are a lot of words being thrown around in the media, on the bus and in the pub. 'Benefit scroungers'. 'Environmental extremists'. 'Migration crisis'. There is a story being told that the people are to blame for austerity, climate change and economic crisis. We all know another story.

We know a story where the rich and powerful stole from the poor. Where the people that caused the collapse of the banks are the ones profiting from austerity.

But we can build a different story. That's what this gathering is for.

In Leeds and around the country people are building a story of sharing economies, pay-as-you-feel cafés, solidarity and resistance. Stories where migrants are welcomed with open arms and deportations are fought tooth and nail.

We are building a future of community gardens, where you can feel healthier and eat the food you grow. We are building cooperatives, where we all share in the profits of our labour. We are building a story with social justice at its heart. A story where people are celebrated and not forgotten. A story that builds bridges.

Tidal holds global justice gatherings like this every couple of years, and love the opportunity to come together as a movement. One local Palestine solidarity campaigner came to the last event and said:

"Doing Palestine Solidarity campaigning I see the same group of people all the time, so it's good to come together so you don't feel like you're isolated or on your own"

Join us in Leeds to shake up the stories we're told and build new ones for a more just and sustainable world.

See you there!

P.S. We'd love some help! If you'd like to volunteer to help with cooking delicious pay-as-you-feel lunch, running kids activities or getting people registered we'd be ever grateful.
---
24 September 2015:

An International Summer School brought union activists and leaders together to discuss the big questions facing the trade union movement. Celia Mather reports

How many people, even those who are union members, know anything much about what the trade unions do internationally? Dipping into union branch pockets to donate a few pounds to a solidarity campaign is one thing. But are the unions – here in the UK and across the world – doing enough to respond to and mobilise the energy of the working class, particularly the young who are fearful of the decades ahead and agitating to create something vastly better for themselves and everyone?

For the past four years the Global Labour Institute (GLI) has been running an International Summer School to stimulate greater discussion and interaction among trade unionists internationally. Held at the workers' education venue Northern College in South Yorkshire, it brings together young trade union activists from across the world with a number of highly experienced trade union leaders, along with representatives from other types of workers' organisations and a smattering of labour educators and researchers. Over five days they get to discuss the key issues of our times and how the trade union movement is – or should be – responding.

Democracy at work

The first International Summer School was held in 2012, and there have been three more each July since then. At each one, some 100 participants from more than 30 countries attend. As the word has spread, more are keen to be there, but the GLI keeps the number limited so that real, lively interactions can take place. They also restrict the number of British participants, so the school stays truly international. From among the global unions, the 2015 school had leaders and activists from the food workers' IUF, building and woodworkers' BWI, transport workers' ITF, service workers' UNI, public sector workers' PSI, and domestic workers' IDWF.

For those who are not in the room, there is live video streaming, blog posts, and a Twitter feed. Each year, the GLI has been extending the social media reach of the school, working closely with Union Solidarity International. For 2015, it was estimated to be over 200,000.

There's no big financial backing. This does mean that the school can only run in one language, English. Meanwhile, Unite in the UK pays for the accommodation and meals at the college. Some other unions let their officers contribute in-kind help with organising the event. The school could not happen without voluntary support from friends and colleagues too.

One important thing is how the week is run. While each day there are presentations and panel discussions by people with experience on particular subjects, there is no way that those higher up the hierarchy are there to tell the others what to think, say or do. Rather, a key aim is to put the younger activists at the heart of the week. It is a chance for them to gain confidence in the issues, learn more about the international activities in which their unions are involved, and put forward their ideas for what needs to be done better to union leaders who come because they are prepared to listen. All through each day, the meeting breaks off into dynamic discussion groups on each subject. And, to give them some form of 'final say', the younger activists form a commission which meets every evening and on the final day presents their recommendations in the form of a 'Living Manifesto'.

This year's discussions and conclusions

The latest developments in global neoliberal capitalism are at the heart of the discussions. Previous schools have discussed the way that capitalism bounced back after the financial crash of 2007-8, and the changing nature of corporations such as their 'financialisation'. Now activists around the world are abuzz about the trade deals being negotiated in secret, such as the TTIP, all intended to strengthen even further the dominance of big capital by allowing it to operate without hindrance from social, labour or environmental constraints. So where are the unions in this development?

In the opening session, Asbjorn Wahl, a Norwegian trade unionist who also holds prominent positions in the international transport workers' ITF, voiced his concerns, shared by many, that the labour movement needs a radical shift, to regain control over the political narrative of the economic crisis, and proactively use it to disarm the proponents of neoliberalism. Perhaps unsurprisingly, the manifesto agreed with him.

Unions have also come to distance themselves from the wider working class by prioritising their own members, largely those in formal employment. Globally, however, those with 'jobs' have never been the majority of the working poor. Far more depend on the informal economy for their livelihoods. In recent years, such informal workers have been increasingly organising themselves. At the school this year were, for example, representatives of organisations of domestic workers in South Africa, home-based workers in Pakistan, and sex workers in France. Even standard union members – those with 'jobs' – are more and more being employed on precarious terms: short-term, part-time, zero hours, 'apprentices', seasonal, etc. The 'formal' and the 'informal' are merging. The manifesto reflects this with a call on unions to reform their constitutions and structures so that they can represent and organise all workers including the informal, precarious, unemployed and migrant ones.

A return to politics may well be needed. But what does this mean, for example, for unions' relationships to political parties? The answer is not simple, as unions around the world have very different political histories and relationships, and organisational structures. Many union members tend to assume that their model of trade unionism is pretty much universal, which is not the case. Whatever structures exist, the school participants were clear they want their unions to have financial and political autonomy, and exercise far greater transparency and accountability to their members.

The manifesto also reflects the participants' desire for the trade unions to rebuild themselves from below, and do more to 'build truly global solidarity movements using horizontal strategies, and engage with broader social justice movements, community groups and campaigns'. As an example of such possible alliances, among the guests giving an evening presentation were representatives of the Housing Assembly in South Africa which campaigns against housing poverty there, on a UK tour hosted by War On Want. Also, being at best 'blanked' by the mainstream media, unions must take advantage of social media to 'animate the invisible', as Unite organiser Ewa Jasiewicz put it.

As for climate change, as the manifesto notes, this 'remains on the margins of the union agenda'. In fact, the 2015 school met at a seminal moment for the British union movement. The GMB had just signed a 'charter' with the gas industry body UKOOG, while others such as PCS, Unite and UCU have issued statements opposing fracking and encouraging members to join in 'Frack Free' demonstrations. The GLI body in the USA – Trade Unions for Energy Democracy (TUED) – promotes these issues in the international labour movement. As TUED's Sean Sweeney said, simply integrating renewable energy into the neoliberal framework is not the solution. We need much more discussion within unions here and across the world on how to bring about a just and fair transition to renewable energy, putting workers' interests at the heart of the debate and bringing energy generation into public ownership.

The issues and debates are huge. This is a small snapshot of what happened across five days at Northern College. Videos, presentations and guest blogs from the sessions are available here.
---
23 September 2015:

With a decision on replacing Trident due in 2016, WMD Awareness want to put on the UK's first film festival dedicated to exploring the impact of nuclear weapons
WMD Awareness gives young adults in Britain a voice in the debate on nuclear weapons and other weapons of mass destruction. We raise awareness of the facts and the politics surrounding these weapons, giving a fresh perspective on the debate by inspiring new audiences to stand up and have their say.

Over the last 2 years, we have been working with a passionate team of young volunteers who are now ready for their biggest challenge yet- putting on Britain's first ever #NukeFilmFest to create a platform for debate about Trident.

Why now?

Next year the Conservative government will make their decision on the renewal of Trident, something which they have been long been in favour of. In a time of austerity, with the same government forcing cuts across the board, this could cost the taxpayer up to £100 billion over the next 30 years.

But with this years electoral success of the anti-nuclear Scottish National Party and the recent breakthrough of Jeremy Corbyn, who is also a supporter of nuclear disarmament, the political landscape has changed and our Ambassadors feel this is the time to get the word out!

Kelechi Okoye-Ahaneku, one of our Ambassadors, thinks a film festival would be a great place to provoke a debate about nukes.

"Since getting involved with WMD Awareness, I have been part of our drive to raise awareness about nuclear weapons, to empower many people to think and act critically on the topic and to open the platform for debate and dialogue."

"This response has been wonderful to witness and with your help we can host future events like the #NukeFilmFest where we aim to get the public involved in the debate."

Another volunteer, Jethro, got involved with WMD Awareness because he was shocked at how little the average person knows about nuclear weapons in our country.

"The amount we spend on developing technology that, if used, would surely annihilate us all, is horrific, especially when you consider the harsh austerity measures are government are putting in place."

We've only got until the end of October to reach our target of £3000 to put on #NukeFilmFest. To support it please go to our crowdshed page here.
---
21 September 2015:

A week of events looking at threats to reproductive rights and the plight of women and girls who do not have access to safe and legal abortion in countries around the world

22-28 September

#ChoiceFest2015

All over the world, feminists and human rights organisations are marking 28th September: the international day of action for the decriminalisation of abortion. In London, feminist and human rights organisations have organised the Festival of Choice from 22 to 28 September. The festival of Choice aims to raise awareness of threats to reproductive rights and the plight of women and girls who do not have access to safe and legal abortion in countries around the world. The Festival of Choice also wishes to celebrate solidarity and activism and to strengthen and support the pro-choice message, locally and globally.

Organisers include the Central America Women's Network, 15M Women's Assembly, Amnesty International, Voice for Choice, Hysteria, Young Feminist London,  Feminist Fightback, Speaking of I.M.E.L.D.A and more. While each organiser represents its own mission and values, all participating organisations fully support the right to decide over one's own body and hope to encourage others to raise their voice to protect the right to decide in countries where abortion is legal, and to fight for it in countries where it is illegal or inaccessible.

We invite you to join the following events and actions: 

Programme 

TUESDAY 22  7.30pm – Festival Opening and Music Trivia Quiz The William Blake 174-180 Old Street, EC1V 9PB || £5. All money raised goes to the Abortion Support Network (http://www.abortionsupport.org.uk)

WEDNESDAY 23  7pm – Tactics to counteract the anti-choice // Discussion&film. May Day Rooms, 88 Fleet St, London EC4Y 1DH

THURSDAY 24 7pm – Not a criminal: Reproductive Rights are Human Rights // Panel Discussion & Presentation of briefing paper Amnesty International, 1 Easton St, London WC1X 0DW. RSVP festivalofchoice@gmail.com for reserving your place

FRIDAY 25 6.30pm– Fundraising for Choice: An evening of music and arts. London Action Resource Centre (LARC), 62 Fieldgate St, E1 1ES

SATURDAY 26 1.30pm– Solidarity with Irish March for Choice . Parliament Square, Westminster.

6pm– Their laws, Our lives: An evening of films and discussion: Screening of A Quiet Inquisition + Q&A with film director; screening of The Freedom train. Stuart Hall Building, Goldsmiths, University of London, New Cross, SE14 6NW. RSVP festivalofchoice@gmail.com for reserving your place

SUNDAY 27 11.30am -7pm Campaigning against oppression: A day of workshops. The Field, 385 Queens Road, SE14 5HD

MONDAY 28 6pm – Global Day of Action for the Decriminalisation of Abortion // Street Action. Secret Location. Contact us at festivalofchoice@gmail.com to get involved!

For more information, please check the website (https://festivalofchoice.wordpress.com/) or visit the Festival's Facebook (https://www.facebook.com/festivalofchoice).
---
20 September 2015:

Lindsay Alderton explains why a group of children staged a protest intervention against BP
Photo: Philip Grey

The voices of the children rang out through the National Portrait Gallery: 'We are the ones who will inherit the mistakes you make,' they said, as onlookers quickly gathered. 'We are the ones who can't drink oil and can't eat money.'

This was an action I took part in last weekend enabling a group of children to directly challenge BP, and voice their concerns about climate change. The children, who devised the intervention themselves, are members of a group called Children Against Global Warming.

It was part of a day of protests on Sunday 13 September organised by Art Not Oil, involved 16 different groups performing stunts and interventions, aimed at getting the British Museum, the Tate, the National Portrait Gallery and the Royal Opera House to not renew their sponsorship deals with BP in 2016.

Twice they stood up unannounced and occupied space at the British Museum and the National Portrait Gallery, the latter next to a BP-sponsored exhibition titled 'The Next Generation'. At a time when their future depends on a move away from fossil fuels fast, who better placed to direct their concerns to the companies continuing to ignore these warnings than the very generation who find themselves most at risk?

Part of the fabric

Working with children can be controversial and although their performances were greeted with loud applause by onlookers, there were comments on Twitter saying the children were 'used' and even that they 'should be protected from knowing about climate change'! But in having the logos of fossil fuel corporations branded over our public institutions, while these same companies continue wrecking the delicate ecology that sustains life, perhaps it's worth taking a closer look at who's really being 'used', as well as questioning some of our assumptions about children's levels of awareness.

As a child I remember visiting the British Museum with my brother, and skidding about on the marble floor, gawking at vases the size of trucks. I doubt if we paid much attention to the glossy yellow and green logos alongside the exhibits, but this very normalisation of BP's brand is what grants it the social license to continue as usual. It's as if they've always been there, a part of the air we breathe, the background fabric that makes up the comforting certainty of life.



A documentary video covering the various actions on the day

But behind the brightly-coloured logo sits a darker reality; in the words of Cherri Foytlin, a local Gulf Coast resident from the area affected by the Deepwater Horizon oil spill, BP are 'serial-killers of life'. The spill, which is the largest ever recorded environmental disaster, took 11 human lives and the lives of thousands of marine creatures, causing irreparable damage. So is the symbol of the world's biggest corporate criminal really something we want splashed over our public spaces?

Do we really want children 'normalised' to a company that continues ploughing ahead with life-destroying oil and gas exploration, despite the fragility of our climate at this pivotal time, against all of the scientific evidence? One has to wonder too what's in it for the British Museum, who receive a paltry annual donation from BP in return, less than 0.8% of their yearly income.


Photo: Philip Grey

In their own words

Prior to the action, a group of adults from the Dharma Action Network for Climate Engagement (DANCE) – a group supporting creative responses to the climate crisis – worked with the children. One of the members of the group, an associate with the National Youth Theatre, played games with them to sensitively draw out their feelings about climate change, as well as unearth what they already knew.

What we witnessed challenged us all. The children knew far more than we assumed they did, along with speaking with a rawness of emotion that reminded us all of the gravity of what we're facing, and why it's vital we act now. It was humbling to support their feelings to be heard, and challenging to give up control and hand over complete autonomy to them, trusting that they knew best in how to frame their own words.

As we walked into the National Portrait Gallery we felt nervous and uncertain about how security would react to us occupying the space. The gallery was crowded, but we'd had a briefing beforehand to ensure a safe space was created.

Seeing the children speak, they appeared both confident and vulnerable, with the framed portraits of senior statesmen looking down from the walls. A hushed silence cut through the room – at the end of the performance many onlookers were visibly moved. And behind them on the wall the green and yellow logos blared out, as if they've always been there, a simple fact of life: 'BP Portrait Award: Next Generation'.

For more information see www.cagw-uk.org, www.thedancewebsite.org and www.artnotoil.org.uk
---
15 September 2015:

Join us, Global Justice Now, Fuel Poverty Action and Compass in Brighton on the 27 September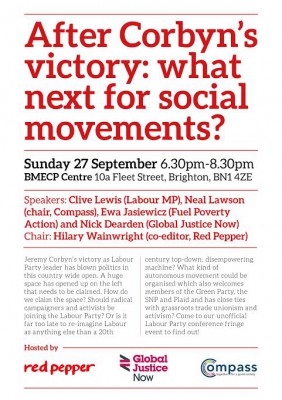 Jeremy Corbyn's victory as Labour Party leader has blown politics in this country wide open. A huge space has opened up on the left that needs to be claimed.

How do we claim the space? Should radical campaigners & activists be joining the Labour Party? Or is it far too late to re-imagine Labour as anything else than a 20th century top-down, disempowering machine?

What kind of autonomous movement could be organised which also welcomed members of the Green Party, the SNP and Plaid and has close ties with grassroots trade unionism and activism? Come to our un-official Labour Party conference fringe event to find out!

Sunday 27 September 6.30-8.30pm

BMECP Centre, 10a Fleet Street, Brighton, BN1 4ZE

Speakers: Clive Lewis (Labour MP) Neal Lawson (Chair of Compass) Ewa Jasiewicz (Fuel Poverty Action) Nick Dearden (Global Justice Now) & a Green Party representative has been invited.

Chair: Hilary Wainwright (Red Pepper)

Join the Facebook event here and share widely!
---
11 September 2015:

This documentary is now available to download or watch online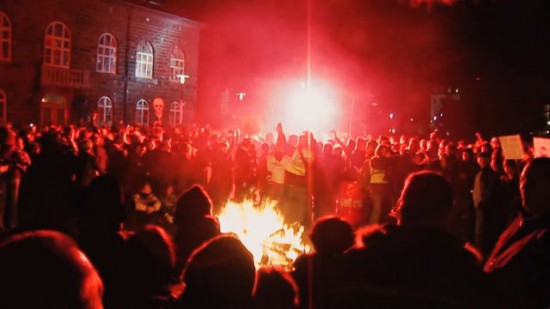 In October 2008 Iceland was hit with one of the biggest financial disasters any nation in the world had experienced. In response, citizens took to the streets creating what is now known as the 'Pots and Pans Revolution'.

In response to widespread media silence and a growing global trend towards people-led movements, this documentary explores how and why the people of Iceland resisted the measures imposed by their government following the crisis of 2008 and how they forced their government to resign in an attempt to forge a new political path.

Filmed in Reykjavik between 2012 and 2014, the documentary meets the instigators of the revolution and follows the most important national referendum in Iceland's history; giving the Icelandic people the opportunity to decide whether to support a constitution that had been created through a popular grassroots movement.

In light of a growing international trend towards grassroots movements crossing over into mainstream politics, this documentary is a timely portrayal of one such movement and their struggle to change the face of democracy.



The documentary was produced by the Conscious Collective and premiered at the Tolpuddle Radical Film Festival
---
10 September 2015:

Ken Montague, Secretary of the Campaign against Climate Change Trade Union Group, explains what's on at a major national conference in Sheffield on 19 September
What is the conference about?

The immediate aim of the conference is to contribute to the national and international mobilisation ahead of the UN climate talks in Paris in December. It will also be reporting on, and encouraging involvement in, some of the ongoing campaigns formed in response to the threat of catastrophic climate change. For example, the developing movement for withdrawing pension funds and other investments from companies heavily involved in the production and use of fossil fuels, the national and international trade union campaign for government funded climate jobs, and local protests against fracking.

Why now?

Firstly because world leaders will be meeting in Paris early in December to draw up an agreement following the two-week long "COP 21"talks. It is the most important set of talks about dealing with climate change since the disastrous Copenhagen COP in 2009 and could be the last chance we have of reaching the kind of binding agreement needed to keep climate change within relatively safe bounds. Campaign groups and NGO's around the world are planning demonstrations and protests on a scale comparable to those last September when 400,000 people took to the streets of New York. For us in Britain it means building for the protests in Paris and the national demonstration for "Climate Justice and Jobs" in London on 29th November.

Any other reason?

The conference will be reporting back on the international climate jobs summit in Paris on 14th and 15th September called by the UK's "One Million Climate Jobs" campaign and the International Trade Union Confederation. This represents a big step forward for the climate jobs movement which in Britain now has the backing of ten national unions and is seeding itself in other countries, for example Norway, South Africa and the US. Over 160 trade union delegates will be attending from Europe, North America and the Global South. The Sheffield conference also includes a workshop on the prospects for the international climate jobs movement with contributions through Skype from some of the delegates to the Paris summit.

Who has organised the conference and who is it aimed at?

It's been organised by the Trade Union Group of Campaign against Climate Change and the Sheffield Climate Alliance, which is one of the largest and most successful of the local climate networks. That means it's for trade unionists who want to know how they can build support for the climate jobs campaign in their unions, but also for anyone who would like to get involved in, or help to develop, other aspects of the climate movement. Everyone is welcome!

Who will be speaking and what will the workshops cover?

Speakers include Asad Rehman, International Campaigner for Friends of the Earth, John Hilary, Executive Director of War on Want, Dani Pafford from 350.org, Suzanne Jeffery, Chair of Campaign against Climate Change, and Louise Haigh, Labour MP for Sheffield Heeley and supporter of Jeremy Corbyn's campaign for the Labour leadership.

One of the features of the conference is the large number of interactive workshops. In addition to workshops on climate jobs and divestment, others cover topics like:

• Fracking and how to fight it

• What is TTIP and how can we oppose it?

• Communicating climate change – engaging and motivating people of all backgrounds and persuasions

• The Arms to Renewables campaign

• The Government's war on renewables

• Climate outreach with primary schools and families

• Building locally for the London and Paris demonstrations

• Where is it being held and how can I book a place?

The conference will be taking place at Sheffield College, a short distance from Sheffield station, so can be easily reached from many parts of the country. Directions can be found on the Sheffield Climate Alliance website. Registration is at 10.30. To book a place click here – admission £10, £5 concessions.
---
10 September 2015:

Michael Calderbank calls on Red Pepper readers to attend the 14 September protest to #killthebill

On their first day in Parliament, the newly elected Labour leader will face the first debate on the Tories' Trade Union Bill. This represents the biggest attack on the Labour and trade union movement attempted since Thatcher. Our ability to organise collectively in the workplace is a major obstacle to their austerity attacks.

The extreme plans in the Bill seek to crush the ability of working people to defend our living standards and smash the political funds of trade union, in order to deny us any voice. The right to strike is a fundamental cornerstone of any democratic society. Freedom of association and expression are protected under the European Convention of Human Rights, but the Tory plans would seriously compromise both.

With the TUC leadership otherwise occupied at its Congress in Brighton and not mobilising any protest, the left-wing Bakers, Food and Allied Workers Union has teamed up with the National Shop Stewards Network and Unite the Resistance to organise a demo outside Parliament on Monday (14 Sep) from 6pm, with a rally in the Macmillan Room, Portcullis House from 8pm where speakers are set to include MPs John McDonnell, Ian Lavery and Chris Stephens, together with BFAWU President Ian Hodson and victimised National Gallery worker Candy Udwin from PCS.


---