17 August 2014:

A report from the Blackpool anti-fracking camp

Yesterday at Reclaim the Power the whole site was powered entirely by wind. Our self-built wind turbine was whizzing around generating 300 watts of power for all of our lighting and technology needs such as the media team's laptops, phones and printers. We also have three solar energy systems, a much more diverse power system than last year. We have a large surplus of energy, powered by the clean, renewable sources.

The camp is demonstrating in practice that 100% renewable power is possible for the whole UK right now. The Centre for Alternative Technology's Zero Carbon Britain report has shown how it is possible for the UK to be 100% powered by renewables by 2030 using only existing technology. The UK is Europe's windiest country, and one of the best locations for wind power in the world. We also have the largest amount of coastline with a huge capacity for offshore wind as well as tidal energy generation. Yet rather than invest in renewables the government is instead pushing ahead with a dash for fracked gas, against the wishes and interests of local communities.

Saturday afternoon's Community Anti-Fracking Forum saw many anti-fracking activists and regional Frack Free groups talking about how they are resisting this. Diane from Frack Free Dee, a coalition of Frack Free groups in Cheshire, North Wales, North Shropshire and Merseyside, opened the session. Diane lives in rural Cheshire. Her anti-fracking activism began when she looked out of her windows one day and spotted a tower of lights in the distance, which transpired to be an exploratory drilling rig. Learning about fracking at the local public awareness meeting, she felt in her gut that something fundamental had changed in her life, and began to organise in her community.

Many groups shared their stories. We heard that Frack Free Farndon have set up camp near a test drill site, and that the local authority in Wrexham have rejected Dart Energy's planning application. Although the energy company is appealing the decision, Frack Free groups from across the region have written to the authority asking the council to uphold the decision. We heard that the proposed Underground Coal Gasification project in Wirral is across the water from a chemical plant. The community is horrified: Underground Coal Gasification has caused explosions elsewhere. We also heard that at one community meeting, the local Conservative, Labour, Green and Lib Dem candidates all declared they too were anti-fracking. Diane asks, and rightly so, why then is fracking happening? Who is benefiting? Where does the government think fracking's democratic mandate comes from?

The stories we heard of resistance within so many communities in the UK against fracking clearly show that the people are against fracking. These groups are firmly embedded within their communities and have organised along the principles of consensus, collaboration, collective ownership, inclusivity, positivity, non-violence and sharing facilitation, so no one person can override the community's collective decision. Anybody who attended the Community Anti-Fracking Forum would agree that it is these groups, not Westminster or the energy companies, that have the mandate to speak on behalf of their communities.
---
17 August 2014:

From the Reclaim the Power camp in Blackpool Guy Shrubsole sketches some thoughts on Cameron's fracking policies.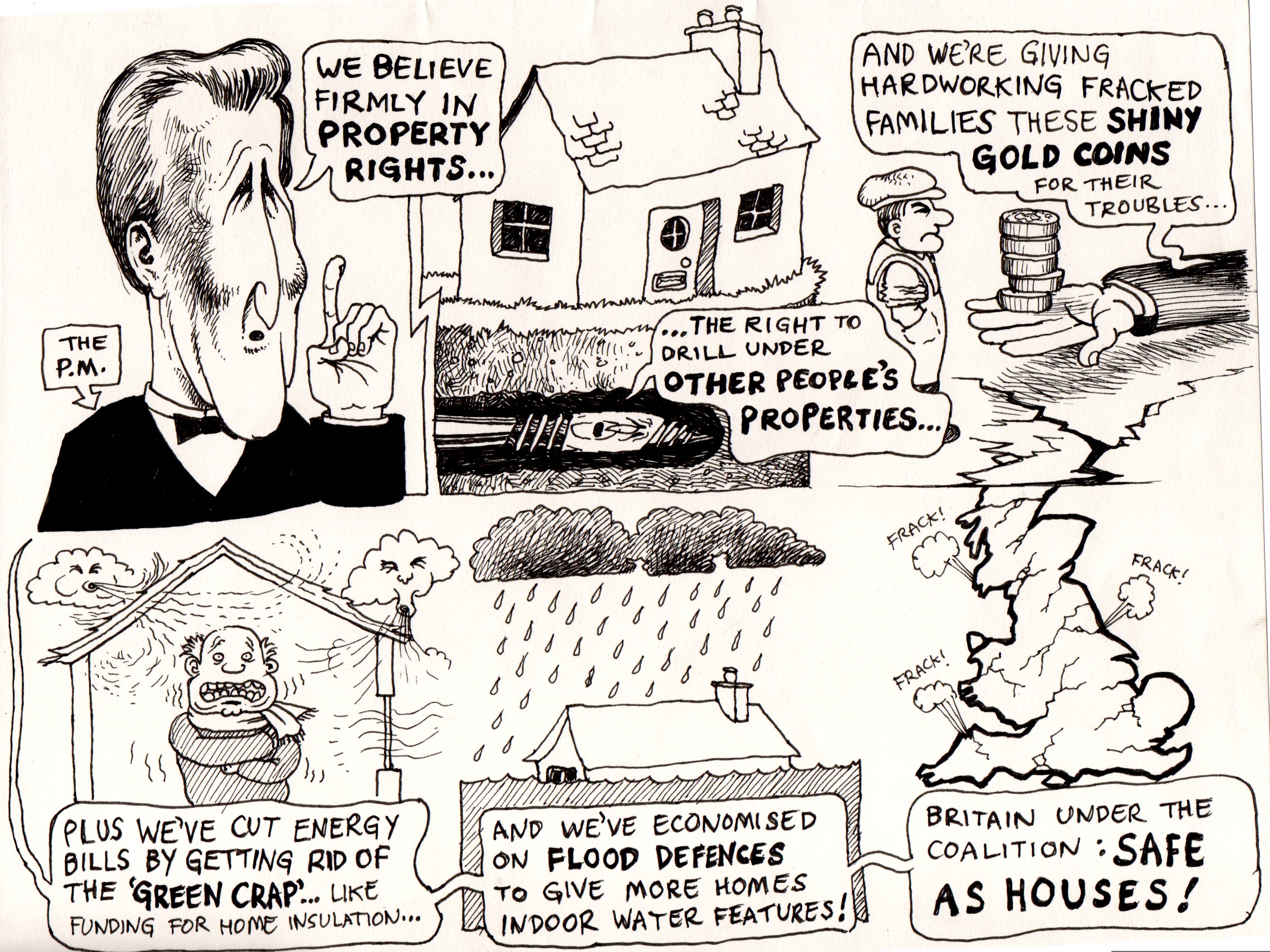 Find out more about how you can Join Reclaim the Power

Guy Shrubsole @guyshrubsole
---
16 August 2014:

Anti-fracking camp joins Lancashire residents in the struggle against dirty energy

Since Thursday Reclaim the Power, the activist anti-fracking camp, has set up in Blackpool. The camp will be there for 6 days of workshops, action and skill sharing. Red Pepper are there, find out how you can join us

The camp is taking place on land purchased by fracking company Cuadrilla, the company intend to use these fields for a fracking site. Lancashire residents have registered 14,000 complaints against Cuadrilla's fracking plans. Reclaim the Power joined the local Nana Camp made up of grandmothers, mothers and children from Frack Free Lancashire They did the hard job of occupying the field last Saturday.

Here are a few snaps of the camp being set up.






On the way to the camp, just checking the map…






Nana camp ready to welcome new arrivals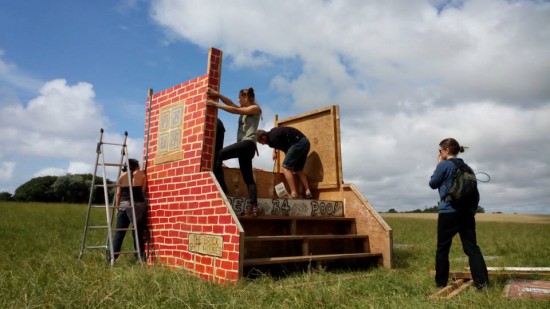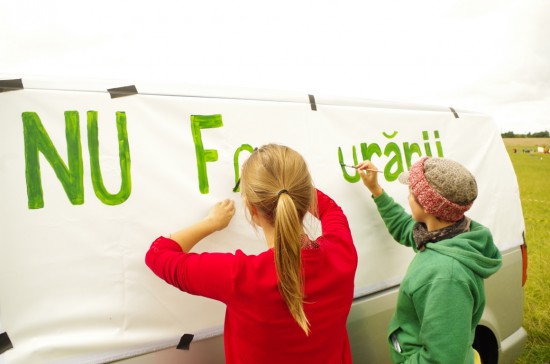 Showing some solidarity with the Romanian anti-fracking movement




Solar panels shining under Blackpool sunshine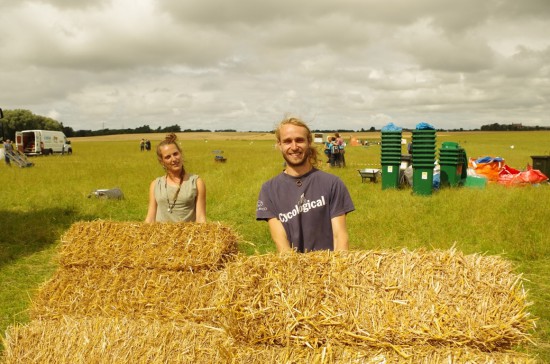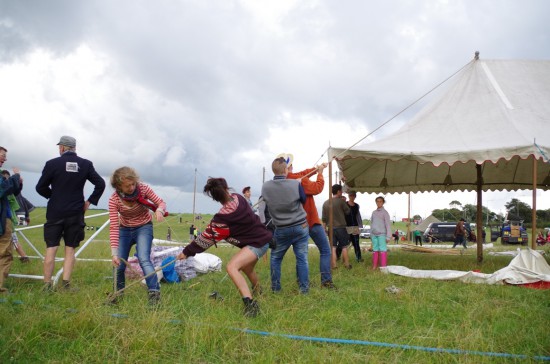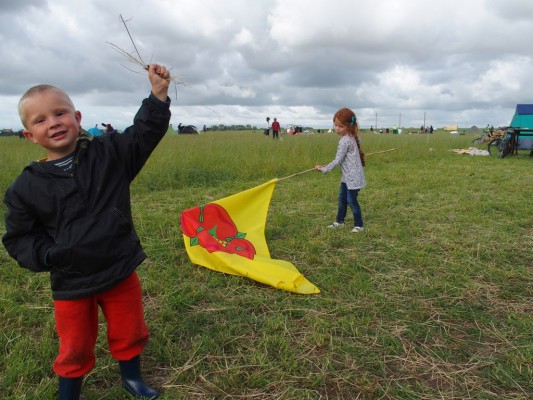 Children play at Reclaim the Power

No Dash for Gas have all the details about how you can join the camp




---
15 August 2014:

Jane Shallice reports back from an event hosted by Red Pepper and openDemocracy, where many London radicals became inspired to support the Yes campaign.
Earlier this year Hilary Wainwright and I noted the complete absence of any expression of the Yes campaign in the British press. There were streams of articles which argued why such a vote would be catastrophic for the people of Scotland. How naive they were to imagine they could keep the pound, remain in the EU, prevent their descent into sheer profligacy, and would be overwhelmed by the most reactionary forms of nationalism. It was George Robertson who even suggested that a yes vote would give succour to Al Qaeda.

Unaware of what the Yes campaigners were arguing, we called a public meeting, considering this was such an important issue which could prise open a discussion about the sterile structures of the British state: Westminster, the Crown and the City being the vital triumvirate to be targeted.

With the help of Plaid Cymru we booked a room at the Palace of Westminster for 26 June. Where better to host the radical visions of a new state north of the border than in the belly of the beast herself? We had the largest committee room filled to the gills and it was one of those meetings which you would not have missed for the world. (Something that could seldom be said!)

Neal Acheson was the first speaker and opened 'The Union was dead and being red robed into dust when in 1999 the Scottish Parliament opened'. It was then that Winnie Ewing stated the Scottish Parliament had been 'reconvened'. But more importantly he thought the Yes campaign has won the referendum campaign as the discussion is being centred on the sort of independence they wanted.

Obviously heavy lifting gear will be needed to consider the economic and constitutional changes required. To reconsider the uncritical institutional powers that have developed - EIS, the Scotland of the Local Authorities etc and there are political powers that have been and need to be challenged.

Beyond the SNP

Gordon Brown stated that this is a campaign for or against the SNP but in this he is completely wrong. It is not about the SNP. It is a huge mass mobilisation, a social movement typified by labour supporters not trusting Salmond and yet who cannot bring themselves to vote no. The question which has to be faced is whether the SNP could survive a yes vote, as the Yes campaign has rearranged the political parties in Scotland.

It is possible (and essential) to wreck the supreme law and redistribute power to the people, more responsibility has to be allocated to them. A No vote will mean we have a Tory Britain and Brexit with Scotland dragged with them. The future will see further advance of neoliberalism and further mutilation of the public services and a major difficulty to defend the remnants of social democracy.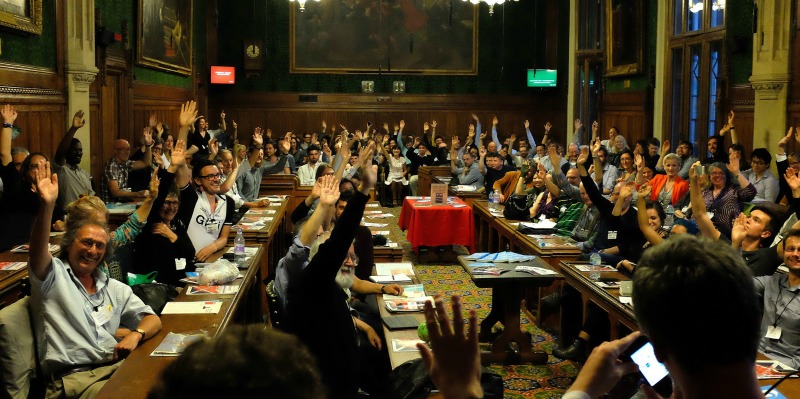 (Pic: Hands up for a Yes vote)

Rejecting nationalism

The second speaker Joyce McMillan is a drama critic, a writer on culture for the Scotsman and an activist. She had been present in Tusla when the Civic Forum was called. If the result is division then more dialogue is needed. She denied that it was nationalism which was the driving force for the Yes campaign but the most important principle was the drive for social justice. Today wishy washy social democracy is pathetic, a pale shadow of the movement for social justice which motivated the political and social changes of the 40s and 50s. Instead today we have regressed to living in a world akin to that described by Dickens. For her the love affair with Labour which was evident in Scotland is over; if you want a a Tory, it would be better to vote Tory.

'A nation without walls'

For the playwright David Greig the Yes campaign's model is the experience of the National Theatre of Scotland. In 1920s the building of such a theatre was being discussed but he said that he was mightily relieved that it was never built. They would have been saddled with Doric pillars and statues of Wallace and Burns and he would be campaigning to close it. Instead through the devolution campaign it was possible to debate and think about a way that the National theatre would be a genuine one . A theatre without walls and a truly nationally centred theatre. How else could you have a national? theatre? in Scotland. Today there is now a fleet of foot institution. A model for Scotland and others. In the 20s it would have been an imitation of UK with hard borders and an army etc.

For him the Yes campaign should be arguing for a nation without walls. An independence which could share and pool sovereignty from the European level to the local communities; 'We want a democracy that goes all the way down and through the front door.'

The whole process of debate around devolution has ensured that people are educating themselves about why are things the way they are? What are renewables? Crown estates? Renovation? Land reform? And there is a new media which is becoming their own media. 'At present we live in the choice in favour of the establishment' he said.

He also thought that the campaign holds a message for England, that 'change is possible'. "There is a shimmering on the water which could transform democracy as happened in 1945.'

The referendum is just the beginning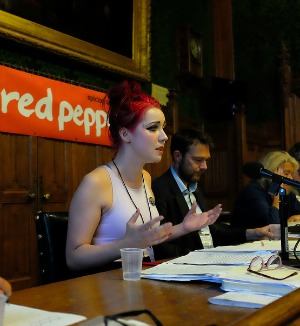 Cat Boyd, is a young activist who is one of the cofounders of Radical Independence, which is not a party or a think tank but a movement. Explaining that she had been 'outed' by a Labour MP for being a socialist. For her the campaign is not about nations for change but changing people's lives and their futures. The central question is what will be the best answer for people's lives.

This is not politics as normal. Whereas the No campaign is wanting it all to be over, for those who are supporting the Yes vote it will not finish with the vote on September 18th.

There are decisions that need to be made (and with independence can be made) on Trident and the nuclear convoy as well as the establishment of a society which will be based in responding to people's needs.

Empire

Pete Ramand is co-author of 'Yes: the radical case for Scottish independence'. He argued Britain is a most unequal society in the midst of a huge global economic crisis, and with a mounting ecological crisis. The answer to which is not green capitalism. He said that there as a need to be radical and the whole campaign opens up so many possibilities. Ed Miliband is selling his optimism with the slogan 'Britain can do better' , Brown was 'proud' of Britain's role in Africa! Blair argues that 'the destiny of Britain is to lead others'. Neil Ferguson argues that Britain has created Anglo globalisation, the British Empire handed the mantle to USA and the English speaking world operates as a wise council to the US colossus. 'Commerce, Christianity and civilisation'.

For him the key question is: which is the more dangerous - the old imperialism of Britain or a break up of an old state and potentially creating a new modern state?

Energy on the streets

The final speaker was Robin McAlpine, the director of the Jimmie Reid Foundation, and the Common Weal; a project to consider a model for the economic and social changes required for Scotland.

Inequality in Britain is starkly evident: 35% of the wealth is in the City of London and 3% in South Wales. The state operates under an air of contemptuous neglect.

He spoke about the energies and the creativity which has been unleashed by the debates around devolution. There is a thirst for discussion and answers and attendance at meetings throughout Scotland have shown a new spirit and new determination. He gave the example of the grandmother who after attending a meeting for the first time in her life, spoke and said that 'When this is over I'm not going back to my sofa'.

There is a new media with over 30,000 participating in Wings over Scotland. 'When you become yes it is not a bit yes!' He said, and the Yes campaign it is not a campaign of politicians. It is acceptable and necessary to have debates in order to create ideas about powers, he argued. It is necessary to educate ourselves and vital to create our own media.

Questions were then asked about what are the opportunities this referendum creates? What sort of a society do we want to live in? How will it be possible to maintain the movement and leave behind a stronger social democratic infrastructure. How, unlike Obama's heritage, will it be possible to leave behind a genuine mass movement? It was also noted that this will be a state which needs and welcomes immigration which will be a notable exception in the EU.

Finally it was agreed that we should organise a Yes train with a women's delegation to go and help canvass and give support. People were urged to phone everyone who can vote, as every person matters, to use social media, to respond to the press, and to 'be a witness for us'.

Join us on the weekend of 6 - 8 September to come to Scotland and canvass, attend meetings, support the work of the Yes campaigners and savour the excitement and the power that the Yes campaigners have generated.

(Pictures by Jack Macbean, see the full flickr album here)
---
14 August 2014:

Almuth Ernsting of Biofuelwatch unpicks the latest government report on Biofuels. The report that has been welcomed by environmental NGOs and the biomass industry alike, both sides claim it vindicates their position.
The Life cycle impacts of biomass electricity in 2020 report assesses the carbon emissions associated with North American wood burned in UK power stations. Most pellets imported into the UK come from North America. One of the two authors is DECC's outgoing Scientific Advisor, David McKay - a widely respected expert in energy technologies and their climate impacts.

So, does the report vindicate the biomass industry, or those who have been warning that burning millions of tonnes of wood in power stations is the last thing we need if we want to protect forests and avoid the worst impacts of climate change? The industry takes comfort from the report saying that it may (not will!) be possible to meet the UK's 2020 bioenergy demand with low-carbon wood from North America. However, it hardly supports the likes of Drax and their suppliers – particularly since Drax cannot, for technical reasons, burn many of the 'low-carbon' residues identified in the report.

On the other hand, the authors confirm that a lot of biomass really is 'dirtier than coal'. Crucially, they state that the methodology suggested by the European Commission for calculating biomass carbon emissions is deeply flawed and makes bioenergy appear as low-carbon even if it is linked to greater CO2 emissions than electricity from coal. That's the same methodology that is used by the Government and on which their proposed biomass sustainability standards are based. The report thus implies that the Government's biomass policy and their planned standards are not fit for purpose.

According to Energy and Climate Change Secretary Ed Davey 'this calculator shows that, done well, biomass can offer real carbon savings – which is why we are tightening our rules for sustainable biomass'. But what he means is simply that the very carbon standards demolished by this report will become mandatory from 2015.

Davey probably knows that aligning the proposed standards to the findings of the report would close down Drax and E.On's Ironbridge power station and might stop other coal-to-biomass conversions and large new biomass power stations across the UK. For example the largest pellet producer in the US, Enviva, has been shown to source wood from clearcut wetland forests that had not been logged for at least a century. Enviva is a key supplier of Drax and has a supply contract with E.On, too. This, the report confirms, is worse for the climate than burning coal for well over 40 years.

An invitation to fraud

Are biomass carbon standards based on this new report the answer? Would they protect the climate, and might they even allow us to burn millions of tonnes of imported wood without harming forests and increasing carbon emissions in the process?

Well - no. There are fundamental problems with relying on sustainability standards, not least the fact that those rely on self-reporting by companies and their chosen consultants. The Government has admitted that companies' declarations that vast amounts of their biofuels came from used cooking oil from the Netherlands were 'implausible' – i.e. misleading. Standards simply require companies to tick the right boxes – an invitation to fraud.

Moreover, DECC's new report assesses a wide range of "scenarios", all of which depend on assumptions about what would have happened in the absence of a demand for bioenergy – or what might happen in future, for example to US wood markets. Putative scenarios make for an interesting academic debate - for policy purposes they are of little use. For example, logging a native forest for bioenergy is shown to be climate friendly if, without the demand for bioenergy, that forest would have been converted to agricultural land. What's to stop the industries from claiming that without their demand for wood, American forests would just be cut down and turned into cotton fields? Implausible – but who can ever prove what 'would have happened'? All of the 'sustainable' scenarios depend on developments which are out of UK companies' or our government's control.

Furthermore, some of the scenarios and assumptions in the report are questionable, while important ones are missing. For example, the authors calculate how much different types of wood may be 'available for UK biomass' as if there wasn't a fast-growing demand for bioenergy within North America, let alone from across Europe. There's no scenario that sees UK demand force US biomass plants to run on wood from whole trees rather than residues. Many, though not all, such 'indirect impacts' have been ignored. Some scenarios assume that, without our bioenergy demand, vast amounts of sawmill and residues would be burned as waste on the roadside – which is most unlikely. Some are based on a low future demand for wood in North America - improbable without an economic crash. Nobody can draw up credible 'carbon standards' based on speculations about future wood prices.

As an EU member state, the UK government should base environmental policies on the precautionary principle (not something it has a record of doing). The government is subsidising company plans to burn more wood each year than the UK produces annually and there is clear evidence that biodiverse North American forests are already being destroyed as a result. Those subsidies must be stopped.

(Picture: Deforestation in Sumatra to make way for an oil palm plantation)
---
7 August 2014:

The situation for migrants in Calais is at breaking point; support is desperately needed, writes Daniel Martin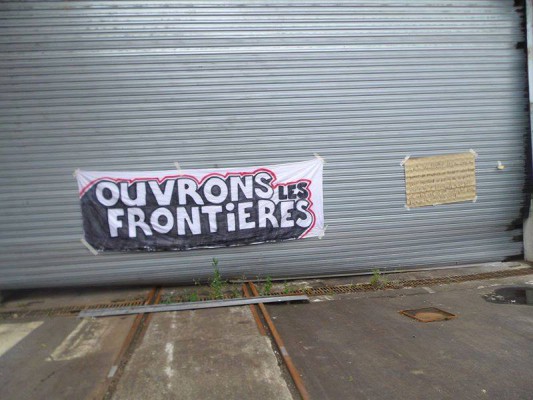 10 Impasse Des Salines, Calais - France. With the impending mass eviction of over 800 migrants in the newly opened Fort Galoo squat and the migrant jungles that surround Calais also under threat of imminent eviction the situation is at crisis point. The migrants, travelling from Syria to Eritrea and everywhere in between, arrive in Calais hoping to cross the border to eventually claim asylum in the UK. Each one of them has a harrowing tale of deportation, death and persecution to tell. Yet the desire to cross the border into, what is for most, the promised land burns strong in their hearts, with every man, woman and child risking their lives on a daily basis not only to make the crossing but simply to stay alive.

Due to conflict and a lack of connections most migrants cannot go back to their home country even if offered voluntary deportation. On the other hand, if they manage to cross the border and make it into the UK they won't be much better off, with the asylum process notoriously difficult and often brutal. An estimated 23,507 appplications for asylum were made in 2013, however the real number is almost certainly higher with many choosing to live and work illegally to avoid hassle from authorities they have spent much of their lives under the watch of. There is, however, a third option. Asylum can be granted in France, yet for most this is not an option and instead they have to play a game of cat and mouse with border guards and riot police every day.

Recent clashes between Eritrean and Sudanese groups living at both the jungle and the squat have attracted further police attention and exacerbated the problem. Over 150 were involved in the rioting with many injured and one seriously wounded. Whilst tensions are bound to rise in such a dire situation, solidarity has to be found amongst all groups living there, with the only positive outcome of the fighting being to provide stronger resistance against the state.

The attitude of the French has been mixed. Local mayor Natacha Buchart has come down strongly on both migrants and the activist group NoBorders, claiming the latter treat Calais as a playground. Yet without NoBorders help the migrants would be in an even worse situation then they are now. It is thanks to the continued support of activists, local groups and aid organisations such as Médecins du Monde that the migrants are able to survive, being provided with water, blankets and supplies. Buchart's attitude, however, is shared by Sauvons Calais, a right wing fascist group that deliberately targets all involved in the struggle, having previously attacked aid workers and a migrant squat on Rue Du Colonge. A demonstration organised on Saturday July 12 that led to the opening of Fort Galoo provided the latest show of support and proof that Sauvons Calais are as unpopular as Buchart's policies.

The failure of Buchart to provide a solution to the growing humanitarian crisis in Calais highlights an important problem faced by the wider world when dealing with migrants. The idea of a migrant is someone that is kept in the shadows for the reason that they are viewed as exiles shunned from their home country.  In the eyes of Britain's right and neoliberal politicians across Europe having the additional label "illegal" automatically means bad. Yet in Calais and in the views of Buchart the term illegal exists without meaning. If trying to cross the border to claim asylum through the outdated Dublin Regulation and demanding the basic human rights denied by both governments is illegal, then yes, illegality is rife. Therefore, before a long term solution can be found—such as altering the convention and easing both countries' border restrictions—the idea of the migrant in the popular imagination has to change to better reflect reality and the needs of the migrants themselves.

Growing worse every day, support and more importantly people are needed urgently in Calais. Police brutality needs highlighting and more UK press coverage is required if these people are to gain the attention they require. People have the power to change the situation through solidarity and resistance and to end finally the suffering that should never have been experienced.
---
7 August 2014:

Activist group launch petition demanding reinstatement of University of Birmingham students suspended for protesting

The higher education activist group Defend Education Birmingham have launched a petition demanding that the University of Birmingham lift the year-long suspensions of Kelly Rodgers and Simon Furse and the six month suspended sentence handed out to the former Birmingham Guild of Students Vice President of Education, Hattie Craig. The students were charged for their involvement in an occupation at the University last November.

The petition already has over 350 signatures and once again shines an unwanted spotlight on the University of Birmingham, which has over the last year faced stringent criticism for its attitude towards protest and its treatment of student protestors. Following the arrest of 13 and the suspension of 5 students last January a number of respected academics, activists and artists signed an open letter in which they described the University's treatment of its students as "at odds with free speech".

The University of Birmingham further compounded its autocratic reputation on July 30 when it violently evicted a student occupation held in support of the suspended students. According to Defend Education Birmingham, over 25  bailiffs and as many police were called in to break up the occupation and acted with "no regard for the safety of any occupiers involved".

In a rare act of support for student protestors the National Union of Students has voted to support the campaign to overturn the suspensions and pledged to use money from its legal fund to contribute towards their court costs.

Click here to sign the petition.

For updates from Defend Education Birmingham follow @DefendEdBrum


---
7 August 2014:

Locals in the Blackpool area set up anti-fracking protection camp
At 5am today a team of around 25 grandmothers, mothers and others from the Blackpool area set up a protection camp in a field earmarked for development by shale gas industry operators Cuadrilla. The protestors stated that over the past three years they had tried all lawful methods available to them to stop 'fracking' and it was now a matter of necessity. Cuadrilla has applied for planning permission for access roads on the field off Preston New Road to enable the building of the drilling rig if Lancashire County Council (LCC) grants permission.

A few hours later some 5000 objection letters to the planning application were handed into the council offices in Preston by others from the Frack Free Lancashire coalition of local anti-fracking groups. A spokesperson said a further 10,000 would be delivered over the coming weeks.

Today's action comes exactly one week before another event by national group Reclaim the Power who plan to bring over 1000 people to camp in the Blackpool area (location not yet confirmed) in order to support local groups. The Reclaim the Power camp will run 14-20 August, holding workshops and training as well as a day of direct action targeting Cuadrilla and its partners.

Commenting on the action one participant said: "There has been massive growth in resistance here in Lancashire as well as across the UK and despite this, our government continues to push for fracking.  We have done our research, spoken to those living in places across the world where fracking has already caused untold harm and come to the conclusion that this is an industry we will not have near our families. We don't do this lightly, it is an awful thing to have to do but it is now a matter of self-defence".

For twitter updates from the camp and campaign follow #OMG or #ReclaimBlackpool
---
4 August 2014: And other recommended posts by feminist blogger Emma Frankel-Thorin.
Manfeels Park webcomic - So funny and often true

On gay rights, feminism and Pride events - This is a valuable piece about the roots of certain causes.

More than 1,000 children under 10 stopped and searched in five years - Another reason why stop & search needs to be abolished.

Mixed emotions as Jezebel gets new editor - Such disappointing news.

Trigger warning: breakfast - Every rape survivor or victim has a different story with different triggers. Everyone behaves differently & experiences their trauma in a diverse manner.

Passport official suspended over 'interrogation' of gay applicant - The home office is riddled with homophobia & clearly needs a complete overhaul.

On trans-exclusionary radical feminists - I think we can all agree that this isn't cool right?

Suarez got a longer ban for biting than racism - I mean biting isn't good but surely racism is a slightly more pervasive & serious issue?

Sierra Mannie on black female stereotypes and gay men

The problem with "feminist knickers"

23 women show us their favorite 'position'

Response to the recently viral 'sex spreadsheet' - TW for discussion of rape, rape culture, abuse & sex. Sexual education needs to change drastically.

Black Womanhood Defined as Drag Performance - This on the policing of black women's beauty is one of the best things I've read all year.





Emma blogs at: www.emmaquitefrankly.blogspot.co.uk and Tweets: @ExtraFT
---
1 August 2014: We're heading North to meet the radical Yes campaigners and to learn what we can from a vibrant atmosphere of fresh political ideas.
Following an exciting meeting with Scottish activists in Westminster, many people in attendance were very inspired by the radical aspects of the campaign for independence. Although under-reported in the South, there is a vibrant and growing movement to re-imagine and re-shape politics that we would like to support and learn from.

We will travel from London on Saturday 6th September 9.43am, to Glasgow, and return on Monday 8th September leaving at 4pm. All are welcome to join us and the group will include a women's delegation.

Contact jenny@redpepper.org.uk if you would like to find out more, or join us at any point during the weekend. The train stops in various towns including Preston and we have booked some of the cheaper tickets. We can also arrange free accommodation via the campaign network.

There will be an optional itinerary that we expect to include discussions of autonomy and independence; as well as much merriment!

More information coming soon.
---