24 August 2016:

Alex Richardson-Price observes the pressing need for a character assassination, by any means necessary, of Jeremy Corbyn.
You've got to hand it to the British press. Their cool-headed ability to keep a sense of proportion is second to none. With the conflict in Syria all done and dusted, the newspapers bravely pushed aside insignificant stories of 1.6m households in 'extreme debt' to get to the proper business of yesterday – whether or not Jeremy Corbyn walked past some empty seats on a train.

After Corbyn and his team filmed a video clip from the floor of a Virgin train, arguing that expensive ticket prices and overcrowding made the case for the renationalisation of the railways, Richard Branson and Virgin fired back with a 'clarification'. CCTV footage appeared to show Corbyn walking past empty seats. Then it was shown that those seats were reserved. Virgin replied that there were some unreserved seats that he had walked past. And eventually, passengers came forward to back up Corbyn's version of events.

Now, in a conflict over honesty between Jeremy Corbyn and members of the public on the one side, and a private company which stands to lose from renationalisation, we should not have to ask ourselves which side we are on. But the better question is – who cares? Trains being rammed and overpriced is such common knowledge that to bring it up is to regurgitate a platitude. Whether or not Corbyn's way of pointing this out was a spontaneous response to a genuinely packed train or a stunt makes no difference whatsoever to this banal fact.

None of this prevented it from being discussion of the hour. The Independent broke the news, and quickly the story was everywhere. It was The Guardian's lead article all day, and today they've chosen to run a liveblog retracing Corbyn's journey. The liveblog is a rival story to Corbyn's policy announcement of full renationalisation in the NHS. The piece even refers with surprise to John McDonnell and Dianne Abbott's decision to preferentially comment on the NHS policy story.

The Guardian's Train Gate story rocketed to 13,000 shares in 24 hours, dwarfing Owen Smith's support for peace talks with ISIS (925 shares) and the murder of Turkish trans-rights activist Hande Kader, who was raped and burned to death in Istanbul on August 12 (989 shares).

The absurd promotion of this story above others much more deserving is indicative of only one thing – the pressing need for character assassination, by any means necessary, of Jeremy Corbyn. He is set to win with a landslide in the Labour leadership election. The Labour right, who have shown much more interest and performative outrage over the train story than they did over Chilcott, have no strategy to beat him. The wider establishment have managed to see Labour tanked in the polls (though with some recent signs of recovery) only through the Labour Party being plunged into bitter civil war. Once Jeremy wins again, particularly if it is with an increased majority, it will be difficult for the Labour right to resume hostilities in the same way, and this makes the revival of a Corbyn-led party a dangerous possibility. The Train Gate story is a product of desperation – the sound of the barrel being scraped.

(picture above from flickr.com)
---
28 July 2016:

A lot of recent news has been deeply troubling, from the post-Brexit fallout to the rise of Trump; we won't list the reasons you have to feel depressed. Instead, here are some snippets of good news from people-powered campaigns across the UK and beyond 
Photo rights: East End Sisters

Thank you for sending us your news. Did we miss something? Feel free to add more below.

Cleaners win living wage after longest strike in City of London
After 43 days of continuous all out strike action, Victor Manuel, one of the cleaners on strike said: "This is a great victory but we will continue to fight for our cause, until they reinstate our colleagues and recognise our union. We're not tired or afraid of anyone or anything. Unity brings victory and we will win." Read more.

Sisters Uncut occupation thrives
Hackney has over 1,000 empty homes. At the same time, 60 per cent of women fleeing domestic violence in the borough are turned away from refuges because of lack of space. East End Sisters Uncut have occupied one of these empty homes to highlight the fact that these houses are fit for living, and should go to people that need them. They already made some progress in negotiating their demands with the deputy Mayor of Hackney, and describe their recent community sports day as "Probably the best day of our lives!" Read more.

Black Lives Matter movement rises in the UK
It took just two days for 20-year-old poet Aliyah Hasinah and her friend Olivia Brown to organise a Black Lives Matter demonstration in their hometown, Birmingham. More than 1,000 people showed up. With gatherings across the UK a movement is growing to resist racism and police brutality. National day of action: 5 August. Read more.

Taxes for Peace Bill read in Parliament
The Bill called for a mechanism allowing taxpayers to self-certify as a conscientious objectors on their tax return, and have the military portion of their taxes directed into a fund designated for non-military security. It was read on Tuesday 19 July without objection, and scheduled for a second reading on 2 December, formally supported by 11 MPs. Read more.

Disabled People's Manifesto launches in Bristol
The manifesto calls upon all in the city to view the barriers disabled people experience as missed opportunities to benefit the whole of the city. One of the issues raised in the manifesto has already been addressed by the newly elected Mayor, namely the lifting of parking restrictions for Blue Badge holders in resident parking zones. Read more.

Tesco bows to pressure against John West Tuna
Tesco will remove a proportion of John West products from its shelves, punishing the brand for its destructive fishing practices. Ariana Densham, Greenpeace oceans campaigner said "We know that this move by Tesco is going to cost John West millions. How long will it take for them and their owner Thai Union to work out that stripping our oceans of life is a dead-end business strategy?" Read more.

World's largest wealth fund divests from Western Sahara oil search
The Norwegian sovereign wealth fund, worth  $834 billion and owning around 1.3 percent of all listed global shares, stated that: "The Council recommends the exclusion (of Cairn and Kosmos)... due to an unacceptable risk of the companies contributing to serious violations of fundamental ethical norms through their hydrocarbon exploration offshore Western Sahara". Read more.

Colombia and Farc rebels sign historic ceasefire
The Colombian government and Farc guerrillas have declared the final day of one of the world's oldest wars with the signing of a ceasefire agreement to end more than 50 years of bloodshed. Read more.

Sadiq Khan promises a new public energy company for the capital
Within just six months the Switched On campaign has pushed this proposal on to the mayor's agenda. They have been building the case for a London public energy company that cuts fuel bills and cuts polluting emissions. A company run by and for Londoners, controlled democratically, oriented around people not profit. Read more.

Water cannons to be sold off
Three water cannons bought by Boris Johnson will be sold off for more than £200,000 without ever having been used, Sadiq Khan has announced. The Mayor said London was currently paying to store them, despite them not being able to be used and the cannons sale would raise money for youth services. Read more.

Hope Not Hate hosts over 100 #MoreInCommon events across UK
#MoreInCommon is a national a campaign to bring communities back together after the toxic nature of the Referendum debate. One meeting was held in Aberystwyth, a town that has been a constant source of good news - the first in Wales to resettle Syrian refugees who have recently been handing out flowers by way of thanks. Read more.

Landmatters eco-community in Devon wins fight to remain
An eco-community which produces its own power has been given permanent planning permission after a 10 year battle. Landmatters, which includes 16 adults and seven children, live on 42 acres of land it owns near Totnes in Devon. Granting permanent permission South Hams District Council said its "low impact way of life" was "not damaging". Read more.

Fawley oil refinery workers win equal pay for foreign workers
Following strike action, workers at the refinery have won a 'pay parity' victory in a dispute that saw foreign workers being paid half that of UK workers at the Southampton site. Read more.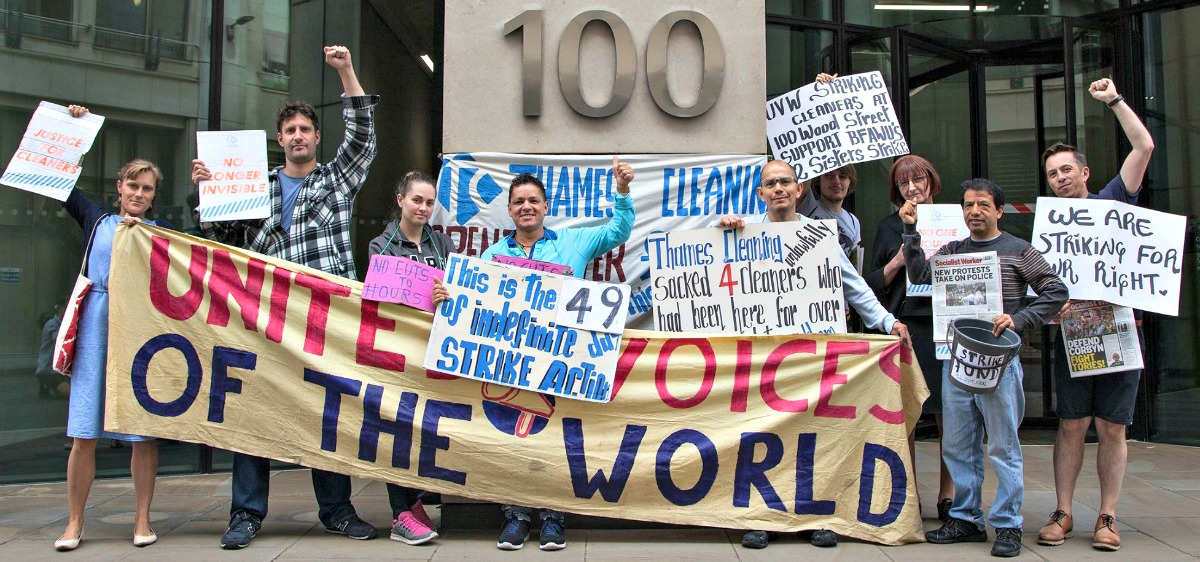 Photo - cleaners on strike, credit: United Voices of the World Union
---
25 July 2016:

Professor Mario Novelli attended a controversial Brighton and Hove Constituency Labour Party AGM and explains why he backs Jeremy Corbyn for Labour Leader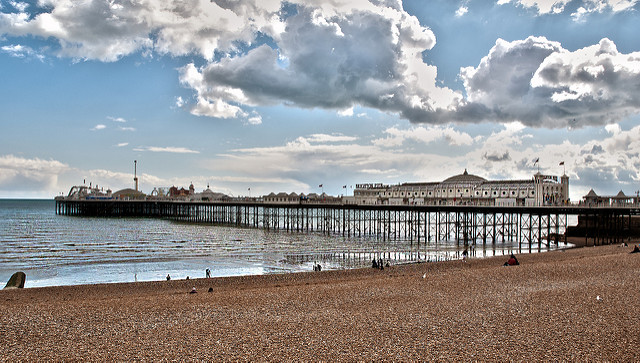 Photo: Flickr/Berit Watkin

Last year, during the 2015 Labour leadership election, I like many others joined the Labour party. I joined because the values that I hold – anti-war, anti-austerity, pro-equality, pro-immigration, internationalist – were for the first time in my political life being articulated by a candidate for the leadership of the Labour Party – in the persona of Jeremy Corbyn. Despite being proud to be a trade unionist and a member of the labour movement, I had never joined the Labour Party before. I had never felt close to 'New Labour' and its vision for the Labour Party and the political debates that I was interested in seemed to have no place in the 1990s with the arrival of Tony Blair and his entourage. I became active in anti-war movements, in international solidarity movements, but throughout the last two decades felt estranged and disenfranchised from the parliamentary and party system in the UK. I guess I carried with me the idea that if voting changed anything, they would abolish it.

Jeremy Corbyn's election in September 2015 as Labour leader gave me renewed hope that there was a parliamentary route to progressive social change. For the first time, in a long time, I felt represented politically, that my vote potentially matters, and that finally I could cast it for a party that didn't just offer more of the same neoliberal, elitist and destructive policies that have produced record levels of inequality here and around the world. Jeremy Corbyn and the political programme that he was putting forward had brought me back in to the mainstream. I started believing that through the formal parliamentary system we might just be able to build a better future for all of us.

Today, ten months later, I feel hopelessly naïve. Each month that has gone by I have become more aware of the obstacles that we face. The media was the first to rudely interrupt my hopes. Ever since Jeremy was elected there has been a vicious onslaught of attacks on his integrity, his legitimacy, his personal and private life, his past, his attire, his character, his patriotism, his morality. Nothing has been spared by both the right and 'left' leaning media. In evidencing this, the recent report by the London School of Economics is really useful. Basically, their argument is that the media in this country, rather than presenting an open and critical analysis of events, has in relation to Jeremy Corbyn become an 'attack dog' acting in the interests of the establishment (both liberal and conservative, left and right).

[pullquote]This is our chance to build a better, more socially just, more inclusive Britain for all its inhabitants[/pullquote]

Inside the Labour Party the levels of bile and viciousness are equally pervasive. From day one, the Parliamentary Labour Party and the party machinery – both of which unsurprisingly are dominated by 'New Labour' supporters, have plotted and planned Jeremy's demise, waiting only for the opportune moment to insert the knife.

Presumably, the fallout out from Brexit was the chance they had been waiting for and the coup began. Just at the time when the Labour Party could have been channeling the anger of the population against the Conservative administration, or challenging the racist attacks that spiked after the referendum, they instead chose to channel their anger at Jeremy. Orchestrating resignation after resignation, timed for maximum impact and maximum pain. That Jeremy has survived this vicious onslaught is a testament to his sense of duty to the people who voted him in.

For further proof, if needed, that an anti-democratic political coup is taking place inside the Labour Party, I received a message about Brighton and Hove Constituency Labour Party's recent AGM, where elections were held for the key CLP party positions. It stated that all the election results from last week's meeting are null and void due to alleged intimidation and threats and that no new elections will be held until after the results of the Labour leadership contest are announced.

For the record, I attended that meeting and cast my vote. It was an inspiring meeting, not for its content, which was brief, and to the point, but for the number of people who chose to attend. There were so many people that they had to have several repeat meetings to accommodate everyone. In the meeting I attended, and in the queues to get in, I saw no evidence of threats or intimidation, not even rudeness. What I saw was a lot of new Labour members, like myself, enthusiastically present to cast their votes, slightly unsure of the formalities of the process, but eager to participate. The meeting was conducted in a civil and open manner. So what was the problem then you ask? Why is it that all results have been voided? Well the answer to that is quite simple. The candidates put forward by Momentum were all elected, and presumably for the Labour Party machinery that is unacceptable.

So this is where we are at, just ten short months after the election of Jeremy Corbyn we are in the middle of a political coup. A coup backed by the majority of the mainstream media, led by the PLP and the labour party machinery and probably funded by a range of undisclosed wealthy individuals who want to se the Labour Party return to its neoliberal owners. We have to resist this coup, peacefully but persistently, because it really does matter. This is our chance to build a better, more socially just, more inclusive Britain for all its inhabitants. We just want a fairer and more equal world and your lies, hatred and dirty tricks will not destroy us.

Mario Novelli is Professor in the Political Economy of Education University of Sussex
---
21 July 2016:

#PostReferendumRacism has exposed the racist and xenophobic belly of Britain. Luckily, there is a lot that you can do. Siobhan McGuirk has gathered 10 suggestions, feel free to add your own below.
(photo of Refugees Welcome protest in London, credit: The Weekly Bull)

Following the EU Referendum result, racially motivated attacks have increased dramatically across the UK. Though the Leave campaign did not make Britain newly racist or xenophobic, the anti-immigrant rhetoric of Brexit debates was a shot in the arms to right-wingers. British fascists have been emboldened.

Onlookers recoiled in shock as news broke of another Polish child threatened, another Muslim woman cornered and heckled, another xenophobic banner unfurled (as it was in 2013, and 2011). Now, that shock is fading, and media attention turning away. Yet the attacks continue, and Britain is still institutionally racist. Symbolic acts of solidarity won't address the problem. Building on advice offered by anti-racist collective Wretched of the Earth, here are some ideas for taking action:

1. Support anti-fascist organisations

Anti-fascist and anti-racist organisations (from faith-based initiatives and offshoots of political parties to creative projects and radical campaign groups) have been active in the UK for decades. Although they sometimes work together, the organisations listed below take different approaches to their work and prioritise different types of campaigns. Some work at the national level, others have local chapters. Grassroots groups often emerge to respond to specific local issues. Find a group that fits with your own outlook to ask how you might support their activities: attending meetings, handing out flyers, donating funds, writing letters to elected officials, joining rallies and protests, translating literature - whatever works for you.

Anti-Fascists Network
Hope Not Hate
Unite Against Fascism
United For Intercultural Action (Europe-wide project)

2. Support pro-immigration organizations

We must address structural discrimination as well as sporadic acts of violence. Immigration policy is one area of pressing concern. The xenophobic outbursts we have seen on busses and in city streets are echoed in the cells and hallways of UK immigration detention centres, where imprisoned asylum seekers go on hunger strike to protest over horrific conditions. They are echoed in the Chamber of Commons, where the Prime Minister decries the "swarms" of migrants in Europe fleeing turmoil , and where Theresa May suggest immigrants do not have human rights. They are echoed on the front pages of our national newspapers, which demonize migrants and call for harsher treatment of refugees. A variety of groups are fighting punitive immigration laws and supporting immigrant communities. Join them, and follow them on twitter for news that you won't see elsewhere.

Right to Remain
City of Sanctuary (regional branches)
Movement For Justice
Detention Forum
Women Asylum Seekers Together
Refugee Support Network
Anti-Raids Network
(picture of people reaching out of windows at Yarls Wood detention centre, photo by Darren Johnson)

3. Recognize and resist structural racism

The explosive rise in #PostReferendumRacism cannot blind us to Britain's longstanding history of xenophobia, racism and fascism — the deep roots of which can only be dismantled through dedicated and broadly focused action. Silence is complicity. The Metropolitan Police Force uses racial profiling, so speak out. The British judicial system is institutionally racist, so speak out. Universities are monitoring Muslim students, so speak out. British employers habitually discriminate against Muslim and non-white workers and job candidates, so speak out. Local housing authorities similarly discriminate, so speak out. Black Lives Matter marches and rallies are taking place across the UK. Join them.

The London Campaign Against Police and State Violence
Love Music, Hate Racism
Black Dissidents

4. Support and celebrate local communities and marginalised voices

The groups listed above focus on political campaigns. National and community cultural centres and places of worship host a diverse range of educational programs and celebratory events, such as film series, art and dance evenings, guest lectures, language classes, and religious festivals. You can support local communities by learning about, participating in, promoting or helping to fund those event. Reach out to your local Mosque, Synagogue, or Gurdwara, for example, to ask how you might best support them in every day terms or in the face of oppression. Online you can follow independent bloggers and vloggers telling their own stories and sharing direct experiences of oppression and resistance - you might have your own experiences to share or benefit from listening carefully to other points of view.

5. Intervene and report attacks — when it is safe to do so

In recent weeks, videos of emboldened racists screaming at people on buses and trams have gone viral. In the clips, bystanders often lower their gaze, and keep quite. The prospect of intervening can be terrifying, and it may be unsafe to place yourself in the line of fire. Yet explicitly challenging racism remains important. United Against Racism has an excellent guide to respond ing to racist incidents. You can also record and report what you see to the police. Be wary of involving the police without consulting with the targets of abuse, however. Police intervention is not welcome or comforting for many.

TellMAMA is an independent group monitoring anti-Muslim attacks
iStreetWatch is an independent group monitoring racist and xenophobic harassment

6. Proactively contest hate speech and prejudice

You do not need to wait around on busses or High Streets to encounter racism and xenophobia. Pick up a copy of The Sun, or The Daily Mail. Look at what people are being told to think, fear and hope for. If a headline disgusts you, write to the editor. Write to your MP—whatever their party—to raise your concerns and ask them what they are doing to address racism, incitements to violence, and discrimination in your constituency. Talk to your friends and family, sharing your concerns and—if relevant—taking time to engage with them on issues they see through a racialised, or xenophobic lens. Tell them if their harmless jokes are not harmless.

7. Know who – and what – you are voting for

The day before a far-right fanatic murdered MP Jo Cox, Gary Younge argued in The Guardian that the Labour Party had long failed to contest racism and xenophobia, choosing instead to pander to anti-immigrant sentiment in an effort to win votes. Indeed, policy proposals suggested by some senior Labour MPs are deeply worrying. Yvette Cooper, for example, says the Conservative proposal to initially deny benefits (including child and in-work support) to EU immigrants is "a good start". Although Cooper has previously advocated for refugees, she here calls for "stronger border controls… to tackle the serious problem of illegal immigration". Her word choice is telling. The Labour Party cannot out-UKIP UKIP, but it seems eager to try. We must demand that our MPs take heed of Younge's insight and engage with voters honestly about the positive realities of immigration. Pandering to xenophobia is only politically expedient to the right.

8. Advocate for workers' rights

While their austerity measures ravaged the UK, right wing politicians eagerly pointed to immigrants as causes of economic degradation. With Brexit, their scapegoating has come back to haunt them. Members of the British working class are being manipulated—encouraged to divide and hate rather than oppose austerity and neoliberalism. Yet, despite polemic geographic depictions of British society in the media, the British working class is now incredibly diverse, and includes many immigrant labourers (including many living in London). In fact, immigrants to the UK often work in the lowest-paid jobs and experience significant workplace discrimination. They are exploited in the same, often worse ways as all people who has seen their wages frozen, benefits cut, zero-hour contracts embraced, health services slashed, and their libraries, parks and other public amenities disappear—while being told that the economy is recovering. The 2015 UK Immigration Bill laid groundwork for further exploitation. Austerity has bred disillusionment and despair. Defending and strengthening workers rights in the UK is intertwined with combatting racism and xenophobia—and improving standards of living, for all.

UK Uncut
The People's Assembly (regional branches)
Trade Unions
Focus on Labour Exploitation (FLEX) (educational resource)

9. Recognise your complicity – and refuse to perpetuate oppression

Communities become "marginalised" when they are pushed to the margins of society. Marginalisation is being forced into low-paid jobs with few if any labour protections; being displaced because of soaring rents and shortages in public housing; having welfare support payments slashed year upon year; seeing higher education become unaffordable. In the UK, millions of people—rightly or wrongly—feel severely marginalised. They are angry and vulnerable as a result. In Britain's urban centres, low-paid workers clean high-rise offices while young middle-class graduates and property developers fuel rapid gentrification. The sheen of multiculturalism cannot disguise deep-seated and perpetuated inequality across the UK, fuelled by austerity, privatization, rollbacks of labour protections, (see above) and cuts to social housing. If you are not feeling squeezed right now, you are likely gaining because others are being marginalised. You must be ready to redress the balance.

SHOUT is a national campaign for social housing
This map shows anti-gentrification campaigns active in London

10. Be ready to critique the EU

Over recent weeks, accusations of racism and xenophobia have been laid solely at the feet of Leave voters and campaigners. By implication, the EU has been reimagined as a beacon of tolerance—a place of open borders, free from racism. This is simply untrue. While Brexit may be painful and disheartening for many reasons, we must not let nostalgia for the EU obscure its faults—otherwise, we cannot learn from them. The EU has, for example, repeatedly moved to fortify its borders and enacted policies to make crossings increasingly perilous for migrants. Recently, EU member states united behind legislation to criminalise people offering humanitarian assistance to immigrants—people such as you, potentially, if you are reading this. The EU, on the whole, is also pro-austerity.

Overall, we must not forget that if the Referendum result had been different, racism and xenophobia would still exist in the UK—and throughout Europe. Far Right parties have been gaining traction for over a decade, and popular European governments have enacted startlingly racist and xenophobic laws. The Referendum has only opened some eyes to racism and xenophobia — it has been here for a long time. To fight back against it we have to be in the fight for the long haul.

We encourage you to add your own suggestions in the comments below.
---
18 July 2016:

The rules have been changing rapidly, complete this short survey to find out whether you're eligible to vote and find out how to do it

You may already have a vote for the Labour leadership, or you may be able to become a supporter and get one – but it's important to check as the rules are complex. Just answer a few questions using this vote checker and you'll be pointed in the right direction.

In a recent change of the rules thousands of new members will need to pay £25 in order to vote; this anti-democratic move will exclude many who are suffering most under austerity. 'There should never be a price tag on democracy, but we can't afford to lose this' says Aaron Bastani in a new Momentum video backing Jeremy Corbyn.

If you'd like to register as a Labour supporter in order to vote in the leadership race you can do so between Monday 18 July 5pm and Wednesday 20 July 5pm.

For updates see www.peoplesmomentum.com and www.jeremyforlabour.com
---
12 July 2016:

As its wealth is seized by foreign interests, Africa is facing a colonial invasion in many ways as devastating as the one it suffered in the nineteenth century. Ross Hemingway reports.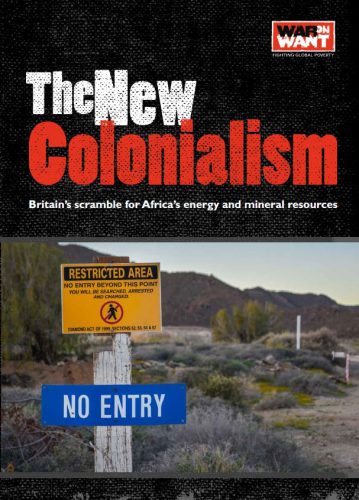 In recent years we have witnessed a new 'scramble for Africa' as governments and companies seek to control the continent's valuable resources and cash-in at the expense of people and the planet. A new report by War on Want, 'The new colonialism: Britain's scramble for Africa's mineral resources,' reveals that as many as 101 companies listed on the London Stock Exchange (LSE), most of them British, have mining operations in Africa.

The 6.6 billion barrels of oil, the 3.6 billion tonnes of coal, the 80 million ounces of gold, the platinum, the diamonds, the gas and much else: combined these companies control a booty worth in excess of $1 trillion.

Wreaking havoc

Mining routinely disrupts and destroys people's lives and livelihoods—it forces people from their land and devastates the natural environment on which they depend. More often than not, the expansion of mining and resource extraction by large corporations brings with it violence and intimidation. While the scale and scope of the UK's involvement in the exploitation of Africa's mineral resources is staggering, so too is the environmental and social damage left in its wake.

Take Rio Tinto: headquartered in the UK and listed on the London Stock Exchange, its operations in Fort Dauphin on the south east tip of Madagascar have proved devastating.

The fourth largest island in the world and one of the poorest countries, Madagascar is famous for its biodiversity. Yet, the QIT Madagascar Minerals (QMM) project (80% owned by Rio Tinto, 20% by the Madagascan government) is wrecking lives and livelihoods and doing irreparable damage to the area's rich and unique natural environment.

The QMM mine is extracting ilmenite, used in titanium and as a pigment in toothpaste, paint and sunscreen. Already thousands of people have been affected by the mine, in many ways, including being forced from their land. Farmers and fisherfolk have seen their livelihoods disrupted as agricultural land has been flooded and subjected to dust pollution. Meanwhile, precious coastal forest habitat will soon be lost to dredging.

Predictably, mining companies talk about 'safeguarding' the local environment, yet at the same time their bulldozers are lined up, ready to trash precious natural habitats. At Fort Dauphin, the local communities already affected by the construction of the mine are now confronted with a 'conservation zone,' denying them access to the natural resources of the forest on which they depend for food, firewood, and much else. A way of life passed down for generations is being destroyed.

A fractured fight back 

The local community and environmental activists are fighting back. The last remaining fragments of coastal forest in Madagascar are under threat and won't be given up easily. But the challenge is tough. QMM's modus operandi has been to pay off those who complain, intimidate and vilify critics, hire and so neutralise potential 'troublemakers', and ultimately divide the community. Communities affected by mining had brought a class action against Rio Tinto to claim compensation: the British mining giant responded swiftly with cash payouts.

Grievances around the QMM mine run deep. Public demonstrations against the mine have seen the military step in and protesters met with tear gas and brutal beatings, making a mockery of Rio Tinto's 'Community Relations Programme.' Meanwhile, having failed to rein in companies such as QMM, the British government is actively championing them through trade, investment and tax policies. Successive British governments have been fierce advocates of giving corporations what they crave: liberalised trade and investment regimes allowing them access to African markets.

They have also consistently opposed African countries putting up regulatory or protective barriers, while being major advocates of policies promoting low corporate taxes. Add to this the promotion of voluntary rather than legally binding mechanisms to address corporate human rights abuses committed abroad, and it is patently obvious whose side the government of the day is on.

And let's not forget the well-oiled 'revolving door' between Whitehall and the mining companies. Many senior civil servants leave their posts for directorships on the board of these companies. Rio Tinto is no exception. Vivienne Cox has been one of the Department for International Development's two non-executive directors since 2010 yet was until recently a board member of Rio Tinto, while Lord Kerr, a civil servant for 36 years and former permanent under-secretary at the Foreign Office, was a non-executive director of Rio Tinto from 2003-15.

Today, the African continent is facing a colonial invasion in many ways as devastating in scale and impact as the one it suffered in the nineteenth century. African countries are being treated as mere enclaves, subservient to a global economy that favours business and the super-rich ahead of ordinary people and our fragile planet. Africa's wealth in natural resources is being seized by foreign, private interests, and there is no sign of this stopping anytime soon. This is the 'new colonialism,' and it's time British companies and the British government were held to account.

Ross Hemingway is a spokesperson for War on Want. 'The new colonialism: Britain's scramble for Africa's mineral resources' can be read here.
---
11 July 2016:

Join us to explore media justice with Gary Younge, Shake! and Numbi Arts, on Tuesday 19 July at Rich Mix in London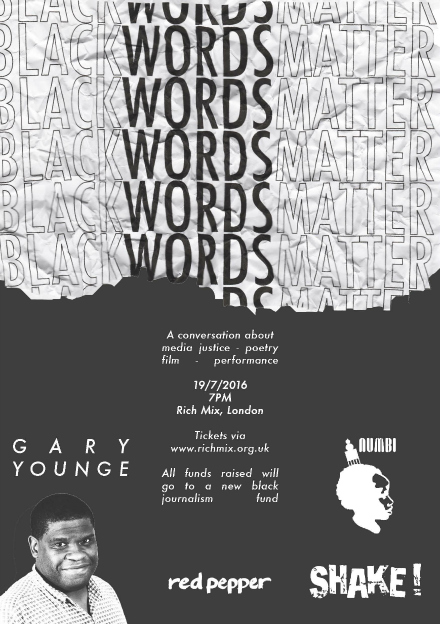 Book your ticket here.

Red Pepper are fundraising to recruit a new section editor with first hand experience of the struggle for black liberation. As a media project supporting movements for social and economic justice we feel it's an urgent priority to cover campaigns and creativity in areas such as: the Black Lives Matter movement, black feminism, detention centres, borders, police state, cultural appropriation, afrofuturism, the impacts of climate change, and the sharp edge of austerity.

Join us for an evening with:

Gary Younge Author, broadcaster and editor-at-large for the Guardian, will share his experience to explain why this is a cause close to his own heart. @garyyounge

SHAKE! A collective of young people, artists and campaigners who work together to produce creative responses to social injustice - just back from the Allied Media Conference in Detroit - they will facilitate a conversation about media justice. @voicesthatSHAKE

Numbi Arts A platform for collaborative cross-cultural exchange between artists working in theatre, visual arts, music and film. Publishers of literary magazine Scarf. @numbiarts From Numbi we'll be joined by:

Mr Gee - poet & radio presenter. Co-Founder of Chill Pill Poetry night, host of Radio 4's "Bespoken Word" & "Rhyme & Reason". Poet Laureate on Russell Brand's Radio Show. @mrgeepoet

Mrsnmelmi - A young aspiring poet, who has been writing poetry since the age of 16. She is currently working on launching an online e-magazine called 'Candid Rose'. @mrsnmelmi

Salwa Osman - Salwa started writing at the age of 14. She writes about various topics, majority of her pieces are abstract allowing the readers to interpret in whichever way befits them. She has performed at universities, workshops and slams over the past few years. @Iambic__

Abukar Elmi - A recent economics and public policy graduate, with an appreciation for creative expression. Abukar has recently started performing at universities and workshops.

Afrikaspoet - Afrikaspoet started writing at the age of 17 in both English and Somali. She uses social platforms to share poetic pieces. She is a lover of cultural vibes, traditions and expresses that love through different forms of artistry, she aspires to write up an anthology of her best pieces in the future. @AfrikasPoet

Elmi Ali - Elmi is a writer, performer/facilitator based in the North-West. He writes poetry, short fiction and for the stage. His performances have been received in venues across the country from the Power House Library in Mosside to The British Library. His latest work is published in Sable 15 and Critical Muslim 13 respectively. He facilitates Voicing It, a weekly Creative Writing Lab at Contact Manchester and is associate editor at Scarf Magazine. @LegendaryNomad
---
28 June 2016:

Simon Hardy gives the facts about Corbyn's victories so far that you won't read in the rest of the press

The rally in support of Jeremy Corbyn in Parliament Square.

The reactionary fall out from the Brexit vote continues to tear through society. The Labour membership and the Labour left are now under the most sustained attack seen since the Bevan-Gaitskell clashes of the 1950s. The Labour Party is in a state of civil war – the mass rally of 10,000 Corbyn supporters outside Parliament felt like a battle cry of the rank and file against a cynical, mendacious coup by the Bitterites.

Their claim is that Corbyn is unelectable. Between back-handed compliments that he is, in the words of the sacked Hilary Benn, 'a good man, a principled man', the right wing narrative is that Corbyn is an electoral liability for the party. This narrative is spun out in the media – a example of how sinister elites try to turn a claim into a reality. What was the old adage about lies repeated often enough? They try to prove their lie through a coordinated set of resignations from the shadow cabinet. This plan was revealed in the Telegraph two weeks before the referendum – it is not a spontaneous display of anger, it is a premeditated coup against the Labour left.

But the tremendous display of support for Corbyn across many parts of the Labour Party and from the trade unions reveals the class divide at work here.

Here are some facts about Labour under Jeremy Corbyn that you aren't seeing in the Mirror or the Guardian.

1. The biggest mandate

Jeremy Corbyn won the leadership with the biggest mandate from party members that any leaders has ever won - 59% - more than all the other candidates put together.

2. Huge membership increase

Labour's membership has increased dramatically under his leadership - over 380,000 members.

3. Byelection victories

Labour has won 4 by elections since he became leader, Oldham West, Sheffield Brightside, Ogmore & Tooting. Oldham West, Tooting and Sheffield Brightside saw Labour win on an increased majority.

4. Mayoral elections won

Labour won London Mayor with Corbyn as leader. Sadiq Khan won with the largest personal vote a single politician has ever received in Britain, 1.3 million. It was also the first election of a Muslim candidate to a western capital city. Labour also won Mayoral elections in Salford, Liverpool, Bristol.

5. Good local election performance

In the local elections in 2016 Labour's performance was as good as 2001, when Labour won a second landslide in the general elections. Labour has repeatedly been ahead of the Tories in the polls since the start of 2016.

6. Anti-austerity victories

Labour under Corbyn has helped fight off cuts to tax credits and disabled people's PIP payments - scoring significant blows against the Tories austerity agenda.

7. Won the Remain vote among Labour voters

Whilst the Brexit vote was very disappointing, Labour delivered 63% of its 2015 voters to vote Remain in the EU referendum. Compared to the SNP's vote of 64% of their voters and 70% of Liberal Democrat voters, Labour didn't perform qualitatively worse. David Cameron and the Tories couldn't even deliver a majority of their voters - only 42% voted to Remain.

Even if the right wing's arguments were true that Corbyn doesn't 'look' like a leader or doesn't 'get his message across in the media', it just means that Labour is doing exceptionally anyway. Imagine how well Labour would do if its MPs were loyal to their members and leader and Labour could present a united campaign, unhindered by in-fighting?

If the coup plotters stand a moderate left candidate in a leadership battle, Labour members should not be tricked into supporting them as some kind of unity candidate. They would be a front for the disruptive coup plotters.

Corbyn has been with the left since the start, dedicating his life to the movements of resistance and hope that have battled it out against the forces of reaction for the last 30 years. If Corbyn is defeated then the triangulation of the party back towards soft-austerity, social liberalism and migrant-bashing is guaranteed. That way lies oblivion.

Simon Hardy is a Labour Party member and a member of Lambeth Momentum.
---
27 June 2016:

Brexit may be disastrous, but overturning the referendum result will only deepen a crisis of democracy, writes Andrew Dolan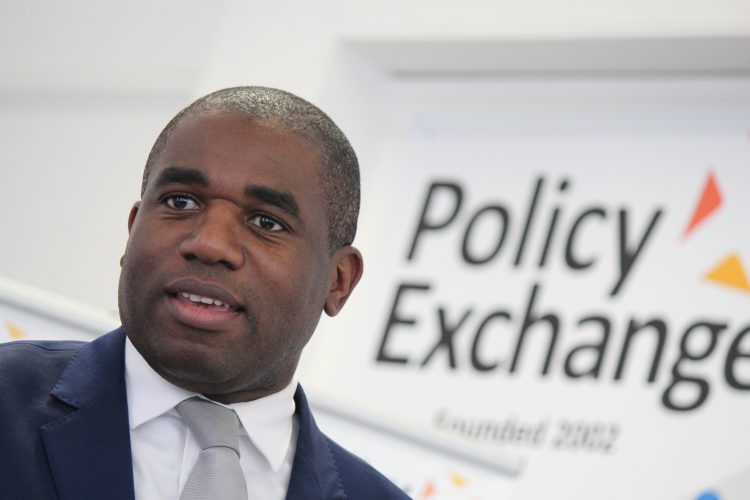 Photo: Flikr/Policy Exchange.

After the result, the chaos came quickly: resignations, attempted coups and the prospect of another referendum on Scottish independence, all within 24 hours of the UK public voting 52 per cent to 48 per cent to leave the EU. The Remain campaign has since appeared largely clueless as to how it lost to the Leave campaign, who seem equally unsure of what actually comes next. Certainty is a currency with little value in contemporary politics.

And when certainty and clarity are absent the solutions offered to problems are usually the wrong ones. David Lammy's call for parliament to reject the result of the EU referendum and settle the issue itself is one such.

For those opposed to 'Brexit', Lammy's proposal may sound tempting. Such a quick fix offers the possibility of some shelter in the face of a gathering storm of problems, not least the spectre of recession and a newly emboldened far right. One can even make a case for the legitimacy of such a vote: are MPs not elected to make difficult decisions for us? Does parliament not have the right to override the outcome of a referendum that is, after all, non-legally binding?

Tempting, but still wrong. For while the EU referendum has primarily been framed and understood as a referendum on immigration, it must also be situated within a Europe-wide crisis of democracy—what the political scientist Peter Mair has termed 'the hollowing out of western democracy.' The symptoms of this crisis are by now well established—declining voter turnout, party membership and party identification, and record low levels of public trust in politicians—and their cause is to be found in the relocation of parties from civil society to the state, and the widespread perception that political elites and institutions represent increasingly narrow interests.

The EU is of course criticised on similar grounds, even by many of those who support the continuation of the UK's membership. Yet in addition to opposing the EU, the vote to leave it has for many functioned as a means to express dissatisfaction with a dysfunctional domestic political system and those who operate it. In so much as the question of the UK's membership of the EU has divided voters, the gap between voters and politicians reveals a deeper division rooted in the collapse of the representative link.

Admittedly, this is a simplified narrative drawn from a more complex picture, yet it should serve as a warning to those favouring solutions such as that put forward by Lammy: what is partly a crisis of democracy cannot be solved by its negation. The prospect of a political class bereft of trust overriding a relatively direct democratic vote—all for the purpose of maintaining membership in an institution renowned for its own democratic deficit—will for many obliterate whatever legitimacy parliament still retains and reinforce the perception of a political elite utterly disdainful of popular opinion. Far from averting catastrophe, such a vote would only exacerbate the deep distrust felt by many in the UK towards its political institutions, with potentially disastrous consequences.

The solution to the ills of democracy is more democracy, and any attempt to build a politics capable of overcoming the divisions that the referendum has thrown into sharp relief must prioritise the empowerment, materially and politically, of those marginalised by the disruptive transformations wrought by globalisation and the failure of successive governments to address them.

This does not mean pandering to prejudices on immigration or elevating a supposedly homogenous white working class as the authentic voice of the disenfranchised. It means instead that we must help create the capacity for people to control their own lives. Key to this is radical reform of the UK political system—beginning with proportional representation—which has for decades failed to respond to the needs and desires of those outside a privileged minority. The trust needed to do this, however, is likely to be further diminished if parliament disregards the referendum, which will only add fuel to a fire that so desperately need putting out.

Since the writing of this article David Lammy has also called for a second referendum.
---
22 June 2016:

A new film by Chester Yang uncovers the suppression of student protests in the 2010 uprising against tuition fees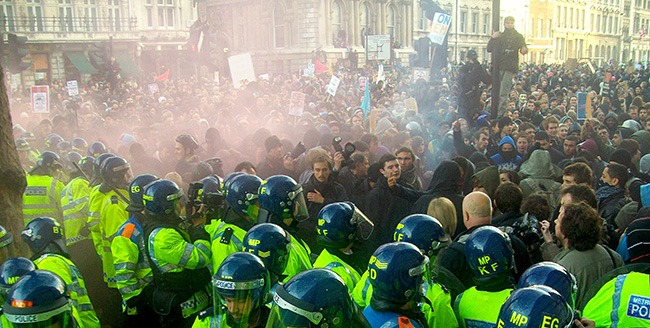 "I was there, in Parliament Square. I was angry, like many others. I had lost my voting virginity to Nick Clegg, and he went and cheated on me, with a dirty Tory. He told me that University education would be free, if I voted for him, and then he colluded with the conservatives to triple tuition fees. Yet, that anger was also infused with excitement. Surrounded by thousands of people, forming a collective, we shouted, and sang, 'Westminster is ours, Westminster is ours, Fuck off back to Eton, Westminster is ours.' And it was, for a little while.

That excitement soon turned to fear, when I saw lines of armed police, helmets on, faces covered, in disguise, dehumanised, and highly organized. I felt like Britain had become a very tiny Island; suddenly surrounded by a deep dark sea. I immediately wanted to leave. I was with a few mates, Dev seemed a don at this and I felt assured, for a while. But it was not long until scraps with the police erupted, and the cunstabularies kept closing in. People ripped up metal fences to use against the police, who were batoning the people at the front of the crowd. I tried to stay away from the front line. But at some point, during the disorder I lost my friends and I was alone.

I tried to find an exit, but I was met with a wall of violence. I tried another, but there was a wall of silence. I tried to tell a policeman that I wanted to leave, and that I had a health condition that was being exacerbated by the stress of being here. I had seizures. He ignored me. I asked another. He ignored me. It was then I realised I was talking to just another brick. It was then I realised I had been disempowered. I no longer wanted to protest, I was scared for my safety, I was scared into leaving, and I couldn't even leave."

British filmmaker Chester Yang uncovers the shocking reality of police powers in post-9/11 Britain in Kettling of the Voices. Following British students Brian and Ethan, two students protesting against the government's hiking up of tuition fees, we bear witness to troubling levels of surveillance, and both a media and a police force that seem a little too comfortable with the notion of banning political protest.



To purchase tickets visit the East End Festival website
---