6 November 2014:

The Scottsboro Boys is a musical with a difference - an all singing, all dancing show about racism in 1930s America
Following its sell out, award-winning season at the Young Vic, the critically acclaimed The Scottsboro Boys transfers to the West End for a strictly limited season.

Step right up and jump on board for this sensational musical which brings to life the extraordinary true story of nine black teenagers, in a case that changed history forever.

In 1931 nine black youths, who are on a train on the Southern Railway line between Chattanooga and Memphis, are hauled off and accused of raping two white women. In those days of rough justice, the youths were swiftly tried, convicted and sentenced to death.

Winner of the Critics' Circle Best Musical Award 2013 and nominated for 6 Olivier Awards, don't miss this all-singing, all-dancing, exhilarating and bold new musical.

The play is showing until 21 February 2015 at the Garrick Theatre, in London.

To get your hands on a pair of free tickets just email kitty@redpepper.org.uk with the subject line SCOTTSBORO by 24 November to be in with a chance of winning.*



*Tickets valid for Monday-Thursday performances, subject to availability, until 31st December (excluding week of 22 December). There is no cash alternative to the prizes, they are non-refundable and non-transferable and not for resale.
---
5 November 2014:

Andrew Smith and Matthew Burnett-Stuart from Campaign Against Arms Trade look at the role of arms companies in World War One and how they are trying to exploit Remembrance Day.
There are few industries with as much to be ashamed of as the arms trade. It is a trade that for generations has profiteered from grotesque human rights abuses and deadly wars and conflicts. Every year its weapons facilitate the deaths of hundreds of thousands of people, as it hands over extortionate profits and dividends to rich businessmen that appear to care little for the damage done by their wars.

As the nation marks Remembrance Day you might expect that if there is one industry that should be keeping a low profile it's the arms trade.

Unfortunately not. Despite its history of war profiteering it has only been too happy to exploit the legacy of those who have died in conflicts and to brazenly associate itself with the annual memorials.

One arms company that has a long and inglorious history of arming some of the world's most brutal dictatorships, Thales, has taken the opportunity to brand the entrance of Westminster underground station with a poppy covered billboard.

Lockheed Martin, the world's biggest arms company, is the main sponsor of the British Legion Young Professionals' Poppy Rocks event. Unfortunately this is far from the first time that the Legion has taken money from the arms trade. The UK's biggest arms company, BAE Systems, has been a long-standing 'supporter'. In the past it has sponsored national poppy appeals and donated to fund-raising drives. It's influence is still there, but now it keep a lower profile. This year they will be sponsoring the annual Poppy Ball white tie dinner, and specific offices and arms factories will be hosting their own local events.

The Legion has been co-opted for the interests of the arms trade before. In 2012 a newspaper investigation forced the then president of the Legion, Lieutenant General Sir John Kiszely, to resign over allegations that former commanders were using their connections to lobby on behalf of arms companies. Kiszely himself told an undercover reporter, who was pretending to work for a South Korean arms company, that the annual Remembrance Day ceremony was a 'tremendous networking opportunity' before boasting of the access it gave him to powerful people.

Arms companies and World War One

All of these companies would rather we ignored the role their industry has played in enabling war, both during World War One and in subsequent conflicts.

The Arming All Sides project exposes the hidden history of World War One. It tells of how a global network of arms companies fuelled war by selling a new generation of advanced weapons to anyone who would pay for them.

It was this drive for profits at all costs that led British arms companies, Armstrong and Vickers - which later merged to become BAE - to sell weapons to the Ottoman Empire that would soon be turned on British soldiers.

Moreover, as international tensions created new business opportunities, some arms companies purposely created war scares in order to increase the arms race. For example, Herbert Mulliner, director of Coventry Ordnance Works, persuaded the British government in 1909, with the support of the Daily Mail, that Germany was secretly accelerating its naval programme. The scare stimulated massive naval expenditure and created an atmosphere of mutual suspicion, making war more likely. Even Winston Churchill later accepted that the claims were entirely false.

World War One was shaped by weapons. It was the first global conflict since the industrial revolution, and the new generation of mechanised arms led to devastating casualties. Attempts had been made to ban Chemical Warfare as early as 1899, but the arms trade persevered, and gas killed 25,000 on the Western front alone.

It's for this reason that the tragedies of the time should never be forgotten, let alone airbrushed over by an arms trade that is trying to give the impression of legitimacy.

The arms trade and public spaces

It is not just Remembrance Day that arms companies seek to exploit, it's also other major civic events. Only last month Guildford Borough Council took the unusual step of suspending its own ethical sponsorship policy in order to allow it to take money from arms companies for Armed Forced Day in 2015. Likewise, this year drone company Selex ES was among the main sponsors of the Commonwealth Games in Glasgow.

Arms companies have also been more than happy to associate themselves with some of the country's best known museums and attractions. The last few years alone have seen the Science Museum, London Transport Museum, National Gallery and Edinburgh Science Festival among those that have taken money from the arms trade.

Arms companies do not do this because they care about the war dead, or because they want to promote art and culture. They do it because it is good for their business. By agreeing to take money from arms companies these organisations are giving practical support and a veneer of credibility to an industry that profits from the same war and repression that they seek to commemorate.

Andrew and Matt are spokespeople for Campaign Against Arms Trade. You can follow CAAT on Twitter at @wwwcaatorguk


---
3 November 2014:

The most vulnerable patients already attend too little, not too much, and don't need to be made to feel more guilty about what they are costing the NHS. Dr. Jonathan Tomlinson writes.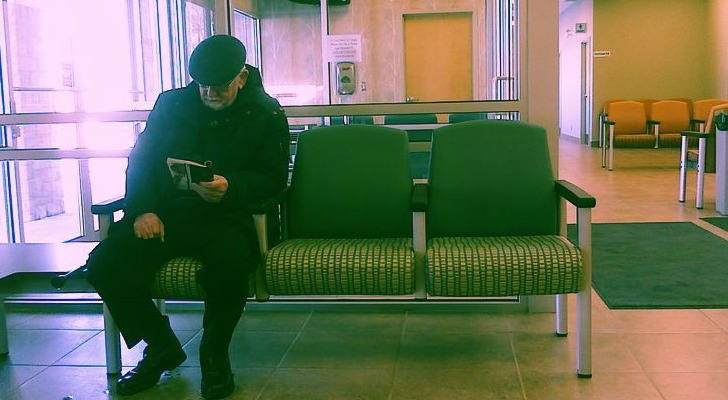 Tory MP Jesse Norman last week proposed that we should send everyone who uses the NHS an Annual Healthcare Statement. The statement would show them how much they have cost the NHS and 'by implication the value of NHS services'. It is designed, it says, to dissuade people from presenting to hospital or GP surgeries unnecessarily. The report also suggests 'more incentives' could be added in the future.

Fear that a free NHS would result in overwhelming demand has been around since the very idea of an NHS arose. It's an idea that has been superbly deconstructed by Julian Tudor Hart. Politicians and economists couldn't believe that free healthcare wouldn't result in unsustainable demand. In a panic they introduced prescription charges, which led to Nye Bevan's resignation. But in fact:

'In 1951 the first postwar Conservative government set up a Royal Commission to measure abuse and extravagance. After painstaking studies the Guillebaud Commission found no evidence of either, only hard-working staff and stoical patients, underfunded and lacking investment.

Study of a poor inner city area in the early 1970s showed that for each person who consulted with a minor problem, more than two others failed to consult at all, despite recent severe or worrying symptoms. Contrary to subjective impressions of overworked doctors, fear and denial of illness were more powerful than avidity for free consultations. Despite free universal access to the NHS, for most important chronic conditions less than half are medically recognised, of which roughly half are treated, and roughly half of these are controlled. Far from expecting infinitely, NHS patients expect too little.'

The most vulnerable patients already fear that they are a burden on the NHS. As a result they attend too little. Or they fail to attend because they are feeling ashamed, or even when they are feeling too unwell. Parents of young children struggle too, feeling 'strongly influenced by a sense of responsibility to act as competent parents and the fear of overwhelming guilt should they fail to do so'.

I have had a patient present with a breast cancer that had almost completely destroyed one breast, another that had a stroke but waited 3 days until they could see me, instead of going to A&E, another who ended up on a ventilator because she thought she was wasting NHS resources because her asthma is so difficult to control.

For the last two years GPs have been required to review all their patients who attend out of hours, A&E and the GP surgery frequently in order to try to identify whether they can be better cared for. The majority of patients who attend frequently are very sick, with, for example, severe heart, lung or neurological diseases, often requiring admission for intensive care.

Others have serious mental illnesses, sometimes compounded by illicit drug or alcohol use.

Under Jesse Norman's proposal those who require the most intensive care would be presented with by far the highest bills. I can think of one patient who spent 6 months in hospitals with recurrent perforations of his intestine due to his Crohn's disease.

What is an emergency?

There are certain groups of patients who attend frequently, who on superficial analysis might be assumed to be attending inappropriately. Some of them are suffering from 'medically unexplained symptoms'. These are physical symptoms like chest and abdominal pain, headaches, blurred vision, numbness and tingling, weakness and so on. In some cases they represent serious, difficult to diagnose disease, and in other cases the symptoms are a manifestation of unresolved and often unresolvable psychological pain.

Other groups that frequently attend are patients who are extremely anxious, those that are suffering domestic violence, those that have been abused and the very lonely. Experienced GP John Launer has asked, 'What is an emergency?' He recalls diagnosing a child with meningitis who appeared, at the time they came into his surgery, entirely well. He continues,

'I will happily accept having seen tens of thousands of mildly snotty toddlers over the years, giving their anxious parents a bit of friendly advice and education, and seeing them on their way in less than 5 min. We cannot, in other words, preach the importance of our own expertise and at the same time berate people for making use of it.'

Jesse Norman said to me that it was 'easy to see a GP reviewing a statement with a very vulnerable patient and encouraging better use with better outcomes'. He said that it would be 'especially valuable to the most vulnerable patients'.

When we meet with our most vulnerable patients, we spend the time trying to work out how best to help them. Usually we know them very well, because they come to their GP a lot as well. I have a pretty good idea about the impact of an Annual Statement. It will almost certainly add to their sense of being a burden on society and the NHS, something that they already feel. It will add to the anxiety parents of young children feel when they try to identify the goldilocks zone where their child is sick enough to warrant medical advice, but not so sick that they've left it too late.

It will encourage a superficial view of healthcare as a commodity, rather than care as something complex that happens between people. Something recorded as a minor illness on a hospital letter happens to someone with a history and a home-life, hopes and fears.

Once you start to understand these, you might come to the conclusion that there's no such thing as a trivial consultation.

Jonathan Tomlinson is a Hackney-based GP. He blogs at A Better NHS. This article was first published on Open Democracy's Our NHS section. Photo by Sharon Drummond on flickr.com
---
31 October 2014:

Hamza Hamouchene introduces the revolutionary documentary, The Pan-African Festival of Algiers 1969

The Pan-African Festival of Algiers 1969, will be screened on Thursday 6th November at Genesis Cinema as part of Film Africa.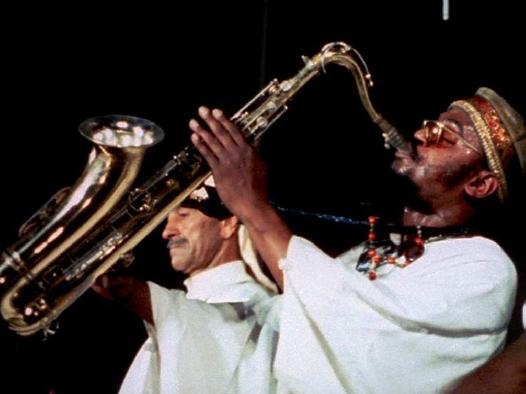 A close-up of a woman, followed by a backwards zoom, a man and a woman, both SWAPO (South West Africa People's Organisation, Namibia) militants, chanting the following words: 'Our country, our people, will be liberated by our own hands!' The hands are then held over the following proclamation: 'Down with Imperialism, Down with Colonialism!' followed by titles and images of struggles erupting onto the screen with a moving soundtrack: 'Colonialism, we must fight until we win! Imperialism, we must fight until we win!'

These are the opening scenes of the documentary, the Pan-African Festival of Algiers 1969, which set the anti-colonial and anti-imperialist politics of the film – reflecting the politics of the African continent in the 60s and 70s. Fifty, sixty years later, these slogans have not lost their relevance in the road to emancipation from imperialism.

The documentary is a collective film directed by William Klein and is about the first Pan-African Cultural Festival in the continent that took place in Algiers in July 1969, seven years after Algeria's independence. The radical atmosphere of a few summer days is captured in the film, which shows that this Pan-African gathering was a genuine meeting of African cultures united in their denunciations of colonialism and fights for freedom.

With the weight of its recent past – in particular its long struggle for independence that served as a model for several liberation fronts across the globe and given its audacious foreign policy in the 60s and 70s, the Algerian capital was to become a Mecca for all revolutionaries. As Amilcar Cabral announced at a press conference at the margins of festival: 'Pick a pen and take note: the Muslims make the pilgrimage to Mecca, the Christians to the Vatican and the national liberation movements to Algiers!'

The festival was impregnated with a revolutionary fervour and Fanon's ideas around a combative culture that is fuelled by people's daily struggles were bought to life. Following the footsteps of Fanon, the Beninese philosopher Stanislas Adotevi, shown in the film, points out the limits of the literary and ideological movement of 'negritude' – Adotevi states that: 'The enforced search for traditions, we repeat Fanon's view, is a banal search for exoticism. Negritude, hollow, vague, ineffectual is an ideology. There is no longer room, in Africa for literature that is outside the revolutionary struggle.'

His speech signals the film's offensive against the essentialist vision of negritude offered by Senegalese president and poet Léopold Sédar Senghor and a critique of the World Festival of Negro Arts organised in Dakar in 1966 with France's strong involvement and presence in the person of the French minister of culture Andre Malraux.

The film succeeds in conveying the idea that culture is a form of resistance to domination, a means for mobilisation and consciousness-raising and a medium for the political struggle against colonialism or any other form of oppression. Political leaders - like the first President of Angola Agostinho Neto and Leader of the Guinea-Bissauan independence struggle Amilcar Cabral, were also poets and considered revolution as a cultural action as well as a cultural transformation. They saw culture at the heart of their concerns because they associated it with liberation. They echoed Fanon's words in the Wretched of the Earth: 'A national culture is not a folklore, nor an abstract populism that believes it can discover the people's true nature....It is around the people's struggles that African-Negro culture takes on substance and not around songs, poems or folklore.'

This message culminates in the film with the affirmation: 'African culture will be revolutionary or will not be!' appearing on the screen over a picture of a young guerrilla fighter. His smile embodies the hope of a continent.

The film is in the tradition of militant and political cinema. It succeeds in organically integrating the political and the festive incarnated in bodies, in dances, and in comings together. Moreover, it moves from the recent memory of the Algerian war of independence to others that are on-going, from the struggle against colonialism to the struggle against neo-colonialism, from colonialism to imperialism and from a national situation to the continental. In the words of Agostinho Neto, which appear in the film as an inter-title: 'If the idea remains, in some of our fighters, that the struggle is against the white man, it must immediately be replaced with the idea of a struggle against colonialism and imperialism, for freedom and for freedom of human beings in the world.'

Despite the scantiness of its distribution (if any) in Africa and the Third World, it remains a reference for African and Afro-American liberation movements that were present in Algeria from Guinea Bissau and Cape Verde (PAIGC), Angola (MPLA), Mozambique (FRELIMO), Namibia (SWAPO), South Africa (ANC) and the US (Black Panthers), and shows the emergence of a brotherly and generous Pan-Africanism.

William Klein's Pan-African Festival of Algiers is a very important film if only as proof of the radical and brotherly atmosphere that dominated Algiers in July 1969. It makes use of archive images but also includes extracts from documentaries such as: Algerie en flames by Rene Vautier (1958) shot in the Algerian maquis, Come Back Africa by Lionel Rogosin (1959), a film about South Africa with the signer Miriam Makeba and her family, Bruno Muel's Sangha (1967) about diamond mining in the Central African Republic and Madina Boe by Jose Massip (1968) filmed with the liberation movement PAIGC in Guinea Bissau.

The last sequence in the film is particularly gripping when we see the free-form African American saxophonist Archie Shepp in concert with a group of Tuareg musicians. Shepp in a ferocious and uncompromising set broke away from the constraints of the European-derived harmonic system and reconnected with the African roots of Jazz. We witness how both styles of music: Jazz and Gnawi, between tradition and modernity start to intertwine, to find a common rhythm. This scene, played in front of the Black Panther's militants, was a reaffirmation of the link between African Americans and Africa.

This film demonstrates that Pan-Africanism has been part of the Algerian identity since independence and was a key idea in the 60s and 70s, something overlooked today. Algerians should not disavow this past, we should be proud of it without being imprisoned by it. At a time when the international economic system blames its victims rather than its upholders, diverts any attention away from the mechanisms of domination and resorts to culturalist (often racist) explanations of its failures, it is crucial for us to immerse ourselves in this revolutionary and progressive past.

The vision and lucidity of Klein, Algerians and all the African nations that met in Algiers in 1969 shine through in the film. We need just such clarity of purpose to create a break with the long history of plunder, violence and injustice Africa has endured. This is why it is necessary to overcome the propaganda of an enslaving system that disguise its chains and shackles under benign phrases of the like: 'the invisible hands of the markets', 'the happy globalisation' or 'the humanitarian responsibility to protect'. Fanon put it so well: 'Each generation must, out of relative obscurity, discover its mission, fulfil it, or betray it.'

'Imperialism, we shall fight you until we win!'

Dr Hamza Hamouchene is an Algerian activist, writer, a founding member of Algeria Solidarity Campaign (ASC) and a member of Culturama that is organising the screening of the documentary.
---
28 October 2014:

Sophie Baumert explains how a year of student campaigning caused the University of Glasgow to divest from the fossil fuel industry.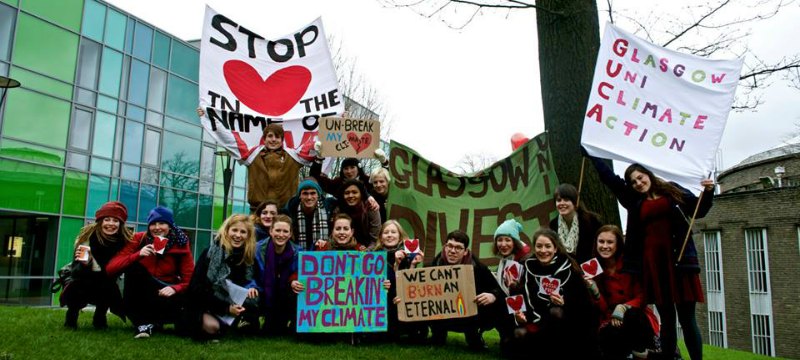 On October 8, we became the first university in Europe to stop investing money in companies like Shell, BP and Chevron, due to their role in driving climate change by unearthing more fossil fuels than the Earth's atmosphere can safely absorb.

Bill McKibben's movie 'Do the Math' inspired us to launch our own fossil free campaign and we started with a petition to gather student support. Throughout the year we organised a panel discussion, hosted film screenings and published articles in student media. We held regular actions on campus, staging fake oil spills and dropping banners from university buildings. Gaining a public profile for the campaign meant that we had more power to leverage with the university. With more at stake, we were taken more seriously.

Our first small win came when we convinced our Student Representative Council (SRC) to present our cause to the University Court, the decision-making body for financial management. This meant our proposal would be officially considered by the university! When the SRC brought our motion forward to the University Court, a working group was founded to inform itself about divestment and share its conclusions with the court.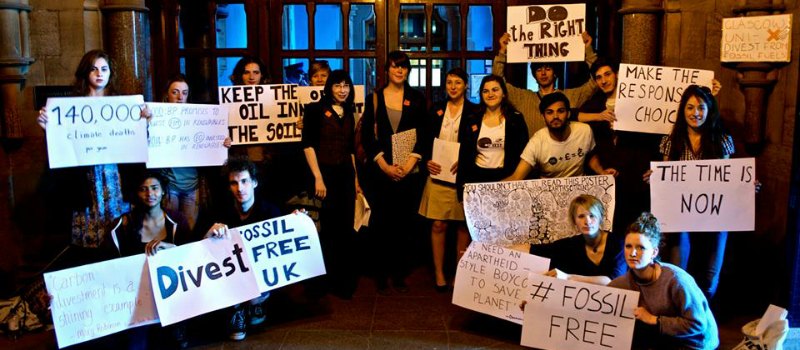 To have any real chance of being successful, we knew that we had to convince this working group. So we worked day and night to adapt a very extensive research document on climate change and arguments for divestment from a Canadian (Thanks 350.org Toronto!) into a UK context. This was extremely labour-intensive, but in March we were able to hand over the document, along with our petition, to the Secretary of Court.

Unfortunately the court delayed the decision due to unanswered questions on divestment. This was devastating. The next session was due in October, giving us very little time after the start of term in late September to build up momentum.

When the time finally came, we had to do everything at once. After quickly training up our new team members, we created public pressure by holding a demonstration, issuing press releases, and telling everyone to flood the university's social media accounts. At this point we were unable to approach decision-makers directly, this was taken out of our hands.

But the University of Glasgow proved that it was not deaf to its students' concerns about climate change and their university's role in it. It took a committed stance and extended its response to climate change to the management of the university's finances.

The minutes published by the Glasgow University Court reveal that we won the campaign on our moral argument. The minutes state that, '[The Working Group] supported the ethical case for disinvesting from the fossil fuel extraction industry... the group had been strongly persuaded by the quality of the arguments presented.'

Very often, divestment campaigns lose traction by getting sucked into financial arguments. Considering the fact that 80 per cent of proven fossil fuel reserves have to stay underground in order to avoid the most dangerous effects of climate change, the fossil fuel industry's net worth is overvalued. Divesting from fossil fuels is therefore financially prudent. But financial arguments are not where our power as a movement lies. It's wrong to profit from wrecking the climate – that's the reason for our campaign, and that's what we should be arguing about.

Photos by Laurie King
---
28 October 2014:

Towards the end of October's Parliament Square occupation, Stefano Fumagalli spoke to to several participants about their experience and hopes for the future of the campaign.
Shahrzad

How long have you been here?

I spent here 3 nights, but I was here every day since Monday to support.

Why did you take part?

To focus on the big issues like TTIP, NHS, and wars, to show how they are related. We did not decide or vote for any of these things, because in fact we do not have a democracy. This protest has been about bringing everyone together, the movement does not belong to us, it belongs to everybody.

What will happen next?

One of the most popular suggestions is that we should start from local squares, not from Parliament, where the people inside are totally disconnected from the real world.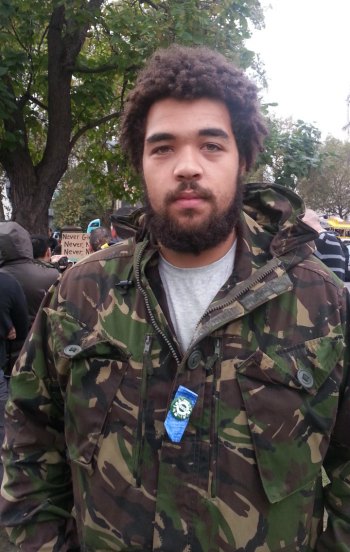 Daniel

How long have you been here?

I slept here 4 nights, but I came every day

What were the high and low points for you?

The best moment was when the police came to clear the square to squash the voice of people, because that was exactly the reason why we were here, to demonstrate that there is no democracy. The fence they raised is a physical representation of the lack of democracy in this country. To me it looks like an art installation. The same moment was also a low point, watching people get hurt for nothing, for sitting on the grass. That made clear that there is no democracy.

What will happen next?

I like the fact that there is so much energy here and I would like to export these ideas away from this area, and maybe engage more people in public spaces.


Lorraine

How long have you been here?

I have been here every day, but not during the nights, I work full time.

How have you found it?

One of the best moments for me was when the police tried to remove everyone from the grass, just because they were sitting there, but solicitors managed to stop them and the police backed down. The next day 140 cops came to remove people from that area, so we moved here to the side of the square. I also really enjoyed Caroline Lucas' speech.

How is the message going to spread?

I feel that the passion we saw here is enough to show how important this was. People need to know more and to understand more about many things, like TTIP, so talking to like-minded people is very important as well as bringing along more people.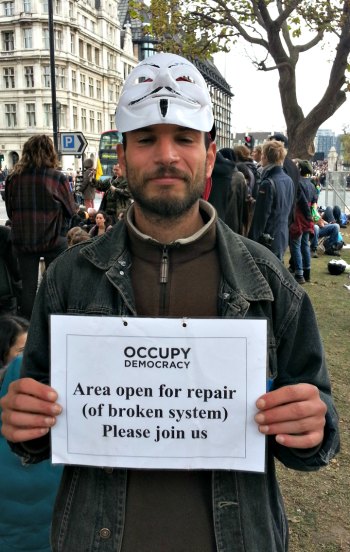 Daniel

How long have you been here?

4 days and 4 nights so far.

What was the high point?

I think that now Parliament Square really is a place for debates and many interesting things have been discussed over the last few days.

How about the low point?

At the beginning the police were threatening us. They said there must be no singing, no sleeping, no music, but these were only excuses to remove people from the square. In the end we did what we wanted to do. Now they have changed their approach and when one of us was sick the police were very helpful.

What will happen next?

I believe our message will continue on social media.


Nina

How long have you been here?

I spent 2 nights here, but I have been here every day

Do you think that the protest was useful?

We created a safe and free space. We had a lot of speeches and learned a lot from each other. We have practiced real democracy so everything has been done here because we chose to do it, everyone is invited and there is no discrimination.

What will happen next?

The good thing is that we are here and this raises questions. This is what democracy is. When we talk about democracy this creates a new vocabulary, now everyone knows the meaning of 'occupy democracy'.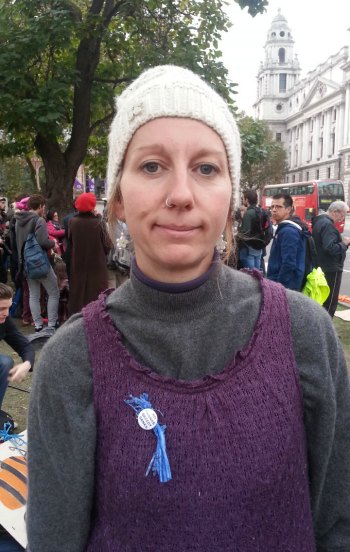 Gail

How long have you been here?

I spent here 2 nights but I have been here every day.

Do you think the protest achieved its goal?

Fencing off the Parliament Square is exactly what we are talking about.

Do you think this message will spread?

There has been a huge use of social media. I think there has been a lack of main stream media coverage, and this is significant. There are lots of discussion about what to do next, but it takes time to decide, it is a participatory way of deciding. I think that democracy is very damaged when you can't talk outside the Parliament.




Read the current demand list for Occupy Democracy and plans to re-occupy the square in November.

Photos by Stefano Fumagalli
---
28 October 2014:

And other recommended reads from feminist blogger Emma Frankel-Thorin

'London: a migrant's guide' - a new pamphlet by Solidarity Federation. A very helpful guide for migrants arriving in the UK.

Pronoun etiquette comic - It's important to make a genuine honest effort to get people's pronouns right.

Lets talk about that Bass - Body positivity is incredibly important. However a body positivity that at any times hails itself as 'the better body' is not good. We should not be punching down as a way to push ourselves up.

'Why didn't you just leave?' - Six domestic violence survivors explain why it's never that simple.

The problem with Ched Evans returning to football - by Jude Wanga, writer & human rights campaigner.

The future of the culture wars is here, and it's Gamergate - A long break down of gamergate & how it started.

Let's broaden the talk about thin privilege - We tend to discuss anything through a white lens. Here is why doing that with thin privilege is so limiting.

Stop blaming sex workers for street sexual harassment - It's not sex workers fault that you're being harassed, instead blame men & the patriarchy that tells them that they are entitled to our bodies.

Tourism, white privilege and colonial mentality in East Africa - by Samira Sawlani

Amanda Bynes, Robin Williams and the spectacle of mental illness - Being a celebrity doesn't make you fair game in terms of your personal life.

The foodbank dilemma - Food is a human right, having to struggle to eat because of our corrupt government is dehumanising at the very core.



Emma blogs at: www.emmaquitefrankly.blogspot.co.uk and Tweets: @ExtraFT
---
25 October 2014:

Parliament Square has been the venue for some ridiculous policing since the Occupy movement arrived on 17 October. Alex Nunns gives the highlights


1. You can't do politics here, this is Parliament.

If you thought that the square outside Parliament is an obvious place for political action, you were wrong. Turns out there's a whole new section of law, passed in 2011, to stop any kind of Occupy-style protest on Parliament Square, where our delicate MPs might actually have to see it on their way to work. This being a top priority, hundreds of police have been deployed to enforce it. One of them told me that protesting isn't allowed because Parliament Square is private property – a metaphor for British democracy, especially as the 'private' owner is the Greater London Authority.

2. Pizza boxes are 'sleeping equipment'.

Yep, after Russell Brand turned up late at night with a stack of pizzas for the protesters, a police officer warned activists that if any of them fell asleep on an empty pizza box, they would be prosecuted under the 2011 law for using sleeping equipment in Parliament Square. One protester tested it out by pretending to sleep on an empty box in front of an officer. He got away with it, because the policeman said he was 'pseudo-sleeping'.

3. Tarpaulin is a structure.

Tents and structures for sleeping in are also banned, but the police have stretched the definition of structures to include umbrellas, and have even claimed that tarpaulin, placed flat on the ground for people to sit on, is a structure. (At other times they have deemed it sleeping equipment.) On the night of Sunday 19 October, protesters non-violently resisted hundreds of police for hours in the epic Battle of the Tarpaulin. Simply sitting on the tarpaulin could land you some manhandling from a police officer. The police dragged the offending tarpaulin away, but where one tarp fell, another rose in its place (or vice-versa), and on 21 October came the Second Battle of the Tarpaulin. That ended with the protesters being evicted from the central square, which was then sealed with a two metre high metal fence patrolled by police dogs, like a bizarre inversion of a prison camp. But the #TarpaulinRevolution continued on the pavements and borders.

4. The police will de-arrest you... if you're a member of the House of Lords.

At the climax of the Second Battle of the Tarpaulin, Green Party politician Jenny Jones arrived on the scene and was promptly arrested. When the youngish police officer realised that he had arrested a member of the House of Lords (and also, exquisitely, the deputy chair of the London Assembly's police and crime committee) he suddenly 'de-arrested' her. Asked why, he just said 'That's my decision.' Jones later wrote of how it was the first time she had been arrested: 'I like to think I'm a law-abiding citizen. I don't drop litter, run red lights on my bike, or take backhanders to lobby on behalf of dodgy corporations.'


5. Michael Swain, a private security guard, apparently commands hundreds of police.

Not many people have heard about 'heritage wardens', like Michael Swain here. He works for private security company Accent on Security, but you wouldn't know it from his official looking uniform. Heritage wardens are like traffic wardens for people, descending on anyone who has parked themselves in a prohibited area. They even claim authorisation to use 'reasonable force' – Swain tried unsuccessfully to lift up a protester to remove him. The Greater London Authority contracts these private guards to patrol sites like Parliament Square and confers on them unaccountable powers with no apparent means of challenge – a practical example of the kind of outsourcing and privatisation that Occupy Democracy has been protesting about. And here's the remarkable thing: Swain and his private security colleagues have effectively been directing police officers. By wandering round requesting officers' assistance to enforce their arbitrary decisions, the wardens have enabled the police to act in ways they might otherwise not have been able to.

6. Protests are allowed on Parliament Square, but banners aren't.

Banners and protest go together like bankers and crime. A protest without banners is like fracking without gas. But occupiers have been told that, even if they have a right to protest, they can't have banners to communicate what they're protesting about. Apparently banners and signs breach by-laws specific to Parliament Square, although that hasn't been the only reason given – protesters were told that one banner constituted a structure. When they picked it up and walked around with it, it became a 'moving structure'. Of course, plenty of recent protests in Parliament Square have featured banners (along with amplification, tarpaulin and the rest), like the People's Assembly rally just a few months ago. The decision to police Occupy Democracy differently is deliberate and political. After all, if they've gone to the trouble of drafting special laws for these protesters, they're going to want to try them out.


It turns out repairing democracy was not what the sign meant

7. The health of the grass takes priority over human rights.

On Tuesday morning, 21 October, a major policing operation was launched involving tens of officers forcibly evicting protesters and arresting 15 people for one pressing objective: to protect the grass. Taking this stated reason at face value, two occupiers tried the only logical response: they walked to where the grass was lush and green and sat down there instead. 'This is perfectly good grass,' said protester George Barda, patting the ground and patiently explaining to three unresponsive police officers that they had a duty to facilitate his right to protest – a fundamental human right enshrined in law – as well as an obligation to the grass. In this clash of rights, the grass won.

8. Giving an omelette to a protester is a crime (if the protester is on Winston Churchill's statue).

Denied the ability to protest on the fenced-off grass, Statueman, aka Plinthguy, aka Danny, climbed to fame when he scaled Churchill's statue and stayed there for over 28 hours, even reaching down to swipe the hat of a policeman who got too close. (He gave the hat back, but police were determined to charge him with theft. 'How can he have stolen the hat when he's given it back?' someone asked, and was told that it wasn't a victimless crime – the hat would have to be professionally cleaned.) When two other protesters attempted to throw Statueman some water – which the police were denying him – they were arrested. Green MP Caroline Lucas arrived and tried to throw him an omelette, but was warned she would be arrested. Her Green colleague Jenny Jones was nearly arrested for a second time, and probably would have been if she had better aim – lucky for her, the bottle she threw missed the statue entirely. Statueman eventually came down and was arrested, but returned the next day, scaled the fence, ran around on the grass, fed the police dogs sausages and got arrested again.

9. Over-policing is counter-productive.

Occupy Democracy didn't start out with big numbers. It was initially ignored by the media and even by most of the left. Of the 100,000 people who marched to Hyde Park under the TUC banner on 18 October, only about 100 black-bloc anarchists, samba players and others made the extra trip from Hyde Park Corner to join those already in Parliament Square (call them the 0.1%). Although Occupy Democracy got on with discussions ranging from NHS privatisation, TTIP, fracking and war to democracy itself, it might have passed by under the radar. But by deploying hundreds of police, constantly harassing and intimidating protesters, enforcing petty rules about grass and banners, pretending that pizza boxes and even people's clothes are sleeping equipment, confiscating people's stuff including medication, evicting people from the grass, fencing off the square, threatening court summonses, making over 40 arrests, hurting people, dragging people, punching people, using pressure points on people, bringing young, well-intentioned protesters to tears, the authorities have made the occupiers' point for them. The politicised role of the police, working in collusion with a private security firm, has only exposed the outrageous infringements on protest in Parliament Square, and demonstrated that privatisation has spread to core public functions. Even the occupiers in Hong Kong haven't faced the quantity of restrictions as those outside the 'mother of parliaments'. Denied space, sleep, shelter, banners, signs, music, microphones and tarpaulin, their technical right to protest is rendered almost meaningless. Occupy Democracy's victory is that it has not only defied these impediments but turned them back on themselves to create a powerful political action.

Alex Nunns tweets at @alexnunns and blogs at wheretheresmuck.wordpress.com
---
24 October 2014:

The UK suffers the worst levels of fuel poverty in Western Europe; each winter one older person dies needlessly every seven minutes. Fuel Poverty Action urge you to support their latest campaign, launched at Parliament this month.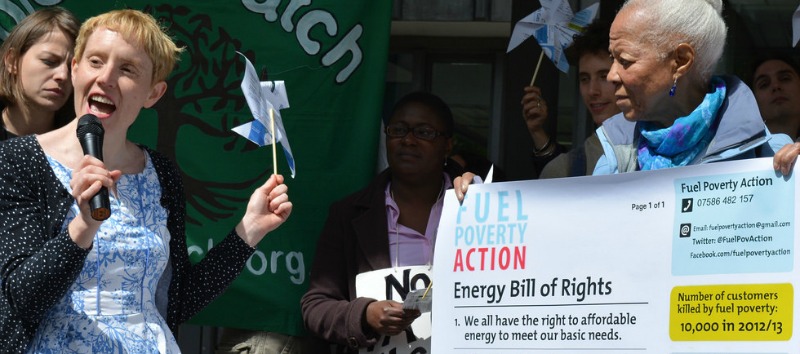 Monday 27 October saw the launch of an energy bill with a difference; the Energy Bill of Rights. Put together by Fuel Poverty Action, this declaration unites the right to have warm homes (and dinner!) with the right to protect our local environments and climate.

A packed room at the House of Commons included people fighting the energy companies and landlords - over prices, unfair billing, cut-yourself-off meters, inefficient boilers and bad housing - alongside people fighting to stop fracking, nuclear subsidies, and for renewable energy under public control. The launch was supported by John McDonnell, MP, and Caroline Lucas MP who will introduce an Early Day Motion.

Sadly, as well as unregulated private profiteers, the landlords people are up against are often housing associations. Tenants from Ruislip, Haringey and Brixton can testify to the lack of choice, extortionate billing and inefficient heating systems imposed on them by their social landlords, often on the backs of 'regeneration'. One representative from Longtown, Cumbria shared their experience of a housing association that imposed a new, unsuitable heating system that tenants can not afford.

Together with the Energy Bill a new mini-guide to existing rights for people in trouble with their energy companies was released. Many thousands are locked in battles over their debts and bills, but are too often fighting alone. Some rights do exist; to negotiate debt payments, not to be cut off, not to be forced to put fuel debts above feeding your children. Fuel Poverty Action would be glad to be in touch with anyone who would like to help make this information available in their community.

A movement of self-help and solidarity could end the uncontrolled financial violence of the bullying Big Six energy companies. It could also give us the muscle to demand our so-far unrecognised rights; put energy in the hands of the people who need it to keep warm; and put the lie to the line that we must now choose between our economic survival and a life-sustaining climate.

These rights are reasonable, practical, and essential. They are:

1. We all have the right to affordable energy to meet our basic needs. Everyone should be able to cook food and keep warm when it's cold.

2. We all have the right to energy that does not harm us, the envionment or the climate. This means shifting from fossil fuels and nuclear power to renewable energy from the sun, wind and waves.

3. We all have the right to energy that does not threaten health, safety, water, wair or the local environment of a community. This means no fracking and no unwanted oil and gas pipelines through communities.

4. We all have the right to a fair pricing system that does not penalise those who use less. The standing charge should be abolished. People should not pay more per unit when they cut down their energy use.

5. We all have the right not to be cut off from our energy supply. We should not be disconnected because we cannot afford to pay our bills or top up our meters.

6. We all have the right not to be forced onto a prepayment meter. Energy companies should have no right to break into our homes and install them against our will.

7. We all have the right to energy that is owned by us and run in our interests. Energy should not be run in the interests of big business and shareholders. There is an important role for both local and community ownership and democratic public ownership.

8. We all have the right to properly insulated well repaired housing that does not waste energy. This must include protection for tenants who demand it from their landlords who may fear eviction if they approach their landlords in pursuit of this right.

Fuel Poverty Statistics via Age UK and the Association for the Conservation of Energy


---
22 October 2014:

The Trade Union Congress reported up to 90,000 people took part in a march and rally on Saturday 18 October.



A range of unions and campaign groups were represented, calling for an end to austerity measures, privatisation, job losses and pay freezes. Frances O'Grady, TUC General Secretary addressed the crowds:

'How dare David Cameron tell us that there isn't enough money, when he's just given billions away in tax cuts to the rich. Billions are left uncollected through tax avoidance, and tax payers are paying out £28bn every year because bosses are too tight to pay their workers a living wage. How dare he? If a 10% increase is good enough for them, then a 10% increase is good enough for us'.


---