22 October 2014:

The Trade Union Congress reported up to 90,000 people took part in a march and rally on Saturday 18 October.



A range of unions and campaign groups were represented, calling for an end to austerity measures, privatisation, job losses and pay freezes. Frances O'Grady, TUC General Secretary addressed the crowds:

'How dare David Cameron tell us that there isn't enough money, when he's just given billions away in tax cuts to the rich. Billions are left uncollected through tax avoidance, and tax payers are paying out £28bn every year because bosses are too tight to pay their workers a living wage. How dare he? If a 10% increase is good enough for them, then a 10% increase is good enough for us'.


---
17 October 2014:

Demonstrators gathered in Trafalgar Square this week to protest against the privatisation of London's National Gallery. Morgan Meaker reports
Back in July the gallery announced plans to privatise up to 400 of its 600 staff positions, blaming government cuts for leaving them with no other option.

Staff went on strike on Wednesday morning to coincide with the opening of the Rembrandt exhibition, which was manned entirely by private security forces. However the industrial action succeeded in closing the gallery's East Wing.

The protest formed part of the national dispute over job losses, pay cuts and pension increases. More than 200,000 Public and Commercial Services Union (PCS) members took part in the strike outside government offices, museums, galleries and court buildings across the UK.

Paul Bemrose, an officer for PCS told me, 'National Gallery staff are living on very low income. Costs are going up but wages aren't. Ultimately we blame the government. They dictate wages here but their pay restraints are not stimulating the economy.'

Outside the entrance to the Rembrandt, two striking gallery workers said they felt undervalued seeing a private company do their job without the same knowledge or passion in art. 'It's a strange feeling' one said. 'It's like have squatters in your house. We've been turfed out'.

Many gallery workers were reluctant to talk to Red Pepper and refused to be named, fearing repercussions.

Bemrose said, 'Management are frightened that the gallery's reputation will be damaged and there's a threat of disciplinary action if staff speak to the press. There are elements of management who see PCS as a blocker. We want our members to be treated fairly but their primary focus is the exhibitions.'

Another PCS member at the Gallery told Morning Star that 'when the privatisation package was announced, the head of human resources told us that we couldn't speak to the press, and that it was an infringement of the confidentiality agreement. On a basic principle of free expression I don't think it's right to gag union reps.'

Art not oil

The protests against the National Gallery were firmly supported by environmental groups because the Rembrandt exhibition was also sponsored by Shell.

Clara Paillard, President of the PCS Culture Sector, said: 'Privatisation and sponsorship by oil companies are two sides of the same coin: it is about the on-going sell-off of public services... It is about exploiting workers for corporate profit.'

On Monday evening, activists from 'Bp or not to BP' and 'Shell out Sounds' staged a theatrical protest at the press launch of the Rembrandt. Masked actors performed a musical (below) about a 'Museum man' who sells his soul to Shell, the 'corporate monster' and 'oily sponsor'.

Chris Garrard from Art Not Oil gave a speech outside the gallery on Wednesday morning: 'The arts are for people and should be funded by the public – not corporations. The National Gallery have got rid of their links to the arms trade before, they can tell Shell to get lost – we don't want this privatisation.'

Gallery visitors had mixed opinions. Simone Klass, 68 said, 'I don't believe in striking in today's climate. Everyone should work together to fight bigger issues. It's the wrong thing to focus on at this time. However most seemed supportive, including photographer Ann Evelin Lawford, 24, who added 'I would go on strike as well. Galleries should be moral. What shell stands for isn't good compared to what art is about.'



---
10 October 2014:

#strikeup and share your experiences and thoughts about what it means to be on strike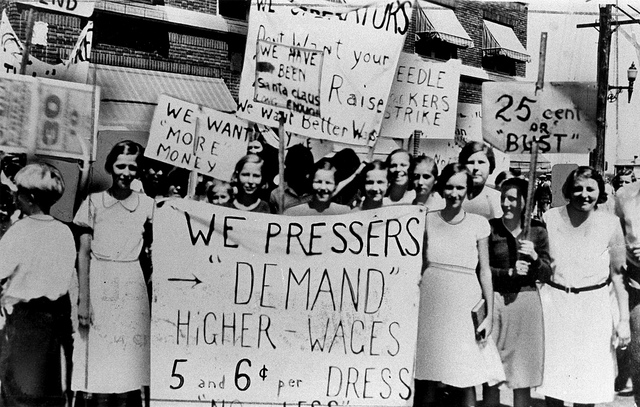 Photo: Kheel Centre/Flikr. Workers of the International Ladies Garment Workers Union on strike.

In the run up to and during next week's strikes and the TUC demo (October 18), Plan C are asking people to #strikeup conversation with other people about what it means to be on strike. These could be one line questions or a whole dialogue.

'Ask on the school runs or the picket lines, ask over Facebook or in person, and publish on social media using the hashtag #strikeup. Alternatively, email your answers (and photos!) to info@weareplanc.org'

Plan C have also suggested a number of relevant questions, including but not limited to:

- Why are you on strike?

- Why is it/ isn't it possible for you to strike?

- What have you had to do differently with your day because you are on strike?

- What do you hate about work?

- What do you think work will be like in the future?

- What would you like the future of work to be like?

- How close to your full desires is 'we demand a pay-rise'?

- What do you think will change as a result of the strike?

So #strikeup and speak up.
---
10 October 2014:

Activists call for a radical rethink of carbon footprint measurements in Manchester. Stefano Fumagalli and Jenny Nelson report


The People's Environmental Scrutiny Team (PEST) have published a 12 page report, Total carbon footprint – time for a second step, assessing the progress of and prospects for Manchester's consumption-based carbon footprint metric.

The authors, Joe Blakey and Claire Woolley, both from Manchester, argue that current carbon emission measurement techniques are inadequate. The conventional measurement technique, based on the Kyoto Protocol, has a territorial approach, excluding exports and products that are consumed – but not produced – in the area of study. From this point of view the UK is responsible for only 2% of global carbon emissions, a claim that Dr Alice Bows of Manchester University has labelled 'irresponsible'. Blakey and Woolley call for the adoption of a consumption-based metric, Total Carbon Footprint.

In 2009 the City Council of Manchester made a commitment to monitor their total carbon footprint using a consumption-based approach to emissions. Unfortunately this was not achieved by the target date of 2013 and momentum now seems to be lost. The report cites the financial crisis, among other factors, for the lack of progress made, despite evidence that building a low carbon community could boost the local economy.

Local democracy and climate change

This month's global protest and next year's United Nations Climate Change Conference in Paris suggest that climate change is moving to the center of the political agenda. Those who seek local solutions will be interested in the activist group behind the report, PEST—named after a long-awaited council initiative—who act as a capacity building and network-weaving hub for campaigners.

PEST Founder Marc Hudson explained his group's involvement in the report: 'For me the most important and interesting thing is to help unlock the skills that already exist within and between people . . . so the reports that we produce are a means to an end'.

In recent years, several efforts have been made to scrutinise and push forward the local council's commitment to tackling climate change. Yet Hudson believes it will take some time to get the city's carbon footprint seriously addressed: 'We are not expecting early success, this is a marathon, not a sprint'.
---
9 October 2014:

Ed Lewis urges you to change your weekend plans and get involved with the campaign against TTIP.
If you've heard of it, you probably can't remember its name, but the Transatlantic Trade and Investment Partnership (TTIP) – a proposed 'free trade' agreement that the US and EU are currently negotiating – is a more dramatic affair than its bland title suggests. In reality it amounts to a charter for extending corporate power at the public expense. The good news is that this Saturday 11 October will see a wave of coordinated activism across Europe – over 300 actions are set to take place, with over 20 in the UK, as part of a growing movement against TTIP. Here are some reasons to support the campaign:

1. TTIP is really, really bad news. The economic dislocation it will cause could lead to the loss of over one million jobs. The removal of 'barriers to trade' across the Atlantic threatens the driving down of regulatory standards. So Europeans could see the minimum wage under threat, their supermarkets filling up with hormone-pumped beef, a huge expansion of fracking, and much else besides. Privatisation of public services, such as the NHS and education, could be locked in and taken further. Perhaps more alarmingly, under TTIP corporations would be given the power to sue governments for passing laws that threaten their profits. The mechanism that would enable this has been used by Philip Morris to sue the Australian government for introducing plain packaging on cigarettes, and Dutch company Achmea to sue Slovakia for renationalising part of its health service – seemingly a deterrent to any future Labour government that might seek to renationalise parts of the NHS.

2. This is one we can win. TTIP is in many ways similar to the Multilateral Agreement on Investment – which also proposed regulatory harmonisation and the power for corporations to claim compensation from states for lost profits. The MAI, however, was defeated in 1998 after a wave of protest. Today, there is significant pressure already against TTIP – an EU-wide petition calling for TTIP to be scrapped was launched this Wednesday and already has over 300,000 signatures. Those driving TTIP seem anxious and are not getting things all their way; Barack Obama asked for fast-track negotiating authority for TTIP from Congress but was denied it. Negotiators have imposed a formidable veil of secrecy over the developing text but leaks have begun to reveal the reality of TTIP, exposing it to increasing scrutiny. Cracks in the edifice are appearing.

3. Stopping TTIP will strengthen resistance to the politics of austerity and neoliberalism. In the UK we've seen a wave of heavy defeats since austerity took root under the current government. Despite periods of determined campaigning and some notable victories, the prevailing mood on the left is downbeat and the neoliberal project marches on undaunted. A defeat of TTIP, however, would be a defeat of a major policy initiative of the transatlantic ruling class, and would be a much-needed boost to the left.

4. We need more internationalism. Despite fractures among elites, neoliberal and austerity reforms are being consistently applied through 'internationalism from above' – witness, for instance, the collaboration of the troika European Commission, European Central Bank and IMF to impose punitive monetary policy on Greece, Spain, Ireland and Italy. TTIP itself is a quintessentially internationalist project but, whereas austerity is largely being fought at a national level, the movement against TTIP is a promising example of 'internationalism from below'. The networks being formed through the anti-TTIP movement could therefore serve as a basis for further international mobilisation, which is badly needed at present.

5. The campaign needs to grow and its social base needs to broaden. For all the strengths that the movement TTIP has, the expected participants on 11 October are likely to number in the tens of thousands, rather than the hundreds of thousands, or millions. There's no equation that tells us how many people need to be mobilised to ensure success, but clearly our chances are best if we can increase the numbers. Likewise, the movement will be strongest if it can broaden out to wider layers of society, in particular those will be affected most by TTIP's impacts – workers and people on low incomes.

To find out more about Saturday's actions see www.nottip.org.uk or join the 38 degrees campaign network. And don't forget to sign and share the petition, too.

This article was first published by New Left Project. Ed Lewis is an activist with World Development Movement and a co-editor of New Left Project.
---
9 October 2014:

Liam Barrington-Bush reports from the eviction of homeless mothers who squatted flats of an empty housing estate in East London.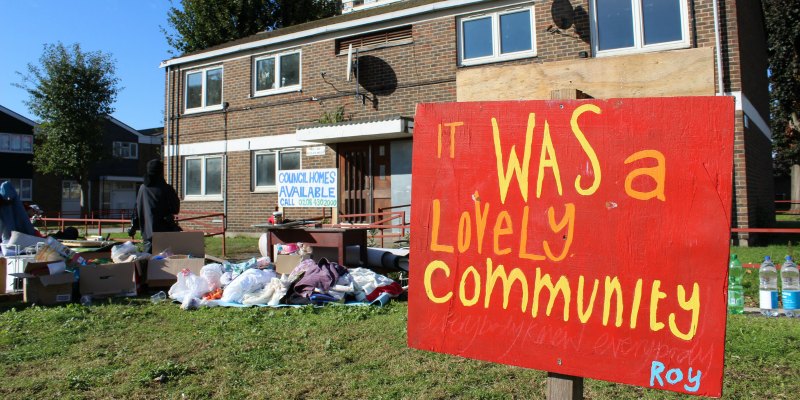 This week, under threat of physical eviction from Newham Council, I helped the last members involved in the occupation of four vacant flats on the Carpenters Estate, to remove the last of their belongings from the building. The Focus E15 mums, whose story has spread across the country like wildfire since they took over the flats just over two weeks ago, had known this day was coming. But there was still a feeling of sadness as this makeshift community left 80-86 Doran Walk and watched contracted security guards re-occupy the block and seal it up to prevent others in need from calling the flats their homes.

More conservative voices have decried the illegality of the occupation, pinning blame for their situation squarely on the mums, rather than an out-of-control free market which has priced out large swathes of its intended 'customers.' In practice, this has meant that untold numbers of people – like those kicked-out of Focus E15 last year – have been forced into the indignities of couch surfing, rodent-infested private rentals, and even rough sleeping.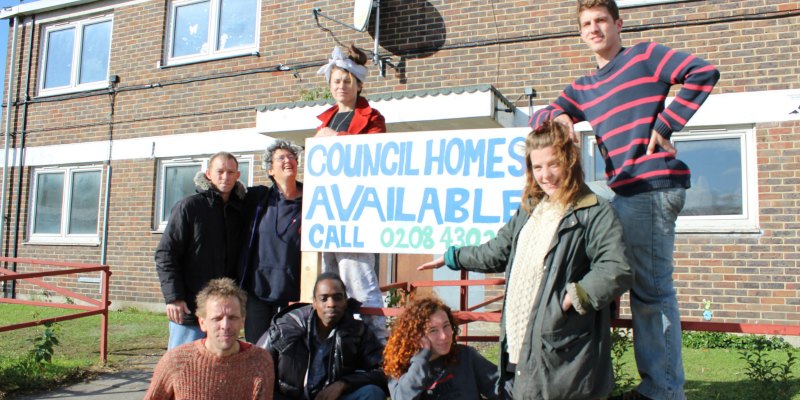 This is unacceptable at the best of times, and is morally criminal at a time when community members estimate that the Carpenters Estate alone has at least four hundred unoccupied flats within its boundaries, shuttered and rotting, just as 80-86 Doran Walk will be after the eviction. While the mums are no longer living on the Carpenters Estate, they have offered lessons to others around the country who have found themselves living the housing crisis. They have reminded us that unjust laws can't stop us from coming together to meet our collective needs. When injustice becomes law, resistance becomes duty. Or simply necessity.

This is being shown in factory occupations in Argentina, Italy, Greece and France, where ex-employees are taking collective control over bankrupt factories and running them without bosses. It is being shown in resistance to mining and fossil fuels extraction by both Indigenous peoples and settlers up and down the Americas, where communities are keeping their land and water from being poisoned by companies that have the 'legal rights' to do what they want to them. And it is being shown in East London, where being forced to live in inhumane conditions is not being accepted as an inevitability, when perfectly good homes sit empty.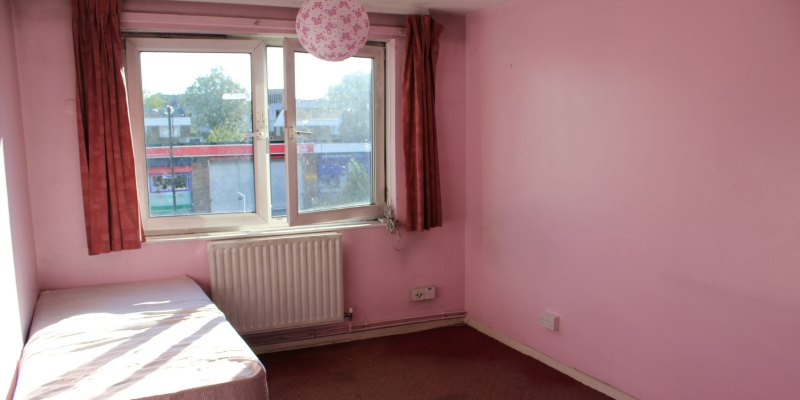 When we break laws like these, we often end up building the communities that help us weather the kinds of storms that invariably lie ahead. In our disobedience, we remind ourselves what we are capable of achieving together, while gradually undermining the wider legitimacy of the law to govern our or others' lives... and we tend to make friends along the way!

A two-week squat is hardly the answer to the complex and multi-layered set of issues that have culminated in London's current housing mess, but it does offer a set of tools that can be adapted and adopted in borough after borough, empty estate after empty estate. These tools can help us to address immediate needs, build local community, and make the case for new relationships to government, to the market, and to each other.

This hint at a new kind of housing and a new kind of politics may have shown its early shoots in E15, but it's well within the reach of the rest of us to help it grow in our own post codes.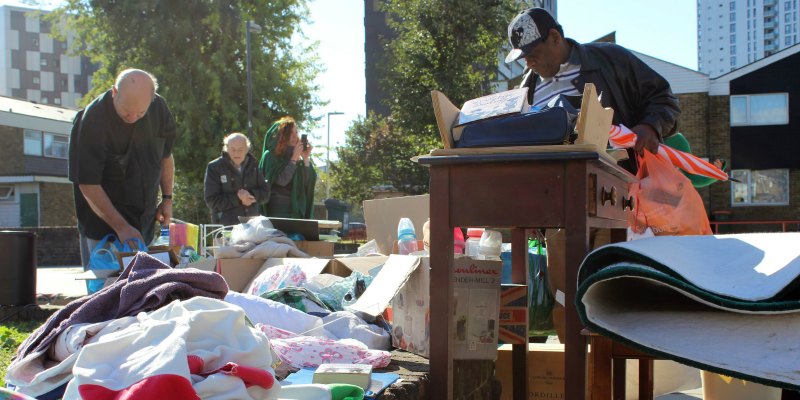 Members of the local community pick and choose items left by the tenants, which had been donated to Focus E15 during the 2 week occupation.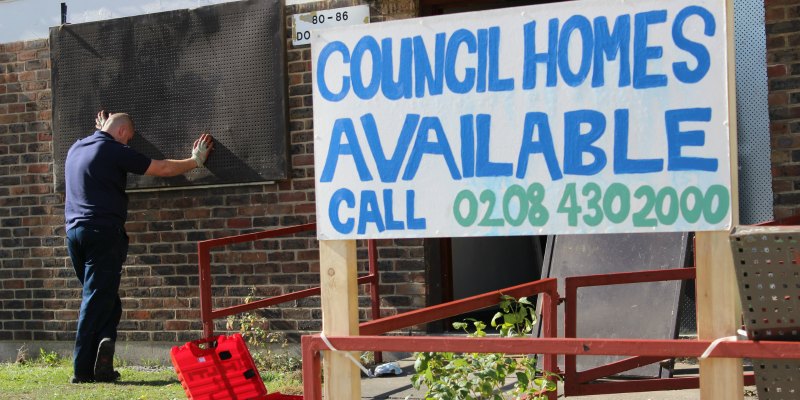 The Focus E15 mums will keep up pressure on Newham Council via community outreach on Stratford Broadway every Saturday, 12-2pm. There will be a public meeting where next steps will be discussed at 6:30pm on 20 October in E15. Watch the Focus E15 Facebook page for details.

Photos by Liam Barrington-Bush, follow Liam on Twitter @hackofalltrades.
---
7 October 2014:

Fleeing persecution for homosexuality in Nigeria, Aderonke has become a champion for the rights of many. Stefano Fumagalli reports.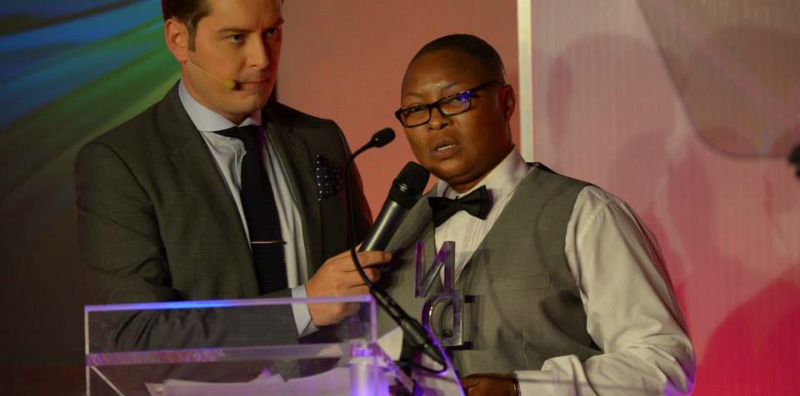 The battle for enhancing the equality agenda has a new representative; Aderonke Apata, the winner of the Positive Role Model National Diversity Award.

Earlier this year we shared Aderonke's story. She fled torture in Nigeria after her family and her ex-girlfriend were murdered, and she was sentenced to death for being gay. Seeking asylum in the UK, she faced the challenge of proving her sexuality by answering humiliating questions about physical attitudes and personal experiences, but her request was rejected twice. She still feels distraught at feeling compelled to share intimate records of her personal life.

Since then Aderonke has been at the centre of a campaign to demand that all LGBT asylum-seekers remain in the UK until a review of the procedure is concluded. Almost 320,000 people have signed the petition.

The 47 years old feminist and human right activist said; 'The hall at the award night was packed and electrifying, I didn't think I would be the winner for my category. All the five of us shortlisted for the Positive Role Model for LGBT category are great contestants.'

'I dedicate this award to all LGBT asylum seekers in the UK and those facing persecutions all over the world due to their sexuality and whom they choose to love', she added.

Her past experiences are still too common for LGBT asylum-seekers in Britain, who fight to persuade immigration officers of their sexuality. Being Gay is still illegal in over 70 countries across the world, and in five of these 'same-sex sexuality activity' carries the death penalty.

Follow Aderonke's campaign at www.causes.com/asylum-for-aderonke or via the Facebook page.
---
2 October 2014:

Photos from the streets taken over the last few days.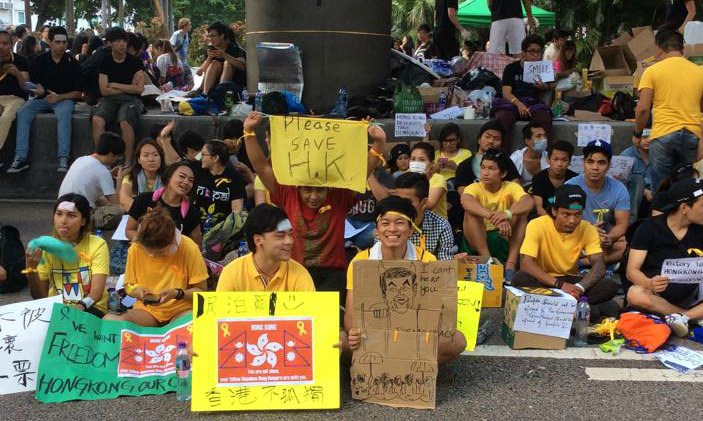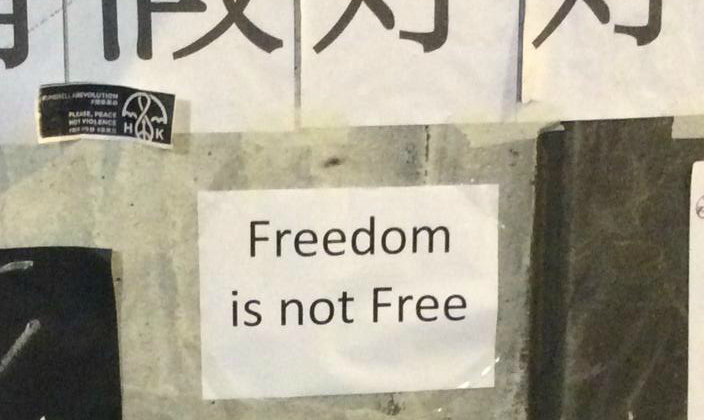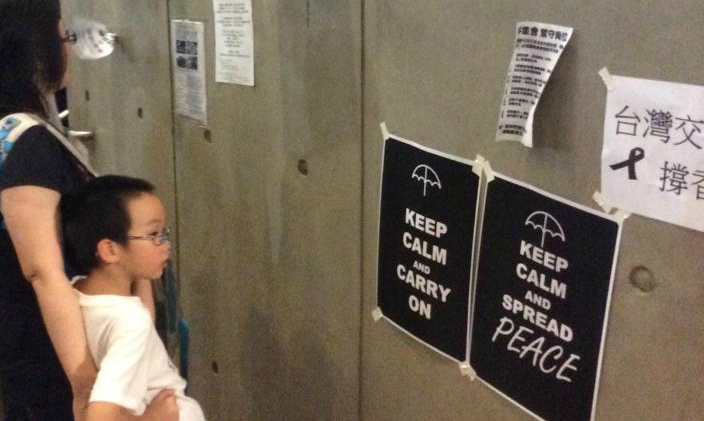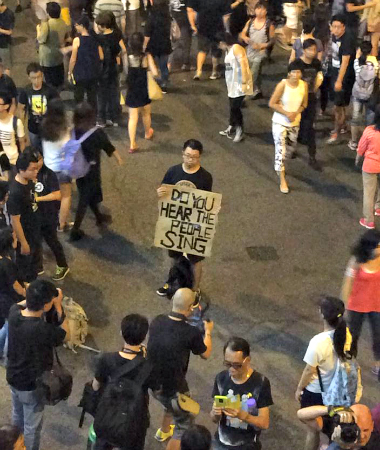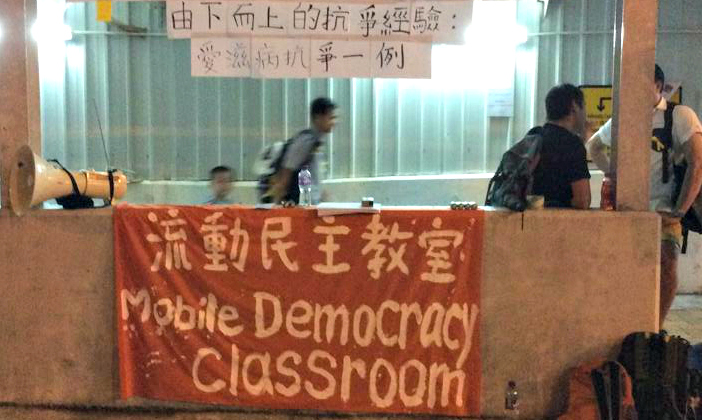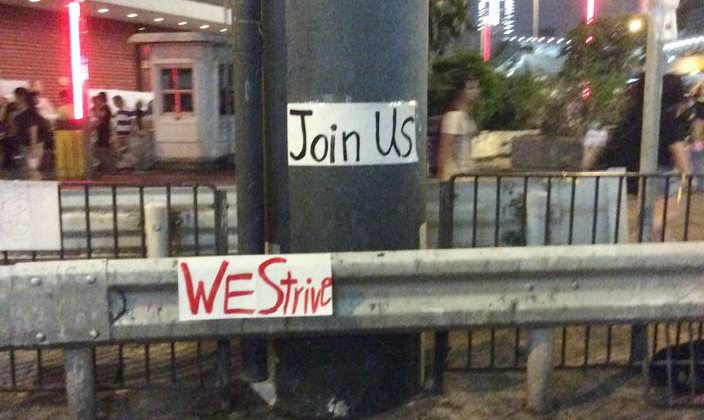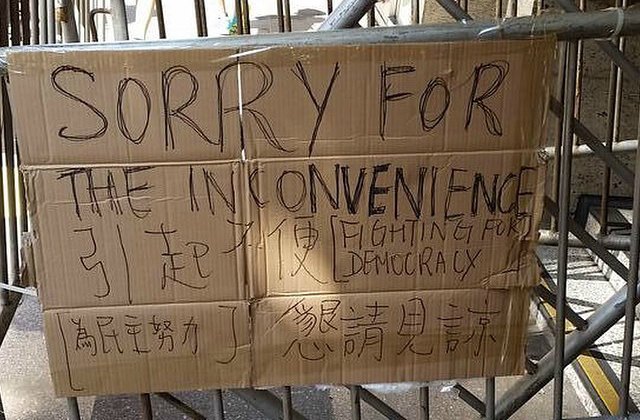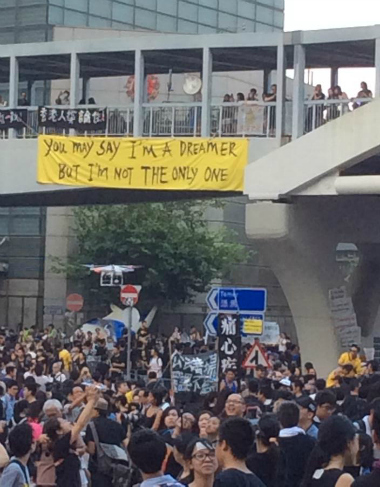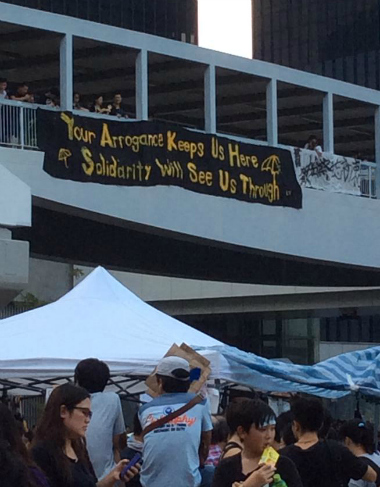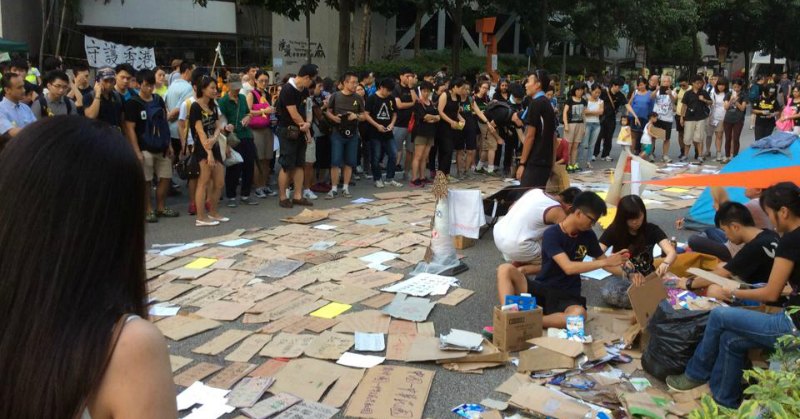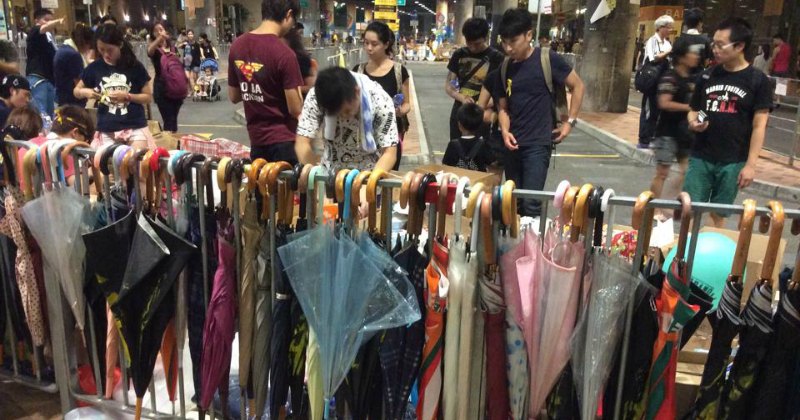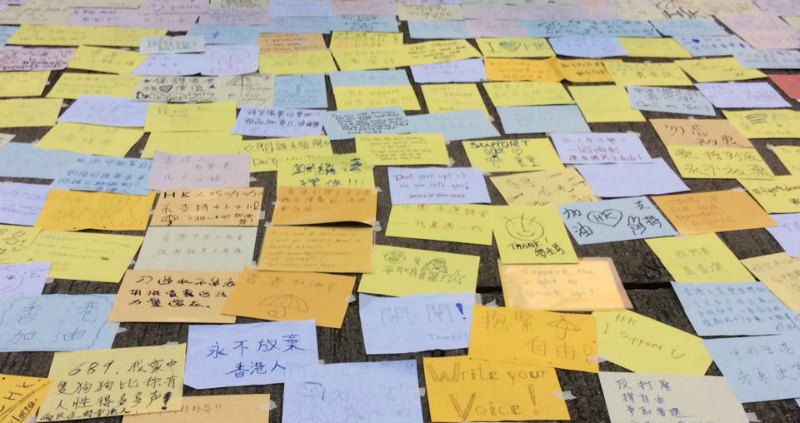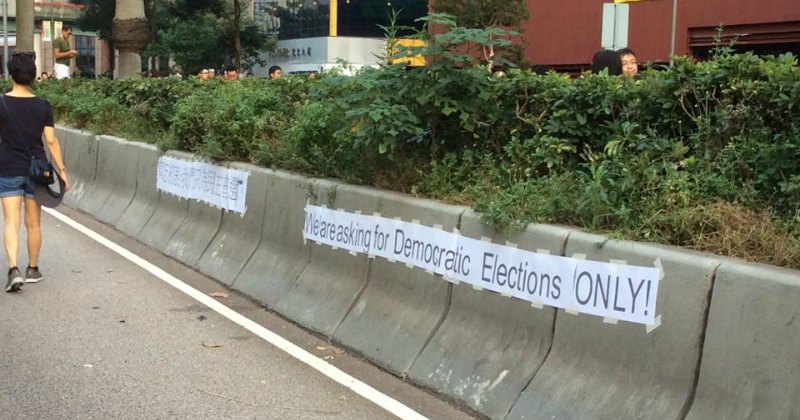 Photos by @jessiegiblet.

For help interpreting Chinese statements visit the Translators for dialogue in HK Facebook page.
---
1 October 2014:

And other recommended posts by feminist blogger Emma Frankel-Thorin.

10 intriguing female revolutionaries that you didn't learn about in history class - I always enjoy these kinds of posts. I really hope school curricula begin to teach children more about women in history.

California passes Affirmative Consent Bill - This is really good news. If this is an idea that takes off it will be a really positive step towards ending rape culture.

David Clapson's awful death was the result of grotesque government policies - Benefit sanctions are not only cruel but in worst case scenarios lead to the death of the most vulnerable claimants.

Exhibit B, the human zoo, is a grotesque parody – boycott it - The boycotting campaign was successful and the exhibition has been cancelled.

The Oscar Pistorius verdict exposes South Africa's fraught racial history - This relationship was not something that should be viewed as normal, sadly I think society very much does.

Facebook's 'real name' policy can cause real-world harm for the LGBTQ community - Facebook's new policy is a very dangerous one.

An Open Letter to The New Yorker - A personal letter about the dehumanising way Michelle Golberg wrote about trans people in 'the dispute between radical feminism and transgenderism'.

Asylum detention stats - Very interesting facts about people seeking asylum in the UK and Israel.

Bullying disabled people on social media - George Takei has since offered a sincere apology.

When the media treats white suspects and killers better than black victims

Date rape drug-detecting nail polish - We must stop putting the onus on the victim. Plus these things rarely actually work.

Why the hell do TV producers think inside every white woman is a fierce black diva? - We all know the reason why, don't we?

Five ways to celebrate Bisexual Awareness Week - Bisexual week may be over by the time you read this, but you can still participate!



Emma blogs at: www.emmaquitefrankly.blogspot.co.uk and Tweets: @ExtraFT
---
18 September 2014:

A week of discussion, films, theatre, poetry, music, flashmobs and action, looking at threats to reproductive rights and the plight of women and girls who do not have access to safe and legal abortion in countries around the world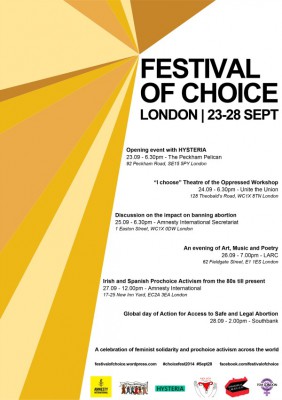 All over the world feminists and human rights organisations are marking 28 September: the international day of action for the decriminalisation of abortion. In London six feminist and human rights organisations, including Amnesty International UK, Central America Women's Network, 15M Women's Assembly, Hysteria, My Belly is Mine, and Speaking of I.M.E.L.D.A., have organised the Festival of Choice from 23 and 28 September.

The Festival of Choice encourages people to join the discussion on abortion and works on an inclusionary basis. The varied programme has something for everybody and is all over London. 'It is an opportunity to celebrate the solidarity and activism of women and girls and to strengthen and support the prochoice message, locally and globally'.

The week consists of 6 events, with all but one free to attend:

*Tuesday 23 September – Opening Event with HYSTERIA from 6.30pm at The Peckham Pelican, 92 Peckham Road, SE15 5PY, London

*Wednesday 24 September – 'I choose' Theatre of the Oppressed Workshop from 6.30pm at Unite the Union, 128 Theobald's Road, WC1X 8TN, London

*Thursday 25 September – Discussion Forum: The Impact of Banning Abortion with screening of 'Life at any price' from 6.30pm at Amnesty International Secretariat, 1 Easton Street, WC1X 0DW, London 
Register for free here

*Friday 26 September – Art, Music and poetry from 7pm at the London Action Resource Centre, 62 Fieldgate Street, E1 1ES, London

*Saturday 27 September  – Irish and Spanish Prochoice Activism from the 80s till Present from 12pm at Amnesty International, 17-25 New Inn Yard, EC2A 3EA, London

*Sunday 28 September – Action on the International Day for the Decriminalisation of Abortion from 2pm at Southbank

Click here for a full event programme. Some events require you to register in advance.

For more information on the Festival of Choice contact mybellyismine@gmail.com or rose@cawn.org or visit our Facebook page or Website.
---