23 November 2015:

Emma* tells us about her experience renting in London, the impact on her child and how she plans to fight back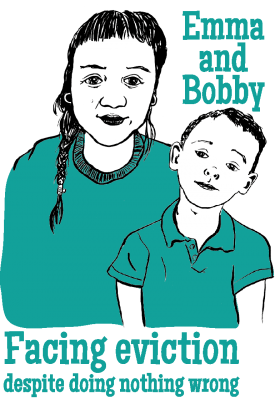 I am a renter in the private rented sector and this is the story of my experience.

At the beginning of 2011 we moved into our flat, my little one was 16 months old and it was our first home. We tried living in a shared house for the first year of his life but it didn't go so well, it took us a little while to find our home but with the help of a back payment of a benefit, my son's paternal grandmother as a guarantor and housing benefit we were able to claim it as our own. Our flat cost just under £1200 a month but we were tentative about making it our own, putting up pictures and getting plans for the balcony as we didn't really know when we would have to move out.

Every year 2 to 3 months before my contract is due to be re-signed I start to get low level anxiety. Is this it? will we be asked to leave? will they put the rent up? by how much? Will we pay it? will we be able to pay it? Where else can we go?

And for 4 years, after a couple of months of anxiety it was always okay. In the end the rent only went up by £40 over 4 years while around me the market rents went up by between £200 and £400 a month.

At the beginning of this year my letting agent didn't get in touch to re-sign the contract. I have been really worried that this was the year the increase would come. The first couple of months I was on tenterhooks wondering what would happen. I saw every month I didn't hear as a month I had saved at least £200. After a while I started to think that maybe they had forgotten about me and relaxed a little.

At the end of June the phone rang, the name of my letting agent came up on the screen of my mobile. I froze not sure what to do. When the phone stopped ringing I was shaking. Oh shit this is it… What is the increase going to be? Will I be able to find the money? will there be room to negotiate the rent increase down? I prepared myself for the next call, I would pick it up, I was ready, I was going to pay, I waited. The next phone call never came.

Eight days later I got a letter informing me that my landlady wanted to move into the property and this was my two months notice.

A Section 21

no negotiation

no warning

£54,000 paid in rent

then eviction.

I have been a model tenant. I have paid my rent without fail every month. I have maintained the property. It is the only home my son has ever known. It is our home.

When I was a young single person I was flexible. I lived all over London and my friends were spread all over. I moved every 9 to 12 months and assumed that when I wanted to settle down I would be able to choose to, and that would be an option that was available.

When you have a child the place where you live takes on a new importance. Everyone we know, everything we do and all of our support networks and community are within a 10 minute walking radius from our flat. My son has been in school for over 2 years now, and he loves it. I have a job that gives me the flexibility to work around him. We have neighbours, activities and people who we rely on and are part of the routine that is so important to the stability of my son's life.

Once I received our eviction notice I started to look for another flat within walking distance or a single bus route to my son's school. The cheapest two-bedroom flats on the market in Hackney are £1400 per month. Local housing allowance (the housing benefit the government will pay for this area), is capped at £1310 a month. That's short at least £100 even at the very bottom end of what is available. I found one or two cheaper properties and started making phone calls.

The first question I was asked on the phone was, 'do you work?' Yes. 'Do you work full time?' For the first time in my my life I can answer yes. 'Who is the flat for? How old is your son? How much do you earn?' The biggest amount I think I can claim to earn in a year is £17,000. 'Oh I am sorry you need to be earning at least £37,000 a year to rent this flat' '£41,000' '£42,000'! I explained that I receive housing benefit to top up my rent and that I have a UK guarantor who will guarantee the rent plus I can get references from my current landlord to confirm I pay my rent. I am shot down every single time. One letting agent told me they don't take guarantors for any of their properties. 'The landlord had a bad experience with tenants on housing benefit and won't take any anyone on DSS any more', 'Its those people that don't pay that are ruining it for the rest of you', and one landlady even told me it had been a stipulation of her leasehold from the freeholders that she won't rent to anyone on housing benefit.

I was not contacted by my letting agent during the 2 month period of the notice except once to be asked if there was a phone line in the property. On the date my eviction notice was up I got a call from my letting agent asking if I was moving out. I had to explain that haven't managed to find anywhere else yet and it was proving much harder than I had expected.

I was told that my landlord's son was expecting to move in that week and had even started getting sky TV, that was why they wanted to know about the phone line. I was even accused of making the person they had found to move in with them homeless(!). I apologised and explained I was trying.

Even my letting agent who knows that I am a reliable tenant cannot find a landlord who is prepared to let their property to me.

We are a single income family and I am at the start of my career so my earnings are still low. Though at least I can earn. I am not disabled, sick, a carer or long-term unemployed. I am on a 'career path' and I have the potential to earn more in the future. What about those trying to support their families on minimum wage jobs they work 40 hours a week?

And yet we are now facing the very real prospect of becoming homeless and having to go into temporary accommodation despite being willing and even able, with the help of housing benefit, to pay the exorbitant rents charged.

All I want is a home, somewhere I can tell my son this is where we live, this is where you can grow up and this is where you can learn how to face the world. As a private renter I don't know if I will ever be able to offer this to my son.

My landlord can buy a property with the intention of letting it out. Take on the responsibility of giving us a home in exchange for large sums of money and profits and when he wants it back for his personal use he can take it back without a thought for where we are going to live or the possible consequences, including how much we may end up costing the taxpayer.

In Hackney the amount of money spent by the council on homelessness has doubled in the last five years. The biggest reason for homelessness now is people being evicted from the private rented sector. If you can't get a home in the private rented sector, there isn't any social housing available and you don't have access to the capital needed to even consider buying a house, where are you supposed to live?

I am still in my property. I know my rights. I joined Digs over two years ago and two weeks before I got my eviction notice I did tenants' rights training informing me that I had the legal right to stay my property until the date time and date on the bailiff warrant issued by the courts. This has been a humiliating and dehumanising experience. It has caused me a lot of stress and sleeplessness but I want to take this and turn it into a fight.

What is happening to me is legal. It is legal to make my family homeless and to take away my home, that I pay a lot of money for, away from me at a whim because someone else, who has more than me already, wants even more than they already have.

Digs is a group that supports and empowers Hackney renters and together we are organising and fighting to end this terrible system that sees property as profit and doesn't see people at all.

Our Demands are:

End Section 21 and no fault evictions,

Yes DSS! The end to the discrimination of people on housing benefit,

Stop unregulated letting agents who can charge whatever they want in fees,

Bring back fair rents,

The end to a housing system that puts profit over the creation of secure homes.

Make the private rented sector a viable place to live!

Emma, with the support of her fellow Digs members is fighting her eviction. She has a court date in December and hopes to prove that the original eviction notice was invalid. An eviction notice doesn't mean you have to move out straight away, especially if you are struggling to find somewhere else to live, have a look at this private renting mythbster.

For more information and support on these and many other issues, contact Digs and come to along to a meeting. Digs is part of the Hackney Eviction Resistance Network. If you are facing imminent eviction and want support resisting, ring 07494018466.

*Emma and Bobby's names have been changed to protect their identities.
---
19 November 2015:

Whether you've been subscribed to Red Pepper for the last 20 years or have just found us, here are some simple ways you can help boost our impact.

It's not easy for independent radical media today, but in austerity Britain we know that alternative voices are needed now more than ever. As a volunteer-led organisation we rely on your support and we can do so much more with your help.



1. Subscribe
Take a look at our new 'pay what your feel' subscription offer.

2. Join us on Facebook and Twitter
If social media is your thing.

3. Give a gift subscription
Red Pepper is the perfect gift for anyone who thinks and cares about economic, social and environmental justice. There's a free book included at Christmas!

4. Share our email newsletter
Sign up for Pepperista, a free fortnightly email newsletter with the latest articles, offers and events.

5. Join The Phone Co-op
Get £20 credit when you join The Phone Co-op and they will donate to Red Pepper every month starting when you join.

6. Affiliate your trade union
We've been working closely with trade unions for the last 18 years. Affiliate your branch or region in solidarity and we could support your events and share our resources. Download an affiliation form to find out more.

7. Switch to Good Energy
Quote Red Pepper to get £25 off your bill with this award winning ethical energy provider and they'll make a donation to us on your behalf.

8. Remember us in your Will
Support subversive activity beyond your years! Include our company name in your Will; Socialist Newspaper (Publications) Ltd. (Reg no. 02644973) and we promise to continue pushing for freedom, equality and meaningful democracy.

9. Start a readers' group
If you enjoy getting people together to discuss articles and themes explored in the magazines then let us know and we can help put you in touch with other readers in your area. Email office@redpepper.org.uk

10. Share magazines at events
We can send you sample magazines to share at an event, just email jenny@redpepper.org.uk
---
11 November 2015:

This weekend The International Women's Conference takes place in London
The campaign for a living wage has taken off internationally led by cleaners, McDonald's employees, caretakers, hospital and other workers. But will mothers and other carers be included or will we continue to be treated as 'workless' scroungers?

The International Women's Conference, Caring, Survival and Justice vs the Tyranny of the Market, Saturday 14 and Sunday 15 November will address this and more.

Forty years after all the women of Iceland went on general strike and brought the country to a halt, women still do two-thirds of the world's work, including growing most of the world's food. We remain the primary carers everywhere: for children and for sick, disabled and elderly people, in the family and outside, in war as in peace. Without caring work society cannot function. Yet far from being supported, women are the poorer sex and carers are not considered workers.

We are told that a job, any job, is better than caring

When Nadiya Jamir Hussain won the Great British Bake Off she said she was 'proud to represent stay-at-home mums' and spoke about the 'negativity' she faced in an age when mothers are expected to prove their worth by going out to work: 'As a mum that was quite tough'.

Selma James, co-ordinator of the Global Women's Strike, will open the conference, pointing to the neglect of the carer and the people who need care as the basis of sexism. 'They don't want women to have the power that our reproductive work should earn. We are told that a job, any job, is better than caring, and the skills it requires are undervalued and underfunded even in the job market – domestic work, homecare, childcare and even nursing are low paid'.

An uncaring market

The economic and social priorities that dismiss the carer are determined not by people's health and well-being, or even the survival of the planet which sustains all life, but by the global market. In 90 per cent of UK families the primary carer is a woman. Yet austerity attacks carers and those we care for first of all. While the 1 per cent more than doubled their income in the last 10 years, and the arms trade has risen by 22 per cent, 1 billion children worldwide live in poverty, 3.7m in the UK and 176,565 surviving on food banks.

Michelle Dorrell spoke for many on BBC Question Time when she attacked government plans to take away tax credits. 'I can hardly afford the rent I have to pay. I can hardly afford the bills I've got to do, and you're going to take more from me. Shame on you!' Many go without so their children can eat. Many do three or four low-paid jobs. Many do sex work to pay the rent. Even junior doctors (60 per cent of whom are women under 30) are being targeted: pressured to work longer for less and to lose their maternity protection.

Caring work is justice work

Speakers and participants will include women from Greece, Haiti, India, Ireland, New Zealand, Norway, Peru, Scotland, Spain, Thailand, USA, and men who share our perspective. We will be able to exchange experiences, and discuss strengthening our campaigning: from our right to asylum from war and starvation, to opposing racism and other discrimination, to defending the environment. Caring is also justice work: fighting for loved ones when they are sacked, raped, killed, imprisoned or detained for trying to survive, for blowing the whistle, for organising.

Caring is not just an industry profiting from our needs, but the perspective of a movement which is demanding that the market be at the service of people rather than people at the service of the market.

A living wage for all, including mothers and other carers

We have got used to measuring sexism by how many women have made it to the commanding heights of the economy and politics. Professor Alison Wolf (keynote speaker) has attacked as a 'betrayal of feminism' this 'modern obsession' with women at the top, while the poorly paid mainly women shift workers on which these 'golden skirts' depend, are ignored.

Working with Women, the policy of Labour leader Jeremy Corbyn, recognises caring as skilled work; the SNP promises to raise carer's allowance; and the Greens propose a basic income for all. And what about technology cutting the working day rather than wages so we all have time to care? What about redirecting economic and social policies by paying all workers, including mothers, a living wage? See the petition for a living wage for mothers and other carers.

The event is organised by Global Women's Strike, Women of Colour in GWS and Payday (network of men working with GWS). Please buy tickets in advance. Conference venue: WAC Arts, Hampstead Old Town Hall. Email gws@globalwomenstrike.net

#GlobalWomen15


---
31 October 2015:

BP is using its sponsorship of the British Museum to cosy up to the Mexican government, writes Jess Worth – so we went there to expose the abuses of both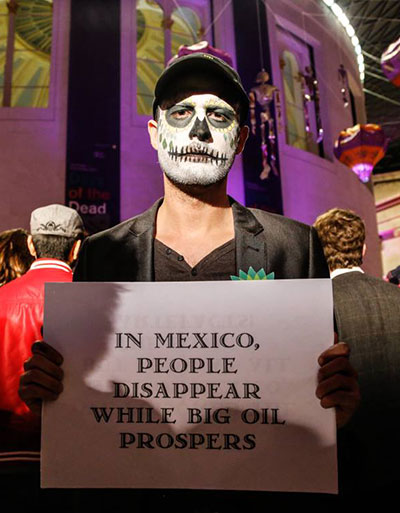 'BP, BP, BP must go! Justicia para México!'

Last night this bilingual song echoed through the British Museum's mighty Great Court, bouncing off the gleaming marble and reaching hundreds of ears. It was the museum's Day of the Dead festival and revellers had crowded in on a Friday evening to have their faces painted, marvel at the gigantic art installations, watch a programme of performances and knock back tequila cocktails.

Photo: Diana More

The problem was, the event was sponsored by BP and the Mexican government. So a large posse of protesters had crashed the party, in quite some style.

Theatrical protest group BP or not BP?, of which I'm a member, was approached a few weeks ago by the London-Mexico Solidarity group, to see if we would like to join forces. They were concerned that the Mexican government is on an international charm offensive, touting its economy to foreign investors and multinationals, while state repression and human rights abuses remain rampant. Tens of thousands of people have been killed or "disappeared" for standing up to government corruption and corporate greed.

One of the Mexican government's most controversial recent acts is the privatisation of its oil and gas sector. Controlled by state-owned oil company Pemex until very recently, Mexico's untapped fossil fuel reserves are thought to include 107.5 billion barrels of oil — as much as the proven reserves of Kuwait – and the world's 6th largest reserves of shale gas.

BP wants access, particularly to new deepwater leases in the Gulf of Mexico which will be up for grabs in spring next year. Clearly undeterred by its record fines following the catastrophic Deepwater Horizon spill, BP is using its sponsorship of the British Museum to cosy up to the Mexican government, and prepare the ground for its drilling bids to be accepted. After all, while the US imposed the biggest punitive fines in corporate history, the communities and ecosystems along Mexico's Gulf Coast that were also poisoned by BP's record-breaking spill have gone uncompensated and ignored.

Our group have been performing 'guerrilla theatre' interventions in the British Museum since 2012, in protest at their oily sponsor. So we met with London-Mexico Solidarity, and together decided to gatecrash the museum's party, with the aim of exposing the true faces of BP and the Mexican government.

Last night's performance began in front of the museum's Sainsbury wing, as around 50 Latin American and UK activists created a 'living shrine'. Holding up photos of murdered environmentalists, missing students, grieving parents, oil-choked wildlife and areas in Mexico threatened by fossil fuel extraction, we immediately gathered a crowd.

Then five zombie-esque 'BP executives' stalked in to push the living shrine into the shadows, all sinister face-paint and sharpened fangs. Their boisterous new best friend, the Mexican president, soon entered the scene, to slap BP's backs while they stuffed his pockets with their oily money. His increasingly aggressive attempts to silence the protesters may have just been theatre, but the reality of the violence in Mexico that he was mirroring was clear for everyone to see.

Ultimately, the living won out over the deadly in our agit-prop tableau. Now we decided it was time to take the stage – a large cordoned-off area in front of the museum's circular Reading Room.

Security were determined that we weren't going to invade their performance space, but a group of us made it through. As the audience saw the banners saying 'BP: world's biggest corporate criminal' and 'Ayotzinapa' (a reference to the 43 Mexican students who were kidnapped last year and are still missing) they broke into spontaneous applause and cheering.

It was an electric moment, very emotional for many of our Mexican comrades. Someone shouted 'BP go home!' and the crowd took up the chant. For a while that was all that could be heard.

[pullquote]The communities and ecosystems along Mexico's Gulf Coast that were poisoned by BP's record-breaking oil spill have gone uncompensated and ignored[/pullquote]

In the end, in the face of such support from the audience, the British Museum security team decided to give us an official slot in the schedule when they would turn off all amplified sound and let us perform next to the stage. We made the most of the opportunity.

Over the evening we gave out a thousand flyers and spoke to hundreds of people. The response was overwhelming. While one or two had a grumble about us spoiling their Day of the Dead party by reminding them of the dead, the vast majority were on-board. Even the official dancers who followed our stage invasion tried to display our banner during their performance (but were sadly prevented by museum security).

I hope the British Museum was taking note. Museum-goers do not like to see unethical sponsors' logos all over their beloved culture. The global movement to divest from fossil fuel companies is gathering pace, and the campaign for 'cultural divestment' - dropping oily arts sponsors – is one of its fastest-growing wings, with campaigns in the UK, Norway, Australia and the US.

In the next few months, the British Museum will decide whether to renew its five-year sponsorship deal with BP. Although looming cuts to arts funding are deeply worrying, they make it more important than ever that funding decisions are guided by an ethical policy.

In return for only 0.8% of its annual income, the British Museum is giving BP a priceless platform from which to project itself as caring, responsible and cultured. In reality it is greedy, destructive and ruthless. It has lobbied against climate action more energetically than any other company in Europe. It has colluded with oppressive regimes from Mexico to Azerbaijan to Colombia. It plans to frack and drill the climate beyond the point of no return. Does the British Museum really think this is an appropriate partner to still be branding its exhibitions in 2020?

Our group will continue invading oil-sponsored spaces and using creativity and performance to undermine these cosy elite relationships. Meanwhile the oil industry is under attack from multiple other angles – from the blockadia movement against new pipelines, to the global campaign to kick Shell out of the Arctic, to the low oil prices that are making fracking and tar sands uneconomical.

As renewables surge and more and more struggles against fossil fuel extraction, human rights abuses and environmental racism find common ground in the run-up to the Paris climate talks, we could be on the cusp of a dramatic shift away from the age of oil. The British Museum needs to decide which side of history it wants to be on.

Jess Worth is a member of BP or not BP? To get involved in future performances, email info[at]bp-or-not-bp[dot]org
---
20 October 2015:

Hilde van der Pas looks at how the movement against TTIP took off thanks to a TV comedian



Thousands of people took to the streets of Amsterdam for a rally against TTIP, the trade deal being negotiated between the EU and the US, earlier this month. Farmers, small businesses, environmentalists and concerned citizens joined hands in a cheerful demo and march through the city center of Amsterdam.

The numbers stood in contrast to the 60 people who turned up to the TTIP demonstration last year – so what's changed?

The 'loose coalition' working on the issue has grown steadily in the last year, with environmental organisations joining as well as farmers' unions, small businesses and one of the largest trade unions in the Netherlands. We published articles in a few large national newspapers and organised public events, where the number of people attending kept growing.

The debate about TTIP really exploded, though, after a well-known comedian made a satirical show about it on national TV. Zondag met Lubach's show about the 'two terrible acronyms' TTIP and ISDS (the part of TTIP that would let corporations sue states) did what none of us had done so far: make TTIP a mainstream topic to talk about, not just a 'technical' issue. He created a hashtag that started trending straight away: #TTIPalarm.

The last push

At the next public debate on TTIP in Amsterdam, the vast majority of people attending said they had never heard of TTIP before the Lubach show. Some of the organisations most active on TTIP coordinated #TTIPalarm Twitterstorms to keep the discussion alive in the weeks before the international days of action. The Facebook event created for the demonstration grew quickly and was picked up by the media. Many people volunteered to help, either at the event or by disseminating flyers and posters in their towns and cities, and a Facebook group was created for people to connect and share knowledge and experiences.

A few weeks before the demo we published an op-ed on how CETA is TTIP through the back door, and then Lubach aired a second show on TTIP and its 'smaller sister' CETA (the EU-Canada trade treaty). He also launched the results of a new survey, commissioned by Transnational Institute, Foodwatch, Milieudefensie and SOMO, which showed that the majority of Dutch citizens who know what TTIP is are against the trade deal.



This gave our mobilisation efforts the last push, and on 10 October between 7,000 and 10,000 came to a square that was almost too small for the amount of people attending. Laurens Ivens, Amsterdam city councilor, welcomed everyone to his 'TTIP-free city' and Ewald Engelen, professor in financial geography from the University of Amsterdam and well-known TTIP critic, gave a passionate speech telling people not to be fooled by the Dutch trade minister saying that all the critical elements have been removed from the deal. Speeches by representatives from trade unions, environmental organisations and prominent critical politicians where followed by a cheerful march through Amsterdam city centre. Some interesting participants were representatives from small enterprises, carrying billboards stating 'TTIP = Old Economy', and saying that we need a new economy where sustainability and social rights are key.

Call for a referendum

Since the adoption of a 'referendum law' in the Netherlands earlier this year, Dutch citizens can call for a referendum by collecting 300,000 signatures. Although the outcome of the referendum is not binding it would be very unwise for parliament not to follow up on it. Milieudefensie, Foodwatch, Meer Democratie and Transnational Institute have launched an initiative for a referendum on TTIP and CETA.

The Netherlands will have the EU presidency next year, and government officials have stated that TTIP will be one of their focal points for that period. Moreover, Frans Timmermans, first vice-president and responsible for 'Better Regulation' in the European Commission is Dutch, and the final decision on TTIP will lie with him.

The fact that people young and old, families, political activists, environmentalists, trade unionists, farmers and small businesses marched together gave a clear message to Dutch policymakers: our rights, our health and our planet are more important than corporate interests.

Hilde van der Pas is a researcher at the Transnational Institute
---
13 October 2015:

Campaigns Against Arms Trade highlight how new Tory policy could prohibit local Councils from implementing democratically voted upon motions in support of the BDS movement

Much of the focus on the last few weeks has been on the political party conferences, with endless slights against Jeremy Corbyn and long-term speculation about who will be the successor to David Cameron. With personal politics dominating the news pages, one point that has largely slipped through the net is the government's latest attempt to override local democracy by shutting down debate on investment in the arms trade and support for Israel.

The government may talk about its support for local decision making and devolution, but, on the opening day of the Conservative Party conference, the Communities Secretary Greg Clark announced new measures that if enacted will stop councils from supporting "politically motivated boycotts and divestment campaigns."

In justifying what is clearly an attack on free speech the minister stressed that "Divisive policies undermine good community relations, and harm the economic security of families by pushing up council tax." His fellow minister, Matthew Hancock, the Minister for the Cabinet Office, supported him in adding "We will take steps to stop such outdated policies being pursued through procurement and pension policies."

Of course, despite the alarmist rhetoric, there is no evidence to suggest that councils that support boycotts of any kind have either pushed up their council tax or seen any measurable increase in community tensions. There are also a number of economists that have found ethical investment policies to do just as well if not better. Regardless, the reason for these measure is nothing to do with concerns about council tax or a desire to increase community cohesion. It is about politics and shutting down dissent, as became apparent in the Conservative Party press release that announced the boycott.

Under the ridiculous sub-heading Dangerous Consequences of Hard Left Policies , we are told that "The campaign against British defence companies risk harming Britain's export trade." In other words, central government regards arms company profits to be more important than the rights of local people to have a say in what their councils invest in. Recent polling from Opinium has found that 70% of UK adults oppose arms sales to human rights abusers, and yet hundreds of millions of pounds of public money is put into supporting companies that arm some of the worst dictatorships.

That is why there are campaigns all across the country calling for councils to disinvest from arms companies and those that fuel conflict. A lot of organisations, including Campaign Against Arms Trade, believe that public money should be used for the public good and that it shouldn't go to companies which profit from war.

Similarly, the Boycott, Disinvestment and Sanctions movement against the Israeli occupation (BDS) has grown over recent years, with a number of councils signing up to support citizen-led campaigns. Last November Leicester City Council passed a motion to boycott all goods produced in Israeli settlements in the West Bank. Similarly, this year Nottingham City Council debated a boycott, in the end resolving to consider the issue further and work with local campaigners. There are also four councils in Scotland that have joined the boycott.

There is one sense in which Matthew Hancock is correct, local authority boycott campaigns are certainly nothing new, but this is no bad thing. Throughout the 1960s/70s over 100 local authorities decided to ban South African goods from their offices and schools. One estimate suggests that two thirds of the population lived in local authorities that supported the anti-Apartheid movement.

In 1981 Strathclyde went one step further, by announcing an end to pension fund investments from companies with South African subsidiaries and banning South African sports teams from its playing fields. It was soon joined by Cambridge, Newcastle and Glasgow and most inner London boroughs. The Conservative party may have had a very dubious and inglorious record when it came to apartheid, but presumably Hancock wouldn't argue that any of these councils were out of touch with the public or on the wrong side of history? Presumably he wouldn't suggest that it resulted in higher taxes or a breakdown in communities?

At present the rhetoric may be limited to baseless scaremongering about the impact of Israeli boycotts and disinvestment in arms companies, but in the long run these proposals could affect almost all campaign groups. If we are to accept the premise that Whitehall can ban councils from investment in one sector then how long will it be before similar attacks are made on environmental groups calling for disinvestment from fossil fuels? What about health charities that call for an end to investment in tobacco? If the principle is accepted then it will reduce the abilities for local people and campaign groups to create change on their own doorstep. This is why we need a broad movement against what amounts to an assault on local democracy.

Councils are meant to represent the interests of local people and to respond to their needs. Government ministers are forever telling us about the importance of 'localism.' Surely, if they really believes in empowering councils and promoting local decision making, then they should also allow councils to decide where their money is invested?

Andrew Smith is a spokesperson for Campaign Against Arms Trade (CAAT). You can follow CAAT at @CAATuk.
---
13 October 2015:

After the Ankara boming, UK trade union support is needed more than ever, writes Peace in Kurdistan Trade Union Liasion Officer Stephen Smellie

Colleagues,

The trade union confederations in Turkey, KESK and DISK, along with the Engineers and Architects Association and the Medical Association, organised the demonstration and rally in Ankara on Saturday which was attacked by 2 bomb blasts, resulting  in the death of over 100 people with many hundreds more being injured. The demonstration was called under the slogan of 'Labour for Peace.'

The progressive trade unions decided to call the demonstration in order to provide a focus point for all those in the country who are opposed to the policies of conflict promoted by the Turkish government of President Erdogan and the AKP (Peace and Development Party) and the increasing violence targeted mainly at the Kurdish community by state forces.

Whilst the Government talks of fighting terrorism it bombs PKK (Kurdistan Workers' Party) bases in Iraq when the PKK had in place a ceasefire and were engaged in the struggle in Iraq and Syria against ISIS. At the same time hundreds of Kurdish activists, including elected representatives of the opposition party HDP, have been arrested in Turkey. However the state action has not been restricted to attacks on Kurdish organisations. Trade union and left activists have also been targeted.

Whilst on a visit to Turkey in late September I met with trade unionists in Diyarbakir in eastern Turkey and in Istanbul and they confirmed that their organisations had been targeted. Whilst I was in Diyarbakir, the offices of the health union, SES (affiliated to KESK), were attacked by police smashing in doors and intimidating those present whilst claiming to be searching for terrorists.

The demonstration on Saturday was therefore an attempt to unite across all sections of society for peace. Whilst the pro-Kurdish HDP party actively supported the demonstration, it was attended by many people who are trade union members and who support other parties such as the biggest opposition party in the Turkish parliament, the CHP.

The bomb blasts have been condemned by many people and organisations, including the International Trade Union Confederation, the European Trade Union Confederation, and Public Services International.

Many people in  Turkey believe that the state was behind the attacks. For those of us in the UK this is difficult to understand but in Turkey the 'deep state' operates at many levels with various semi-autonomous organisations operating as they see fit to protect the interests of the state. Whether this means planting bombs, prompting fascist groups to do so, or allowing ISIS contacts to operate in the country and cross over the Syrian border, is impossible to say. However, in the bomb blast in Diyarbakir on 5 June where 4 people died and 200 were injured there were no reports of any police officers being injured. In the reports from Saturday there has also been no mention of police officers being injured in the blasts. Considering their scale it is remarkable that no police were in the vicinity and suffered injuries. People in Turkey believe that this is proof that the police at least had knowledge of the bombs so that their personnel could be removed to a safe distance.

The Turkish government party, AKP, lost its overall majority in the general election in June and have refused to agree terms with any of the 3 opposition parties that would have allowed for a coalition government to be created. Instead they have called a further election on 1 November. Since June they have prosecuted a policy of conflict and violence, heightening tensions, as part of their attempt to win an overall majority. This cynical campaign needs to be exposed further and challenged by all progressive organisations and governments in Europe and beyond.

The trade unions in the UK must stand shoulder to shoulder with their Turkish and Kurdish brothers and sisters at this time. Messages of support and solidarity should be sent to international@disk.org.tr (please copy any messages to Stephen Smellie at stephenfs59_@hotmail.com).

Stephen Smellie
Trade Union Liaison Officer Peace In Kurdistan
Deputy Convenor UNISON Scotland

For more information visit Peace In Kurdistan.
---
12 October 2015:

Shaker Aamer, held in Guantanamo for 14 years, needs support at this extremely tense time as he awaits release, writes Becky Lawrence
At 5.15pm, 25 September 2015, I was driving home after a long day's work at a school in South London where I am a deputy head, when Radio 4 announced that Shaker Aamer was to be released. I will never forget that moment – the joy and utter humility.
British Resident Shaker Aamer, an ordinary man, was unlawfully imprisoned in Guantanamo on 13 February 2002. Held in a steel cell in solitary confinement, abused and tortured daily, his suffering is unimaginable. Despite having his human rights denied, Shaker (detainee 239) organised the Guantanamo hunger strike and his voice was heard on CBS News. So for many years, there have been two campaigns, inside and outside the torture camp, one led by Shaker and the other for Shaker.
Save Shaker Aamer Campaign, alongside many others, have worked relentlessly for Shaker's freedom. SSAC will not rest until Shaker is safely home in the UK and reunited with his family in Battersea. This is an extremely tense time, Shaker is still not free. Clive Stafford Smith (of Reprieve and Shaker's representative) warned of the many smears, slurs and misinformation about Shaker that will surface to prevent his release or influence the treatment he receives when back in the UK. In the Mail on Sunday it was reported (4 October 2015) that Shaker is on hunger strike because he is still being tortured. He believes he may still not leave Guantanamo alive.
So now more than ever, extreme pressure needs to put on the US and UK governments to ensure Shaker's return. A letter from the Save Shaker Aamer Campaign sent to David Cameron urges him to demand Shaker's immediate release, as the 30 day period is not always required; 'We (SSAC) know this delay is causing anxiety and concern to Shaker's family. It has created the fear that more set-backs may follow to impede Shaker's return'.
I have just returned from a campaign meeting, a small band of ordinary people, continuing to plan actions for Shaker's release:
14 October 2015 vigil outside Parliament, 1.00 – 6.00pm, to demand his immediate release before his health fails.
24 October 2015 protest outside Downing Street at 2.00pm on the 5000th day of his incarceration, the end of the 30-day period, and the eve of his promised release.
We also continue to write letters to David Cameron, President Obama, the US Ambassador and others. These actions may not appear to be 'game-changing', but eventually they become so. Knocking on the same door, with the same message, day after day, year after year, not willing to give up until these voices are heard. The voices are ringing in the corridors of power, and within the steel cells of Guantanamo.
And it is Shaker's most recent actions and words that bring together the two campaigns inside and outside the torture camp. He is on hunger strike and says 'I have so many people to thank for my freedom. First there are all the people who names begin with the letter J – which also stands for justice. So there is Johina, my beloved daughter. There is Joy Hurcombe, of the Save Aamer Shaker Campaign: for all these years she has stood up for me, and I am overwhelmed'.
Ordinary people make a difference. Let's make sure we bring Shaker home.
Please join the Save Shaker Aamer Campaign: ssac.contact@gmail.com, 07756493877 and please watch and share our film '14 hours for 14 days':
---
5 October 2015:

Ireland's movement against water charges is being criminalised by a nervous state, writes Oliver Eagleton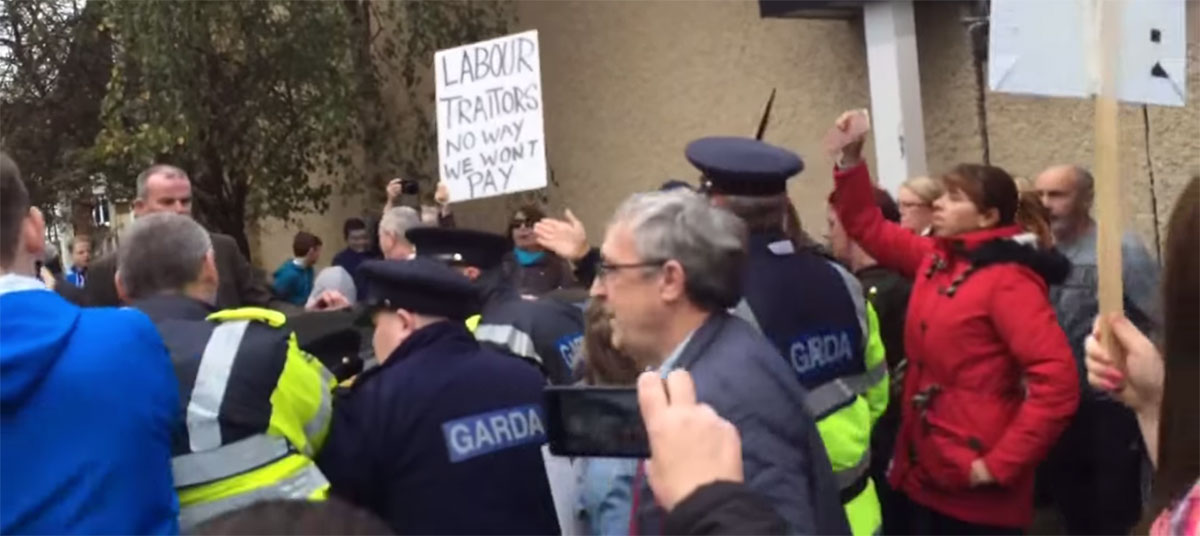 A still from a Youtube video of the Jobstown protest

Anti-austerity protesters in Ireland are facing possible life imprisonment as the state cracks down on the huge non-payment movement against water charges.

The 'Jobstown 23' were charged over their involvement in a sit-down protest that saw Joan Burton – leader of the Labour Party – delayed in her car in the West Dublin suburb of Jobstown in November last year. The angry protesters in the historically pro-Labour area called her a 'traitor' over Labour's support for austerity and the water charges as part of the current coalition government.

Back in February, those involved in the Jobstown protest were arrested in a series of dawn raids, with protesters including the Anti-Austerity Alliance TD (MP) Paul Murphy apprehended by up to 10 police officers. They now face trial for 'false imprisonment' – an offense which carries a maximum sentence of life.

Despite Labour collapsing in the polls and provoking past supporters into acts of civil disobedience, it has not relented on its stance. Instead the attitude to the Jobstown protesters is just one of the government's attempts at overt suppression of the movement. One politician from centre-right party Fine Gael, the other part of the government coalition, has even stated that Ireland is 'facing an ISIS situation' from the protesters.

There is now, for example, a court injunction banning protesting within 20 metres of a water meter installation. Five demonstrators found to have violated this ruling have been given jail sentences ranging from 28 to 56 days. The United Left's Joan Collins has been charged with contravention of the Public Order Act for her participation in an anti-austerity protest, where it is alleged she caused 'apprehension for the safety of persons and property' by 'loitering in a public place'. In Collins' own words, 'I was simply standing on a public footpath.'

A Dublin-based Garda (police) team named Operation Mizen has, according to the Irish Daily Mail, 'spent six months monitoring protesters, compiling profiles and gathering intelligence on their whereabouts', as well as 'closely monitor[ing] social media and track[ing]…the leaders' of the anti-austerity movement. The unit is set to be expanded nationwide.

The government has tried to brush aside accusations that this adds up to 'political policing'. Yet it has emerged that Garda commissioner Nóirín O'Sullivan questioned candidates for the position of deputy commissioner about their views on 'left-wing extremism', 'left-wing politicians', and the Jobstown protest. One interviewee, assistant commissioner John Finton Fanning, said he was 'uncomfortable' at this infringement on his legal obligation to remain politically unaffiliated. He was later told he did not have 'the breadth of strategic thinking' necessary for the job.

Police have even denied the Anti-Austerity Alliance a permit to collect donations door-to-door in Dublin, on the grounds that the funds 'would be used in such a manner as to encourage…the commission of an unlawful act'. Paul Murphy told The Irish Times, 'the Gardaí are acting in an overtly political manner to decide what the Anti-Austerity Alliance can and cannot campaign for'.

With 57 per cent of households yet to pay their water charges, it is clear why the coalition government has launched this campaign of intimidation, spying and criminalisation of protest. But with a turnout of 100,000 at Dublin's last anti-austerity march, it is equally clear that these tactics are counterproductive. Our task is to make their failure manifest at the 2016 election, and exonerate the victims of politically-motivated policing.


---
28 September 2015:

Leeds TIDAL invite you to join them on 30-31 October to help to build a different story for global justice


Building a Different Story is a night and a day of workshops, speakers, art, kids activities, food, film and inspiration on 30 and 31 October at Woodhouse Community Centre in Leeds.

What's on?

Here's a little taste of what's to come...





Zimbabwean poet, Dumi Senda, discussing the power of the spoken word in building a different story against the status quo



The Truth about the Transatlantic Trade and Investment Partnership - Book Launch with guest author Gabriel Siles-Brugge



Black Lives Matter in the fight against climate change – from colonial legacy in India to droughts in Kenya, why climate change is an issue of racial justice



Beautiful trouble – building a different story through artful resistance with Dan Glass



Occupation and migration – how the Boycott, Divestment and Sanctions movement and recent #RefugeesWelcome campaigns are shaking up stories



We are not to blame for austerity with the Poverty Truth Challenge – real stories of living with austerity in Leeds



Fracking coming to South Leeds?! Busting myths and fighting back





Why 'Building a Different Story'?

There are a lot of words being thrown around in the media, on the bus and in the pub. 'Benefit scroungers'. 'Environmental extremists'. 'Migration crisis'. There is a story being told that the people are to blame for austerity, climate change and economic crisis. We all know another story.

We know a story where the rich and powerful stole from the poor. Where the people that caused the collapse of the banks are the ones profiting from austerity.

But we can build a different story. That's what this gathering is for.

In Leeds and around the country people are building a story of sharing economies, pay-as-you-feel cafés, solidarity and resistance. Stories where migrants are welcomed with open arms and deportations are fought tooth and nail.

We are building a future of community gardens, where you can feel healthier and eat the food you grow. We are building cooperatives, where we all share in the profits of our labour. We are building a story with social justice at its heart. A story where people are celebrated and not forgotten. A story that builds bridges.

Tidal holds global justice gatherings like this every couple of years, and love the opportunity to come together as a movement. One local Palestine solidarity campaigner came to the last event and said:

"Doing Palestine Solidarity campaigning I see the same group of people all the time, so it's good to come together so you don't feel like you're isolated or on your own"

Join us in Leeds to shake up the stories we're told and build new ones for a more just and sustainable world.

See you there!

P.S. We'd love some help! If you'd like to volunteer to help with cooking delicious pay-as-you-feel lunch, running kids activities or getting people registered we'd be ever grateful.
---