21 August 2015:

Donations from private developers to Labour London mayoral candidates further implicate politicians in the capital's housing crisis and highlight the chasm between Corbyn and many of his senior party colleagues, writes Andrew Dolan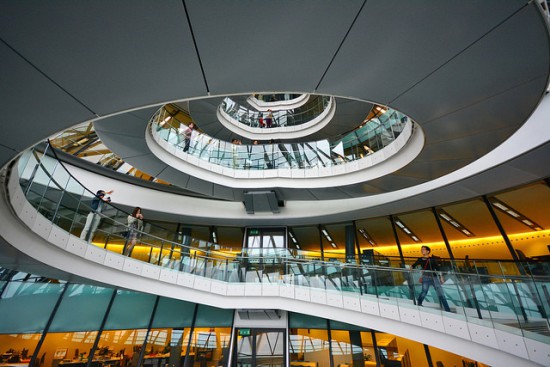 Inside London City Hall. Photo: Martin Pettit on Flickr.

According to Property Week three Labour Party London Mayoral candidates have received campaign donations from property developers. Tessa Jowell, David Lammy and Sadiq Khan have between them received £46,500.

Although widely criticised, donations from businesses are commonplace in politics yet this latest revelation should cause extra concern considering the wave of property developer-led 'regeneration' projects currently taking place across London. Such regeneration projects often result in the displacement of low and middle income families and the widening of economic and social inequality.

As Oliver Wainwright reported in the Guardian earlier this year, property developers in the capital are exploiting planning systems to bypass their legal obligation to provide a specified amount of affordable housing (typically 30-35 per cent of developments with more than ten homes). In many cases councils are failing to adequately challenge property developers and in some instances are actively working with them to override opposition from those negatively affected.

The lack of affordable housing in London, where rents are double the national average and where the median price for a one bedroom flat is £1,155 a month, has reached crisis levels. According to Shelter, 59 per cent of a typical London family's income is spent on rent. In a recent report the charity also pointed to how the high cost of housing has a profound affect on all aspects of life, from relationships to how we view the future.

Of the three candidates in question, Lammy is arguably the most vocal in his commitment to affordable housing and in June he announced plans to build 30,000 social homes were he elected Mayor of London. Yet with the news that Lammy received £15,000 from Galliard Holdings, the company behind Galliard Homes, which specialises in providing 'market leading luxury homes,' one is forced to wonder (and worry) about the full extent of his redevelopment plans.

Siân Berry, who is standing for selection as the Green Party's London Mayoral candidate, earlier tweeted that 'mayoral candidates should not be accepting big donations from property developers.'

Berry also told Red Pepper that the need for separation is essential considering the decision-making power of the Mayor when it comes to redevelopment. This is especially relevant, she added, since the London Plan (the statutory spatial development strategy for Greater London that is written by the Mayor of London and which London boroughs need to abide by when creating local development plans) will be up for review next year and developers have a 'huge interest' in ensuring it is favourable to their interests.

For Housing Action Southwark and Lambeth (HASL), one of the many groups that have in recent years sprung up to fight for decent homes for everyone, news of the donations did not come as a shock: 'It's no surprise to us at HASL that Property Developers would find potential allies in Labour Party candidates. Time and again, the Labour Party has shown itself to be a major engineer of the gentrification and forced eviction of thousands of London residents.'

The donations, then, further serve to highlight the potentially destructive relationship between politicians and property developers (a possible instance of regulatory capture) and make a mockery of the candidates proclaimed commitment to solving the capital's housing crisis—indeed, private property developers are repeatedly exacerbating the housing crisis.

Yet so too do they further reinforce the deep chasm that exists between the likely leader of Labour, Jeremy Corbyn, and many of his senior colleagues in the party. If as expected Tessa Jowell is the politician tasked with reclaiming City Hall from the Conservatives, it is hard to imagine her generating anything near the same level of support and engagement enjoyed by Corbyn, even if she is Labour's 'best hope in London.'

In fact, when considering her links to a property developer, her admiration for Tony Blair, and her general indistinguishability from a political class held in such low esteem, Jowell arguably represents much of what 'Corbynmania' rejects.

Jowell, and for that matter Lammy and Khan, may be in the same party as Corbyn, but they share few of his values and nor it seems do they understand how deep London's problems run. A vote for Labour in the London mayoral election may well be the best way to prevent Boris Johnson's successor being a fellow Conservative, but it offers little promise of actually solving London's problems.

In contrast, the Take Back the City campaign and potential mayoral election candidates such as Berry are focused on popular participation, progressive solutions to the housing crisis and, ultimately, helping to turn London into a city for ordinary Londoners.

In light of the spectacular and unheralded success of the Corbyn campaign—achieved in spite of the Labour establishment—a bet on an outsider may well be worth the long odds once again. After all, if recent events have taught us anything, it's to expect the unexpected.
---
19 August 2015:

Last weekend fifteen hundred people from across the world shut down one of the most destructive coal mines on the planet. Morten Thaysen was there.


The view is breath-taking and strangely beautiful as we reach the edge of the giant open cast coal mine. The surrounding landscape has turned from fertile cabbage fields to a gaping wound in the ground with no signs of life. In that moment as hundreds of my fellow activists dressed in white boiler suits storm down the slopes towards the giant machines carving out the mine, I know we are achieving something great. We're shutting down one of the biggest coal mines on Earth.

Last weekend I took time off work to blockade a giant coal mine along with more than 1500 other activists from 45 countries to deal a blow to the corporate fossil fuel industry and push for the change that the UN climate negotiations are failing to bring.

The Garzweiler lignite coal mine in the Rhineland in Germany is an astonishing sight: a full 17 kilometres of utter destruction. Surrounded by a strange mix of massive coal-fired power plants, eight-lane motorways and wind turbines the mine is emblematic of everything that's wrong with the way we produce and consume energy.

The giant diggers (the biggest land machines on earth) extracting tons and tons of coal every hour are not driven by a demand for energy to heat our houses or power our computers. The driving force of this mine is an economic system that forces us to exploit any resource no matter the costs to create more growth and more profits for corporations. No matter how many windmills we build, it will keep going. And even if we all divest our pensions from fossil fuels, it won't prevent the diggers from eating up the surrounding landscape and towns.

It is already obvious that the UN climate negotiations in Paris this December (COP21) are not going to do anything to challenge the systemic issues behind climate change. While the world leaders gather to negotiate a new deal for the climate, the diggers in Germany will be unhindered in extracting coal. And when the politicians and the media circus leave Paris, the mine will continue to expand till there is no more coal left.

Scientists have made it abundantly clear that we need to leave 80% of known coal reserves in the ground. If our governments will not make this happen, we have to take matters into our own hands.

That is why a thousand of us broke and drifted through dozens of police lines and suffered pepper spray, hits from batons and ultimately mass arrests breaking into the mine and blocking it for a whole day. Running for several miles through the mine chased by police and security is probably one of the scariest things I've ever experienced. But seeing the police lining up in full riot gear to protect one of the most destructive projects on our planet made it all too clear that our governments are fully committed to protecting the fossil fuel industry, not only politically and financially, but also physically. There are very little signs of them bringing in the transition we need to stop climate change and create energy that works for people instead of for corporate profits.

The Ende Gelände (Here and no further) mass action was not just a blow to the already struggling fossil fuel industry, it was a massive display of people power for the movement against dirty corporate energy. As political processes like the COP in Paris are failing to bring results, we need to come together as a movement to develop alternatives from below.

The climate negotiations in Paris will not be the "moment or truth" or the potential final solution to our problems, as some organisations would have us believe. Rather we will go to Paris this December to mark another milestone for the movement to reclaim the control of our energy system and bring an end to the profit-driven economy.

The protest in Germany was not just a group of seasoned activists of campaigners. For most people I spoke to this was their first act of civil disobedience. In Paris we have the chance to grow our movement bigger and continue building a new energy system that does not destroy the climate and meets our needs, not the needs of big business.

Morten Thaysen works for Global Justice Now. This post was originally published on their blog site.
---
4 August 2015:

Michael Calderbank reports from the central London rally for Jeremy Corbyn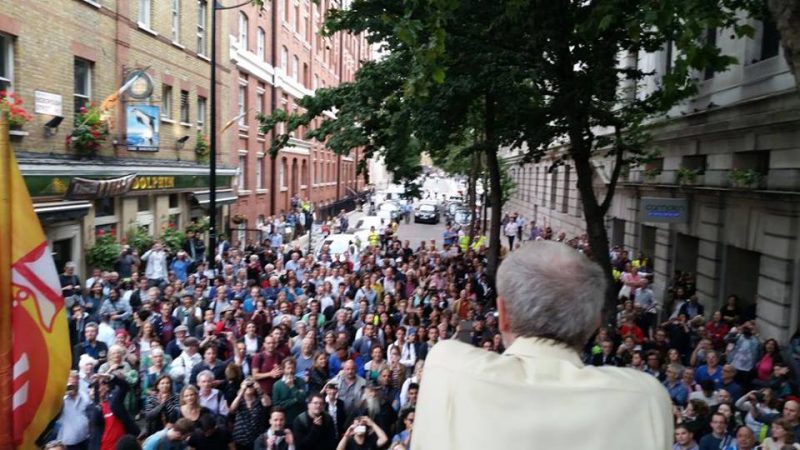 Jeremy Corbyn speaks from the top of the FBU's fire engine to supporters who couldn't get in to the oversubscribed rally.

It's a cliche of the left press to describe meetings as 'packed'. But the rally in support of Jeremy Corbyn's Labour leadership bid held last night at the Camden Centre was really something else. Not only was the main hall packed to (and beyond) capacity, but so were both overspill rooms. Corbyn addressed hundreds left queuing outside from the FBU's campaigning fire-engine. Similar scenes had been witnessed at the weekend in Liverpool, Preston and Birmingham. No wonder the Blairites are panicking. A genuine popular movement is beginning to coalesce around the bid to get Jeremy elected, and it senses that - for the first time in a generation - real change is possible.

The rally - chaired, significantly by PCS General Secretary Mark Serwotka, not himself a Labour party member - had more of the flavour of a People's Assembly gathering than your usual Labour party meeting. It's clear that the campaign is successfully appealing to a generation of activists whose political consciousness was shaped by the experience of New Labour in government - introducing student fees, deregulating the banks, invading Iraq. Most feel they have never been represented in the political process, but now see a chance to change all that. Corbyn was one of only a handful of MPs who really gave expression to their ideas then, and has been a rare voice in support of radical opposition to the austerity agenda ever since.

They are joined by an older layer of activists who recognise Corbyn's ongoing commitment to internationalism, anti-racism, peace, and in defence of LGBT rights which were routintely depicted as 'loony left' in the 1980s, but which seem far from marginal or extreme today.

It's also a revolt from below of the long-suffering Labour grassroots. Such has been the centralisation of power - with the manifesto being essentially the product of the leader and their special advisers with a cursory nod in the direction of the largely toothless National Policy Forum - that the opportunity to elect a new leader is pretty much the sole way that members have of trying to influence the political direction for the party. For years, the MPs acted as gatekeepers to keep the left challenge posed by John McDonnell off the menu. The pent up anger and frustration is finally getting expression. In his address to the rally, Corbyn pledged to end the culture of policymaking in the private surrounds of luxury hotels where debate was placed in the straitjacket of 'consensus', and talked about mass participation in genuine political debate. It was a breath of fresh air.

This is an insurgency from both within Labour - a revolt from below of the grassroots - and without. The Collins reforms which turned the Labour's internal election into a semi-open primary has unexpectedly created an opportunity to crack the ossified politics of the Westminster establishment wide open. If Owen Jones' tubthumping rhetoric can sometimes seem a little bit forced, last night it really hit the mark. Win or lose, something significant is being expressed in the huge wave of support for Corbyn.

The challenge will be to allow this spontaneous movement to coalesce into a political force which is organised, genuinely rooted in communities at local level and properly democratic in its structures. But with registration closing on August 12, the immediate priority is to encourage friends, neighbours, family and work colleagues to sign up and make sure that our voices are heard.

To sign up to get a vote visit supporters.labour.org.uk or text SUPPORT to 78555.
---
4 August 2015:

You are invited to Earth First! Summer Gathering on 19 - 24 August in the Peak District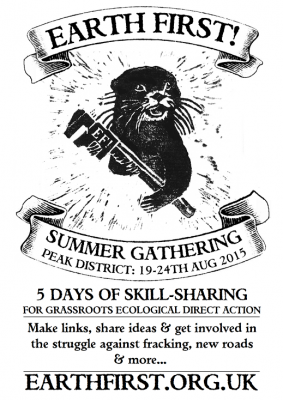 Why should I come?

This is a family-friendly gathering structured around a full programme of diverse workshops, campaigns round-ups and more. From physical & practical outdoor sessions to discussion-based workshops – the aim is to provide something for everyone, whether you're just dipping your toes into direct action campaigning or have been around a while. It's also a great opportunity to meet, socialise and organise with like-minded people and have some fun!

"There's a momentum building around Earth First that I haven't seen for many years. Actually, ever. I know people who hadn't heard of Earth First until a couple of months ago are getting involved. And others who have heard about the buzz around it and that's enough to convince them to come. So it's got to the point where the buzz is self-reproducing!

Last night I had a sneak preview of the workshops programme, it looks amazing! Loads of outdoor stuff (think ropes and maps) brilliant workshops on a wide range of issues, facilitators from all over Europe, juicy debates on hot topics. There's even a wellbeing space for some emotional support."

What is the Summer Gathering?

The EF! Summer Gathering is a chance for people and groups from across the country and beyond to get together to network, share practical skills, ideas and inspiration to help our actions and campaigns be as strategic and effective as possible. An annual gathering for grassroots ecological direct action, this year focusing on welcoming people from impacted communities.

The set-up for the gatherings is a not-for-profit camp organised non-hierarchically with everyone as crew. This years workshops are the most exciting yet with over 100 including Radical media, Land access, Alt tech, tree house building, Emotional Resilience, Consensus decision making, local and national anti-Fracking, Anti new Roads and Anti-open cast forums with invited campaigners from Europe to share their struggles, tactics, victories and how we can work in solidarity.

Want to be a part of the united resurgence in Direct action?

We have enjoyed a general resurgence in the radical ecological movement for the first time since Copenhagen and this is a very exciting year for the EF! gathering. The political arena has also changed: the concept of direct action has become acceptable in polite conversation, global warming is talked about seriously and it is widely recognised that governments and multinational corporations are totally screwing us and the planet.

This year we are organising with Frack-Off, the successful and highly respected national anti-fracking campaign group, and the camp will be a skill sharing forum for the numerous communities resisting the threat of fracking around the country to organise tactically together. We are also supported by the brave and energetic people at Reclaim the Power who have reached out to a new savvy generation of activists.

What is Earth First!?

Earth First! is a network of people and campaigns fighting ecological destruction and the forces driving it. EF! is a convenient banner for people who share similar philosophies to work under. We believe in non-hierarchical organising and the use of direct action.

What does it involve and Where

The Gathering will be held in a beautiful field between Derby and Ashbourne in the Peak District from the 19-24th August 2015, nearest train Derby and regular shuttles from the station or there are local bus's before 5pm, check web site for address. It's camping so you'll need to bring a tent, sleeping bag, torch and suchlike, and don't worry if you can't camp, there is a hostel near the site for £10 a night and coaches being booked from so check the web site. Meals are provided each day by the Gathering's collective kitchen and there'll be a snack shop and cafe. Everyone is crew, so the site space, which includes toilets and running water, will be run by us all.

For more info check out the Earth First website or email summergathering@earthfirst.org.uk

Manchester - Contact manchester@earthfirstgathering.org

Chester/Wirral/Wrexham/Ellesmere Port - Contact frackfreedee@hotmail.com

South West - Contact southwest@earthfirstgathering.org

Brighton - Contact brighton@earthfirstgathering.org

Bristol - Contact bristol@earthfirstgathering.org

London - Contact london@earthfirstgathering.org
---
30 July 2015:

Creative protest can change the way people engage with Israeli apartheid, says Dan Glass, who organised a Dabke-dance action to mark the first anniversary of the latest attack on Gaza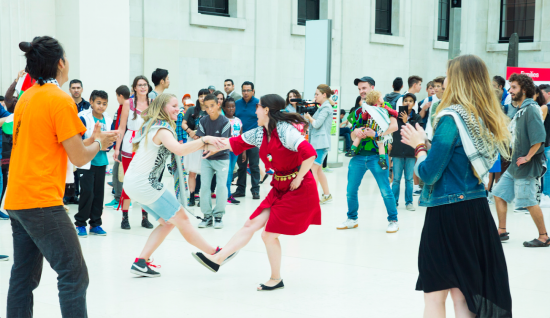 Last weekend, on the first anniversary of the latest Gaza massacre which killed more than 2000 Palestinians, thirty dancer-activists brought the public to a standstill inside the heart of the British Museum and in a central London Barclays bank using traditional Palestinian dabke dancing.

As activists, many of us are used to marches, protests and occupations. We were thrilled to be part of the recent 'Block the Factory' action to shut down the 'Elbit' arms factory, but using dance as a form of protest and occupation to challenge 'business as usual' was something new for a lot of us and we felt it was surprising, hilarious and a great learning experience. It was also incredibly heart-warming to see so many people from Palestine and our allies in the UK rehearse Dabke and bring the brilliance of Palestine to life. Whilst we didn't shut down the Barclays branch and stop the financial engineering of the illegal Israeli occupation we did learn a lot of how to surprise these institutions and throw them off their guard - skillfully and beautifully. They are used to dealing with A-B style protests and occupations, but we are keen to now see how Dabke dance could be used even more forcefully, critically and beautifully to stop business as usual.

The targets

The dancer-activists entered both sites and intervened in business as usual as a form of solidarity with the Palestinian cultural resistance against settler-colonialism, imperialism, ethnic cleansing, occupation and apartheid. The action was also organised In support of the Palestinian civil society call for a campaign of boycott, divestment and sanctions (BDS) as the most effective way of international solidarity.

Barclays was targeted as it is a named shareholder in several major arms firms including Raytheon, Boeing, and Lockheed Martin whom all play a key role in Israel's brutal massacres of Palestinians and in the proliferation of drone technology across the world, and is helping Israel to construct and maintain its illegal apartheid Wall.

The British Museum was chosen to be highlighted as it represents the symbol of British Colonialism and we wanted to come at the heart of the empire. Not only are the most precious and sacred artefacts inside the museum stolen or illegitimately acquired, but we wanted to remind the public about Britain's role in the start of the Zionist Project and its continuing support of the illegal Israeli neo-colonialist occupation of Palestine today. History shows that on September 11, 1922, ignoring Arab outrage, the British government proclaimed a mandate in Palestine, a follow-up to the 1917 Balfour declaration, which imperial Britain issued, with its army massed outside the gates of the city of Gaza.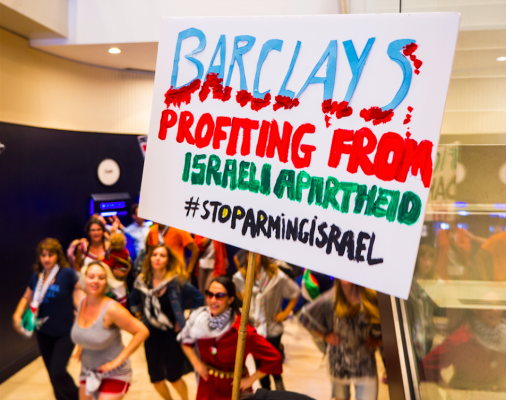 Cultural resistance tells another narrative

Cultural resistance tells another narrative about Palestine. Dabke is a representation of solidarity and cooperation, a symbol of steadfastness, love for life and determination. It is a form of art through which Palestinians express joy and gratitude to each other, and also to their land. Our message is simple: come dance with us, we will lock arms together and stomp the ground in a folkloric performance that is crucial in understanding the Palestinian identity and experiences. Cultural resistance tells another narrative about Palestine and overturns the 'occupation of the mind'. When we see graffiti art, read a Darwish poem, listen to a DAM song, watch performances by the Freedom Theatre or enjoy a Dabke dance by El Funoun – we see individuals, cultures and stories. Once stories are heard, denial of their existence is impossible.

The Dabke Flashmob on the anniversary of the Gaza massacre is only the start of a series of actions throughout the year that will contribute to bringing awareness of the Palestinian national identity. The second flashmob is planned together with our friends from Stop the Arms Fair as part of their day of action on Saturday 12th September at DSEI arms fair at ExCel (2), the world's biggest arms fair.

Training for Transformation Palestine

This programme of cultural resistance was organised with the support of Al Zaytouna Dance Theatre. It is led by Training for Transformation Palestine in collaboration with many incredible art-activist pioneers including Friends of the Freedom Theatre UK. Training for Transformation (TFT) Palestine is human rights activism empowerment programme facilitated by some of the world's leading popular education facilitators to build strength in overcoming the illegal Israeli occupation.

Training for Transformation (TFT) Palestine is human rights activism empowerment programme facilitated by some of the world's leading popular education facilitators to build strength in overcoming the illegal Israeli occupation. We are currently training activists, educators and organising fundraising programmes across the world to make this programme a reality. Participants will learn with the world-renowned Training for Transformation (TfT) movement born out of Steve Biko's 'Black Consciousness Movement.' The project aims to bring together activists from across Europe, Africa and their counterparts in Palestine. Participants will have the chance to reflect on the societal processes and personal voyages and gain tools to engage critically with popular education as activists to transform society. The training for transformation programme is aimed at activists who have spent a considerable time mobilising their community in the West Bank, Gaza, Jerusalem and historic Palestine.

In order to achieve our aims we believe in tackling the 4 occupations in Palestine simultaneously. These are (1) The Israeli occupation of land and water (2) The Palestine Authority (PA) occupation of people on the grounds free­will (3) The developing occupation of NGO culture in Palestine which suppresses grassroots activism and and fundamentally (4) the occupation of the mind.

In the spirit of Steve Biko from the 'Black Consciousness' Movements quote 'the biggest weapon in the hands of the oppressor is your mind' ­ to achieve the creation of true empowerment and a skill-set to overcome oppression in all it's forms. If we are to oppose great injustices we need to use all the weapons at our disposal - until the task is done. Bring on the dabke ...



Dan is part of Training for Transformation Palestine. To find out more visit www.tftpalestine.org or if your organisation would like to be added to the list of supporters please email palestinetft@gmail.com
---
28 July 2015:

After the success of a huge protest against detention in June Movement for Justice by Any Means Possible have called another Surround Yarl's Wood demonstration on 8 August


On 6 June 2015 a mass demonstration was held outside one of the most important immigration detention centres in the UK, Yarl's Wood. A thousand of protesters gathered together and marched to the back of the centre to "meet" visibly with women inside ready to join the protest from rooms overlooking the field which was animated by solidarity action.

As the field got filled up with banners, placards and rainbow flags on the other side from the narrow openings of the windows the detainees stretched their arms waving colourful clothes and, as the protest went on, messages of freedom were put up for everyone there to see.

Women inside showed strength and real power as they had to boldly confront harassment from the Serco guards and attempts by the managers of the centre to divide the women by setting up a bingo game with prizes. Serco did not win, the women won. Ex detainees like Bruk had been in contact with the women inside who they personally knew and encouraged the organising inside. Even newcomers in the centre had joined in to act in defiance of a system of abuse that has the only purpose of crushing hopes of people who have already fought for freedom and for a better life when they have left their countries of origin.

Yarl's Wood has seen many struggles over the years and women have being speaking out against the degrading racial and sexual abuse that is systemic in detention centres, there is no reform to be done, those horrible and traumatising places have to be shut down. This is what at the demonstration protesters outside and inside have been shouting: "Detention Centres, Shut them Down!" and "Freedom Now".

After the protest on 6 June text messages were sent out by some detainees who wanted to thank everyone for the powerful and beautiful protest. Marina texted "The protesting was amazing. I enjoyed every single moment. That was the time to let that anger out and put forward the craving for freedom. Yarls Wood is such a confinement and a depressing place that detainees were hoping that protesters would break the gate so we could escape. Some had their bags ready just in case. I am sure what we did will not be a waste. Thanks to everyone for such a great day".




We all left with a sense of our own power, citizens and non- citizens, together fighting the racist anti-immigrant attacks at the heart of the destructive austerity drive. Over the last month detainees inside have creatively asserted their voices more, writing messages like "FREEDOM, FREEDOM" on their t-shirts in a bold act of defiance and challenge to the true repressive nature of detention. Guards have responded with harassment and stalking, making threats:' you won't get any food', 'you'll be sent to prison' or be put in 'isolation', for not handing over their customized t-shirts. Guards tried to spread fear through their abusive threats but they did not win. The women who asserted their dignity and power holding their ground refusing to give up their t-shirts have been winning.

We can win more and winning victories against the cynical divide -and- rule policy of scapegoating immigrants has to inspire our actions as we build and organise a movement that unites citizens and non-citizens, inside and outside detention centres, fighting for a better society where freedom and equality are for real.

That is why is important to come out from all our communities on the 8 August to Surround Yarl's Wood and make another day where the collective power of the oppressed will resonate inside and outside detention centres.

For more information about the protest on 8 August click here.
---
24 July 2015:

Notes on the unique Dorset festival experience, by Jenny Nelson
Tolpuddle village - you know, near Briantspuddle and Puddletown, in the Piddle valley of Dorset - seems an unlikely place for a political rally, with its pristine cottages and their bounteous hanging baskets. But every year thousands of socialists arrive to remember six farm workers who fought one of the earliest trade union battles in the 1830s.
The workers and their families faced starvation when their wages were cut to a measly six shillings a week; at the time an average family needed nine shillings a week for bread alone. The men began to organise their resistance before being arrested on trumped up charges and deported to Australia. It wasn't illegal to form a union at the time, but fear of widespread revolt lead to the heaviest punishment possible being invoked for mutiny involving an oath.

Protests swept the country including a march of 100,000 people on Parliament and the burgeoning trade union movement roused enough public pressure to bring about their return within three years. The tiny Dorset village has been a place of pilgrimage for trade unionists and socialists ever since the Martyrs' came home in triumph.

The festival is markedly different from other events listed on the West Dorset District Council's calendar, which this summer includes: songs of praise on the marine parade; a quilt and flower festival at Abbotsbury Church; fossil polishing; and a jazz brunch at the old tithe barn.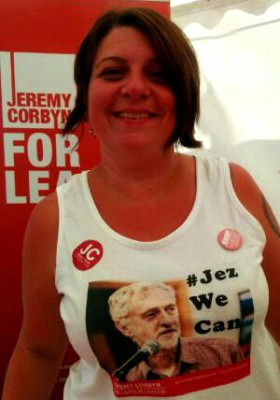 Several things differentiate this festival from any other:

The Martyrs' Marquee blends traditional fête activities with niche hard left stalls. This year you could take a punt on the name of a large fluffy toy dog or support the Worker-Communist Party of Kurdistan's call to unite against Isis. There was a controversial, albeit brief appearance from Bournemouth Action for Israel, and the most popular stall generated enough JC propaganda to rival a Christian camp, in this case promoting Jeremy Corbyn's bid to become Labour leader.

Billy Bragg sang to one of the few audiences around who know the words to The Red Flag, and there was a notable array of political t-shirts, (pictured).

During the same month the government announced its greatest crack down on the unions in 30 years, it was heartening to join Sunday's proud procession through the village with dozens of beautifully embroidered banners and more than one brass band.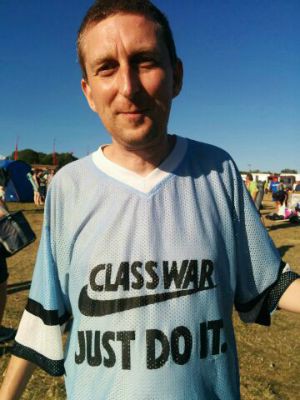 We passed the old Sycamore tree, where the six were alleged to have taken the fateful oath. We passed the grave of James Hammett who wasn't present at the initial meeting under the tree, but accepted arrest on behalf of his newly-married brother whose wife was due to give birth. Wreaths were laid and his ancestors paid tribute.

The Tories claim to support working people while attacking the organisations that by definition exist to represent worker's rights. (See Red Pepper's trade union mythbuster). This celebratory gathering was a reminder that the roots of the trade union movement run deep and although the institutions themselves are not faultless, there's a spirit that won't be broken.

In prison, one of the Martyrs George Loveless scribbled the words that formed the slogan of the weekend, 'We raise the watchword, liberty. We will, we will, we will be free!'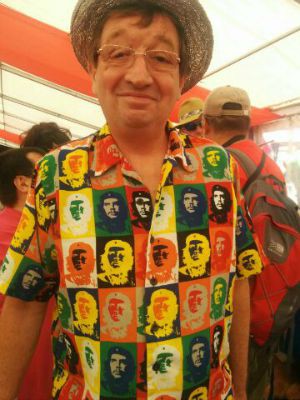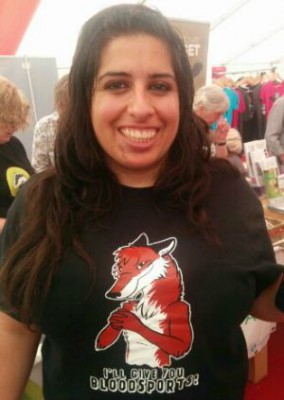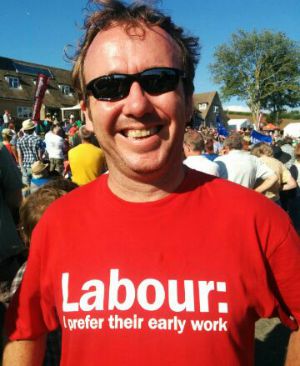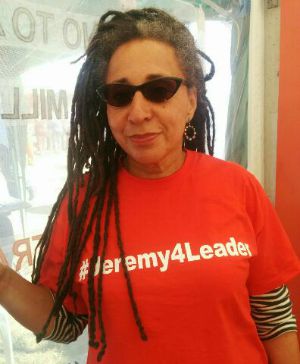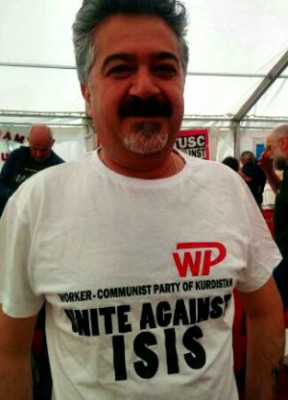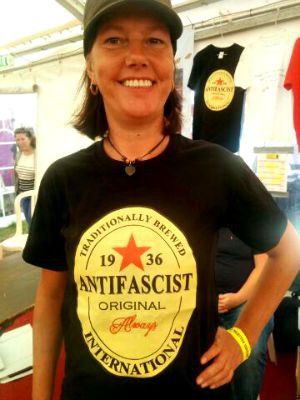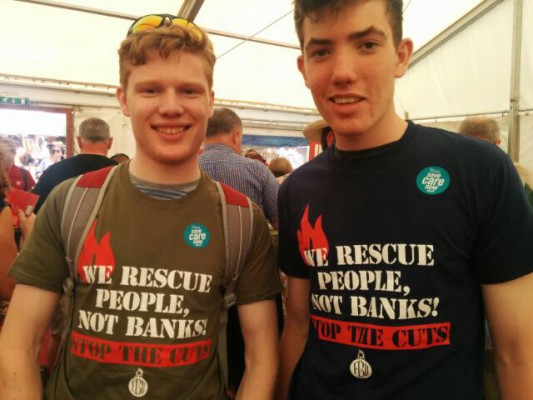 ---
23 July 2015:

With overdue northern rail upgrades hitting the buffers of an indefinite 'pause', Labour MEP Lucy Anderson flags up signs of a wider crisis in essential public infrastructure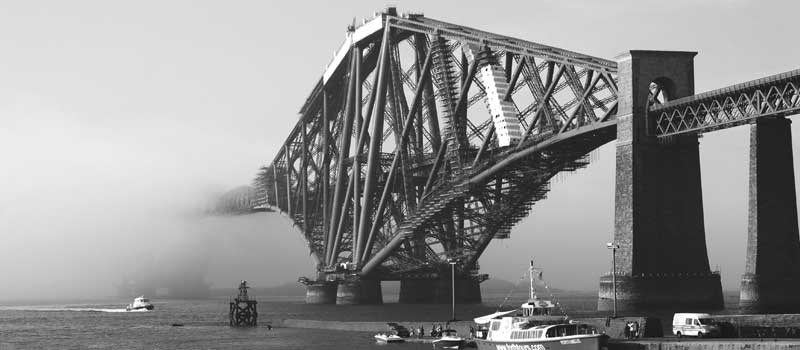 Transport infrastructure faces an alarming future at current levels of investment. Photo: George Gastin (CC BY-SA 3.0)

Failure to invest in and adapt public infrastructure in the UK, and to properly address future needs, is creating another crisis - one mirrored across the EU. This should be a huge issue for the left to take forward, but it is simply not getting enough attention.

The Institute of Civil Engineers defines infrastructure as 'the physical assets underpinning the UK's networks for transport, energy generation and distribution, electronic communications, solid waste management, water distribution and wastewater treatment.' In each case, it is clear that the nation is not planning for the investment required to service the projected increase in demand from at least 10 million more people to 2035, let alone further innovation and expansion.

A 2013 assessment by the World Economic Forum ranked the UK 27th in the world on quality of infrastructure. We know that the situation is not improving, even while the IMF is pushing for countries with advanced economies to invest. Their argument suggests that if infrastructure spending increases by 0.1 per cent of GDP, it raises the level of output across the economy by about 0.4 per cent in the same year, and by 1.5 per cent within four years.

Investment in transport infrastructure in particular is falling behind across Europe. There is also growing concern about the state of maintenance and renewal of key infrastructure in 'older' member states such as the UK, especially in relation to rail. A study prepared in the context of the 2011 EU transport white paper concluded that securing the necessary European transport infrastructures requires investments of €1.5 trillion between 2010 and 2030.

Improving public transport infrastructure, where investment focuses on appropriate and sustainable projects, is more than just a desirable option. As the Royal Town Planning Institute acknowledges: 'Transport infrastructure also shapes people's decisions about where to live work and invest. It can transform and regenerate places, and it can facilitate the operation of industries which ostensibly are unrelated to it. By improving connectivity, it can help ensure greater social and economic inclusion, distributing further and wider the proceeds of growth. Moreover it delivers wider social benefits including providing access to healthcare and education and greater choice for consumers.'

In the UK, we have seen the Government refuse to commit to anything like the investment needed in transport infrastructure. The 2013 National Infrastructure Plan lacked any new money and further evidence came in June with the announcement of delays to Network Rail projects. In the meantime, the UK languishes at the bottom of the EU league table for rail electrification.

This is not simply a matter of spending cuts. Sixty per cent of economic infrastructure is already in private hands, raising serious concerns about the ability of democratically elected politicians to take decisive action to plan for the future.

Our experience of rail privatisation is evidence that the private sector will not fill those public investment gaps. The 2012 Rebuilding Rail report demonstrated that genuine private investment in the railways has been minimal when compared with contributions from the public purse and passengers. As outlined in the Labour-commissioned Armitt Review: 'Whilst the private sector can provide some resources on a speculative basis in the early stages of project development, over the long term, funding of infrastructure can only come from three sources – national taxation, local taxation and user charging'.

In the coming years, it is incumbent upon supporters of socialist and green policies from all parts of the Labour and trade union movement and beyond to campaign hard for change to long-term investment policies.

Lucy Anderson is a Labour MEP for London and spokesperson for the European Parliamentary Labour Party on transport
---
15 July 2015:

Kara Moses writes on direct action against airport expansion at Heathrow airport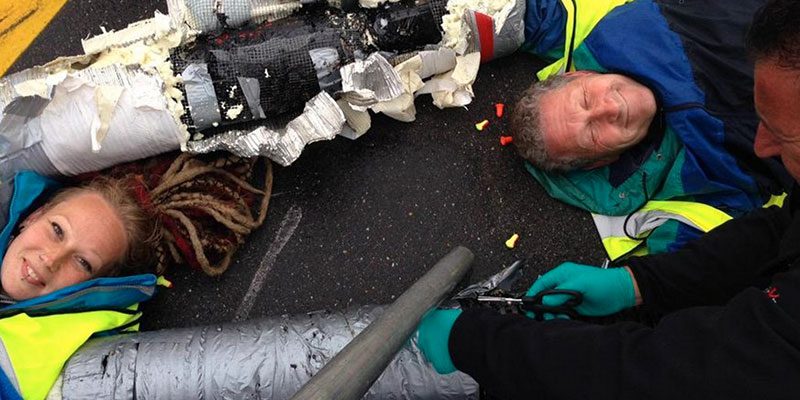 Kara wearing arm tubes on the runway at Heathrow.

Five years after David Cameron unequivocally cancelled plans for a new runway with his now embarrassingly infamous 'No ifs no buts, no third runway' pledge, the £20 million Airport Commission that Cameron commissioned is now published, recommending a new third runway be built at Heathrow.

Within two weeks of the commission's publication, the resistance has sprung into spirited action, with three kick-ass direct actions in a fortnight. The day after the report's release, local resident Neil Keveren blocked the entrance tunnel to the airport with a van draped in a 'Residents Against Expansion' banner. The following week, head of the Airport Commission Howard Davies' address to the £800-a-ticket Runways UK conference was stormed by polar bears wielding a banner reading 'Any New Runway is Just Plane Stupid', just at the moment he said that the decision over airport expansion would be made 'by people in this room' – those people being aviation industry bigwigs.

Pro-expansion astro-turf group Back Heathrow responded to the conference invasion on Twitter with mild disappointment, saying Plane Stupid 'used to be edgy'. Little did they know that the group had plans for something ever so slightly more edgy the following week.

In the wee hours of the morning, I and twelve other Plane Stupid activists stormed Heathrow's northern runway, not long before it was due to go live with carbon-pumping machines taking off for short-haul destinations as unjustifiably close as Newcastle. A tripod draped in white sheets provided a prominent iceberg seat for our polar bear, as we constructed a fence around it and locked on to the fence and tripod feet with D-locks and some pretty hefty arm tubes and waited for the police to rock up. We managed to construct our fortress before an army of police cars and vans, fire engines, and eventually snow ploughs and cherry pickers encircled us to block us off from the media gathering at the fence. Thankfully we were tweeting and livestreaming the whole thing to feed the media shitstorm that ensued.

That media shitstorm, which saw coverage from all the major UK print, online and broadcast outlets to worldwide media outlets as far away as Australia, Russia and the US, has successfully shifted the discourse around airport expansion to include climate change. This is no longer a debate around whether to expand Gatwick or Heathrow. This is now a debate around whether we should even be considering any airport expansion at all when we are already failing to address climate change, failing to meet our already inadequate targets that aim to keep the climate at a level that will still see mass disruption and destruction of our planet. It's runways or a safe climate – we can't have both.

A new runway would also destroy local communities, demolishing the village of Harmondsworth and making life in Sipson, which would sit at the end of the proposed runway, unbearable. This felt very poignant at the moment we were released from Heathrow Police Station, to receive huge hugs and hearty thanks by a local resident for 'helping to protect my village and way of life.'

The real cost

The problem here is not the average family taking an annual holiday, and that is not what is driving the expansion. Nor – despite what the pro-expansion lobby would have you believe – is it even business flights, which have been in decline for 15 years. What is actually driving demand for more runways is wealthy frequent flyers. The 10-15 per cent of the UK population who flew three or more times last year took a whopping 70 per cent of all of UK flights. 57 per cent actually took no flights at all, with the rest taking just one or two. And the strongest predictors of frequent flyer status? A salary of over £115,000 and ownership of a second home abroad. Not only that, the most popular destinations from the areas with the most frequent flyers are tax havens. The facts speak for themselves – this is about a rich minority living luxury lifestyles, while the rest of us pay the real cost.

The Airport Commission gave a list of caveats for Heathrow expansion, including a ban on night flights and legislation against ever building a fourth runway – both of which Heathrow has apparently rejected, showing how little they care about anything but profit. In fact our group of runway blockaders have received lifetime bans from entering the Heathrow complex – unless as 'bona fide' air passengers (for which we'd need written permission) – ie they don't want us anywhere near them, but they'll still take our money.

Yesterday, as a result of our action, 22 flights were cancelled and many more were delayed, saving hundreds of tonnes of carbon. There are much better ways though to save large amounts of carbon being unnecessarily pumped into the atmosphere than invading a runway at 4am and sitting in the rain for hours with your arms inside giant tubes – for example, not building any more runways, at Heathrow or elsewhere.

This is just the start. If we can pull this off in a fortnight, imagine what a united movement can do over the next five months before Cameron makes his final decision. Now is the time for local residents, environmental activists, NGOs, trade unions and anyone who wants a safe climate to come together once more and win this fight again. We did it before. We'll do it again. No ifs, no buts. And, unlike Cameron, we actually mean it.

Sign a petition against new runways here.
---
3 July 2015:

Pam Foster from Residents Action on Fylde Fracking tells the story of a weekend of furious campaigning

The eyes of the world were on Lancashire County Council on Monday 29 June – and Little Plumpton, a quiet rural spot in the Fylde, situated in West Lancashire. The previous week had seen a previous planning application to frack the Fylde village of Roseacre thrown out by Lancashire's councillors and another, for seismic arrays at the same site, rather bizarrely given the stamp of approval.

The planning officer had recommended that the application to frack at Little Plumpton (Preston New Road) be given the go-ahead as there were no valid reasons for turning it down. If they turned it down and fracking firm Cuadrilla appealed, the officer said there could be steep financial penalties for the council. A vote to refuse Cuadrilla's application to frack Preston New Road was taken, resulting in seven in favour, seven against and one abstention. It was decided to adjourn until the following Monday as councillors asked for that advice to be provided in writing. We had been so close to getting this application refused – now the agony was to be prolonged until the following week.

So we had one weekend. What could we do? The Frack Free Lancashire machine, which represents almost 40 local groups, went into overdrive. Both the Preston New Road Action Group and Friends of the Earth each obtained independent legal advice that confirmed the view that the committee would have valid reasons for refusal on grounds of noise and landscape, and that the risk would be small if it went to appeal. How were we to get this information to the councillors though? The planning officer had made it very clear that there would be no further opportunity for public participation, or for members of the public to circulate written evidence collected over the weekend to any of the councillors.

The value of having many small grass roots groups under the Frack Free Lancashire umbrella is that we are able to act nimbly and quickly. It didn't matter that it was the weekend – this precious legal advice was hand-delivered to all the relevant councillors, along with greetings cards and good wishes expressing our empathy for them. We have always appreciated the pressures they were under – meddling from central government, conflicting advice, tons of documents, and now the threat of financial penalties. We also needed to tell them that we'd decided that in the event of an appeal, we would crowdfund in order to raise the necessary cash to pay for any costs incurred.

Crunch time

Monday dawned and we found ourselves back in the council chamber, enviously leaving some of our colleagues outside in the sunshine, where a large crowd of supporters was gathering – much larger than we had dared hoped for. After all, many people had taken time off work, re-jigged schedules or had travelled from outside Lancashire in order to offer support the previous week.

We were nervous – this was crunch time. Most of us admitted that we hadn't slept well over the weekend. The national and local press had gone into overdrive and nearly all, without exception, were predicting that permission was bound to be granted and that Lancashire was about to become the test ground for fracking in the UK.

A tetchy atmosphere pervaded the council chamber, with the chair and councillors sniping at each other. It was agreed that there would be a ten minute adjournment to look at our new legal advice received over the weekend. It seemed that the councillors were to see it after all. It was being taken seriously.

It was a tense time. Would the council take on board this latest legal advice and make a decision based on the best interests of the community and the people they represented, or would they kowtow to the wishes of a planning pfficer who was under pressure from George Osborne to make planning an easy passage for Cuadrilla? We dared to hope that this new information might be influential. The councillors came back in, there was more discussion – they took a vote 9-4, with one abstention. The chamber erupted with a noisy standing ovation. We had won! Minutes later the committee unanimously voted to also throw out plans for seismic arrays at Little Plumpton.

We emerged from the chamber into the sunshine and to the sounds of hundreds of happy people. Amid all the hugs and kisses was a general air of astonishment. We always believed that we could stop this but we had been faced with the very real possibility that the democratic process could be determined by councillors' fear of legal fees.

Hats off to Lancashire councillors who had the courage to listen to their constituents. What a great victory for localism – and what a huge blow to a government that said it was 'going all out for fracking'!
---