16 December 2014:

2014 marks the 20th anniversary of Red Pepper magazine - it's an exciting time to get involved!

Red Pepper magazine needs a temporary Political Organiser: £25,000 per annum, two days a week pro rata (flexibility with days), based in our London office, for a minimum period of 6 months with the possibility of extension to 9 months. Deadline for applications: Monday 12 January 2015.

The role of Political Organiser has become vacant on a temporary basis while our current Political Organiser is on maternity leave from the end of February 2015. The role has existed for two years - the first year was supported by a crowd funding campaign and since then it has, in part, been sustained with grant funding. The role was created as part of an ambitious business plan to expand Red Pepper's reach and political impact, while simultaneously boosting the project's sustainable income streams by attracting more subscribers and regular donors.

To find out more about the background of the role email Jenny [@] redpepper.org.uk

How to apply

Please find below links to the job description and person specification, the application form and our equal opportunities and monitoring form.

If you would like to apply, please complete and return the application form (a CV is not an acceptable alternative) by Monday 12 January. We would be grateful if you could also return the Equal Opportunities monitoring form, although you are under no obligation to do so.

Please send your application as an attachment in an email to Jennifer Nelson at Jenny [@] redpepper.org.uk with 'Red Pepper Political Organiser (maternity)' in the subject line.

Political Organiser (maternity) Job Description and Personal Specification

Political Organiser (maternity) application form

Equal Opportunities monitoring form

Red Pepper seeks to promote equal opportunities and actively encourage women and BAME candidates to apply.

Deadline for applications: 6pm Monday 12 January 2015
---
11 December 2014:

Hannah Fair reports from the low-lying Pacific Islands, under imminent threat from climate change, where The Pacific Climate Warriors are taking direct action against the fossil fuels industry.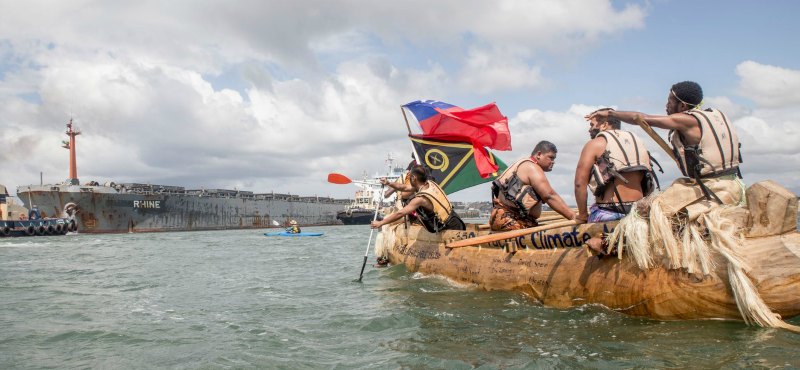 Tuvalu, Kiribati, The Marshall Islands; These low-lying coral atolls are often represented as drowning paradises, disappearing beneath the rising waves caused by anthropogenic climate change. Pacific islands pepper the rhetoric of politicians, journalists, and climate change campaigners. They stand in for urgency, for tragedy, for irony: the irony that the people who fuelled these climatic changes are not the people that now suffer this seemingly inescapable fate.

But what happens when these islands no longer stand in for the West's ecological incompetence? Or when they resist the narrative of their inevitable demise? When instead these islanders stand up for themselves and their homelands, and tell the world they are not drowning, but fighting?

Last month in Australia, this is what the Pacific Climate Warriors showed me. In October 2014 thirty Pacific Islanders from twelve countries came together to put their bodies (and their visas) on the line. From the highlands of Papua New Guinea to the Rock of Polynesia, these young people, warriors and activists came, united and blockaded coal ships, occupied banks, wept at the destruction of the Australian bush and sang, danced and laughed with joy. And I had the honour to join them.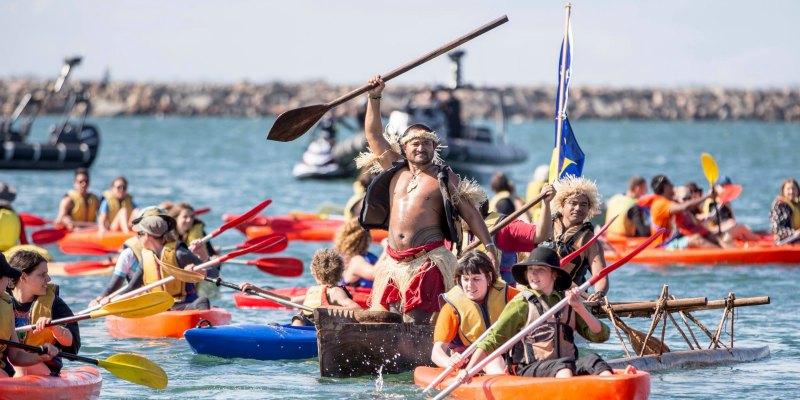 On Friday 17 October, with seventy plastic kayaks, a few hundred Australians, and five handcrafted canoes, the flotilla managed to stop ten out of eleven coal ships due to collect their cargo that day from Newcastle, New South Wales; the world's biggest coal export port. We held the waters and the beach for ten hours, while police aboard jet-skis impeded our vessels, at one point dangerously capsizing our largest canoe. The outrigger was snapped but the warrior spirit was not broken. With prayers and powertools the Vanuatu canoe was back on the water within half an hour.

Our adventures didn't end in Newcastle. Following the flotilla, many of the Warriors dispersed across the country, sharing their stories, as Australian allies undertook secret direct actions in solidarity with their island neighbours. In Sydney twelve Australians occupied the offices of Whitehaven Coal, the company leading the construction of the Maules Creek Coal mine; a project that is being vigorously opposed by activists, farmers, priests and doctors in Northern New South Wales. And for eight hours the foyer of the global headquarters of ANZ - one of the largest banks in the Pacific, and a major investor in fossil fuels - became a site of pasifika struggle and song, as up to eighty protestors occupied the lobby, performing haka and collectively projecting their voices using an Occupy-style 'human microphone'.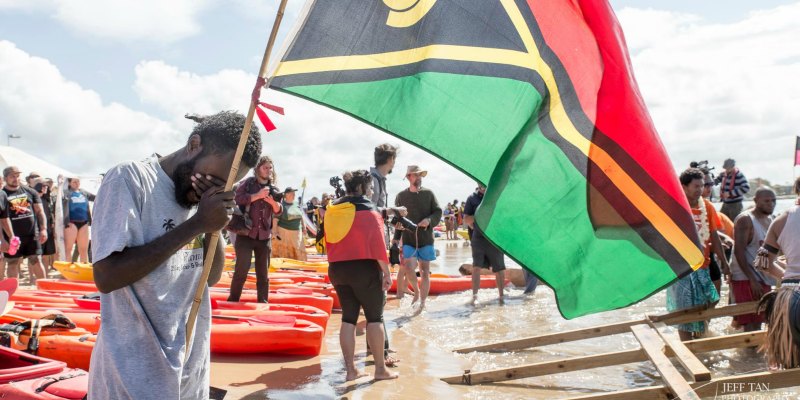 These Warriors, organising through the 350 Pacific network, were not 'professional protestors' or an international rent-a-mob. They were students, civil servants, conservationists and police officers who could no longer abide how the expansion of the Australian fossil fuel industry was diminishing their homelands. They were new to direct action, and they were brilliant at it.

If we take the Pacific Climate Warriors seriously (and in my mind there is no doubt that we must) then we must cast aside the misconception that these are nations of helpless victims and prospective climate refugees. Or that political action belongs only to their governments. And most of all that any of these places or people are expendable. As Carol Farbotko highlights, if Tuvalu becomes uninhabitable, we will have the won the argument for the urgency of action on climate change. But in all other senses we will have lost.

Here in the UK, at the 2007 Climate Camp, we carried the faces of those who would be hit first by climate change. Now we paddle side by side with those whose kitchens are flooded by kingtides. We claimed we were armed only with peer reviewed science. Now our armoury has expanded. Ask any of the Warriors and they'll tell you they have culture, heritage and religion on their side. They do not carry spears, but blessings from their elders, their God, their governments.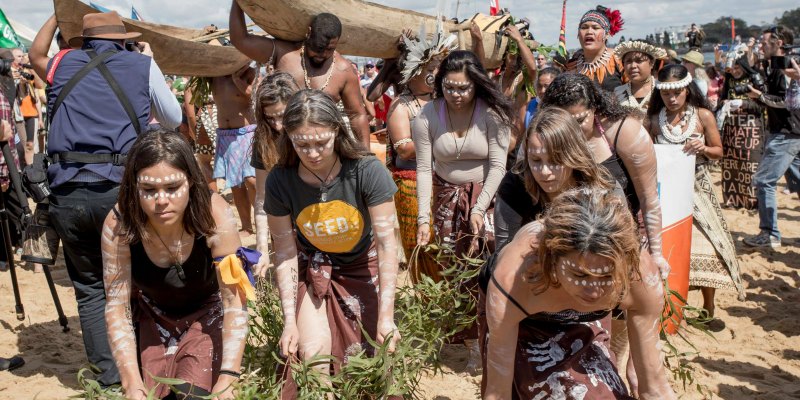 For the Climate Warriors, this is only a beginning. A fossil divestment campaign targeting ANZ bank has been launched across the Pacific and the College of the Marshall Islands in Micronesia has committed to divesting. The Pacific Climate Warriors campaign forces us to ask ourselves what does a climate movement led by those most imminently affected by climate change look like? And as allies on the other side of the world, how can we stand in solidarity? Does Pacific direct action challenge the practices and conventions of predominately white European climate activism? And how does Pacific piety and placing Christ at the centre of the struggle speak to the staunch secularity of the UK radical environmental movement?

Most of all, I hope this campaign signals a shift away from speaking for (or even failing to acknowledge) Pacific Islanders, and instead shines a light on how we stand alongside with our brothers and sisters in Oceania, as they stand up for the Pacific, for Australia and for all communities that are threatened by climate change.

Hannah is a UK climate activist and a PhD student researching grassroots responses to climate change in Pacific Island countries.

Photos by Jeff Tan, see the full album here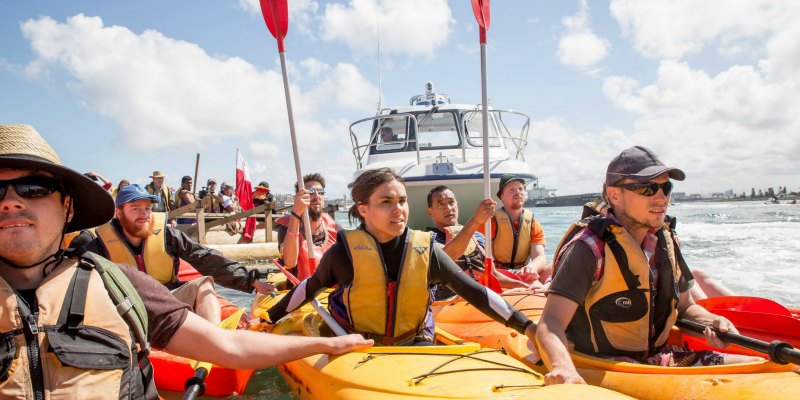 ---
8 December 2014:

This month Devon has announced that smokers and obese people will be denied all routine operations, and deaf people will get only one hearing aid. Caroline Molloy argues the end of the NHS is coming into focus and Devon is the canary in the coal mine.
'We constantly strive to improve services all in the best interests of the patient.. I sense a real optimism here in Devon because clinicians are inherently close to their patients… The patient must always come first...'

So said the Chair of the new North East & West Devon Clinical Commissioning Group (CCG) Dr Tim Burke earlier this year, introducing the system the 2012 Health Act set up.

So what does this optimistic vision look like on the ground?

Dr Burke's CCG has just announced that obese people and smokers in Devon will be denied ALL routine surgery. The Royal College of Surgeons slammed the move as 'unacceptable'. 

Shoulder surgery will also be restricted for everyone in Devon (obese or not), as part of a package of cost cutting measures, with further cuts to be announced shortly.

And deaf people will now only get a hearing aid for one ear, not two.

Justifying the decision Dr Burke told us that 'second hearing aids show far lesser cost effectiveness than the first'. And that 'the CCG has a legal duty to live within its financial resources and the prioritisation of services is helping us to do that.' 

Chris Ham, head of the Kings Fund think tank, this week extolled again the virtues of 'bilingual clinical leaders'. Others might look at the gap between rhetoric and reality in Devon, and consider 'bilingual' a kindly euphemistic term for its 'clinical leaders'.

The 2012 Act handed placed a duty on unaccountable CCGs to decide what healthcare needs get funded. In doing so they also abolished the ministers' previous, much stronger duty to secure or provide a comprehensive health service throughout England, which had existed in one form or another since 1948.

Because the CCGs had a few doctors prepared to accept the poisoned chalice and sit on their boards, this was 'giving power to doctors', politicians and the media told us.

Influential critics of the 2012 Health & Social Care Act including Clare Gerada, former head of the Royal College of GPs, argued in the British Medical Journal that in fact, the model was heavily influenced by a model of 'managed care organisations' which were cooked up by the young John Redwood and Oliver Letwin in the 80s as part of a drive towards a US-style insurance system, and recycled by Letwin into the Health & Social Care Act.

In this system, Gerada and colleagues suggested, CCGs - with their narrowed 'risk pools' compared to the National Health Service - were stage one, and a big shift to turning the NHS into a 'state insurance provider', as insiders like Mark Britnell had admitted. CCGs would be increasingly able (or forced) to decide who they cover for what, and who they buy it from. In effect, they would increasingly function as state-subsidised but incomplete healthcare 'insurers' (like Medicare in the US). As in the US, healthcare purchasing decisions would be taken increasingly by non-medical administrators like referral services and soon-to-be-privatised Commissioning Support Units. Easily cuttable subsidies would be provided increasingly via unaccountable, fragmented CCGs and even more atomised budget-holding individual patients - with top-up insurance necessary in future to get comprehensive healthcare coverage, if patients can afford it. All of this is now happening - though top-up insurance is still in its infancy.

So what of stage two? Health insurance 'purchasing' - more than hospital and other healthcare 'provision' - is where the biggest potential profits are, international comparisons show us. But even the most free-market gurus quietly admit that free competition doesn't actually work in terms of buying healthcare provision - and is hideously expensive beyond a level even a complicit state might not want to subidise. So stage two is 'integration', where insurance-resembling 'purchasers' (both state and private) might also 'integrate' with preferred state or private medical 'providers' in 'managed care organisations' (or similar terms) to try and control costs (ie, maximise profits/surpluses).

They would create 'care pathways' and 'care packages' that can conveniently be costed, priced and marketed - including a hefty nudge to expensive, poor, sick patients to change their ways or get shoved out of the queue. 

We're already on the path towards stage two, whether via the feting of 'managed care organisations' or through the similar 'lead providers' model (with providers taking control of purchasing through tiers of sub-contracting) though the latter has run into problems lately.

The poster child for 'managed care organisations' is Kaiser Permanante, whose supposed 'integrated', 'mutual', 'clinically-led', 'cost-contained' and 'preventative' approach is trumpeted by everyone from new NHS boss Simon Stevens to Health Secretary Jeremy Hunt and Shadow Health Secretary Andy Burnham.

In the US, Kaiser's supposed 'cost effectiveness' is also delivered by excluding the poorest and sickest from coverage.

Why the support for this model?

Health budgets are being slashed in a drive to save £20bn by 2015 - notwithstanding competing Labour and Tory promises to chuck it an 'extra' couple of billion, somehow. And someone has to carry the can.

Stage one - and the accompanying loss of the Secretary of State's duty to provide comprehensive healthcare - means that when even basic medical care is refused, the Health Secretary can claim this is 'a matter for local doctors', even as government funding decisions have pushed Devon CCG into a £14.5million deficit.

And stage two is being held up as the solution to all ills. The Kings Fund's Chris Ham's recent piece suggested that Kaiser-style managed care organisations were particularly good at both 'clinical leadership', saying '[M]edical leaders … are... equally fluent in management speak and clinical language. This means they are just at home in the boardroom as in the clinic'. They 'are able to ensure that the voice of clinicians is heard at the highest levels.' 

Ham goes on to say these 'clinical leaders 'are also able to work with clinical colleagues to ensure effective stewardship of resources'.

'This is merely 'management-speak' for denying useful care in the interests of protecting the bottom line,' says Professor Ted Schrecker, Global Health Research Fellow at Durham University.

To smokers, the obese, and mentally ill patients in Devon - disproportionately the poorest patients - it certainly seems that way.

It's worth noting too that Kings Fund, last year spent two days persuading a very reluctant focus group to agree that if NHS charges had to be introduced, it could start with 'less responsible' patients such as drinkers, smokers and those who missed appointments.

In Devon the cuts are showing elsewhere too. Recently a 16 year old girl in a mental health crisis was kept in a police cell for several days as there was no mental health bed for her anywhere. Under-18's non-emergency mental health needs should have been met by Virgin - to whom Devon have controversially outsourced child mental health services. Devon CCG have refused to say how much they have spent on child mental health services. Once patients get to an emergency situation, responsibility reverts to NHS England. In Devon 750 mentally ill people, including 28 children, have been detained in police custody because of a shortage of hospital beds in the last 12 months.

Also in Devon it emerged that over-stretched GPs are telling depressed patients to call a non-NHS helpline rather than approach their GP.

Beyond Devon

Is Devon a rogue CCG? Probably not, though the South West as a whole (along with the East of England) has fallen victim to some of the most ideologically pro-market health policies in recent years.

Devon is one of the largest CCGs in the country. So perhaps it is not surprising thus one of the first to run into serious problems. It is not the first to discover that the rhetoric about 'decisions closer to the patient' made by doctors, cannot be squared with the starving CCGs of funds that forces them to narrow their risk pool and withdraw necessary medical treatment from the NHS.

Devon offers us a reality check on the gap between the think tank rhetoric and the local realities. It is the canary in the coalmine, even as its leaders congratulate themselves as they provide political cover for politicians, and their colleagues leave the NHS in despair.

Meanwhile what do more thoughtful 'clinical leaders' actually want? Doctors such as those who have set up the National Health Action Party have got behind Allyson Pollock's NHS Reinstatement Bill (as have the Green Party). Most doctors want an end to this fragmented, expensive market madness. Pollock, along with National Health Action Party leader Clive Peedell, sees the 2012 Act as having finally 'abolished' the English NHS - though people haven't yet fully realised, as the NHS lives on as a logo or 'kitemark'. These health leaders have offered a legal routemap to restore the NHS, and have urged all politicians to sign up to it.

This article was first published on the Our NHS section of openDemocracy.
---
26 November 2014:

On Saturday 22 November over 3,000 people gathered to discuss what next for the campaign that makes the socialist case for Scottish independence.
Key speaker Tariq Ali declared: 'What happened in Scotland over the last two years was, and still is, astounding. So astounding that most people in the rest of the UK do not fully comprehend it…

'In all my years of political activism I've not seen anything on this scale. And it doesn't feel like we lost'



He criticised mainstream media coverage of the referendum, particularly the BBC, and called for new and alternative media outlets to be established. He urged the campaign to focus next on getting sympathetic representatives into Westminster.

'Project fear can win once, it can't win twice,' he said, predicting a second referendum with a Yes result.

At the close of the event Alan Bissett read The People's Vow. Read the full People's Vow on the RIC website.



The BBC produced a short video report of the day: 'Meeting Scotland's new radicals'. And RIC are fundraising to produce their own film about the event.

Since the conference the campaign continues to move quickly; this weekend will see the largest protest against Trident at Faslane Naval base in a decade.

In the next issue of Red Pepper magazine RIC organiser Jonathon Shafi writes from behind the scenes to explain practically how the campaign has managed to grow so quickly and what will come next.
---
25 November 2014:

Protestors in Ferguson have posted an open letter after a grand jury decided not to indict police officer Darren Wilson for the fatal shooting of unarmed 18-year old Michael Brown back in August 2014

The message, in its entirety, has been posted below.
The Results Are In. An Open Letter from Protestors On The Grand Jury Decision (11.24.14)

In Ferguson, a wound bleeds.

For 108 days, we have been in a state of prolonged and protracted grief. In that time, we have found community with one another, bonding together as family around the simple notion that our love for our community compels us to fight for our community. We have had no choice but to cling together in hope, faith, love, and indomitable determination to capture that ever-escaping reality of justice.

After 108 days, that bleeding wound has been reopened, salt poured in, insult added to the deepest of injury. On August 9th, we found ourselves pushed into unknown territory, learning day by day, minute by minute, to lead and support a movement bigger than ourselves, the most important of our lifetime. We were indeed unprepared to begin with, and even in our maturation through these 108 days, we find ourselves reinjured, continually heartbroken, and robbed of even the remote possibility of judicial resolution. A life has been violently taken before it could barely begin. In this moment, we know, beyond any doubt, that no one will be held accountable within the confines of a system to which we were taught to pledge allegiance. The very hands with which we pledged that allegiance were not enough to save Mike in surrender.

Once again, in our community, in our country, that pledge has returned to us void.

For 108 days, we have continuously been admonished that we should "let the system work," and wait to see what the results are.

The results are in.

And we still don't have justice.

This fight for the dignity of our people, for the importance of our lives, for the protection of our children, is one that did not begin Michael's murder and will not end with this announcement. The 'system' you have told us to rely on has kept us on the margins of society. This system has housed us in her worst homes, educated our children in her worst schools, locked up our men at disproportionate rates and shamed our women for receiving the support they need to be our mothers. This system you have admonished us to believe in has consistently, unfailingly, and unabashedly let us down and kicked us out, time and time again.

This same system in which you've told us to trust - this same system meant to serve and protect citizens - has once again killed two more of our unarmed brothers: Walking up a staircase and shot down in cold blood, we fight for Akai Gurley; Playing with a toy after police had been warned that he held a bb gun and not a real gun at only twelve years old, we fight for Tamir Rice.

So you will likely ask yourself, now that the announcement has been made, why we will still take to the streets? Why we will still raise our voices to protect our community? Why will still cry tears of heartbreak and sing songs of determination?

We will continue to struggle because without struggle, there is no progress.

We will continue to disrupt life, because without disruption we fear for our lives.

We will continue because Assata reminds us daily that "it is our duty to fight for freedom. It is our duty to win. We must love and support one another. We have nothing to lose but our chains."

Those chains have bound us-all of us- up for too long. And do not be mistaken- if one of us is bound, we all are. We are, altogether, bound up in a system that continues to treat some men better than others. A system that preserves some and disregards others. A system that protects the rights of some and does not guard the rights of all.

And until this system is dismantled, until the status quo that deems us less valuable than others is no longer acceptable or profitable, we will struggle. We will fight. We will protest.

Grief, even in its most righteous state, cannot last forever. No community can sustain itself this way.

So we still continue to stand for progress, and stand alongside anyone who will make a personal investment in ending our grief and will take a personal stake in achieving justice.

We march on with purpose. The work continues. This is not a moment but a movement. The movement lives.

This letter was written and signed by numerous protestors and supporters, too many to list. Permission is granted in advance for reproduction by all outlets.
---
20 November 2014:

Saturday 22 November marks the 10th anniversary of the annual march to reclaim the streets for women. Stefano Fumagalli reports.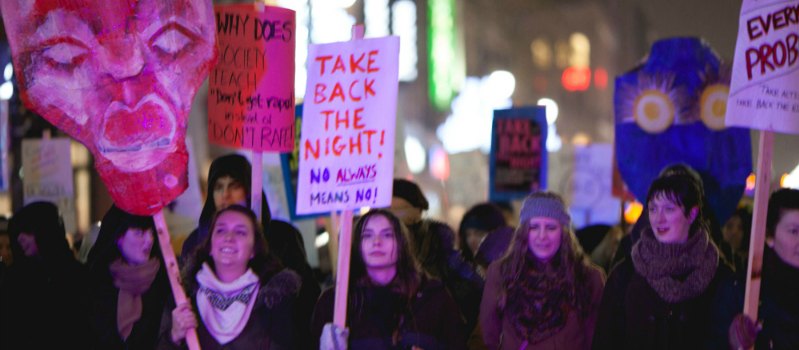 Reclaim the Night is a women-only* march that shouts NO to rape and all forms of male violence against women. Participants march for the same reasons today as in the seventies.

In January 2013 it was reported (by the Ministry of Justice, the ONS and the Home Office) that approximately 85,000 women are raped on average in England and Wales every year; that over 400,000 women are sexually assaulted; and that 1 in 5 women has experienced some form of sexual violence since the age of 16. The report also stated that around 90 per cent of victims of the most serious sexual offences knew the perpetrator.

Jo Bagshaw, a Reclaim the Night organiser, said: 'The problem is endemic in our society and is often hidden behind closed doors. The march is important because we bring it out into the open.'


The Reclaim the Night march aims to give women a voice and insists women should be allowed to feel safe in the streets, especially at night. A survey by the young women's magazine More in 2005 found that 95 per cent of women feel unsafe on the streets at night and 65 per cent during the day.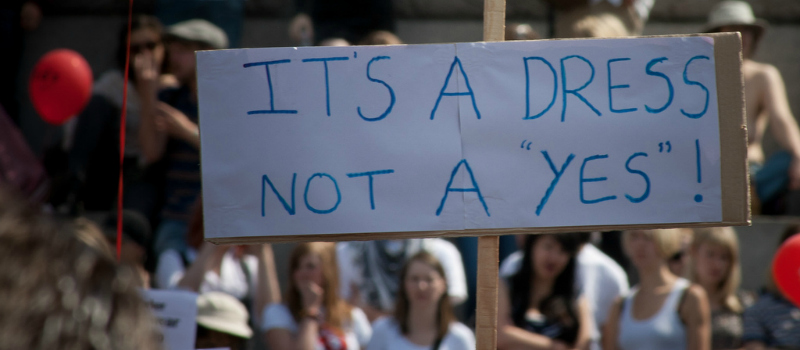 (image by roga muffin on Flickr.com)

Sarah Bell, also one of the organisers said: 'Traditionally women are expected to only take to the streets at night with a male chaperone. RTN totally rejects this and provides a safe women only space and demands this be the norm.' 


Now in its 10th year in London, the event will take place on 22 November at 6pm, starting at Whitehall Place and marching to the Camden Centre where there will be a rally and a party. Although the event is for self-identifying women only, men can support or join the final mixed rally.

Bagshaw added; 'Sadly the problem does not seem to be getting any better as conviction rates are still low, victim blaming still happens and women suffer abuse daily in this country and abroad. Misogyny is rife on the internet which will only perpetuate the problem as young men learn the behaviour of abusers.'

'As feminist activists we will not stop until women are free from the threat of male violence and sexual violence.'

* The march is open to self-identifying women; all colours, cultures, ages, disabled and non-disabled, heterosexual, lesbians, trans women, bisexual women, refugee and asylum-seeking women welcome.

Marches are planned for London, Newcastle, Belfast, Dundee, Sheffield and more, find your nearest March.

Top image by Howl Arts Collective on flickr.com


---
18 November 2014:

Why I'm not just marching against fees but against all student debt. By Fanny Malinen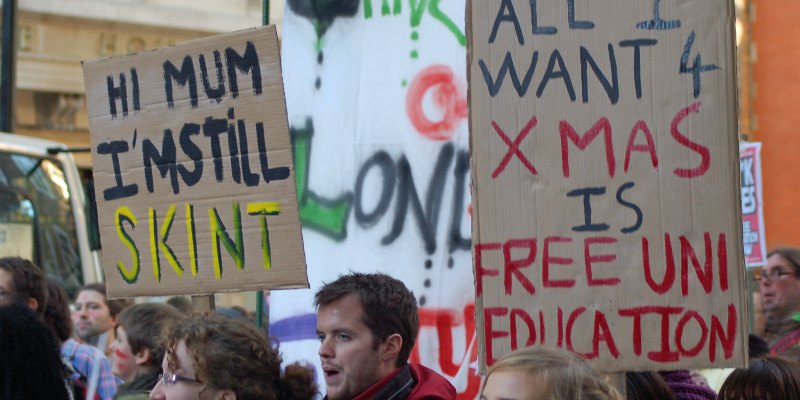 Next summer, the class of 2015 will proudly wear their graduation gowns. As the first generation to finish a 3-year university course since the trebling of tuition fees in England and Wales, they will enter their brave new futures with an average of over £40,000 of debt. That is nearly 80% more than for those who studied before the £9,000 tuition fee cap.

The statistics are grim: most graduates will be paying their debts into their 40s and even 50s, adding an extra burden at the time they are likely to have children and be paying off mortgages. An estimated 60 per cent will never pay their loans back in full before the remaining amount is written off after 30 years; this compares to a 15 per cent when the write-off time 25 years. If that is not enough, a real interest rate that varies between 0 and 3 per cent was introduced with the student loan reforms that came into place with the new university funding system in 2012.

Student loan repayments are income-contingent: that means they are fixed-rate deductions of salary once it exceeds a certain threshold. That threshold was raised from around £16,000 to £21,000, the government arguing that no prospective students would be held back by raised fees because they would not need to pay them unless they earned enough.

The bonds of debt that shape graduates' lives

The government's argument is based on the understanding of debt as an economic burden, not a social relation. It is not the case that debt only affects people when it affects them financially. There are other issues to consider, for example, to what extent does the prospect of repayment dictate graduates' life choices?

Debt and the commodification it brings about dictates the type of knowledge that is valued and produced in society. Applications for social sciences saw a decline after 2012, and so did arts and languages. Degrees are becoming a commodity, subject to a cost-benefit analysis at the point of application: should I follow my passion or instead go for a safer option that will get me a job? Or should I opt out of higher education completely?

The UK government's austerity agenda forms a direct continuum with three decades of neoliberal policies worldwide. They steer society away from critical thinking and into the realm of hard, money-making business - it is hardly a coincidence that the higher education reforms were the first austerity measures the coalition announced in 2010.

Sinister as it sounds, the political nature of the changes is demonstrated by the fact that they are already failing after only a few years. The estimated non-repayment ratio of student loans, now at 45 per cent, has been rising since the implementation of the reforms and is only a few percentage points from where they have cost more than the system they replaced. Many departments, especially those of arts, humanities and languages, are struggling. It is also important to note that while academic and support staff's real wages have been declining for five years now, managers have benefited. Marketing has become a vital part of higher education institutions and outsourcing of services is increasing. The austerity and privatisation agenda has winners, despite the majority being at the losing end.

There are alternatives

It is crucial to recognise that a different approach to higher education exists; one that recognises the intrinsic value of learning. Germany recently scrapped tuition fees due to popular resistance and Scotland has maintained free education for home students. Nordic countries too not only subsidise education but offer grants for students. This means levels of maintenance loans are much lower, and truly enables young people from all backgrounds to access university. Students are under less time pressure to complete their degrees, and can freely explore their interests in a range of subjects.

These countries fund their public services with higher levels of and more progressive taxation. With the austerity agenda failing as it was always set to, it is clearer than ever that Britain needs real alternatives to level out inequality in both income terms and socially. Scrapping tuition fees could reverse the trend of growing inequality and open up opportunities for those who now can only dream of higher education; it could also transform academia from the current consumer mindset of students towards critical thinking and feeding imagination, thereby fostering much needed systemic change.

For the latest on the national student demonstration, 19 November, visit the website of the National Campaign Against Fees and Cuts
---
18 November 2014:

Plus an excellent FREE book worth £12.99 when you buy a gift subscription this year.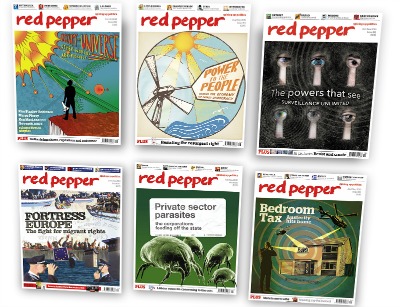 The perfect present for anyone who wants a more just and sustainable world. Don't waste money on the usual festive tat,  give them something that will last all year - give them a subscription to Red Pepper.

Recipients will receive the bi-monthly magazine containing events, competitions, analysis and debate, covering everything from the struggle against austerity, to inspiring environmental projects from around the world.

"Red Pepper helps us make sense of the world and imagine a better one" -  Owen Jones.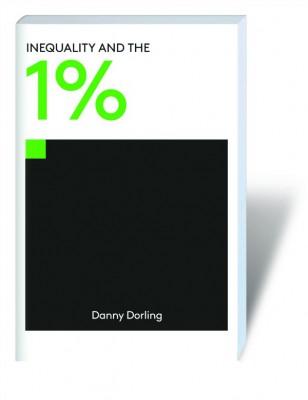 In addition, they will also receive a copy of Danny Dorling's latest book, 'Inequality and the 1%' - essential reading for anyone with an interest in radical politics. This powerful, timely book from Verso Books shows how inequality is about more than just economics, and calls for a 'slow revolution' against the 1%.

"Dorling asks questions about inequality that fast become answerable  can we afford the superrich? Can society prosper? Can we realise our potential?" - Zoe Williams, Guardian.

A gift subscription costs just £29, but hurry, you must place your order by Wednesday 17 December for delivery before Christmas.
---
12 November 2014:

We are looking for an enthusiastic and organised person to join our team of staff and volunteers.

2014 marks the 20th anniversary of Red Pepper magazine - it is an exciting time to get involved with us! Red Pepper magazine needs a new Red Pepper Coordinator.

£25,000 per annum, three days a week (flexibility with days), based in our London office.

The role of Red Pepper Coordinator has become vacant due to our current Coordinator leaving in January 2015. This role will now also include subscriptions management because we have recently brought our subscriptions in-house. This means that we are looking for someone that has the necessary skills and experience of fulfilling both these key areas.

Although the two areas do overlap in some respects, we estimate that you will spend two days a week on coordinator tasks, and one day a week on the subscriptions management tasks, and try to keep the two workloads fairly separate.

Please find below links to the job description and person specification, the application form and our equal opportunities and monitoring form.

If you would like to apply, please complete and return the application form (a CV is not an acceptable alternative) by Wednesday 10 December. We would be grateful if you could also return the Equal Opportunities monitoring form, although you are under no obligation to do so.

Please send your application as an attachment in an email to Kitty Webster at kitty [@] redpepper.org.uk with 'Red Pepper Coordinator application' in the subject line.

Red Pepper promotes equal opportunities and actively encourage women and BAME candidates to apply.

Deadline for applications: 6pm Wednesday 10 December 2014
---
11 November 2014:

Ahead of its first meeting this weekend, Ted Knight makes the case for the South London Borough's community assembly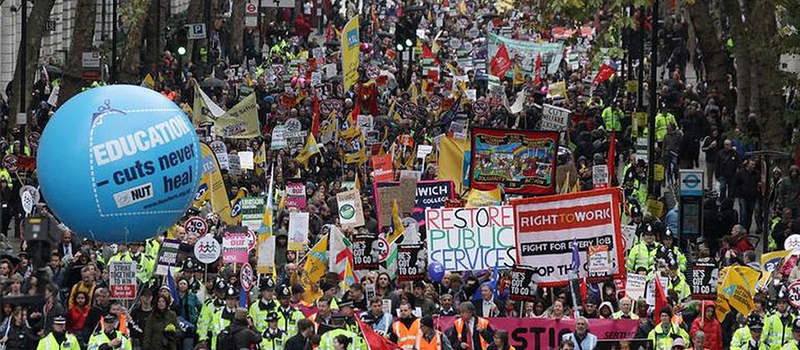 The rise of UKIP in the European elections this summer—confirmed at recent by-elections in Kent and Manchester—is the starkest indication yet that the present political system is dying on its feet. The three major parties find it increasingly difficult to differentiate themselves from each other, reinforcing what can fairly be termed as a crisis of democracy.

Increasing numbers of people are alienated from a politics that is too often regarded as self-serving and unrepresentative. This is no small matter for working people, who were at the forefront of the struggle for political representation through the vote in the 19th century and the building of the Labour Party in the 20th.

In this light, Croydon Trades Union Council decided to sponsor an assembly, taking place on Saturday, November 15 (10am-4.30pm). The aim is to give local trade unionists, activists, environmentalists, community groups and campaigners across the board an independent, collective voice. They are being invited to take part in a working organisation: a gathering that goes beyond simply sharing the disturbing experiences of life in Cameron's Britain.

The all-day event will be built around working groups, while guest speakers will be asked to set out the challenges we face in building a movement for change. John McDonnell MP, Mark Serwotka (General Secretary, PCS Union), Philipa Harvey (NUT) and Nero Ughwujabo (Croydon Black and Ethnic Minority Forum) will be among those on the platform.

We want people to participate fully in developing policy ideas and strategies that go further than the usual shopping lists. The plan is that the working groups will continue to meet after November 15 and take their ideas into the broader community. The assembly is designed to give working people confidence in their ability to create change for themselves.

The Scottish independence referendum showed a massive appetite for debate and discussion when people saw they had a possibility of changing an entire political framework. Initiatives such as ours, together with the People's Assembly Against Austerity and movements like Occupy, can help towards bringing about the fairer, more democratic society we all want.

Please lend the assembly your support, whether you live in the borough or not.

Croydon Assembly: 10.00am - 4.30pm, Saturday November 15, 2014

Ruskin House, 23 Coombe Road, CR0 1BD

To register interest, sign up on Facebook or register on Eventbrite

Ted Knight is an executive member of Croydon Trades Union Council; picture credit BBC
---