11 December 2013:

Today students protest around the country against police intimidation and violence



Tensions have been mounting over the last few weeks especially at the University of London where a police officer was filmed punching a student. Students had been occupying part of the university in protest against private sector funding of the university, staff pay and plans to close the student union building.

Meanwhile in Sussex five students have been battling expulsion following protests; their suspension has been lifted, but disciplinary action is still being pursued against all five.

If you're joining the protests today then do take a moment to check legal advice from Green and Black Cross.

Follow #copsoffcampus and @copsoffcampus on Twitter for updates.
---
5 December 2013:

Jane Trowell talks to poet Sai Murray about his collection Ad-Liberation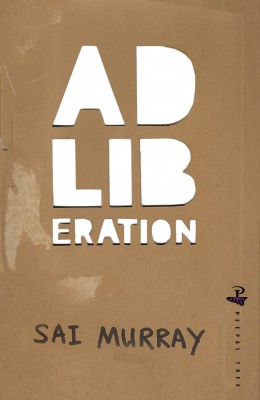 AAAAAAAAAAAAAAAAAArghhhh!---

---bolish all

celebration, commotion,

promotion of the notion

that we are free,

de owner of de plantation

now owns de penitentiary



(from opening of AAAAAAAAAAAAAAAAAARGHHHH!)

Sai Murray is a rare poet: an anti-capitalist and anti-racist campaigner, a pan-Afrikanist reparationist, a feminist, a gardener, cyclist, designer, mentor, collaborator, partner, and recently, father. Sai is also a poet-facilitator, working across diverse communities including young people, and adults grappling with mental health. His commitments feed Ad-Liberation's themes and also underlie its success: as Benjamin Zephaniah has said of this collection, "Some poetry reaches out and touches you; Sai's poetry stretches out and grabs you."

I spoke with Sai about the background to his writing and dynamic performance-poetry. The impulse for 'Ad-Liberation' was his experiences in the advertising industry. Talented with words and images, he aimed to go far. Yet once inside the belly of the beast, he crashed out - a physical and mental revulsion at what he saw and felt. Poems such as 'White Accent', 'Career Options of the Conscientious Adman' and 'Red Tops' take us there. The crash led to him looking for answers: he found them in the comedian Bill Hicks's searing pieces on consumer culture*, which then led, in Sai's words, to a devouring of Noam Chomsky. Then came Richard Pryor, Democracy Now!, Media Lens, Corporate Watch, Adrian Mitchell, Jackie Kay, James Baldwin, Audre Lorde to mention just a few.

2005 was a key year for Sai. He was deeply influenced by working with poet-mentors Kadija Sesay and Dorothea Smartt, and got involved in the Global Justice Forum, G8 mobilisations, anarchism and climate camps. For Sai, the word was transformed, turned from profit-making to a prophetic tool for a just world. For me, Ad-Liberation sits with other politicising volumes that Sai references, such as  Dance the Guns to Silence, 100 poems for Ken Saro-Wiwa, Flipped Eye, edited by Nii Ayikwe Parkes and Kadija Sesay (2005) and This poem is sponsored by... Poems in the face of corporate power by Corporate Watch, edited by Claire Fauset (2007).



Choose death, choose trendspotting, choose to die

57 million varieties to try:

 

Choice of a generation – choke on a Coke

Indian water, no tonic, down throat.

Slit neck swiftly with sleek Silk Cut

Spill sticky tar quick – red oil slick.

 

Swim with a tiger shark in your tank

Send out no ESSO-S, no listening bank

Do not pass Ogoni. Straight to hell. Suffer sHell - shock

from pump-action petrol pistol – glock.



(opening from Career Options for the Conscientious Adman)

Ad-Liberation tracks Sai's journey, and so can inspire our own. He writes with humour, angry-yet-calm honesty and also barefaced cheek. Comic wordplay runs through the volume, which Sai uses to build a picture of a complex web of interrelationships– how racism works with capitalism, how legacies of empire live on, how the manipulative language of mass media seeks our souls, how our planet's ecology is inseparable from social justice, how poetry and poetics can change the story, how individual experience forms consciousness. The poems use human everyday life: what it's like to perform to three people, or have a near miss falling off your bike. Or, to make sense of acutely shameful feelings about how White people see your Black father. By richly interweaving the personal and fallible with the dramatic and the political, the anthology doesn't fall into the traps which can be common pitfalls for activist art. You won't find bland propagandistic aesthetics here – Sai employs many techniques: from Haiku-like gems such as 'Move, Me?' and 'No Ifs, No Buts', to the many virtuoso pieces such as 'Reparation Song', 'My Son is a Terrorist', to the climate-justice themed hip hop parody 'Iceberg Baby', to the lyrical, moving 'Necessary Freedoms'.

I was particularly affected by the stark poem 'Congolese Collect Call' that uses the robotic voice announcing a failed phone connection to drive the political point. The piece 'Majority Monitoring' subverts equal opportunities forms and brilliantly eviscerates a society that needs them.

At heart, for all its humour, 'Ad-Liberation' is deadly serious. In our conversation, Sai referred to a course he studied on: 'Creativity, Dissidence and Women' in which the facilitator, the writer Nawal El-Saadawi, imparted how many non-Western cultures do not  have a disconnect between art and doing. Sai Murray's art is hungry for change, and for doing it now. This volume sustains and nourishes the hunger we have, and more importantly reveals the hunger we didn't know we were suffering from. And that leads to action.



NO IFS, NO BUTS

 

It lives in us all

One cut too deep, it rises

Blood. Revolution.



Jane Trowell works in arts-activism with the social and environmental justice group Platform.



Notes

* http://bit.ly/15l7uUv

'Ad-Liberation' is published by Peepal Tree Press, 1st October 2013

ISBN: 9781845232061

http://www.peepaltreepress.com
---
4 December 2013:

Merry Cross writes to mark this week's International Day of Persons with Disabilities

Today we remember our dead

Our dead disabled brothers and sisters

ConDem-ed to death

For daring to need support

ConDem-ed to death

By systems designed to fail them

ConDem-ed to death

By stress and starvation.

ConDem-ed to death

By one of the richest governments in the world.

Merry Cross is a member of Berks Disabled People Against Cuts and she calls for all to stand by seriously ill and disabled people. You can contact Merry on berksdpac@gmail.com and find out more on the DPAC website.

The UN's International Day of Persons with Disabilities takes place on 3 December every year.
---
3 December 2013:

Enter our free prize draw to see this new West End political comedy.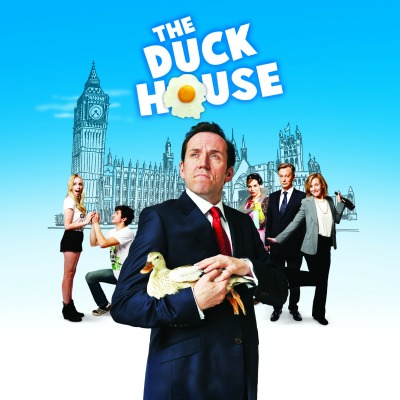 The Duck House is a new laugh-out-loud comedy set in a world of dodgy receipts, dodgier deceit, and pure Parliamentary panic.

May 2009. Gordon Brown's government is in meltdown and a general election is just one year away. Labour backbencher Robert Houston loves being an MP and will do anything to save his seat – including changing sides. All is going well with his switch from red to blue until, on the eve of his final interview with Sir Norman Cavendish, a Tory grandee, the expenses scandal breaks.

As public fury mounts over taxpayers' millions being frittered away on second homes, hanging baskets, moat-cleaning and duck houses, Robert and his secretarial staff (aka his wife Felicity and student son Seb), together with Seb's girlfriend Holly and Russian housekeeper Ludmilla, find themselves in big, big trouble.

Ben Miller (BBC1's Death in Paradise and The Armstrong and Miller Show) as the MP who's got it all – and has claimed for most of it  – leads an all-star West End cast of Olivier award-winning National Theatre actress Nancy Carroll, Debbie Chazen, James Musgrave, Simon Shepherd  and Diana Vickers.

Tony & Olivier award-winning Terry Johnson (Hysteria, End of the Rainbow) directs this hilarious comedy from two writers who've been making fun of politicians for decades: Dan Patterson (BBC2's Mock the Week) and Colin Swash (BBC1's Have I Got News For You and Private Eye).

To be in with a chance of winning a pair of top price tickets to see The Duck House* simply email jenny@redpepper.org.uk with the subject line 'duckhouse', by 20 December.

The show is running until 29 March 2014 and you can call the box office on 0844 412 4663

*Terms and conditions apply. Prize is valid Mon-Thurs, until 27 Feb 2014, subject to availability. Prize is as stated and cannot be transferred or exchanged. No cash alternative will be offered.
---
30 November 2013:

The latest online reads collected by feminist blogger Emma Frankel-Thorin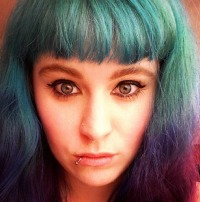 Gender is more than performance - an extract from Julia Serano's latest book.

Intersectionality, a fun guide - I really liked this comic in how it simply explains our need for intersectionality.

A case study of No More Page 3 -  a very thought-provoking piece on what it can mean to have popular support.

Sweden is now rating films for gender bias -  I found this to be an interesting approach, of course the Bechdel test is not a perfect system but I appreciate that they are at least trying.

Why this Janet Mock photo is more important than you think - I hope this photo speaks for itself.

Watch this amazing conversation between Bell Hooks and Melissa Harris-Perry - If you haven't already seen this it is an absolute must watch.

Dr Magnati - a blog by the forensic scientist who became famous as Belle de Jour, whose writing became TV show Secret Diary of a Call Girl.

Liley Allen's anti black feminism - this is a brilliant break down and critique of the racism displayed in the recent offering from Lily Allen.

Are selfies radical? - this wonderful & empowering piece argues that they are, in retaliation to a recent Jezebel article.

Read Emma's blog at www.emmaquitefrankly.blogspot.co.uk or find Emma on Twitter: @ExtraFKawaii
---
29 November 2013:

Bob Gaunt visits an exhibition about change in real and imagined cities.

This thought provoking exhibition at airspace gallery, Stoke, takes its name and inspiration from Nabeel Hamdi's 'Small Change: About the Art of Practice and the Limits of Planning in Cities.' Hamdi's idea is that planners and designers might act as catalysts to release our inherent talents for imagination and improvisation to improve the cities we live in. This might start, not with a grand design, but with a small practical intervention from which we can effect positive change.

Two other contexts in which this exhibition can be situated might be the latest crisis of capitalism, and the nightmare of climate disaster. Jane Lawson's 'Financial Systems Timeline' forms a wall-length backdrop, charting the recurrent crises and recoveries of capitalism, which seems to start in an Ice Age and brings us up to the very present with contemporary newspaper articles. Somewhere in the middle, Marx looks both backwards and forwards at capitalism's rises and falls.

Four pieces by Lauren O'Grady are spread around the show. These scale models of landscapes offer few clues to their meaning, but the repeated motif of a snow-white crystal shaped object surreally juxtaposed with a water tower, might suggest an unspoken fear of ecological disaster, the glacier that knocks in the cupboard.

So how have these artists made their interventions against the seemingly elemental forces of Capital and Climate Change?

Mind maps for post-capitalist futures cite already existing alternatives such as the Bristol Pound and Venezuelan communal councils. Presented in a fluid organic aesthetic of floral forms and planetary orbits, they invite the kind of imaginative thinking required to contest the dominant narrative whose demise is inscribed in the Timeline, and whose effects are graphically expressed in Clare Weetman's animations: 'Cheetham Road (Eventually everyone had moved)'; and 'Would you tell me please, which way I ought to go from here'- on the clearance of working class communities, and forced migration.

A video by Belgian art collective PTTL asks questions about the future use of civic buildings that had previously displaced an established neighbourhood, only to later fall into disuse following administrative reorganisation. But if subtitled video testimony is not your thing, their punchy political posters surely speak a more powerful visual language, addressing questions of urban regeneration.

'The DIY Common' is a project to revitalise Cheetham Park and bring community making to Cheetham Hill. The economic poverty of this North Manchester area was a factor in the riots of 2011, but a renovated park shelter has become a focal point for building community networks. With a café using produce made from the park's plants, the project is a great example of what Nabeel Hamdi advocates. He often gives the example of putting up a bus stop in an urban slum which became a meeting place, a place to study and a basis for a vibrant community.

This exhibition is really just the 'tip of the iceberg,' extending far beyond the gallery. The 'small changes' exhibited here might catalyse both the spectator and their wider community into making other changes of their own. It gives us a lot to like, a lot to think about, and a lot to act upon.

The Small Change exhibition continues at AirSpace Gallery until 7 December 2013
---
24 November 2013:

Join Red Pepper for an evening of drinks and discussion with Susan George at the launch of her latest book in London Wednesday 4 December 7pm
Join Red Pepper for an evening of discussion and drinks with Susan George at the London launch of her latest book How to Win the Class War: The Lugano Report II.

Wednesday 4 December, 7pm

Upstairs at the Lukin Pub, 4 Conway Street, London, W1T 6BB

Get your free ticket here.

Renowned political scientist, writer and activist for social justice, Susan George is visiting the UK from 4-7 December 2013. Susan George is President of the Board of the Transnational Institute (TNI) in Amsterdam, and Honorary President of ATTAC-France. From 1990-95 she served on the Board of Greenpeace International as well as Greenpeace France. She is the author of sixteen widely translated books including How the Other Half Dies: The Real Reasons for World Hunger and The Debt Boomerang.

How to Win the Class War shows how far world leaders are willing to go in order to save the capitalist system against the interests of the 99%. With creative flair and biting satire, the book puts you in the shoes of the corporate elite and guardians of the capitalist system - and shows just how the powerful are vulnerable to social movements fighting back.

Red Pepper is really excited to have the opportunity to host Susan George in the UK - her first trip here for many years. Don't miss this opportunity!

***FREE EVENT WITH WINE BUT LIMITED TICKETS - REGISTER NOW***

***Food will be available to buy from 18:30 with the discussion starting from 19:00***

"What a book! Susan George exposes the conspiracies and the mindsets that have ensured the nauseating triumph of finance, neocolonialism, sheer wickedness, carbon and pollution today. It will take total anesthesia to read this book and remain on the sidelines." - Nnimmo Bassey, Friends of the Earth International

"Over the years, Susan George's powerful writing has opened many people's eyes to the realities of global capitalism. Now she shows us how and why the rich and powerful of the North continue to win the class war." - Jayati Ghosh, Jawaharlal Nehru University

"With acid wit and somber truths, 'The Lugano Report brilliantly portrays, through the eyes of its imagined but all too realistic planners, a world that may be heading for deep trouble." - Noam Chomsky, on the 'The Lugano Report'

"This book is an invaluable resource for activists involved in the day to day struggles and provides concrete evidence for what is happening behind the public face of politics." – John Palmer, former European Editor of the Guardian

***Copies of How to Win the Class War will be available to buy at a special, reduced rate at the event***
---
22 November 2013:

Plus an excellent FREE book when you buy a gift subscription this year.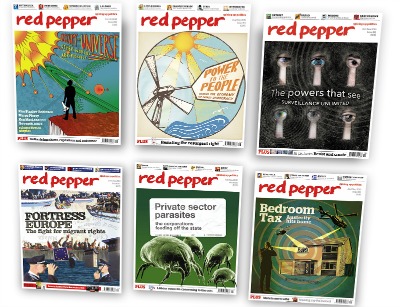 The perfect present for anyone who wants a more just and sustainable world. Don't waste money on the usual festive tat,  give them something that will last all year - give them a subscription to Red Pepper.

They will receive the bi-monthly magazine containing events, competitions, analysis and debate, covering everything from the struggle against austerity, to inspiring environmental projects from around the world.

"Red Pepper helps us make sense of the world and imagine a better one" -  Owen Jones.
In addition, they will also receive a copy of John Hilary's latest book, 'The Poverty of Capitalism' - essential reading for anyone with an interest in radical politics. The powerful, timely book from Pluto Press contends that capitalism is not only in crisis - it is the crisis!

"I've been waiting for this book all century.. a comprehensive reference on current world events, and ideal to recommend to a new generation of prospective activists." - Raj Patel

A gift subscription costs just £29, but hurry, you must place your order by midday on Thursday 12 December for delivery before Christmas.
---
20 November 2013:

Join us for an evening of discussion at the London book launch of 'Crucible of Resistance: Greece, the Eurozone and the World Economic Crisis', Monday 25 November.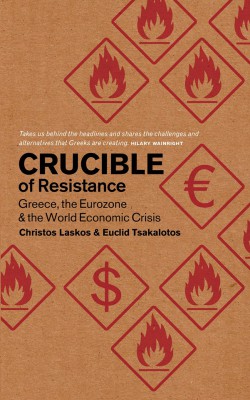 Challenging mainstream accounts of the 'Greek Crisis', the book argues that Greece's exceptionalism is largely a myth. Authors Christos Laskos and Euclid Tsakalotos  show how the causes of the 2008 global financial crisis lie in key features of the neoliberal economic order, including income and wealth inequalities and the hollowing out of democratic institutions.

A progressive exit from the crisis, for the Eurozone as a whole, means confronting the limitations of the neoliberal order.

Speakers will include:

Euclid Tsakalotos, MP for the Syriza party in Greece, economic adviser to party leader Alexis Tsipras and a professor of economics at the University of Athens.

Costas Douzinas, a law professor at Birkbeck, University of London and author of Philosophy and Resistance in the Crisis: Greece and the Future of Europe.

John Palmer is visiting practitioner fellow at Sussex University European Institute and former European editor of The Guardian and founder political director of the European Policy Centre in Brussels.

The event will be chaired by Red Pepper co-editor Hilary Wainwright who joined the occupation of Greek public broadcaster ERT earlier this year and explored alternatives to water privatisation proposed by Greek campaigners. With a focus on Syriza, Hilary has also discussed the challenges of radically transforming the state from within.

'Crucible of Resistance is a clear account of how Greece and the Eurozone got into such a mess. It shows that the crisis is not only economic, but also one of growing regional and social inequalities and the retreat of democracy. The authors bring to the fore what the emerging radical left in Greece and elsewhere can do to get us out of the crisis' said Alexis Tsipras, head of Syriza and leader of the opposition in the Greek parliament.

The event is free but tickets are limited - please register now.

Food and drinks will be available to buy at the bar from 18:30 with the discussion beginning at 19:00. Venue: The Lucas Arms, 245a Grays Inn Rd, Kings Cross, WC1X 8QY London
---
18 November 2013:

Let Down occupy luxury flats to highlight extortionate rents and government subsidies to for-profit developers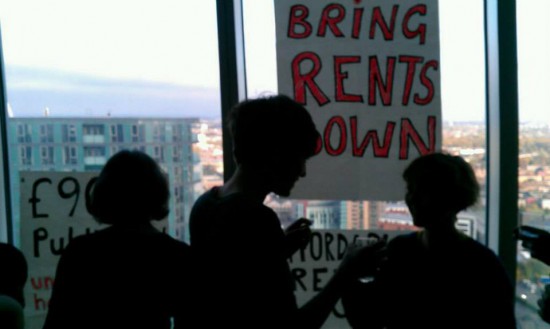 Members of Let Down, a campaigning group born out of London Renters, a coalition of private tenants groups from across London, held a house warming party at a development of newly built private rented flats in Stratford, East London on Saturday. Below is footage from the party, held to highlight extortionate rents and the government subsidies that are going to companies to build developments like the one featured in this video.


---