29 July 2014:

Alex Nunns removes PR waffle to reveal the painful truth of recent Israeli attacks on Gaza's hospitals and children



Alex says he produced this edited video using a 'Truth Rectification Processor, so the words of Israeli government spokesman Mark Regev have been filtered through a complex algorithm that strips away lies.'

He explains how this works, including the sources here.

@alexnunns
---
29 July 2014:

We urgently need to protect press freedom and media diversity across Europe.

>Sign the Citizen's Initiative for Media Pluralism today<

We are collecting 1 million signatures to demand a directive from the European Commission that will protect our basic rights to a better media. This is not just another online petition, the goal is to:

• Break up corporate media monopolies
• Protect independent journalism
• Stop state surveillance

The campaign is needed now more than ever; recent months have seen dozens of cases of media bias laid bare:

Outrage and resistance to austerity has long been under-reported, week after week we see marches and campaigns get almost no coverage in the media. Today attacks on Gaza's children and hospitals are still being reported from the point of view of Israeli military representatives.

The phone hacking trial has exposed the cosy relationship between tabloid editors and government leaders. The Daily Mail admitted publishing completely false claims that 'busloads' of migrants from Romania and Bulgaria were en route to the UK for benefits. Ed Miliband posed for a photo with the Sun newspaper, before apologising to the families of Hillsborough disaster victims who were demonised by the same paper.

This is not about curbing press freedoms, it's about creating the conditions for a more democratic media, in which quality journalism can thrive.

What exactly is wrong with the media?



Find out more from the UK Coalition for Media Pluralism.

Want to do more? Contact jenny@redpepper.org.uk to discuss spreading the petition and other ways we can support alternative media.
---
22 July 2014:

Kitty Webster reports back from the National Demonstration for Gaza held in London on Saturday 19 July 2014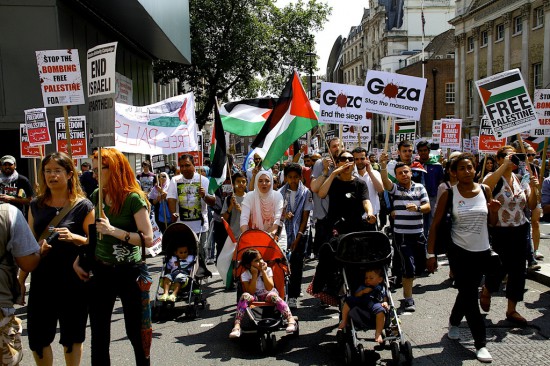 I was one of the tens of thousands that took to the streets of London last Saturday's to protest against Israel's latest military onslaught of Gaza. People had travelled from all around the country to get to the demonstration in London. As the Palestinian death toll continues to rise after almost two weeks of Israeli bombardment of the Gaza strip, it was a visceral and overwhelming show of solidarity for the people of Gaza – surely, British values at their best.

As huge crowds of people gathered at Downing Street there was anger at David Cameron's diplomatic and military support for the Israeli government, with people chanting "shame on you", and calling for the British government to condemn the Israel military assault. I spoke with Azimah, who had spent six hours on a coach travelling down from Preston to join the demonstration; "I really wanted to be here, especially [the demonstration] at Downing Street. It's devastating what's happening and we need to raise awareness and demand an end to the ongoing violence and siege of Gaza".



It's a 3 mile walk from Downing Street to the Israeli embassy, quite a distance in a crowd of some 50,000 people and with the sun shining down on us, but amongst the anger and outrage there was a determined sense of action. Amongst the cheers of "free free Palestine", there were chants of "there's only one course of action; boycott, divestment, sanctions", with many passersby clapping and cheering their support. Some people held up the names of the many children killed by the Israeli army, and there was spontaneous booing as we marched past shops and businesses with links to Israel.

At the demonstration I spoke with Ellie from London Palestine Action, a group of activists in London campaigning against Israeli apartheid, who just the day before had occupied the cabinet office to demand an arms embargo on Israel. "Between 2008 and 2012 the UK granted £180 million worth of arms export licenses to Israel", she tells me. "British companies like BAE systems get government support to sell arms to Israel, and they are using that to massacre civilians."



Recent UK military exports to Israel include components for F16 fighter jets, assault rifles, armoured vehicles and ammunition. 31 different UK companies export arms to Israel. 64 public figures, including seven Nobel Peace Prize winners, have now called for an arms embargo on Israel.

Outside the Israeli embassy, speakers lined up to share their message with the crowds. George Galloway took to the stage (with just a few heckles) and spoke of the double standards of the front page media reporting of the killing of civilians of the MH17 plane over Ukraine and asked "Why is the blood in Ukraine so much more noteworthy than the blood in Gaza?". Tariq Ali called for the campaign for boycott, divestment and sanctions against Israeli to continue; "The BDS campaign is the only way we can help, consistently and in the longterm to isolate this state and make its people see that what they are doing is unacceptable to the world. We did it to South Africa. Lets do it to Israel."

Amidst loud cheers from the crowd, Leah Levane from Jews for Justice for Palestinians said; "From Deir Yassin, and Shatila and Sabra, from Operation Cast Lead, Pillars of Defence and the appalling travesty of the Prawer plan - destroying and moving out the Bedouin in Israel - and the 27,000 house demolitions and now [Operation] Brothers Keeper and [Operation] Protective Edge. It goes on and on, and on. In response to this litany of outrages and as a voice for our Jewish organisation and many throughout the world... who categorically disassociates themselves from the Israeli government and the Israeli armed forces and the Israeli settlers. From the depths of our being, we proclaim in sorrow, in anger, loud and clear; Israel you do not speak for us, we come from a different tradition. We come from the tradition that recognises that centuries of anti-semitism means we must stand with the oppressed, not become the oppressor. Not in our name."



As the horrific onslaught of Gaza continues, and the Palestinian death toll today nears 600, Saturday's protest was a humbling and uplifting show of solidarity. It might be hard to feel any sense of hope, but demonstrations like this and around the world show that the Israeli government is becoming more isolated, if not yet by other governments, but by people around the world.

For a list of 6 simple actions you can take to support Palestinians see here.
---
18 July 2014:

22 civil society organisations in Gaza ask you to campaign for boycott, divestment and sanctions against Israel

We Palestinians trapped inside the bloodied and besieged Gaza Strip call on conscientious people all over the world to act, protest and intensify the boycotts, divestments and sanctions against Israel until it ends this murderous attack on our people and is held to account.

With the world turning their backs on us once again, for the last four days we in Gaza have been left to face massacre after massacre. As you read these words, over 120 Palestinians are dead now, including 25 children. Over 1,000 have been injured including countless horrifying injuries that will limit lives forever –- more than two thirds of the injured are women and children.

We know for a fact that many more will not make it through the next day. Which of us will be next, as we lie awake from the sound of the carnage in our beds tonight? Will we be the next photo left in an unrecognizable state from Israel's state-of-the-art flesh-tearing, limb-stripping machinery of destruction?

We call for a final end to the crimes and oppression against us. We call for:

•Arms embargos on Israel, sanctions that would cut off the supply of weapons and military aid from Europe and the United States on which Israel depends to commit such war crimes;

•Suspension of all free trade and bilateral agreements with Israel such as the EU-Israel Association agreement;

•Boycott, divestment and sanctions, as called for by the overwhelming majority of Palestinian civil society in 2005

Without pressure and isolation, the Israeli regime has proven time and time again that it will continue such massacres as we see around us now, and continue the decades of systematic ethnic cleansing, military occupation and apartheid policies.

We are writing this on Saturday night, again paralyzed in our homes as the bombs fall on us in Gaza. Who knows when the current attacks will end? For anyone over seven years old, permanently etched on our minds are the rivers of blood that ran through the Gaza streets when for over three weeks in 2009 over 1,400 Palestinians were killed, including over 330 children.

White phosphorous and other chemical weapons were used in civilian areas and contaminating our land with a rise in cancers as a result. More recently 180 more were killed in the week-long attacks in late November 2012.

This time what? 200, 500, 5,000? We ask: how many of our lives are dispensable enough until the world takes action? How much of our blood is sufficient? Before the Israeli bombings, a member of the Israeli Knesset Ayelet Shaked of the far-right Jewish Home party called for genocide of the Palestinian people.

"They should go, as should the physical homes in which they raised the snakes," she said. "Otherwise, more little snakes will be raised there." Right now nothing is beyond the murderous nature of the Israeli State, for we, a population that is mostly children, are all mere snakes to them.

As said Omar Ghraib in Gaza, "It was heart shattering to see the pictures of little boys and girls viciously killed. Also how an elderly woman was killed while she was having her iftar at Maghreb prayer by bombing her house. She died holding the spoon in her hand, an image that will need a lot of time to leave my head."

Entire houses are being targeted and entire families are being murdered. Early Thursday morning the entire al-Haj family was wiped out — the father Mahmoud, mother Bassema and five children. No warning, a family targeted and removed from life. Thursday night, the same again, no warning, five more dead including four from the Ghannam family, a woman and a seven year old child amongst them.

On Tuesday morning the Kaware family did get a phone call telling them their three-story house would be bombed. The family began to leave when a water tank was struck, but then returned with members of the community, who all came to the house to stand with them, people from all over the neighborhood.

The Israeli jets bombed the building with a roof full of people, knowing full well it was full of civilians. Seven people died immediately, including five children under 13 years old. Twenty-five more were injured, and eight-year-old Seraj Abd al-Aal succumbed to his injuries later that evening.

Perhaps the family was trying to appeal to the Israeli regime's humanity, surely they wouldn't bomb the roof full of people. But as we watch families being torn apart around us, it's clear that Israel's actions have nothing to do with humanity.

Other places hit include a clearly-marked media vehicle, killing the independent journalist Hamed Shehab, injuring eight others, a hit on a Red Crescent rescue vehicle and attacks on hospitals which caused evacuations and more injuries.

This latest session of Israeli barbarity is placed firmly in the context of Israel's inhuman seven-year blockade that has cut off the main life-line of goods and people coming in and out of Gaza, resulting in the severe medical and food shortages being reported by all our hospitals and clinics right now.

Cement to rebuild the thousands of homes destroyed by Israeli attacks had been banned and many injured and ill people are still not being allowed to travel abroad to receive urgent medical treatment which has caused the deaths of over 600 sick patients.

As more news comes in, as Israeli leaders give promises of moving onto a next stage in brutality, we know there are more horrors yet to come. For this we call on you to not turn your backs on us. We call on you to stand up for justice and humanity and demonstrate and support the courageous men, women and children rooted in the Gaza Strip facing the darkest of times ahead. We insist on international action:

•Severance of diplomatic ties with Israel

•Trials for war crimes

•Immediate international protection of the civilians of Gaza

We call on you to join the growing international boycott, divestment and sanction campaign to hold this rogue state to account that is proving once again to be so violent and yet so unchallenged.

Join the growing critical mass around the world with a commitment to the day when Palestinians do not have to grow up amidst this relentless murder and destruction by the Israeli regime.

When we can move freely, when the siege is lifted, the occupation is over and the world's Palestinian refugees are finally granted justice.

ACT NOW, before it is too late!

Signed by:

Palestinian General Federation of Trade Unions
University Teachers' Association in Palestine
Palestinian Non-Governmental Organizations Network (Umbrella for 133 orgs)
General Union of Palestinian Women
Medical Democratic Assembly
General Union of Palestine Workers
General Union for Health Services Workers
General Union for Public Services Workers
General Union for Petrochemical and Gas Workers
General Union for Agricultural Workers
Union of Women's Work Committees
Pal-Cinema (Palestine Cinema Forum)
Youth Herak Movement
Union of Women's Struggle Committees
Union of Synergies—Women Unit
Union of Palestinian Women Committees
Women's Studies Society
Working Woman's Society
Press House
Palestinian Students' Campaign for the Academic Boycott of Israel
Gaza BDS Working Group
One Democratic State Group

First published at BDS Movement
---
17 July 2014:

Cancer patient Paul Giles travels to Brussels find out how the new TTIP trade deal could threaten NHS services




It has been reported in The Guardian that the NHS is safeguarded from the Transatlantic Trade and Investment Partnership (TTIP). But John Hilary, Executive Director of War on Want dismisses these claims as efforts by TTIP advocates to bamboozle us:

'We should not be reassured by the convenient "leak" of a private letter between key TTIP advocates claiming the treaty poses no threat to the NHS.' Writes Hilary.

This short video follows the journey of cancer patient Paul Giles. "I'm really wary of the effect of TTIP on the NHS" He says. "It feels like I'm going to be put on somebody's profit and loss account".
---
15 July 2014:

The South East Alliance (an offshoot of the Essex branch of the English Defence League) is a sad bunch of specimens labouring under the delusion that they are part of a master race.


These idiots include Hitler-worshippers and have links to Ulster Loyalist groups. They have declared their intention to march to 113 Cricklewood Broadway, which they claim is the UK headquarters of the Muslim Brotherhood (nb. it isn't) this Saturday, July 19.

North West London United is asking everyone who is opposed to SEA's message of hate to join in a peaceful demonstration this Saturday at 12noon on Cricklewood Broadway.

A spokesperson for North West London United said:

"Cricklewood is one of the most multicultural areas in the UK and we are proud of our diversity. The intention of this fascist group is to provoke hatred and division, something that has no place in our community. A big presence of local residents to oppose the fascist march on Saturday will send a clear signal that their violent racism is not welcome here."

Follow the campaign on Twitter at @NWLondonUnited
---
15 July 2014:

The fictional scenario of fracking in Regent's Park demonstrates how companies are set to gain from policy that offers them a 'licence to trash'.



In theory, 'biodiversity offsetting' involves measuring the habitat that is likely to be affected by a proposed development, then calculating the financial compensation necessary to replicate the habitat at a new location.

In reality, as this mockumentary shows, it's a license that can make bad developers' dreams a reality.

Across the world offsets already justify the destruction of irreplaceable ecosystems to make way for mining projects, motorways and pipelines.

Now Europe is the new frontier; currently the European Union is considering new legislation that permits biodiversity offsets.

Tell the EU that nature is not for sale by responding to their public consultation before 17 October 2014 and sign this mass letter to the EU at naturenotforsale.org/letter2EU
---
11 July 2014:

John Millington reports on the July 10 strike

As Birmingham basked in hot sunshine, the burning issues of a national 1 percent public pay cap, the rolling out of controversial free schools and plans to make firefighters work up to 60 took centre stage outside the city's town hall yesterday.

Like the other 1.5 million workers out on strike across the country, they wanted to send a clear message of defiance. 2,000 demonstrators joined in with music, chanting and cheering as union leaders and workers laid bare the reality being faced by them and their families if things don't change.

"I am worried because I am going to have to cut back the amount of hours I have my heating on this winter," said Sally Maybury – a low paid worker in benefit services. Ironically she revealed she claims in-work benefits herself, just to pay all her bills and feed her family. "How many people here," she asked the crowd to huge cheers, "would like to be on £26,000, the national pay average?"

The life and death nature of the dispute was underlined by firefighter Dave Pitt, who took to the stage revealing the dangers posed to firefighters and the public if government plans to make them work till they are 60 are not opposed. "Government pension changes will see firefighters in their late 50s and early 60s attempting to rescue people from house fires, road traffic collisions and potential terrorist incidents. This is dangerous for the public and for firefighters," he said.

A recent academic report on firefighter fitness by the University of Bath undermined the government's proposals, arguing that higher fitness levels are required for firefighting than those suggested by the government to defend the idea of working until 60. The FBU is worried the cynical proposals will lead to the sacking of firefighters before they can claim their pension. Pitt added: "That is a shocking way to treat men and women who risk their lives day in day out."

What is clear from the show of strength was the varied reasons people were on strike: those who are politically opposed to the government, militant activists and those who simply feel they have run out of options. But with the looming possibility of increased ballot voting thresholds and shorter time frames for them to be legitimate, PCS assistant general secretary Chris Baugh believes the time has come for increased and wider coordinated action.

"There is now a momentum building up in local government, in the fire and health service, to put pressure on this government in the build up to the general election," he said. "We're fighting not just for our terms and conditions but we're fighting for quality public services, something which represents the fabric of our society. All of what we are doing is geared to getting a negotiated settlement."

The next nine months will be critical to see who holds the balance of power in the dispute. Prime minister David Cameron has said the next Tory manifesto will see a tightening of the anti-trade union laws, while the leaders of the country's biggest unions promise escalation of industrial action in the private sector in coordination with the public sector workers. With both sides refusing to budge, industrial peace in Britain looks a long way off.

First published at The Industrial Reporter
---
5 July 2014:

Behind closed doors, the EU and US are drawing up a new trade deal called the Transatlantic Trade and Investment Partnership trade deal (TTIP) that must be stopped.



If agreed, TTIP would extend the power of big business over our society to unprecedented levels. It would grant corporations the power to sue governments for making laws that 'damage' their profits, threatening to make the privatisation of our public services, like the NHS and education irreversible.

This deal is also about undoing hard-won regulation that protects workers' rights, the environment and our health. Harmful industries like fracking would be given an easier ride and banks and financial institutions would gain even more power. Meanwhile, food safety standards would be undermined and pay and conditions at work could decline.

Trade deals like this have been beaten before. From 1999 until 2013 the World Trade Organisation was unable to sign a global agreement and protests held up attempts to embed the extension of corporate power into an international treaty. Today a coalition of groups are calling for a new global resistance movement. Read more about the trouble with TTIP. 

Join the day of action on 12 July #NoTTIP

Just some of the events planned so far:

Edinburgh robot dance-off

Brighton 'boxing match'

York: 'fat cats' and their 'puppets'

Cambridge People's Assembly action

Central London action

Derby action

Manchester action

Nottingham action

Sheffield action

Full events listing here.
---
5 July 2014:

The charity tries not to be 'political' – but it is embracing a highly ideological privatisation initiative, writes Mike Marqusee

In a letter in today's Guardian, the Chief Executive of Macmillan Cancer Support defends the organisation's leading role in the proposed privatisation of NHS cancer services in Staffordshire and Stoke-on Trent.

As a cancer patient, I know Macmillan makes all kinds of wonderful contributions, but this initiative raises the most serious questions about its approach.

The biggest threat to cancer patients in England is the attritional break-up of the NHS. In that context, the comprehensive privatisation of cancer services across a region is an alarming step in the wrong direction.

Charities like Macmillan are reluctant for a number of reasons to engage in politics, and that has blunted their ability to represent and fight for the interests of those they're supposed to serve. But here we see Macmillan wholeheartedly embracing a highly political initiative, closely identified with a particular ideology.

It's about more than naivete. Macmillan have taken this plunge partly because of the way they tend to define cancer support: as a managerial issue to be resolved without reference to political or economic policy. But it's a classic lesson in how politics comes back to bite when you think you've left it behind.

Macmillan claims that the new programme will offer "an integrated approach": "By appointing one organisation to take responsibility for managing the whole cancer care journey, we can demand truly seamless care."

But this integrated, seamless care is what the NHS itself already provides, without assistance from the private sector, as I know from my experience at Barts and the Royal London. And where it fails to do that, as it sometimes does (and did in Staffs), there's not a whit of evidence to suggest that private capital and its managerial prerogatives have anything to add to the solution. What we're seeing, not for the first time, is a weakness in public provision being exploited to rush through a self-interested corporate privatisation with long term damaging impact.

Previous experience of health care privatisation suggests strongly that this latest scheme will increase costs, create new inefficiencies and undermine coordination. Given the recent history of NHS contracts with large corporations, Macmillan's sweeping assertion that whoever wins the contract "will be subject to rigorous oversight and scrutiny for quality, patient safety and outcomes" is mere wishful thinking, and in the context, irresponsible. They owe the cancer patients they serve much better than this kind of complacency.

For the private healthcare industry, the Staffordshire contract is just the beginning of a potential gold rush. The numbers of people living with cancer are expected to increase massively in coming years: from about two million in Britain today to four million in less than twenty years time. Cancer care, in all its many forms, is an irresistible opportunity for private capital, a growing market that promises vast profits in an austerity-shaped future where individual patients can no longer rely on the support of collective provision like the NHS.

Mike Marqusee is the author of 'The Price of Experience: Writings on Living with Cancer' (OR Books)
---