5 December 2016:

Sheldon Ridley spoke to students taking part in their first national demonstration.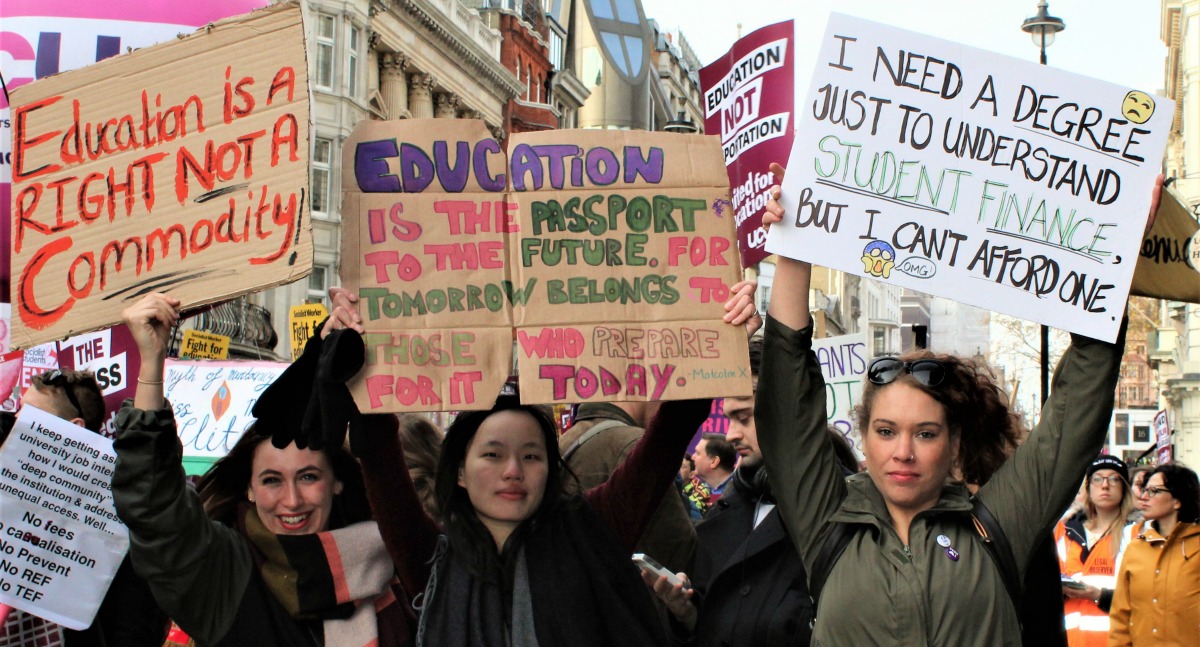 A new wave of students have arrived to combat the ever threatening policies of the Conservative government. For many of the students who attended the 19 November national student protest, it was their first London demonstration. It was a way to show their discontent with the marketisation of their education, as well as the debilitation of colleges and sixth forms as they get stretched to their absolute limits.

With the scrapping of maintenance grants, student loan terms changing and tuition fees set to reach £12,000 by 2026 - students are facing higher debt than ever before. There is already a handful of universities who are listing their fees at £9,250 for September 2017.

The demand from the 15,000 students, lecturers and education staff on the march was clear and unified – free, quality education for all.

Joe Davies, 19, who studies at University of Bath was one of the students who were on their first demonstration. He said: "You can't make a commodity out of a basic human right. We have a government that tries to maximise profit from what they see as a human resource to drain. They are going to charge for education because we all desperately want education. It's like a guaranteed money-maker for them."
The controversial Higher Education and Research Bill which had its third reading earlier in November, is one tool the government is using to commodify education. Currently being discussed in parliament, it will see universities being effectively privatised as it will allow new private providers, including for-profits, to gain a university title - lowering standards and quality of education.

It is also set to introduce Teaching Excellence Framework (TEF), which will see universities scored and ranked in a way that allows fees to rise with inflation and under the false notion that it will motivate better teaching. This in turn will mean the 'better' universities will be more expensive, driving a wedge further between those who can afford higher fees and those opting for a cheaper option.

Speaking at the rally, Sorana Vieru, NUS Vice President (Higher Education), called for a boycott of the National Student Survey, which will be a key tool used by the government to measure a university's success, but has a questionable relationship to quality of teaching.

The protest, called for by the National Union of Students and University and College Union, was dubbed United for Education. 'United' being an allusion to the divisive consequences we have witnessed post Brexit and Trump and to the racism seen by Theresa May wrongly deporting 48,000 foreign students. Students were sent home under claims of insufficient English speaking levels after Panorama exposed an English speaking scam in 2014. However, there was no evidence that the individuals deported had cheated.

Further eduction

The march had a focus on fighting for colleges which have had heavy cuts since the Coalition came in to power, with huge job losses and course closures. Nina Doran, 46, UCU member and teacher at City Liverpool College, said: "Over the last five years all we have seen is cuts that are affecting our students. Traditionally it's been about jobs for staff but now we are seeing courses being cut and cuts to guided learning hours. They are finding much more sinister ways to make cuts that are not indirectly but directly hitting our students. The student have seen changes like merges and reduced options on their courses and yet they are paying £5,000. They really love their teachers and they've seen them being made redundant. The colleges have had a 40 per cent cut. Our college which had 24 sites less than five years ago has been cut to nearly half. I've been teaching for 25 years, and you just can't recognise the college, not just in the size but in the quality of what we do."

But Nina spoke of resistance from within the college. She said: "Our students are now getting organised and finding their voice. There have been some cuts to the art department and last Monday they were protesting outside one of our sites and made some banners followed by a march.

"It's about time that you see something like this protest. In 2010 there was a momentum there, but this has been a long time coming. Unions aren't the most radical of organisations but they need to be. They need to be listening to what students and teachers are saying and do it seriously. I know there is anti-trade union legislation that does hinder us but I think we need to be disobedient and stand next to our students."

According to the Sixth Form Colleges Association's annual survey, around two-thirds of colleges have had to drop courses with almost 40 per cent dropping courses in modern foreign languages. Labour has also claimed that up to four in 10 further education and sixth-form colleges in England could shut if the government goes ahead with savings.

Nurse bursaries

The announcement earlier this year that bursaries for student nurses and midwives are to be scrapped was another reason for protesters to swoop to London.

Becky Trainor, 22, and Molly Fallon, 20, are both in their final year at the University of Leeds studying adult nursing. On the coach down to the London demonstration, they were excited for their first demonstration – protesting on behalf of the next class of nursing students, who will not benefit from the rewards they have received.

Their degree is accompanied by 40 hour week placements, on top of part time work and studying. Where they received free tuition fees and a bursary, those who will follow them will now have to pay the full £9,000 a year and apply for loans.

Becky, who was unsure whether to attend university, was swayed by the rewards for studying nursing. She said: "I wouldn't have gone to university if it wasn't for the bursary. It is such an intense course but the bursary made it worth it."

Molly agreed. She said: "I couldn't have done it. They now expect parents to pick up the pieces and make up the £5,000 a year bursary they would have received.

"I feel let down and that only the rich students will thrive. There is a shortage of nurses and the dropout rate on the course is already high due to it being so hard. It doesn't make sense why they are putting more people off.

"It's almost as if they are wanting the NHS to fail, so people will think it is a poor service so they can privatise the NHS and make profit. We give so much back once we have graduated and all we have to look forward to is a 1 per cent pay rise."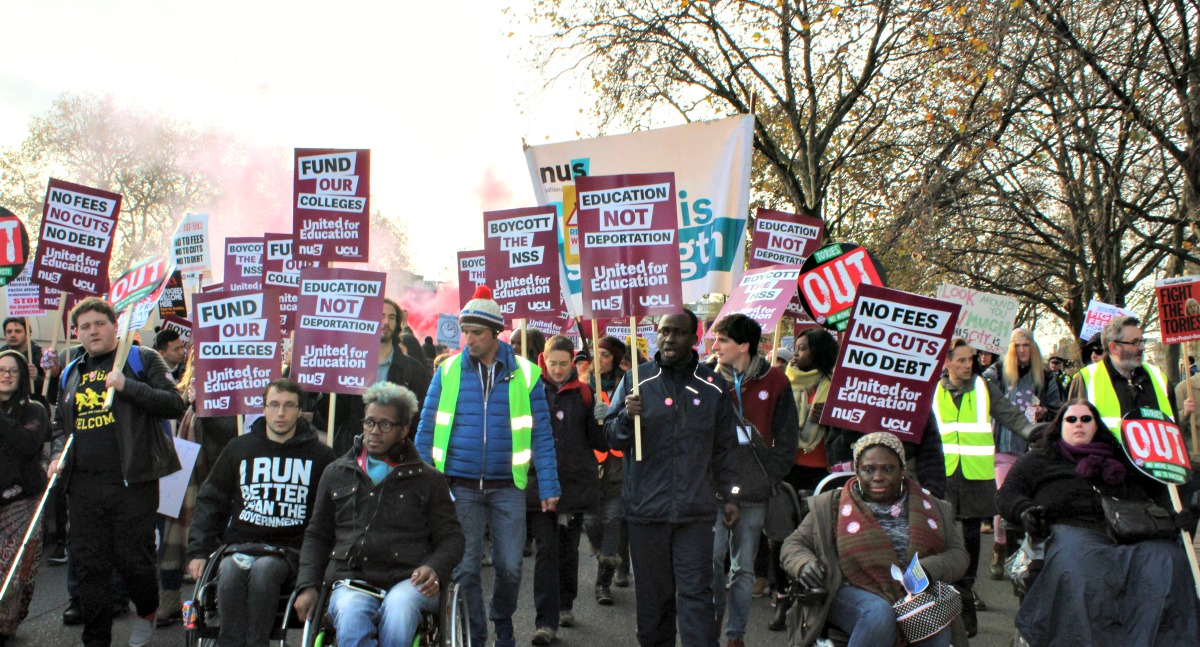 Student protests in 2010 and beyond

Organisers claim 'The government is waging war on students and our education', yet unfortunately, this discontent hasn't yet stirred all corners of universities. Looking at the 15,000 said to have attended, it would seem the attack on education had slowed down in comparison to the large numbers of activists and students who attended the student protests in 2010. Then, 50,000 students marched together in London after the announcement to triple tuition fees and to abolish the Educational Maintenance Allowance.

So with all the cuts and closures to education, why are we not seeing an angry backlash on a much bigger scale?

It could have something to do with how the media responded to the demonstrations as something highly controversial - labelling students as yobs and anarchists, rather than extremely concerned young people. Or could it have something to do with the heavy handed behaviour of the police and thousands of students being kettled in Parliament Square.  A Freedom of Information request from a member of the public shows that out of 221 arrested during the London student protests in November and December 2010, only three people were charged. This questions the motive of these arrests and the effect they had on people's future choice to protest.

Alaina Briggs, now 23, remembers attending these demonstrations as a Barnsley College student. She said: "They were almost billed as a fun day out where you can deal with issues you care about. Loads of not-very-radical-people came which was great but then we got kettled for hours, witnessed massive police horses charging at us and saw police violence first hand. It understandably scared a lot of people from attending in future, I suppose it did what police were wanting it to."

Cora Singer, 21, studies at Leeds Beckett University. She said: "I got into politics during the student protests of 2010 and found them really inspiring. I think the atmosphere and reactions on those demonstrations were completely expected as people were angry about their futures. However, for me, the way the media reported and misrepresented the demonstrations, made me want to get involved more."

"Education is so expensive and even if you don't have to pay it all back straight away, being in all that debt is intimidating. In the end it does come down to your family's financial situation and how much privilege you have affects your whole university experience."

In 2010 NUS president, Aaron Porter, said: "We're in the fight of our lives ... we face an unprecedented attack on our future before it has even begun." Yet, he quickly condemned students protesting and refused to back future protests. He created a gap between those who were accepted within the movement and those who were deemed unofficial.

Then in 2014, the NUS let students down again when it removed support for what would have been the biggest national student demonstration since 2010, due to safety concerns. It received a backlash of criticism from activists as a result of the inevitable deteriorating consequences.

The NUS is now stronger and more united it its fight. For those in attendance, Saturday's march was inspiring with a sea of banners sporting likeminded phrases and the motivating speeches from the likes of Malia Bouattia, NUS president, journalist Owen Jones and Sally Hunt, UCU general secretary.

Elaine White, the UCU union representative in Bradford and UCU national women's representative, said: "It is heartening to see students acquire so much energy during these movements but people burn out and students lose time and energy and have to move on and get jobs. As we have seen here, there is a new generation of university students and sixth formers getting active. It is the organisational stuff, the talking to people and getting them involved in debate which is how you build movements."

The German student movement won its struggle against fees due to its consistency. Henriette Filler 19, studies at SOAS, University of London, said: "I'm from Germany so I know it is possible to have no fees, so I find this 'no cap' on education quite unbelievable."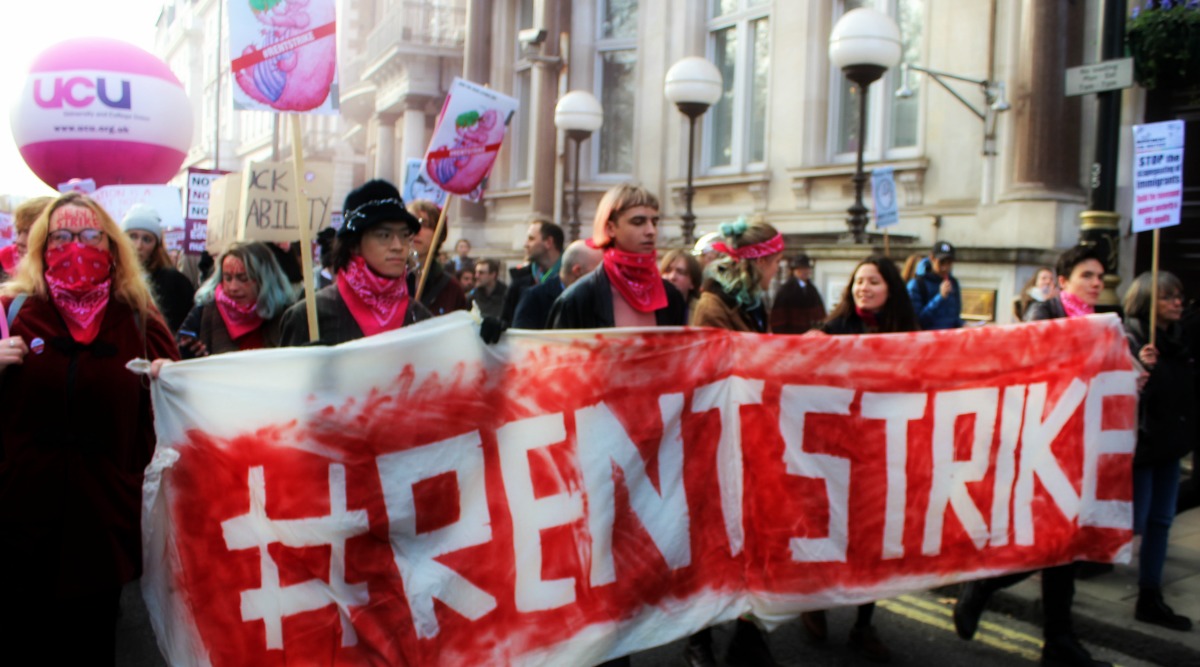 Visable on the march were members of Rent Strike, who were there to link up the different struggles affecting students' lives. Beth Perkin, 22, who attends University College London, believes rent is just one part of the bigger picture: "It's all about the exploitation of the students - it's part of the same struggle and the neo-liberalisation of universities. It needs to stop; university shouldn't be a debt factory, it should be somewhere that enables you to be passionate and pursue things you love. We saw what happened at UCL with the one million pound compensation success, as a starting point to spread rent strikes all over the country. It leads in to a wider struggle not just with students, but with all people who are suffering due to the housing crisis. Rent is one way to reclaim your power and that's really exciting."
---
3 December 2016:

The Candidate: Jeremy Corbyn's improbable path to power, free with every gift subscription this Christmas
For just £29 you can give someone a year's subscription to Red Pepper Magazine and they will receive six issues throughout the year.

With their first issue, delivered in time for Christmas, they will also recieve a copy of The Candidate: Jeremy Corbyn's improbable path to power.

Place your order as soon as possible while stocks last. This offer applies to UK addresses only. We aim to post out the gift packages containing a magazine and book on 15 December. The package will be marked with a festive ribbon so they can set it aside for Christmas if they wish.


About the book

"It's remarkable. It's the real, inside story of the campaign to elect Jeremy Corbyn, from the ground up. It's as if someone has followed the participants with a video camera throughout, carefully detailing the important moments. But it's more than that: it bears all the hallmarks of someone who genuinely understands the decisive forces that made up the Corbyn moment. And Nunns communicates all this expertly. The book reads like a political thriller, and even though we all know the ending, it's nevertheless an enormously exciting read." — Red Labour

Giving full justice to the dramatic swings and nail-biting tensions of an extraordinary summer in UK politics, Nunns' telling of a story that has received widespread attention but little understanding is as illuminating as it is entertaining. He teases out a plotline of such improbability that it would be unusable in a work of fiction, providing the first convincing explanation of a remarkable phenomenon with enormous consequences for the left in Britain and beyond.
---
27 November 2016:

A three-day general strike has brought Sudan to a stand still as people mobilise against the government and inequality. Jenny Nelson writes.
Today the streets of Sudan lie uncharacteristically quiet as many residents stay at home for the start of a three-day general strike. The rising costs of fuel prices has been reported as a cause, but people are also very angry about medicine prices, inequality and the general cost of living.

Human rights activist Abdalraheem Saad said "everything is bad; transport, education, healthcare; there are a lot of poor people, and a there are a lot of rich people who we see as associated with the government".

Opposition groups called for action to overthrow the current regime. One leaflet reads:

'Dear Sudanese citizens, please participate in this civil disobedience from 27 - 29 November. Your participation in the civil disobedience is participation in changing the situation in Sudan. No-one should step back because he has a good situation; even if your situation is really good, your brother will die, and your neighbours and others, who don't have access to food or healthcare. We are begging you, all employees, workers, and students, please, for us, and for you and for them and for your children, and for Sudan.'

The protest movement has been building for years and participants are mixed in age, tribe and religion, with a strong representation of young people and women mobilising on social media. They have appealed for the support of the international community as well as international media. Their concern appears to be change for the better of all, but the government is not expected to give up easily and there are signs of oppression already on Twitter; in the video below a person appears to be harassed for sharing footage of the empty streets on Facebook. Earlier this year Amnesty International reported the repeated use of chemical weapons against civilians, including very young children, in remote parts of Darfur.


---
18 November 2016:

Lewisham residents object to a new trend in local authority housing developments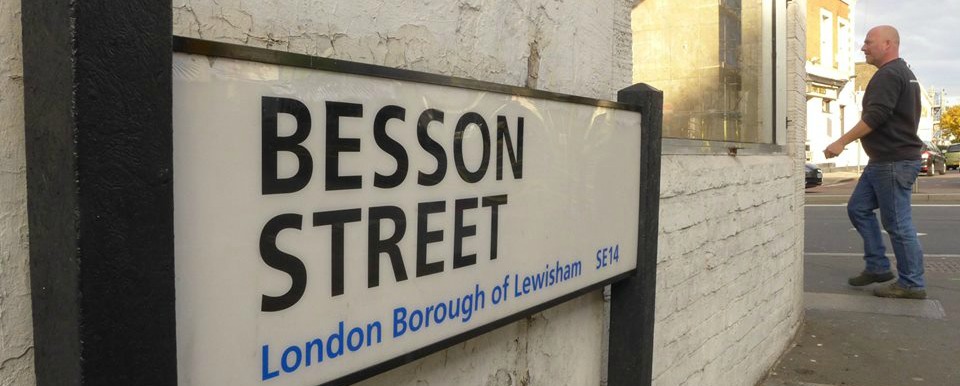 Residents of New Cross, London have rejected the borough of Lewisham's proposal to build council-owned private rental housing on public land. The council plans to run a profit-making housing business in an area of deprivation and housing need.

"We want more council housing, not private housing. The council just wants to make money," said a resident in a consultation initiated by local activists. Other responses pointed out the gentrifying implications of the proposed development. "People in this area can't really afford it. It will bring people from outside. We'll be the next Shoreditch. It's not fair on the people here," said one resident.

Lewisham proposes to build, in collaboration with a private company, a rental development on land that previously held social housing. The re-developed site, which is currently empty, will offer no social housing at all. Rather, all the housing units will be let out on the private housing market, 65 per cent at market rent and 35 per cent at an 'affordable' rent requiring a household income of about £40,000. None of the residents will be taken from the local housing list, making it a clearly gentrifying project in an area desperately in need of low income housing. Instead, both the private partner and the council will make a profit from the development.

Realising that Lewisham planned to avoid full consultation until the contract with the private partner had been signed, a group of local residents decided to initiate their own consultation. The survey showed a strong majority against the development, and revealed that most local residents were unaware of the new type of privatised, profit-making housing being planned on their doorstep. Most respondents expressed a preference for council housing or at least, as one resident put it, "Houses that people can really afford on average Lewisham incomes and spaces they can rent at below market prices."



The report on the consultation, carried out by local group A Better Besson Street, points out that this new form of privatised council-owned housing at a time of housing crisis comes in response to Conservative government calls for councils to be more 'entrepreneurial', rather than in response to the needs of local residents. Lewisham claims in return that they will offer a better service than most private landlords, and say that rent rises will be capped, though it is likely a change of tenant will see rents return to market levels.

Lewisham sees Besson Street as a pilot project for a series of private rented sector (PRS) schemes owned or part-owned by the council to be built across the borough. Other councils, including Lambeth, have plans for council-owned PRS projects, but Besson Street may be the first largely profit-motivated development with no social housing included. It therefore marks the beginning of what may be a new trend in local authority housing developments: while the council retains ownership, it is in reality privatising the property by acting as a private business. The community-initiated consultation in New Cross makes clear that most people are opposed to this stealth privatisation and many will be prepared to fight it.

Jacob Stringer is a member of A Better Besson Street. For further information please contact abetterbessonstreet@gmail.com
---
17 November 2016:

Marienna Pope-Weidemann reports on disruption at the European Custody and Detention Summit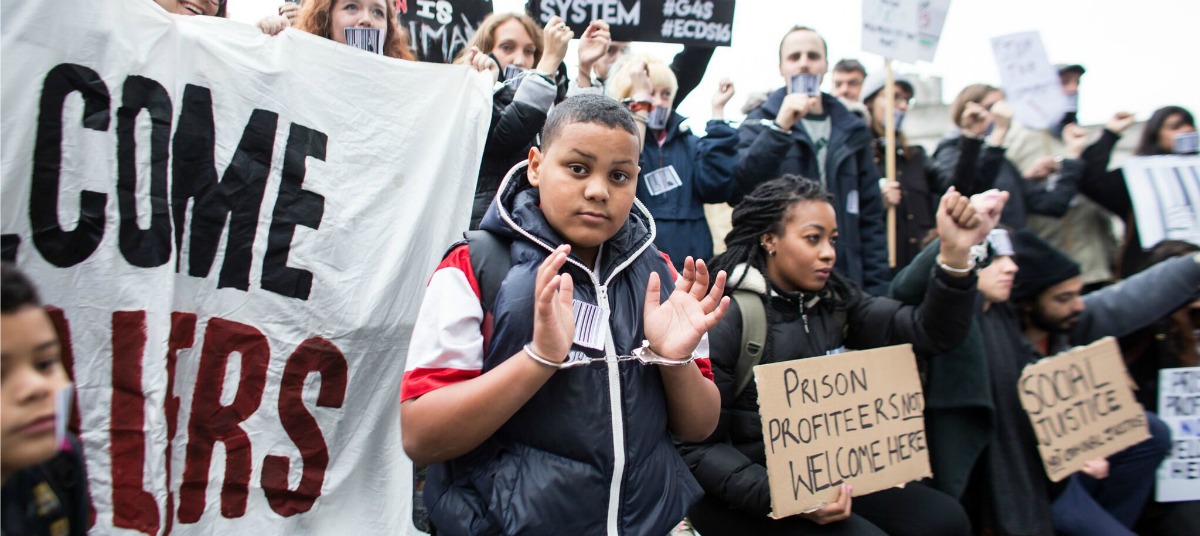 The Tower of London has been a tourist attraction for as long as anyone can remember. But on 15 November the infamous tower was back in action, opening its doors to host the European Custody and Detention Summit. Despite the talk of progressive reform, the £1,500 per head summit was a closed-door trade fair for private security corporations and their public partners.

Migration justice and refugee rights

In a complete reversal of the 'innocent until proven guilty' principle, the life and liberty of migrants and asylum seekers in the UK are routinely stripped away. Our government detains them more often and for longer than any other European nation – including war refugees, torture survivors and those with special needs. Britain is the only European nation with no time limit on immigration detention and over 30,000 people are incarcerated every year in a system rampant with abuse. Meanwhile, the government continues to ignore its own experts and wriggle out of endless human rights obligations and outsource responsibility for its devastating policies to private security companies like G4S and Serco.

It's a far cry from the international persona Britain projects as a nation of individual freedom, human rights and equality before the law. But today in the UK, being undocumented means being criminalised while legal aid cuts make access to justice through the courts increasingly difficult. Meanwhile, communities are divided as we are pressured to police each other. Hospital staff, teachers, employers, local authorities, charities, contractors, travel operators and now banks and landlords are all coerced into playing border guard.

Incarceration is a costly and inhumane response to people forced to cross borders by conflict, climate change and crushing poverty – all deep social crises in which countries like Britain have long been and remain deeply complicit. Yet instead of taking responsibility for the consequences of its actions and the lives destroyed by them, the government continues to build new prisons, erect new walls and incarcerate men, women and children for nothing but the "administrative convenience" of the Home Office – and the profit of private security companies.

Protesters made their presence felt

A few days ago, organisers agreed to hear what the summit's hosts, International Research Networks, had to say. IRN facilitates exclusive networking events for almost every sector undermining climate and social justice, from arms dealers and oil companies to investment banking. Their representative expressed regret that several participants had pulled out after the protest was called – including delegates from G4S and Serco. They also claimed to have cancelled their business matching sessions and some immigration and border enforcement events.

IRN explained their recent decision to work with the industry by reference to its rapid expansion in Britain and Europe. They emphasised the role of reform and NGOs becoming "key providers of criminal justice and security services," but denied that privatisation helped drive this expansion, in stark contrast to the figures and widespread concern amongst civil society that Britain has become the 'mercenary kingpin' of the global private military industry. They refused to reveal how much profit the summit would make and warned that no attempt should be made to enter the tower or block the walkways, reminding organisers that there were armed police inside and that they would "hate to see anything happen" or anyone "fall foul of a broken criminal justice system."

The protest, called by Reclaim Justice Network, brought together a range of groups campaigning on migrant rights, criminal justice and the arms trade. We turned out before work to stand handcuffed at the entrance for the opening of the summit, demanding an end to privatisation in the sector and calling for 'social justice not criminal justice' and returned again that evening. One protester was aggressively confronted by a participant from the summit. "He squared right up to me," she said, "shouting that he couldn't understand why we'd be protesting. I suggested he listen to what we were saying." But the public response was overwhelmingly supportive, if shocked.

The campaign has made a real impact and cut into the summit's profits. Though the Tower of London trustees refused to cancel, its effect on their public image forced a prompt change of advertising, with all references to the Tower of London as "the world's original high-security prison" swiftly deleted and an apology for any offence taken. But this isn't about slogans offending political correctness. It's about an unjust, racist and violent system making profit from people's misery.

Social justice not criminal justice

The creeping privatisation of criminal justice should concern us all. Its impact in the USA, where the experiment has been most widespread, has been devastating both socially and economically. It led to a drastic rise in incarceration for non-violent crime - more African American men in prison now than were subject to slavery - and solitary confinement, dangerous conditions and forced labour have become routine. Of course, you are vastly more likely to be affected if you come from a low-income background – even in some UK prisons, more than half of inmates were never taught to read and write properly.

The knock-on impact of all this on families, loved ones and communities is immeasurable and by 2016 even the Department of Justice was issuing damning reports. Obama pledged to end the use of private prisons. Meanwhile, in countries like Norway where the criminal justice system puts rehabilitation before punishment and profit, societies have been rewarded with drastically lower rates of re-offending, creating safer communities and stronger economies as a result.

It is deplorable that at this moment, when more people are forced to leave their homelands than ever before, multi-billion pound companies present militarisation on our borders and incarceration within them as the solution when there are so many just alternatives. Now, the kind of technological 'security solutions' promoted within the industry are even being used to keep humanitarian volunteers out of Europe's refugee camps and obstruct lifesaving operations at sea. And when state-sanctioned violence is outsourced to private companies, creating a profit motive for punishment, the government thinks they can't be held to account. They "see no evil, speak no evil." But we see it; the families and communities torn apart, they see it; and we came together to speak against it, because this isn't the migrants' crisis – it's ours. It's about taking responsibility for the kind of society we're creating and willing to live in; about asking us what it means to think of ourselves as 'civilised'. Because that defines who we are, too.

The protest was organised and supported by a range of organisations including: Reclaim Justice Network. SOAS Detainee Support. Campaign Against Arms Trade. The London Latinxs. Right to Remain. Brick Lane Debates. Network for Police Monitoring (Netpol). Lesbian and Gays Support the Migrants. NUS Black Students' Campaign. Stop the Arms Fair. Global Justice Now.

Marienna Pope-Weidemann is Communications Coordinator at Right to Remain: providing practical solidarity and campaigning for migration justice. @MariennaPW


---
9 November 2016:

As news of a Trump victory sinks in, we share words of solidarity and calls to action from activists across the left in the UK.

Take Back The City:

"Lots of people of colour, women, queer folk, disabled folk, Muslims across America will be feeling scared and disillusioned- as are many here in London, across the UK and Europe. The appetite for change is clear. The status quo is dead. We think it doesn't just have to mean scary folk like Trump getting power, but that we too can create power in this space. The need to get together and organise has never been greater. If you're ready to put your head and heart together with other Londoners who know life has to be fairer, more creative - and that the job to make that happen is ours - then get in touch and get stuck in."

Global Justice Now:

"We will resist everything Trump stands for. But we can only do that by building something better. Only in a society in which everyone has their needs met and which is built on openness, on community and on equality, can we truly defeat these ideas." Read the full blog here.

Black Lives Matter UK:

"Our thoughts go to our fam in the US who already face the brunt of this backlash. Our queer, undocumented, poor, incarcerated, muslim, working class, marginalised, Black, Indigenous and Brown family. Our family resisting in Flint and Standing Rock. We know that Trump's election is a speedier race to the bottom. We recognise violence and danger when it gets voted in. Both outcomes would have been bad. This one signals a green light for the worst. Our family in the US already know what they gotta do. Trump or Hilary, racist wall or mass incarceration, proud predator or drone-prone mass murderer, today was never going to be a day for celebration. This is why, everywhere, we organise."

Caroline Lucas:

"This is a devastating day for women, for people of colour, for disabled people and for an inclusive society in the USA. Trump's election is also a hammer blow for the fight against climate change – and presents a genuine threat to some of the poorest people in the world who will suffer its worst effects. But this is no time to mourn – instead we must organize like never before to keep our communities cohesive and our climate safe. On this dark day we extend the hand of friendship to people in the USA who wake up in fear – we know that you are not defined by the hatred espoused by your new president. But it's at times like this when we need to unite, learn, resist and hope more than ever before. Today, in whatever ways we can, let's light a candle rather than curse the darkness." Watch Caroline's video statement.

Adie Nistelrooy, UK activist:

"If we're just going to shout stupid Americans over Trump, and stupid little England over Brexit then frankly we're part of the problem. There's a big anti-establishment sentiment across the West. It'll end up in the hands of zenophobic nationalist movements if we don't actually involve ourselves with the concerns of people in the forgotten towns and backwaters who voted Brexit and Trump. Even though they represent the corporate elites just as much as the Democrat/New Labour establishment, they are seen as the only movements reaching out to them in rebellion. Shouting and screaming you're so horrible and stupid, or crying we're all going to die is neither accurate or helpful but part of the problem and from what I can see often comes from privileged lefties/liberals. Take steps to organise and grow movements against the establishment that involve people at the rough and forgotten end. If you don't there'll be more Brexits and more Trumps. If the outrage is not turned into action to actually deal with what's happening then it isn't genuine and is another example of the abject failure of middle class identity politics and lefty trendyism."

Rebecca Solnit, American writer:

"There is no way around this is horrible. There are things to do. Draw together with people you love, work hard at making spaces, times, networks in which our ideals and values prevail, reach out for the vulnerable, and pitch your tents big, because this ugliness is all about exclusion and narrowness and not wanting to deal with people who are different or even people who have slightly different ideas, and the left can be as fucked-up in this regard as anyone. Love is what you have, and generosity, and imagination. What we have. These are centers of resistance, and the resistance is what you go out into the world with the strength and vision you gather inside."

See Jeremy Corbyn's statement here.

Follow #HereToStay on Twitter for statements by undocumented migrants.

Read 'An open letter to Our Nation from 100 women of colour leaders'
---
2 November 2016:

Michael Mark Cohen revives political art of the nineteenth and twentieth centuries, that remains equally relevant today

Arthur Henry Young (1866-1943) - known to the world as Art - was the most widely recognised and beloved cartoonist of the golden age of American radicalism. Spanning the Age of Monopoly (1877-1929) his images gave a visual design and humorous edge to a rising wave of socialist, labor and anti-capitalist mass movements (along with more than one terrorist conspiracy). Together they organised to oppose the unchecked power of monopoly capitalism, Wall Street finance and militant nationalism.

Artist and activist, Art Young's work records his direct involvement in the political struggles that shaped his age. His career stretches between his jailhouse portraits of the Haymarket Anarchists, drawn just days before their execution in 1887, to a Fourth of July picnic in 1918 with John Reed at the home of Eugene V. Debs, just a few days before his arrest for giving an anti-war speech. Nearly unique in the history of political cartooning and the American Left, as an artist Art Young was capable of leading a mass anti-capitalist movement while also reaching deep into the mainstream of American media.

Rarely have visual artists played such a prominent role in political organising as they did in the Haymarket Generation. Young stood at the centre of a large community of cartoonists, working class artists and bohemian modernists who forged a distinctive style of revolutionary art for the new century. "The true art of the untrammelled cartoonist is now being developed", wrote Debs in 1912, "and he will be one of the most inspiring factors in the propaganda of the revolution." As Debs insisted: "Cartooning capitalism is far more inspiring than capitalistic cartooning."

Art worked closely with many of the 20th century's greatest artist and his work was published everywhere; in liberal and socialist papers alike. For his troubles, he was sued, censored, banned from the mail, and nearly spent decades in prison, narrowly escaping in two federal trials for sedition and conspiracy in 1918.

Today much of the history of American radicalism, including the work of Art Young, languishes in obscurity just when it is needed most. Cartooningcapitalism.com seeks to collect the cartoon art from the Haymarket Generation, highlighting their contributions to the history of American radicalism, civil liberties, socialism, and progressive reform.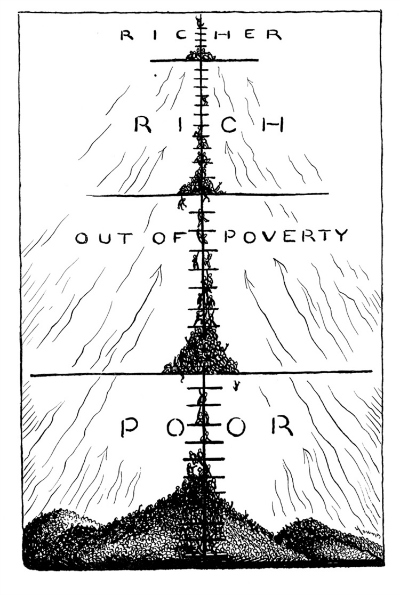 This is not Art Young's Protestant view of Purgatory, with the elect climbing their way out of sin and unto salvation. No, it is the struggle against your fellow men and women to climb up the ladder away from the masses of the poor to the precarious top that creates a Hell for everyone.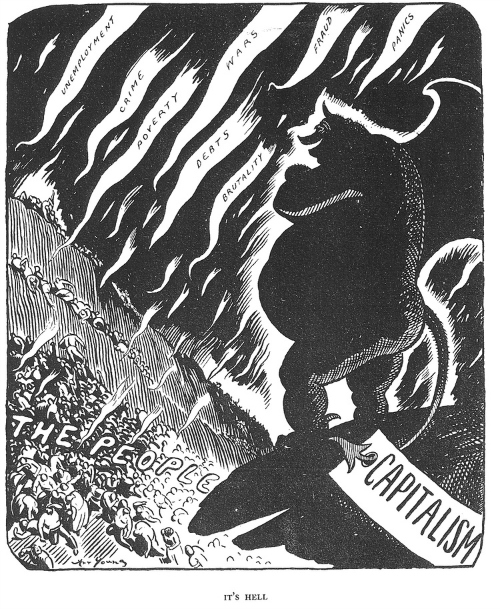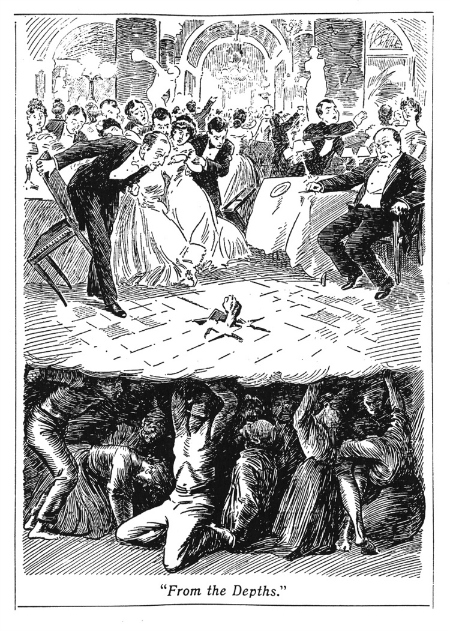 J.A. Mitchell, published in Appeal to Reason, the most popular revolutionary socialist newspaper in US history, December 29, 1906.
In this cartoon of the "Invisible Government of the United States," the 'invisible hand' of the capitalist market is replaced by the very visible, manipulating hand of John D. Rockefeller's Standard Oil Trust, pulling the strings of presidents, soldiers and congress into an aggressive war against Mexico. The metaphor of an 'invisible Government', a symbol of the corporate corruption of the democratic state, was a major theme of Socialist propaganda.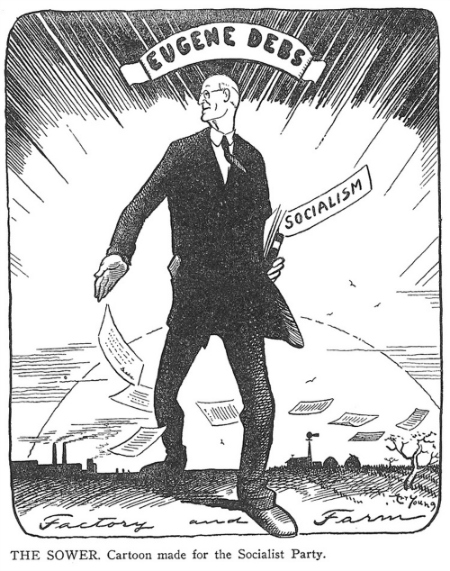 Eugene V. Debs (1855-1926) was the beating heart and living soul of American Socialism. Four times a presidential candidate on the Socialist ticket, Debs insisted, "I am for Socialism because I am for humanity."

View more cartoons and read more about the artists on cartooningcapitalism.com Follow Michael Mark Cohen on Twitter.
---
27 October 2016:

A free arts and culture event event in Bedford, hosted by The General Federation of Trade Unions on 6 December.
Trade unionism and the arts are not often thought about together yet, not only do cultural workers form large trade union memberships, but the arts themselves have long been agents and catalysts of social change.

The Art of Trade Unions event will showcase how cultural work can assist trade union organising and training, campaigning and education. The day will feature live performance and work from artists including; Banner Theatre, poet Jess Green, Townsend Theatre Company, Theresa Easton of the Artists' Union of England, documentary and film makers Reel News, and international artist network, Brandalism.

This is an ideal event for trade unionists keen to see how arts workers can support their organising, campaigning and education work and for cultural workers to network and share best practice. Workshops will follow performance pieces and cover the full range of arts genres.

GFTU general secretary Doug Nicholls says 'Transforming the world and rebuilding society anew cannot be left to plotting in a smoke filled room, thumping the table, or making a brilliant speech. The fresh air that stirs the imagination and inspires the heart to strengthen collective determination at a deep level is needed also. It is hard to think of a successful social movement anywhere in the world that has not had art at its heart.'

Venue: The Place Theatre, Bradgate Road, Bedford, MK40 3DE. 10am-6pm, refreshments provided.

Contact Daniella Tedds on daniella@gftu.org.uk for booking details.


---
17 October 2016:

South East London Sisters Uncut stormed Southwark Council's quarterly cabinet to highlight the council's failure to support domestic violence survivors. Emma Snaith reports
Photos: South East London Sisters Uncut.

'You leave our sisters in hostels, in B&Bs, on the street. How can she leave if she has nowhere to go?'

These were the words of the feminist, direct action group Sisters Uncut as they disrupted a council cabinet meeting in the London borough of Southwark on September 20. Thirty protestors of the South East London branch stormed the meeting in order to challenge Southwark Council's poor track record of rehousing domestic violence survivors. After reading out the names of the 138 women who have been killed in the UK since August 2015 due to domestic violence, the group demanded greater support for women fleeing domestic violence in Southwark.

South East London Sisters Uncut claim that data they have obtained from Southwark Council through recent freedom of information requests shows that there are 1,270 empty council homes in Southwark. Yet 47% of women who try to access safe and secure housing after experiencing domestic violence are turned away by the council. Moreover, the council only has 27 beds for refuge provision for immediate short-term support.

Following the protest, South East London Sisters Uncut secured a meeting with Southwark Council in early November. To celebrate their success, the group marched from London Bridge station to the council's offices on Tooley Street. As they marched, purple and green smoke flares were set off—the group's signature colours adopted in homage to the Sufragette movement. Speakers balanced on the the back of a bicycle blared out music as the group chanted 'sisters united will never be defeated.'

A domestic violence support worker, Jasminder Akhtar, spoke about her motivation for taking part in the protest: 'Southwark Council's housing policy is putting survivors at risk and they are failing in their duties towards people fleeing domestic abuse.'

Ayse, a member of South East London Sisters Uncut, added: 'Quite a few women we've spoken to in Southwark have said they have been told to return to their abusive partners by the council.'




Homes free from violence

At the meeting in November Sisters Uncut plan to focus on Southwark Council's housing allocation policies. They will demand safe and secure and housing for all survivors of domestic violence in the borough and that survivors are given band 1 priority for allocation of council housing. Sisters Uncut are also calling for funding for specialist BAME, disabled and LGBT+ domestic violence services, as all funding for these specialist services was cut in 2010.

Since their formation at the start of this year as a regional offshoot of the national Sisters Uncut group, South East London Sisters Uncut have highlighted the need for secure social housing for women fleeing domestic violence. Over the summer they reclaimed a vacant shop on Peckham's Rye Lane for a month, hosting workshops to discuss the current state of domestic violence services attended over the month by approximately 700 people. However up until they stormed Southwark Council's cabinet meeting in September, the group has received a limited response from the council. Councilor Stephanie Cryan defended the council's record in a statement on the council's website, arguing that 'statistics alone do not show the whole picture.'

Elsewhere, Sisters Uncut have achieved considerable success. In response to their reclamation of an empty council flat in Hackney over the summer, the mayor of Hackney has promised to fulfill some of the group's demands, including filling all empty homes in Hackney by September 2017. In Doncaster, Sister Uncut's actions resulted in the revival of a domestic violence service that had been forced to close at the start of the year.

As for South East London Sisters Uncut, they are determined to continue their fight against Southwark Council until their demands are met. The group insists they will continue to use direct action to press for change. At a time when most political activism seems to take place online, Sisters Uncut members feel there is power in taking their campaign to the streets.

Reflecting on the groups recent protest, Sisters Uncut's Ayse said 'domestic violence services are being decimated and we can feel really powerless but our last protest was a really good reminder of why we do direct action and that direct action does work.'

http://www.sistersuncut.org/
---
16 October 2016:

Frances Howe challenges the validity of 'renewable energy' subsidies for biomass and introduces a new wave of action against Drax power station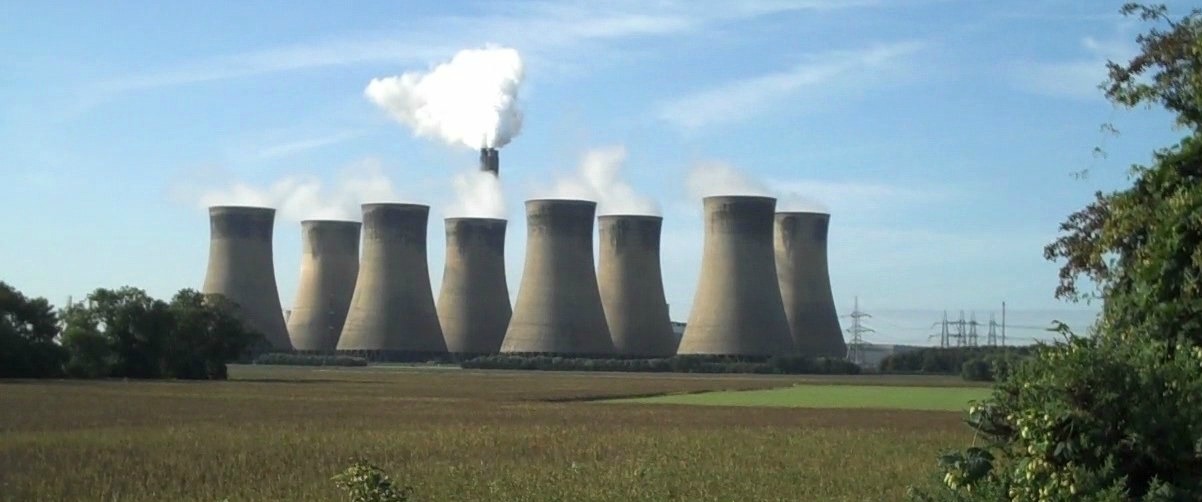 Ten years ago, the UK's single biggest emitter of CO2 - Drax power station, was chosen as the target for Climate Camp. Sadly, Drax remains as relevant to the struggle for a safe climate as ever. It still burns around 6 million tonnes of coal a year – largely from opencast mines in Russia and Colombia, which have fuelled evictions of indigenous people from their land, water shortages, malnutrition and health problems in local communities.

However, in a bizarre twist, Drax is receiving around £1.3 million a day in 'renewable energy' subsidies from the UK government. In the eyes of the government, Drax's 'renewable' kudos comes from its burning of biomass wood pellets.

Last year, Drax burnt pellets made from around 12 million tonnes of wood – slightly more than the UK's entire annual wood production. Much of this wood comes from biodiverse forests in the southern US, or from monoculture tree plantations that have commonly replaced these forests as they are cut down. This is considered 'carbon neutral' because a tree can grow back; however, a new tree takes decades to grow and reabsorb the carbon that is released from another tree being burnt. If a forest has been clearcut, this will take even longer – or never, if the land is converted to a plantation – as the whole ecosystem has to recover. For the climate and for biodiversity, biomass is a disaster.

Biomass subsidies make it possible for Drax to keep burning coal when it would otherwise have to shut down. Drax's profits in 2015 were £46 million – a fraction of the £470 million it received in subsidies in the same year for burning trees. At the same time, subsidies for genuinely renewable power such as wind and solar have been slashed.

On 19 October Coal Action Network, Biofuelwatch and others will be demonstrating outside the new department for Business, Energy and Industrial Strategy, calling on it to turn over a new leaf and stop subsidising fake renewables. We will be joined by guest speakers who are touring the UK from coal mining areas of Colombia. On 22 October we will go to Drax itself along with local campaigners to celebrate ten years of climate action since the 2006 Climate Camp and to name the work still to be done for a safer climate – including shutting down Drax by axing its subsidies and replacing it with something genuinely sustainable.

Building on ten years of climate action

The world's first Climate Camp at Drax saw over 600 people gathered in the shadow of the coal-fired power station to learn about climate change, its contributing factors and some potential solutions, and to take direct action against one of the root causes. This helped inspire an international wave of climate camps over the next few years, with similar events taking place in Belgium, France, Scotland, Wales, Ireland, Australia, New Zealand, the US and Canada.

Like many activist plans, the camps were ambitious and demanding of time and energy, exhausting many who were involved; the advantages and the draw backs of the mobilising model have been debated in detail since. Although far from perfect, the Climate Camp inspired many people to take direct action for the first time in a relatively supportive environment, gathered thousands of people together to learn about climate change and alternatives to our current destructive way of life, and got climate change and actions addressing it into the mainstream media.

The impact of our actions is hard to quantify. However, there have been some significant victories for climate action in the intervening years, even as new challenges arise. A proposed third runway at Heathrow, now in the pipeline again after another Tory U-turn, was scrapped in 2010 after a campaign involving legal challenges, community agency and direct action including a long-term land squat. Five proposed coal-fired power stations, to be 'ready for' the unproven technology Carbon Capture and Storage (including one at Kingsnorth, site of the 2008 Climate Camp), did not get built as a result of a broad-based campaign involving various sectors of society.

Tar sands, fracked gas, coal bed methane and underground coal gasification, almost unknown ten years ago, are rapidly becoming new focal points for climate action – but thanks to the work of thousands of activists, the word 'fracking' for many people is synonymous with water pollution, earthquakes and the undermining of democracy.

The success of getting climate change acknowledged as a major threat has contributed to a new problem. Governments and industries now pay lip service to the concept of sustainability, offering false 'carbon neutral' solutions while simultaneously using ever more extreme methods of extracting energy from the planet, whether through fracked gas, nuclear power or biomass. Despite all the words spoken about sustainability, the earth is still getting hotter and the injustice that goes hand in hand with extractive industries is as rampant as ever.

Climate change has been a crisis since before we started acting on it – we are deeper into the crisis than ever and there is no better time to get involved.
---