28 June 2016:

Simon Hardy gives the facts about Corbyn's victories so far that you won't read in the rest of the press

The rally in support of Jeremy Corbyn in Parliament Square.

The reactionary fall out from the Brexit vote continues to tear through society. The Labour membership and the Labour left are now under the most sustained attack seen since the Bevan-Gaitskell clashes of the 1950s. The Labour Party is in a state of civil war – the mass rally of 10,000 Corbyn supporters outside Parliament felt like a battle cry of the rank and file against a cynical, mendacious coup by the Bitterites.

Their claim is that Corbyn is unelectable. Between back-handed compliments that he is, in the words of the sacked Hilary Benn, 'a good man, a principled man', the right wing narrative is that Corbyn is an electoral liability for the party. This narrative is spun out in the media – a example of how sinister elites try to turn a claim into a reality. What was the old adage about lies repeated often enough? They try to prove their lie through a coordinated set of resignations from the shadow cabinet. This plan was revealed in the Telegraph two weeks before the referendum – it is not a spontaneous display of anger, it is a premeditated coup against the Labour left.

But the tremendous display of support for Corbyn across many parts of the Labour Party and from the trade unions reveals the class divide at work here.

Here are some facts about Labour under Jeremy Corbyn that you aren't seeing in the Mirror or the Guardian.

1. The biggest mandate

Jeremy Corbyn won the leadership with the biggest mandate from party members that any leaders has ever won - 59% - more than all the other candidates put together.

2. Huge membership increase

Labour's membership has increased dramatically under his leadership - over 380,000 members.

3. Byelection victories

Labour has won 4 by elections since he became leader, Oldham West, Sheffield Brightside, Ogmore & Tooting. Oldham West, Tooting and Sheffield Brightside saw Labour win on an increased majority.

4. Mayoral elections won

Labour won London Mayor with Corbyn as leader. Sadiq Khan won with the largest personal vote a single politician has ever received in Britain, 1.3 million. It was also the first election of a Muslim candidate to a western capital city. Labour also won Mayoral elections in Salford, Liverpool, Bristol.

5. Good local election performance

In the local elections in 2016 Labour's performance was as good as 2001, when Labour won a second landslide in the general elections. Labour has repeatedly been ahead of the Tories in the polls since the start of 2016.

6. Anti-austerity victories

Labour under Corbyn has helped fight off cuts to tax credits and disabled people's PIP payments - scoring significant blows against the Tories austerity agenda.

7. Won the Remain vote among Labour voters

Whilst the Brexit vote was very disappointing, Labour delivered 63% of its 2015 voters to vote Remain in the EU referendum. Compared to the SNP's vote of 64% of their voters and 70% of Liberal Democrat voters, Labour didn't perform qualitatively worse. David Cameron and the Tories couldn't even deliver a majority of their voters - only 42% voted to Remain.

Even if the right wing's arguments were true that Corbyn doesn't 'look' like a leader or doesn't 'get his message across in the media', it just means that Labour is doing exceptionally anyway. Imagine how well Labour would do if its MPs were loyal to their members and leader and Labour could present a united campaign, unhindered by in-fighting?

If the coup plotters stand a moderate left candidate in a leadership battle, Labour members should not be tricked into supporting them as some kind of unity candidate. They would be a front for the disruptive coup plotters.

Corbyn has been with the left since the start, dedicating his life to the movements of resistance and hope that have battled it out against the forces of reaction for the last 30 years. If Corbyn is defeated then the triangulation of the party back towards soft-austerity, social liberalism and migrant-bashing is guaranteed. That way lies oblivion.

Simon Hardy is a Labour Party member and a member of Lambeth Momentum.
---
27 June 2016:

Brexit may be disastrous, but overturning the referendum result will only deepen a crisis of democracy, writes Andrew Dolan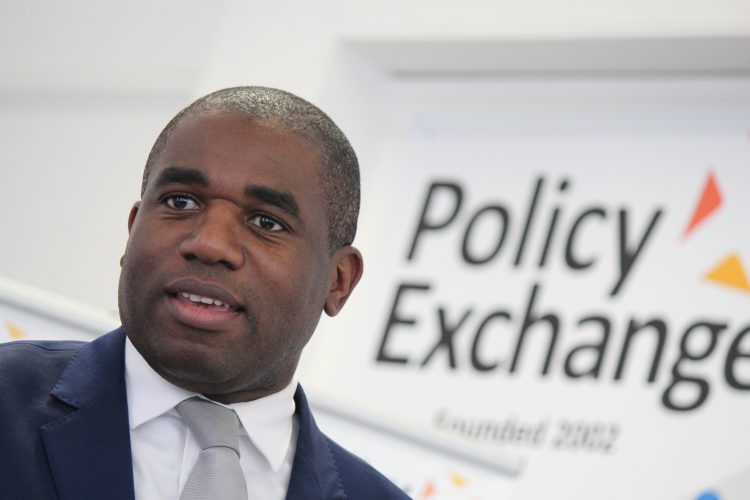 Photo: Flikr/Policy Exchange.

After the result, the chaos came quickly: resignations, attempted coups and the prospect of another referendum on Scottish independence, all within 24 hours of the UK public voting 52 per cent to 48 per cent to leave the EU. The Remain campaign has since appeared largely clueless as to how it lost to the Leave campaign, who seem equally unsure of what actually comes next. Certainty is a currency with little value in contemporary politics.

And when certainty and clarity are absent the solutions offered to problems are usually the wrong ones. David Lammy's call for parliament to reject the result of the EU referendum and settle the issue itself is one such.

For those opposed to 'Brexit', Lammy's proposal may sound tempting. Such a quick fix offers the possibility of some shelter in the face of a gathering storm of problems, not least the spectre of recession and a newly emboldened far right. One can even make a case for the legitimacy of such a vote: are MPs not elected to make difficult decisions for us? Does parliament not have the right to override the outcome of a referendum that is, after all, non-legally binding?

Tempting, but still wrong. For while the EU referendum has primarily been framed and understood as a referendum on immigration, it must also be situated within a Europe-wide crisis of democracy—what the political scientist Peter Mair has termed 'the hollowing out of western democracy.' The symptoms of this crisis are by now well established—declining voter turnout, party membership and party identification, and record low levels of public trust in politicians—and their cause is to be found in the relocation of parties from civil society to the state, and the widespread perception that political elites and institutions represent increasingly narrow interests.

The EU is of course criticised on similar grounds, even by many of those who support the continuation of the UK's membership. Yet in addition to opposing the EU, the vote to leave it has for many functioned as a means to express dissatisfaction with a dysfunctional domestic political system and those who operate it. In so much as the question of the UK's membership of the EU has divided voters, the gap between voters and politicians reveals a deeper division rooted in the collapse of the representative link.

Admittedly, this is a simplified narrative drawn from a more complex picture, yet it should serve as a warning to those favouring solutions such as that put forward by Lammy: what is partly a crisis of democracy cannot be solved by its negation. The prospect of a political class bereft of trust overriding a relatively direct democratic vote—all for the purpose of maintaining membership in an institution renowned for its own democratic deficit—will for many obliterate whatever legitimacy parliament still retains and reinforce the perception of a political elite utterly disdainful of popular opinion. Far from averting catastrophe, such a vote would only exacerbate the deep distrust felt by many in the UK towards its political institutions, with potentially disastrous consequences.

The solution to the ills of democracy is more democracy, and any attempt to build a politics capable of overcoming the divisions that the referendum has thrown into sharp relief must prioritise the empowerment, materially and politically, of those marginalised by the disruptive transformations wrought by globalisation and the failure of successive governments to address them.

This does not mean pandering to prejudices on immigration or elevating a supposedly homogenous white working class as the authentic voice of the disenfranchised. It means instead that we must help create the capacity for people to control their own lives. Key to this is radical reform of the UK political system—beginning with proportional representation—which has for decades failed to respond to the needs and desires of those outside a privileged minority. The trust needed to do this, however, is likely to be further diminished if parliament disregards the referendum, which will only add fuel to a fire that so desperately need putting out.

Since the writing of this article David Lammy has also called for a second referendum.
---
22 June 2016:

A new film by Chester Yang uncovers the suppression of student protests in the 2010 uprising against tuition fees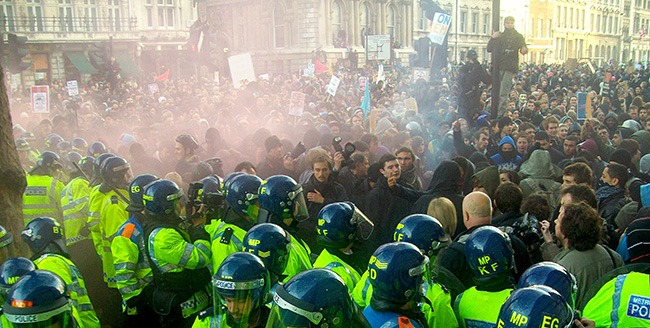 "I was there, in Parliament Square. I was angry, like many others. I had lost my voting virginity to Nick Clegg, and he went and cheated on me, with a dirty Tory. He told me that University education would be free, if I voted for him, and then he colluded with the conservatives to triple tuition fees. Yet, that anger was also infused with excitement. Surrounded by thousands of people, forming a collective, we shouted, and sang, 'Westminster is ours, Westminster is ours, Fuck off back to Eton, Westminster is ours.' And it was, for a little while.

That excitement soon turned to fear, when I saw lines of armed police, helmets on, faces covered, in disguise, dehumanised, and highly organized. I felt like Britain had become a very tiny Island; suddenly surrounded by a deep dark sea. I immediately wanted to leave. I was with a few mates, Dev seemed a don at this and I felt assured, for a while. But it was not long until scraps with the police erupted, and the cunstabularies kept closing in. People ripped up metal fences to use against the police, who were batoning the people at the front of the crowd. I tried to stay away from the front line. But at some point, during the disorder I lost my friends and I was alone.

I tried to find an exit, but I was met with a wall of violence. I tried another, but there was a wall of silence. I tried to tell a policeman that I wanted to leave, and that I had a health condition that was being exacerbated by the stress of being here. I had seizures. He ignored me. I asked another. He ignored me. It was then I realised I was talking to just another brick. It was then I realised I had been disempowered. I no longer wanted to protest, I was scared for my safety, I was scared into leaving, and I couldn't even leave."

British filmmaker Chester Yang uncovers the shocking reality of police powers in post-9/11 Britain in Kettling of the Voices. Following British students Brian and Ethan, two students protesting against the government's hiking up of tuition fees, we bear witness to troubling levels of surveillance, and both a media and a police force that seem a little too comfortable with the notion of banning political protest.



To purchase tickets visit the East End Festival website
---
16 June 2016:

Theo Simon writes from one of the longest continuous blockades of a nuclear weapons base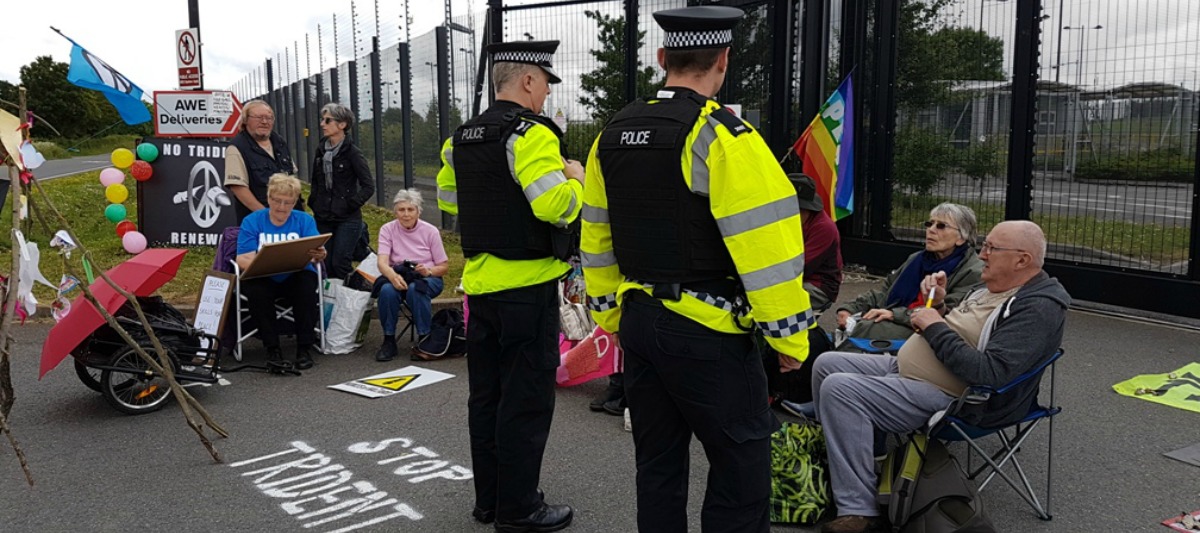 When I joined the anti-nuclear blockaders lying with arms in lock-on tubes across a Berkshire lane, none of us imagined how the day would play out. After a leisurely start that caught the waiting cops off guard, we'd arrived at the Burghfield nuclear weapons factory near Reading to kick-off a rolling month of blockades the Trident Ploughshares campaign had planned for June.

After a few hours successfully blocking access to the MOD site, rather than doing what the cops expected and leaving, we consolidated our forces and stayed through the night with our lock-ons extended across the gate. Reinforced with new arrivals, we slept through to a second day, and began the longest continuous blockade of a nuclear weapons base ever, with construction traffic turned back and building-work for the warhead factory set back by a week as a result! And there were only 20 of us.

Back in the day when nuclear warheads were the only form of mass destruction on the horizon, terror of nuclear war with Russia mobilized thousands, and protests at nuclear bases could draw upon hundreds of people. Today a new generation of humanity faces many apparently more imminent threats - so many, played out in so many variations on our screens, we're understandably confused and numb to the very real peril we are in. The most powerful popular argument against Trident seems to be how much it will cost - not the unspeakable obscenity of preparing for mass murder, or the urgent need for disarmament if we are to avoid extinction this century.

That cost is important of course. It's not just counted in hospitals, homes and cuts to essential services. It's not just a commitment to endless growth to feed the bottomless maw of the nuclear industry. It's also in the carbon footprint those billions represent, and the burden of radioactive waste management it lays on subsequent generations. And yet, for all that commitment of our collective wealth, in the face of warming 'weathers of mass disruption' which are now unfolding across the planet, what 'security' does a renewed nuclear arsenal offer us? All that Trident can do is divert resources from meaningful action, while adding to the burden of hazards we face in our struggle to find a way through.

The truth which every Burghfield blockader I spoke to understands, is that if we are not working all-out now for global co-operation and de-carbonization, we will be sliding into deeper, more terrible conflicts tomorrow. As millions of people are forced to relocate from collapsing environments and rising seas, food and other resources will need to be equitably shared, or else the ensuing wars will be so desperate that a nuclear exchange becomes more likely than at any time since the Cuban Missile Crisis.

Even before it has been agreed by parliament, the £200 billion renewal of the Trident nuclear missile system is under way, and the U.K. government is effectively tearing up the 1968 Nuclear Non Proliferation Treaty. Breaking its treaty commitment to proceed 'in good faith' towards nuclear disarmament gives the green light for a new nuclear arms race and breaks the trust of non-nuclear nations, at a time when that trust most needs to be built. And just like those who voted for 'shock and awe' in Iraq, MPs who rubber stamp the renewal of our WMDs are colluding in the preparation of such an unimaginable crime against humanity that they render the rule of international law a meaningless sham. The doctrine of deterrence was debatable at the best of times. In worsening times, the prospect of trigger-happy, posturing, privileged patriots resorting either to 'first use' or else to pointless and cruel retaliation, makes the possession of a nuclear-ready fleet no more than an expensive and unlawful suicide note.

Amoung the young blockaders in that first week at Burghfield were fresh faces from recent Reclaim The Power mass climate actions, from the Plane Stupid Heathrow protest, and even from the French Nuit Debout movement. With a flow of similar support throughout the month, the rolling June blockade of Burghfield's construction gate has the potential to morph into a peace camp - and more. Perhaps this summer we'll see an emerging culture of solidarity, recognizing that there are no 'single issues' anymore. Climate change changes everything.

Across the Burghfield construction gate somebody's painted a long red line. It's the same red line we're drawing against fossil fuels, wealth inequality, pollution and Trident renewal - It's the line we cannot afford to cross if we want to see out the century. If you can get down to Burghfield for a shift, who knows how long that line might stretch?

Theo Simon is a musician with Seize The Day and a green campaigner
---
13 June 2016:

Sirio Canós Donnay explains why countries that have suffered the most at the hands of the Troika, like Greece and Spain, are also the most pro-European
Of course we don't like the EU as it is

Europe is in crisis. This is a crisis which is not just economic or political, but also social, of values, and of identity. It's no longer clear what the EU stands for or what the point of it is. It is in fact very difficult not to question it when you think about the undemocratic nature of the TTIP negotiations, or about what happened to Greece: the imposition of draconian, absurd, cruel, and ineffective measures against the democratic will of the Greek people. It is difficult not to feel shame in seeing the EU's inhuman response to the refugee crisis; the continent that has produced most refugees in recent history letting hundreds and hundreds of people die on its shores.

So I get Euroscepticism, I do. I understand where it's coming from and what it's an answer to. But I'm afraid it's the wrong answer. In fact it's worse than that: it's an answer that puts at risk the future of the continent and of its peoples, and of the rights and freedoms previous generations fought so long and hard for.

What's the point of the EU then?

It often comes as a surprise to people here that it is precisely the countries that have suffered the most at the hands of the Troika like Greece and Spain that are also the most pro-European. I've been asked before if this was due to some form of southern European masochism. It isn't. It comes from a very vivid memory of what Europe before the EU looked like for us. It comes from recognising that the last thirty years have been the greatest period of peace, prosperity, cooperation, and respect for human rights in the history of the continent. It comes from recognising that in the face of a double attack from corporate lobbies on the one hand and of the rise of authoritarian xenophobic movements on the other, more than ever, we need to stand united.

This doesn't mean we're blind to the fact that European institutions have been gradually taken over by corporate lobbies and unaccountable elites who look for their own interests at the expense of the wellbeing of ordinary people. We're only too painfully aware of that, not least because a very similar process has been going on at the national level. But in Spain, since 2011, first from the streets with the Indignados, now from the institutions with Podemos, we're fighting to take back those institutions and put them at the service of ordinary people. The same needs to happen at the European level.

[pullquote]Corporate capital and financial powers organise at a transnational scale. We don't stand a chance if we retrench into national boundaries and try to fight them separately.[/pullquote]

For two reasons: firstly, because whether we like it or not, we share a continent, and there are issues that don't recognise territorial boundaries. Whether we're talking about climate change, health matters, or trade regulations we'll always need a forum in which to discuss these things. That forum can be a bunch of non-elected delegates deciding behind close doors. Or it can be a democratically elected parliament. We're sure which one we want.

And secondly, because corporate capital and financial powers organise at a transnational scale. We don't stand a chance if we retrench into national boundaries and try to fight them separately. We need to organise at a supranational level to counter their power. Most of the struggles you're facing in the UK are well known to people in Spain. Whether it's austerity, precarious work, cuts to the NHS and education, tax-dodging, or corruption, these things are only too familiar to us, because they are manifestations of problems common to the whole continent. The Panama papers have shown how the elites organise transnationally. If we are to stop the gradual hijacking of our democracies, we need to stand united in this and fight together. And for that we need tools and democratic forums of discussion. In other words, if the European Union didn't exist, we would have to invent it.

In addition to the xenophobic use of the issue of migration, which has already been sufficiently discussed, there are two common arguments I hear in Brexit debates which really annoy me. The first one is the constant use of the notion of sovereignty by the brexiteers. Sovereignty is not defined by the scale at which decisions are taken, whether local, national, or supranational; but by who takes those decisions, whether it is democratic and accountable institutions or unelected powers. Thus, leaving the EU wouldn't necessarily result in an increase in sovereignty, in fact the opposite might be the case, as many of those decisions would still be taken and ordinary people wouldn't have a say in them.

The second is that the EU is an inherently neoliberal institution and that the ultimate proof of that is what happened last year to Greece. Again: not the case. The EU has constantly been changing throughout its history, taking different political colours depending on the national governments of the member states at a given time. In the late 90s, for instance, it pushed forward a lot of really good legislation on environmental protection, women's rights and workers' rights. More recently, as we elected a majority of neoliberal governments at the national level, the decisions taken by the EU also became more neoliberal, unsurprisingly.

As for what happened to Greece last year, I think rather than being an example of why there's no hope, it's an example of precisely the opposite. A country like Greece, which is not even 2% of Europe's GDP, in the worst possible political scenario (with the Troika wanting to set an example so countries like Spain wouldn't follow), managed to create an earthquake across Europe of such intensity that it forced the European elites to expose themselves, and drop any pretense of caring for democracy or human rights. This opened major cracks in the system, paving the way for the rest of us to get inside them and change the system from within. If a tiny country like Greece managed to do that, imagine what a medium one like Spain (fourth economy in the Eurozone) or a large one like the UK could do.

The times are changing

Additionally, the political landscape in Europe has drastically changed since that awful summer. Now we have a progressive government in Portugal which has successfully negotiated with Brussels. We're about to have elections in Spain where Podemos and its allies are set to obtain amazing results. In the UK the arrival of Jeremy Corbyn has drastically changed the political scene, and brought hope to the previously bleak political landscape. Now even Renzi in Italy is questioning the Troika's diktat. People and social movements are also organising transnationally across Europe in an unprecedented way, from housing movements, to campaigns against TTIP. Likewise, some weeks ago, Nuit Debout celebrated 15 May, the anniversary of the Indignados, as a global day of action. People across Europe are realising that while we must undertake our own respective national fights for democracy, it is also crucial that we coordinate transnationally both from the streets and in the institutions.

For all these reasons, so we can keep fighting together, I really hope that on 23 June, the people of this country decide to stay with us. Because on that day, you'll have a historic opportunity: the chance to be an inspiration to us all, to say loud and clear that a more democratic and social Europe is not just possible but also necessary and already happening; and that the people of this country are going to fight for it.

Sirio Canós Donnay is a member of Podemos London and a supporter of Another Europe is Possible
---
5 June 2016:

Red Pepper, the Latin American Bureau and Practical Action Publishing host an evening of discussion on the impeachment of Dilma Rousseff and the future of the left in Brazil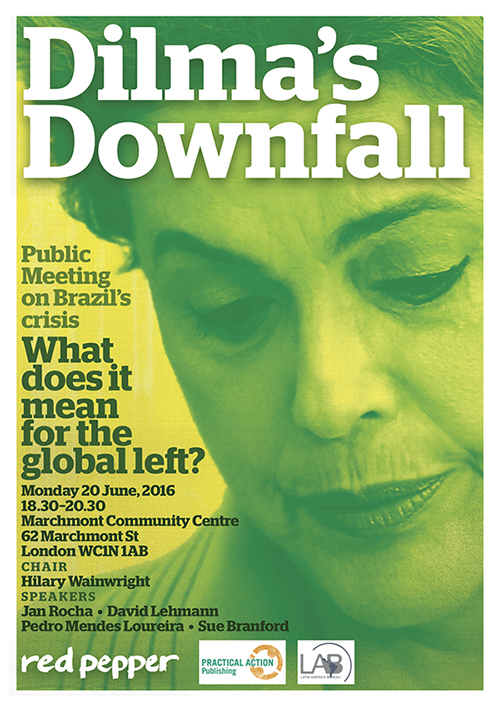 Brazilian politics is in crisis. Dilma Rousseff, the current President of Brazil, has been suspended as she undergoes impeachment for manipulating the government budget. Yet with many of her opponents accused of far more serious crimes and with evidence of US involvement, accusations of a coup abound. The aim of the coup: to block an official investigation into corruption and to unravel the economic and social progress made under the party to which Rousseff belongs, the Workers' Party (PT). But will the right-wingers pull off the coup? Grassroots opposition to an illegitimate new government is growing. And what of the left? Should it seek yet again to reform the PT which has lost the support of social movements by failing to press ahead with radical reforms? Or should it look for a new way forward?

Join Red Pepper magazine, the Latin American Bureau, and Practical Action Publishing on Monday, June 20 for an evening of discussion on the dynamics of the political crisis in Brazil and what it means for the future of the left there and across the globe.

Chair

Hilary Wainwright is a founding editor of Red Pepper magazine and a fellow of the Transnational Institute. She has authored numerous books on democracy and has been writing about the PT and its changing relations with social movements for over three decades.

Speakers

Jan Rocha is a freelance journalist and writer who lives in Brazil. She was the Brazil correspondent for the BBC and the Guardian and has written several books, including Brazil Inside Out (co-authored with Francis McDonagh), a new edition of which, updated for the Olympics, will be launched at this meeting. 

Sue Branford reported from Brazil for over a decade for the Financial Times and the Economist. She has written extensively on Brazil and Latin America, including a recent report on the origins of the current crisis in the PT. Read Sue's latest article on Brazil, Recolonising a continent, here.

David Lehmann has been studying Brazil since the mid-1980s. He is the author of Democracy and development in Latin America: economics, politics and religion in the postwar period, and Struggle for the Spirit: popular culture and religious transformation in Brazil and Latin America. In recent years he has followed the campaigns of Brazil's movimento negro (black movement) against racial discrimination.

Pedro Mendes Loureiro is a researcher of the 'Pink Tide' governments in Latin America, focusing on their impact on inequality and the causes of their rise and fall. He is an Economics PhD candidate at SOAS, University of London.

Brazil Inside Out

Copies of Brazil Inside Out, a look at the people, politics and culture of Brazil, will be available to purchase at the event. Each attendee will also recieve a free copy of the latest issue of Red Pepper, which includes a special feature by Sue Branford on the political crisis in Brazil, and content on Nuit Debout, the collapse of the extractivist model in South America, the EU-Turkey refugee deal, and much more.

We will be accepting a suggested donation of £3 on the night to help cover the cost of venue hire. The Marchmont Street Community Centre is fully accessible and meets requirements for people with disabilities.

WHEN: Monday, 20 June 2016 from 18:30 to 20:30 (BST)

WHERE: Marchmont Street Community Centre - 62 Marchmont Street, London, WC1N 1AB

There are limited places available so please reserve your ticket here.
---
3 June 2016:

Help reinvigorate and strengthen UK grassroots social justice movements by sending young black and brown activists to a crucial training conference in Detroit
Shake! is a long running project bringing together young people, artists and campaigners to develop creative responses to social injustice.

They are fundraising to send eight young members to Detroit for the Allied Media Conference this summer. With just days to go they need your help to hit their £5,500 target.

The eight are all people of colour doing powerful, transformative and insightful work in grassroots, campaigns and social justice spaces. They are engaged in a wide spectrum of issues, including Sisters Uncut, Decolonising Our Minds Society, SOAS Detainee Support, Conversations: Verse in Dialog, Equaliteach, and The Fury Project.

The Allied Media Conference brings together around 2,500 people every year to share skills and explore the intersections of media and communications, art, technology, education, and social justice. It's an invaluable space for learning skills that can be brought back to movements in the UK.

Why is this important? In their own words: 'Our movements, organising spaces, NGOs and charities rarely centre the work and voices of black and brown and other marginalised groups, that are most adversely affected in our societies. Too often, young black and brown people are left on the margins of organising movements, their voices silenced.'

If you can, please consider donating to the appeal.

Hear from Shake! after Detroit - join Red Pepper on 19 July at Rich Mix for Black Words Matter: an evening with Gary Younge and Shake! Book tickets (the event page will be updated with details about Shake! members soon).
---
2 June 2016:

Siobhán McGuirk writes about scapegoating and anti-immigrant sentiment in the EU referendum debate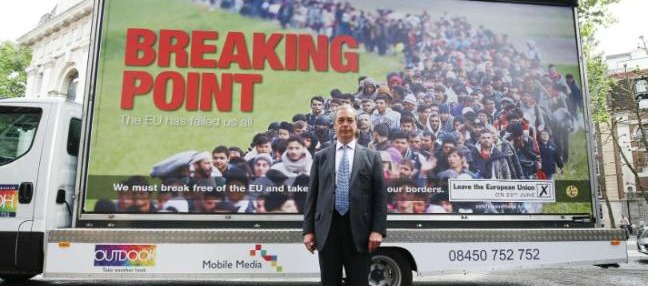 As commentators have noted, Brexit campaigners are ramping up their focus on immigration as the key debate in the referendum. Pushback from the left has been largely cloth-eared, and unsuccessful. In my extended circle of friends and family, there are also people keen to leave the EU because they are worried about immigration. Dismissals and statistics are not going to convince anyone who feels exploited and exhausted by contemporary UK life that they are wrong to be angry about immigration.

We are witnessing the result of years of scaremongering and scapegoating, led by the Conservative Party and other right-wing elements in the UK – tactics that have not been effectively challenged by the Labour Party. People in the UK are absolutely right to be angry that life has become increasingly painful, difficult and expensive; that those who are not rich are being squeezed and hung out to dry. The public has been actively misled, however, and encouraged to blame 'immigrants' for social outcomes that were not only caused by, but were always intended by policymakers.

The question to ask those concerned about immigration-now, but also long after the referendum has passed-is this: What are you worried about, and who really is to blame? What would improve if we closed our borders?

For example:

The NHS is 'overstretched' because the government does not believe in supporting comprehensive healthcare that is free to all. The Health Secretary has publicly stated that he is pro-privatisation. People working in healthcare have actively protested against government policies to that end.

The NHS is not overstretched because they are coming here, and taking our healthcare. If we shut our borders, the government will continue to privatize the NHS.

//

Wages are down and jobs are increasingly precarious because the government is actively trying to undermine Unions, refuses to pay a real living wage, and prefers to protect business-owners interests over workers rights. Amazon gets tax breaks–its employees get zero-hour contracts, and that is sanctioned by our government.

Wages are not down because they are coming here, and taking our jobs. If we shut our borders, the government will continue to protect the interests of business owners over workers.

//

Benefits are being cut because the government does not believe in a robust welfare state. Cuts to disability allowance, Job Seekers allowance, means-testing (carried out by for-profit companies), punishments for missing appointments etc. These are policies that the pro-austerity government has introduced, and which function to keep the poor, poor.

Benefits are not being cut because they are coming here, and taking our benefits. If we shut our borders, the government will continue to dismantle the welfare state.

//

Budgets for libraries, galleries, museums, youth clubs, parks etc. are being cut because the government is pro-austerity, and pro-privatization. The government does not believe in social welfare.

Budgets are not being cut because they are coming here, and taking advantage of our public amenities. If we shut our borders, the government will continue to cut public spending, in particular in low-income areas.

//

Public housing stock has greatly reduced, and people are being forced to live far away from where they grew up, or from where they want to live, because the government has backed private developers and sold-off publicly owned land without spending on renewed accessible housing stock. The government believes that you should buy your own house – and be taxed if you have a spare bedroom, but not if you live in a mansion.

Public housing stock is not down because they are coming here and taking our homes. If we shut our borders, the government will continue to favour private ownership – and the international super-rich will continue to "invest" their wealth in empty properties in London.

//

Universities are becoming increasingly expensive and elite because the government is elitist, and does not believe that education should be free and accessible to all.

University fees are not being raised because they are coming here and taking advantage of our education – in fact, fees going up in particular for international students, who pay double, or triple home fees in order to study in the UK. If we shut our borders, Universities will collapse – or rise fees further for home students.

//

This list could go on… We have every reason to be angry about the state of the UK. We must direct our anger in the right direction.

This blog was first published at www.siobhanmcguirk.com
---
1 June 2016:

Ahead of a series of public meetings, Matt Hawkins calls on local communities to join the disarmament movement
(photo: nuclear weapons convoy, credit: Nukewatch)

What do you expect to see on British roads? Cars? Yes. Potholes? Yes. Vans with 'please clean me' written in the dirt on their backdoor? Inevitably. Ice cream vans? In summer, yes. Nuclear weapons? Probably not.

It might come as a surprise - I have to admit, it did to me when I started my job with the International Campaign to Abolish Nuclear Weapons UK (ICAN-UK) - but nuclear weapons are routinely transported on British roads. These weapons of mass destruction frequently make trips from their base in Scotland to the refurbishment plant in Berkshire. When they do they pass by homes, workplaces, schools, and hospitals in the biggest cities in the UK outside of London: Birmingham, Newcastle, Edinburgh, Preston, Leeds, Manchester, and Glasgow to name but a few.

A single nuclear sub carries enough power to kill more than 10 million people.

But as well as being an unthinkable threat, these convoys present a clear opportunity. Too often nuclear weapons are treated as being 'out of sight, out of mind'; as something that we supposedly need but would never use.

In the same way that fracking has rudely brought the climate change debate right into the lives of Middle England, so these nuclear convoys give a very visual reminder of Britain's continuing possession of nuclear weapons, the danger they pose to the public here in Britain, and to people the world over.

That's why ICAN-UK, supported by a coalition of groups, have launched a campaign aimed at raising public awareness of these convoys. And this campaign could not have come at a better time. Right now over 130 countries of the United Nations are working on a treaty that will ban nuclear weapons.

That's right, a treaty to ban nuclear weapons. Such a legal treaty, following in the footsteps of the ones already covering chemical and biological weapons, is a real possibility. The UK government has decided to take the moral low-ground and is boycotting these talks. But, with every day that passes and every debate at the UN, our government is being left further behind. That feeling of isolation coupled with a vocal campaign from British communities calling for the scrapping of Trident could force to change its position.

Please therefore do whatever you can to get involved in our 'Nukes of Hazard' campaign. Visit our new website to sign our petition and find out how to contact your local MP. And, if you can, come along to one our public meetings taking place in Birmingham, Newcastle, and Preston - meetings that we will use to light the touchpaper and start the process of building new community campaigns to carry the anti-Trident message.

Join us and we'll make sure that power is invested in people and compassion, not in the destruction of humanity.

Matt Hawkins is Project Officer at ICAN-UK. Supporting organisations inlcude CND, Nukewatch, Acronym Institute, and Trident Ploughshares
---
30 May 2016:

Emma Snaith reports on the Focus E15 demonstration highlighting the link between a lack of decent social housing and poor mental health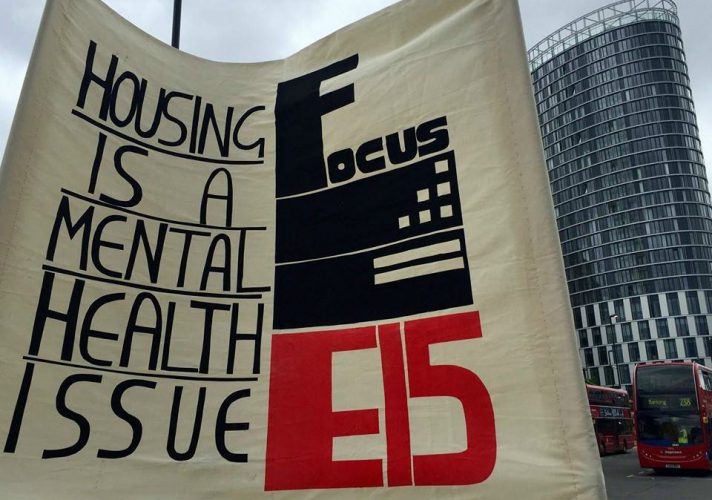 Photos: Focus E15.

On May 21, the Focus E15 housing campaign held a rally outside Stratford Underground Station calling for an end to social cleansing and demanding more social housing in the London borough of Newham. The demonstration was held at the end of Mental Health Awareness week to focus attention on the mental health implications of inadequate housing.

A group of 50 campaigners communicated their message to onlookers with speeches, live music and an impromptu march. They held banners baring slogans such as 'Living on a settee causes anxiety' and 'Mess with my home then you mess with my mind.' The demonstration highlighted the worrying extent of housing insecurity in Newham, particularly the problem of overcrowded and unsanitary temporary accommodation.

The Focus E15 campaign have been fighting tirelessly for better social housing in Newham for almost three years prior to this demonstration. The campaign started in 2013 when a group of single mothers began to organise against forced relocation outside of London following their eviction from the Focus E15 hostel in Stratford. After attracting national media attention in 2014, their campaign has helped to push housing up political agenda. Indeed, Sadiq Khan even referred to the recent mayoral election as a 'referendum on housing.' Although focused on specific problems in Newham, the group's latest demonstration touches upon the concerns of many Londoners suffering from the housing crisis.

Newham housing crisis

Newham has the highest number of households in temporary accommodation of any London Borough. Residents have also witnessed a noticeable increase in families being relocated outside of London, with some moving as far away as Middlesbrough and Leeds. In the last 3 years more than 340 Newham residents have been rehoused outside the capital.

Squalid and cramped temporary housing and the threat of eviction or relocation have taken their toll on the health of Newham residents. One member of Focus E15 explained that in their experience '99 per cent of people I speak to with housing issues also have mental health issues as a result.' They spoke about a woman named Sandra who suffers from mental health problems and could only find temporary accommodation in a hostel. Sandra stated: 'Everything that keeps my mental health issues stable is being taken away from me—my housing and stability.'




The Focus E15 campaigners refer to the term 'root shock' to describe the mental trauma individuals experience when they are displaced from their homes and cut off from support networks. This term was developed by Dr Mindy Fullilove, a professor of Psychiatry at Columbia University in the U.S. Fullilove argues that forcibly moving people from their homes increases their vulnerability to violence, substance abuse, physical illness and mental illness. Yet despite the extensive research revealing the detrimental impact of displacing people from their communities, Newham Council failed to acknowledge the issue of housing in their programme of events for Mental Health Awareness week.

Focus E15 are keen to point out that the housing crisis in Newham and the knockoff impact on residents mental health is not an inevitable state of affairs. The campaigners stated: 'The lack of social housing in Newham is typical of the lack of social housing in the rest of London. It's important to note, that the borough does not lack the amount of empty homes which could be used as social housing'

The campaigners regularly make reference to the 400 empty homes on the Carpenters Estate in Stratford and in 2014 they made headlines when they occupied four empty flats on this estate. The majority of flats on the Carpenters Estate still remain unoccupied, as they have done for nearly 10 years.

London-wide housing crisis

By highlighting the mental trauma Newham residents face due to a lack of decent social housing, the Focus E15 campaign have shed light on the less talked about consequences of the London-wide housing crisis, which following the recent passage of the Housing and Planning bill look set to worsen. This message is particularly poignant given that mental health services have suffered from decades of underfunding. So serious is this that, as a recent report by the NHS revealed, around three quarters of people with mental health problems receive no help at all.

Focus E15 are determined to continue their fight for more social housing and against social cleansing in Newham. They hold regular meetings, have a weekly street stall on Stratford Broadway and support individuals who face eviction. On June 4 they are holding a public campaign meeting about cuts to mental health services by Labour Councils.
---