8 March 2014:

Hilary Rose issues an urgent call to opt out of the government's plans to let pharmaceutical firms and insurance companies see your health records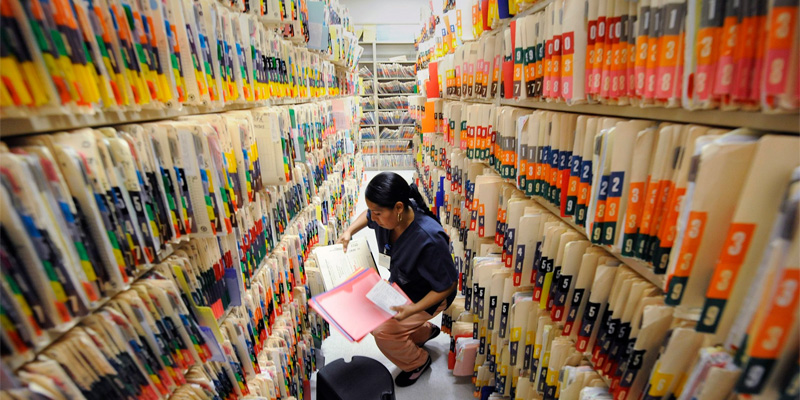 Just what is happening to our medical records? The government plans to collect them into a massive databank – supposedly anonymised, but that will be easily broken – and sell to anyone with a potential interest, from public health researchers to the pharmaceutical industry and even insurance companies.

This plan has generated a wave of opposition that has put the government on the back foot, and caused them to call a six month 'pause' in the process. This gives us time to organise a massive 'opt out' campaign. It sounds a tall order but the time, post-Snowden, is ripe.

The commodification of bio-information

The leaked news that NHS hospital records have been sold to the insurance industry is an example of the growing commodification, not of our bodies, but of information about our bodies. There is a busy market in such bio-information.

We have learned that if any of us has been a hospital patient, whether inpatient, outpatient or an A&E casualty, any time during the last dozen years our hospital medical records are among the 47 million sold to the insurance industry. The scandal is, so far as the government is concerned, incredibly damaging.

Unquestionably large databanks based on medical records offer tremendous opportunities to improve healthcare. But we the patients have never been asked whether we wanted to become guinea pigs and for what ends. Most of us, providing our confidentiality was assured and the research was to improve healthcare, would probably be happy to take part.

But with a government hell bent on making money, or rather helping its friends make money, the profit motive has trumped both our privacy and research which could improve our healthcare. Just who would want their medical records to be sold to the insurance industry, to be used to exclude some and increase premiums for others?

It was Blair's government which initially proposed to sweep up all our health records into a central database. This automatically included every NHS patient. Never mind opting in, there wasn't even the right to opt out. It was only after a fight, led by the Big Opt Out campaign, together with the pressure from the medical professions, that the right to opt out was won. The planned database became an IT disaster. IT firms made millions with very little to show for it.

The bottom line

Unsurprisingly, when the coalition came in they cancelled the whole project – only to resurrect it with a new name, care.data, after the pharmaceutical firms and their allies insisted that the massive database was critical for developing new drugs and thence economic growth... and their bottom line.

The right to opt out was recognised as key to public acceptability, and the coalition has allowed an opt-out clause. However the leaflet they sent out last month to every household announcing the data was going to be collected contained no opt-out form, merely suggesting that anyone concerned should consult their doctor. As if.

Meanwhile the scandals continue. The Tory MP – and GP – Sarah Wollaston has questioned how the entire NHS hospital patient database for England has been handed over to management consultants who have uploaded it to Google servers. Actuaries, pharmaceutical companies and private health providers have attempted to or actually obtained patient data. The six month pause is the government's response.

If we don't want our medical data to be commodified, to be bought and sold in the market without our consent, we need to opt out now and to persuade everyone we know to do the same. We need to insist on our right to give or withhold our bio-information, to give access to those we trust to use it to improve the effectiveness of healthcare while protecting our personal identity.

So – how to opt out? The easiest route is to go to Medconfidential.org, download an opt-out form letter and give it to your GP practice. It isn't hard: do it.
---
8 March 2014:

Worldy Women Philosophers explain how recognising women's contribution to economic thought uncovers a very different set of ideas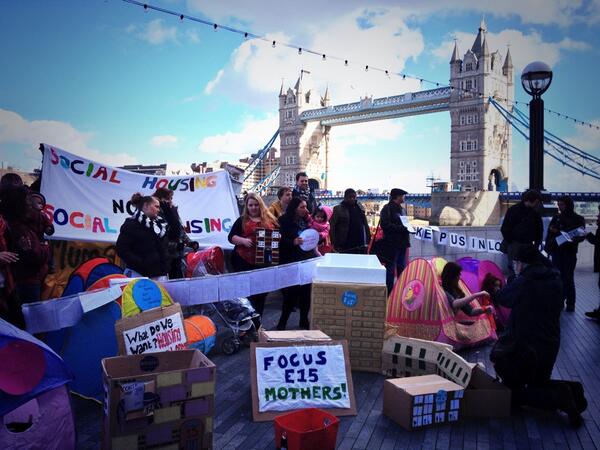 Focus E15 mums outside City Hall in a protest children's party calling on Boris Johnson to support their fight against social cleansing of London

'We have claimed the historical realities of our lives as the place where thought and politics not only do begin but should begin.' Susan Harding

Worldly Women Philosophers is an active contribution to the transformation of economics, exploring one significant group that economic history has overlooked – women. (Re)claiming the lives, work and ideas of the women left out of economic history will vastly expand, and enhance, the landscape of economic philosophy so that it more fully reflects the range and diversity of our collective lived experience and potential. This, we believe, can go some way towards creating the conditions in which everyone is able to live and flourish without undermining the ecosystem on which we can depend.

The experiment is framed by a dynamic challenge to one of the iconic texts of popular economics. Published in 1953, Robert Heilbroner's Worldly Philosophers: The Lives, Times and Ideas of Great Economic Thinkers remains one of the best selling economics books of all time. In it, Heilbroner tells the tale of the economic revolution that shaped the modern era through a series of pen portraits of influential economists. His account is economics in the form of rip-roaring yarn: a vivid catalogue of the great egos of the characters that shaped modern economics and the revolutionary ideas with which they intended not only to interpret the world but, in the spirit of Marx, to change it. But Heilbroner's account is partial and dangerously limited. His 'Great Economic Thinkers' are, perhaps unsurprisingly, without exception, male and pale.

It is not that these were the only forces shaping the world: women were not only active on the front line of Heilbroner's economic revolution forging the forerunners to modern welfare and campaigning for the right to equal wages, they were also writing, speaking, popularising, and contributing to economics. Uncovering the work of these women matters particularly now. Today as then, many community campaigns against cuts, or for better work and conditions are led by women. By reclaiming the transformational role of women historically, we can also help to raise the profile and influence of the vocal, politically astute women fighting injustice today.

Much economics claims ideological neutrality, but as a politically-determined tool used to shape social systems, economics cannot be separated from concerns about gender inequality, cultural and racial prejudice, class oppression or concerns about resource use. And, if mainstream economics has marginalised the contribution of more than one half of humanity, it is likely that we have exiled, or left dormant, key insights and concepts that could create a very different kind of economics. If a gendered approach is inimical to the neoliberal model, then addressing, and then ending the hegemonic masculinity of economics could create a very different discipline, and the conditions for healthier and more vibrant ways of shaping our lives.

Evidence suggests that the impact could be significant. A survey by Ann Mari May and Mary McGarvey and Robert Whaples found that even male and female economists schooled in the neoliberal model have significantly different opinions on public policy questions such as the minimum wage, employment rights, and health insurance. They conclude: 'gender diversity in policymaking circles may be an important aspect in broadening the menu of public policy choices.' This matters because a narrow range of public policy choices leaves us ill equipped to deal with rapidly changing circumstances and maintains a monoculture of ideas that makes progressive transformation less likely.

Invaluable insights

We don't have to go far to find the women who can help us further develop a new, more vibrant body of economic thinking. John Stuart Mill was clear that equal attribution for his work should be given to his partner, Harriet Taylor. Rosa Luxemburg, Annie Besant, Charlotte Perkins Gillman and Beatrice Webb all wrote, thought and talked about the economics they identified as a key mechanism of social and gender oppression. Hazel Kyrk's work blurred the boundaries between home economics and economics, and she was among the first to argue that in order to make any welfare statement, economics needed an ethical underpinning. Margaret Reid, one of Kyrk's students, developed a theory of efficiency more in keeping with the Buddhist notion of minimising waste than the maximisation of profits. Marilyn Waring's groundbreaking If Women Counted documented the importance and value of the care the formal economy ignores and erodes, yet depends on.

These insights could prove invaluable in the development of a new kind of economics, rooted in moral philosophy and responsive to the subtleties and vicissitudes of real life. Our intention then, is not only to bring more women into economics, although that is critical, but also to transform economics so that it more fully reflects the whole of humanity and then evolves as a discipline that is better able to support human flourishing. It is, in the spirit of Emma Goldman an attempt to address: 'The general social antagonism which has taken hold of our entire public life today, brought about through the force of opposing and contradictory interests' and which 'will crumble to pieces when the reorganization of our social life, based upon the principles of economic justice, shall have become a reality'.

We are beginning this process with a series of essays outlining the ideas of the Worldly Women Philosophers that mainstream economics has overlooked or marginalised, and we are open to both contributions and suggestions for inclusion. We will work with others to call for greater diversity in economics and economic policy-making and to support mutual support networks for women in economics. In the summer, we will take positive action to redress imbalance in the public record by crowd-sourcing the addition (or expansion) of the biographies of 101 women economists on Wikipedia. The era of stale, male and pale economics is over.
---
5 March 2014:

The argument against Western imperialism can only be strengthened by a firm opposition to other imperialisms, argues Mike Marqusee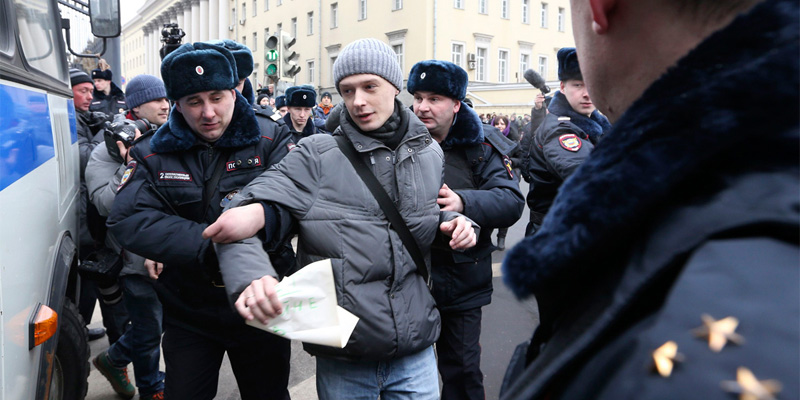 An anti-war protester being arrested on Sunday in Moscow.

It really should be easy enough to condemn Russia's action in Ukraine while at the same time rejecting and campaigning against US-EU military intervention. Sadly, there are some in the anti-war movement who see this as an awkward proposition.

Russian imperialism is as unacceptable as US-EU imperialism. In this region it has a long and brutal history. The British anti-war movement should be standing shoulder-to-shoulder with anti-war protesters in Russia, who face serious dangers, not equivocating about Putin.

The Maidan movement cannot be reduced to an imperialist plot. There were more than enough good reasons for people to be angry at the Yanukovich government; it didn't need 'outside agitators' of any kind. There were and are various elements within the Maidan movement, including, but certainly not restricted to, far-right nationalists. Their actions in recent weeks have been frightening and their role in the new government does indeed make a mockery of Western claims to be defending human rights.

Nonetheless, the demand of the Maidan for an end to corrupt oligarchic government was just and necessary. That claim is not vitiated by the fact that at the moment a particular branch of the ruling class (as venal as those they have replaced) has reaped the spoils. Like other protest movements in recent years, the Maidan's politics and ideology were and are ambiguous and inevitably still in formation.

Outside interference, from either Russia or the West, blocks or distorts this necessary process of political development. It solves nothing and generates only further problems.

The main enemy?

Those who want the anti-war movement in Britain to condemn Russia's actions have been reminded that 'the main enemy is at home'. The assumption seems to be that condemning Russia's crime will undermine opposition to war. But what will undermine us far more are unreal descriptions of events, evasive positions and 'special pleading'. If people are led to believe by our own behaviour that we are not really an anti-war movement but Russian apologists, 'the main enemy' will be strengthened.

It is perfectly possible to challenge Western imperialism without justifying the Russian variety. Making your own government the immediate focus of campaigning does not entail ignoring the rest of the picture. Yes, Western imperialism poses more dangers to more people, globally, but that does not make Russian imperialism any more acceptable or Ukraine's right to self-determination any less urgent.

We will be asked in public, by the public: 'What about Russia?' In this context, to answer simply that 'the main enemy is at home' will be seen as stonewalling.

There's a patronising notion that we can't do 'two things at the same time', that we can't handle complexity, that there must be a hierarchy of identifiable good guys and bad guys. The anti-war movement is seen as a fragile ensemble. Actually, it's more robust and more sophisticated than that.

The need for unity is cited as a reason not to dwell on Russian misbehaviour. But will evading or exonerating the Russian action really enhance unity in opposition to US-EU war-making? It's an approach that many are bound to find objectionable.

Western military intervention in Ukraine seems unlikely, but the rhetorical indignation of Western leaders plays an insidious role: part of a long-term effort to repair an imperial ideology discredited by Afghanistan and Iraq. When liberals lament the 'impotence' of the West, they're setting the stage for a reassertion of Western 'masculinity' - as and when convenient. Mirroring Western rationales, Moscow characterises its military intervention as a humanitarian mission of protection. At this moment, in relation to Ukraine, imperial hypocrisies, Western and Russian, seem boundless.

We won't be able to offer an alternative to this hall of mirrors by matching one double standard with another. It's always a corrupting practice, as a left wing version of realpolitik takes the place of a politics of solidarity.

The argument against Western imperialism can only be strengthened by a firm opposition to other imperialisms. This is a common human cause, isn't it?
---
3 March 2014:

The People's Parliament is back this week, hosting discussions on the citizen's income and the student movement


















The People's Parliament, a free discussion series held in Parliament and hosted by John McDonnell MP, is holding two more events this week.

Citizen's income: a minor policy change that would transform our society:

On Tuesday 4 March, Natalie Bennett, leader of the Green Party, will be joined by Professor Guy Standing of SOAS and Dr Malcom Terry, Director of the Citizen's Income Trust, to discuss the merits of the Citizen's Income, or Basic Income. As a policy initiative, the Citizen's Income has experienced a surge in popularity of late and Tuesday's discussion will provide a welcome opportunity to learn more and ask important questions. For more information on the citizen's income see Basic Income UK or the following article on Novara Media: Do they owe us a living: seven reasons a universal basic income is worth fighting for.

Tuesday 4th March, 6.30pm – 8.30pm, Committee Room 5, House of Commons. Register your free place here.

Universities and dissent since 2010: a new politics?

On Wednesday 5 March, the People's Parliament will run for the second time in two days as the topic shifts to student campaigning and the fight against the privatisation of higher education. Speakers include: Michael Chessum, President of the University of London Union; Rhiannon Colvin, founder of Alternative Generation; Sonia Chura, Vice-President University of London IWGB branch/3 Cosas; Olga Nelly Alvarez-Perez of the Independent Workers Union of Great Britain and activists from Occupy Sussex and Defend Education Birmingham.

Wednesday 5th March, 6.30pm – 8.30pm, Committee Room 6, House of Commons. Register your free place here.
---
3 March 2014:

Sixth edition of AV Festival launches, beginning a month of concerts, exhibitions and film screenings across the North East of England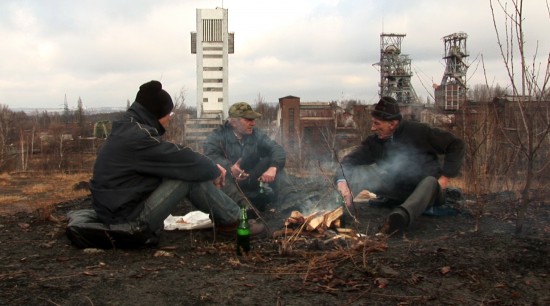 Mining is more than an industry, more than labour, as many North Easterners remember. When coal that was deposited beneath the region 300 million years ago was excavated, life above the surface - including the visual landscape and the social bonds of communities - transformed along with it. 'Extraction' makes a dynamic, multi-layered theme for this year's AV festival, a month-long programme of arts events that kicked off last weekend in Newcastle, Sunderland and Middlesbrough.

Red Pepper caught up with Rebecca Shatwell, director of the biennial festival, and asked whether she considers the theme to be political. She said extraction was chosen for its three-fold power to relate to our sociopolitical situation, the practice of contemporary artists and the North East region.

From now until the 30th of March, local and international artists will offer their perspectives through film, music, visual art and walking tours. Some have recorded sounds from across the North East region that they'll incorporate into live performance. The range of subject matter is vast, from the geology and mythology of Fingal's Cave off the west coast of Scotland to labour on an oilfield in the Qinghai province of China (an uncut portrait of a 14-hour working day is playing throughout the month inside a former locomotive factory). While over 100 volunteers support the festival, Shatwell curates all events alongside a small team, lending the entire programme some 'consistency'.

Examination of what we've been trained to ignore about the earth - how we've changed it, how it moves, its persistent capacity to move us - seems to be a unifying thread. On a planet where highways, businesses or occupying forces have altered nearly everything, the AV Festival provides a needed opportunity for people to re-experience place.

A full programme of events can be found here: http://www.avfestival.co.uk/

AV Festival 14: Extraction takes place from 1-31 March 2014.
---
26 February 2014:

And other recommended reads from feminist blogger Emma Frankel-Thorin this month.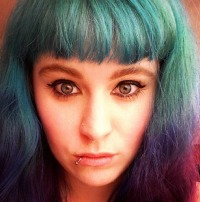 Something to listen to while you browse these links - Maimouna Youssef is a Grammy nominated singer, emcee, songwriter and poet. Enjoy this cover of 'Royals' by Lorde.

9 ways to be in solidarity with sex workers - "the disgust with which our culture regards whores is very old and runs very deep, and our radical communities are not immune to this"

Balancing without a net  -  how social media provides vital support for people who are disabled.

Why #ibelieveher is so vital -  I don't feel I have anything to add to this other than I always believe victims and survivors of abuse.

A fun guide to gender - an excellent cartoon.

So you care about Sochi - I get very tired of seeing disingenuous allies showing disdain for the homophobia that is happening 'over there'. Especially when a lot of them are ignoring what the LGBTQ movements in those other countries actually want. Ally voices should never be louder than the ones whom the issue actually affects.

A word to white women - a succinct piece on what people mean when they talk about white feminism.

The Just World Fallacy - sometimes great quotes come along and really make you think, this is without a doubt one of them.

Black female too-muchness: between hypersexual norms and respectable exceptions -  this piece has had a mixed response from friends when I posted it, which is partly why I wanted to include it. I found this very interesting although some of it has been said before. It certainly made me think.

Feminism can save France from Islam: that's the real message of Majorité Opprimée -  the above piece explains pretty perfectly my own discomfort with Majorité Opprimée. On top of which I'm uncomfortable with video's reversing sexism to show men experiencing what women experience. I feel it centres men in a discussion which shouldn't and takes away from teaching men that they should learn to listen and believe women when they talk about their lives.

Emma blogs at www.emmaquitefrankly.blogspot.co.uk @ExtraFKawaii
---
25 February 2014:

As new statistics show more sick days caused by stress, Ben Greenhalgh asks: what is the human cost when austerity-driven cuts spread a heavy load too thin?
Image by Steve Chou Photos on flick.com

I have always been of the mind-set that I work to live. Despite that, we work for most of our existence, and we hope that a lifetime of toil will be rewarded with the prize of a short period of leisure. However, what if current working conditions, stoked by 'calculated' austerity measures, simply become too much to bear? What then for the modern worker?

Since the financial crisis, public and private sector roles have been slashed. Beforehand, when a person left a position, another similar position was created or the existing one filled by a keen graduate or determined job-seeker. However, since austerity took hold, institutions have been readily absorbing workloads by handing what used to be included in a now-extinct position to existing staff.

Teachers now cover more classes. Hospitals are on the brink, unable to cope with demand. Instead of the millions of unemployed people filling potential roles, existing staff are asked to cover more and more holes often in excess of their professional and physical capacity. New positions seem only to be added if they incorporate five past ones. In short, people are asked to do more, for no more.

People fear losing their jobs if they stand and say, 'this is too much'. Why? Because they feel others would easily replace them. There are certainly enough people willing to attempt a multitude of burdens for employers to be unconcerned about getting rid of a 'difficult' employee.

The result of too much work spread over too few workers is simple: those who are employed are having their mental and physical health detrimentally affected. The sickness of conceptual austerity therefore translates quickly to the very real physicality of the human condition. In fact the International Labour Organisation (ILO) estimates that there are around 160 million victims of work-related illnesses annually.

The physics of spreading a heavy load over too thin a surface is that the structure comes under strain. When workers are treated like machines rather than human beings, the effect is very much the same. The top reason for causes of work-related stress, according to a 2013 Health and Safety Executive report, was workload. This included tight deadlines, too much work, pressure or responsibility with an estimated prevalence of 186,000 recorded cases.

People are not machines. They are far more creative, powerful and valuable – and it is these qualities which diminish slowly as more pressure is loaded upon each individual for the sake of financial and economic targets.

We once questioned our reliance upon machines, fearing that one day they would threaten our very existence. Sad as it is, we are fast being turned into machines ourselves – our passion, minds and indeed our very humanity are beginning to get lost under stacks of A4, paperclips and deadlines.
---
19 February 2014:

John Millington reports on the day of protest against Atos, the private firm that throws people off disability benefits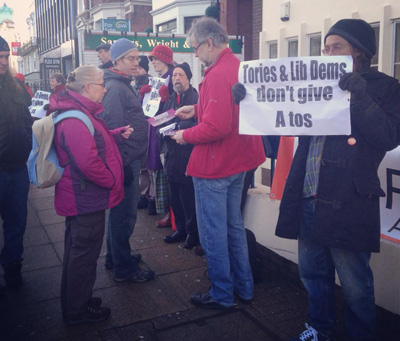 Photo: Red Dugmore

Disability campaigners laid siege to Atos assessment centres up and down the country today, in a bid to increase public pressure on the government to end what many see as a war against disabled people.

Union activists, Disabled People Against Cuts and Black Triangle targeted 144 assessment centres where people are told whether they are able to work and if they are still entitled to benefits.

The government argues the system helps millions of people off benefit and back into work. But campaigners have pointed out that the government's own figures show 10,600 people died within six weeks of being declared 'fit for work' by Atos, last year.

Unite the union assistant general secretary Steve Turner said: 'This alone should have set alarm bells ringing that the assessments were not fit for purpose. We are calling on the government to stop this degrading policy and introduce a fairer transparent system that restores dignity to the sick and disabled.'

Over 40 per cent of cases where people have been deemed fit to work have had their appeals upheld. However the appeals process can take months or even years while some of the most vulnerable disabled are plunged into poverty.

Leading Wolverhampton trades unionist Nick Kelleher knows all too well about this issue. From a protest early this morning in the city he told Red Pepper: 'I know people who have appealed a decision by Atos have been waiting a year. They have no benefits and are relying on food banks.'

He said the government was intent on cutting the benefits bill but insisted it was a small percentage of overall spending. He added: 'They should be going after big companies that don't pay their fair share of tax.'

Many campaigners are eager to see people with disabilities genuinely helped back into work, if they are able to. But they say the onus doesn't just lie with the individual.

Bob Williams-Findlay, a university equality training officer, said: 'The system used by Atos only measures certain aspects of someone's capability to work. Some people with disabilities like me can work but only when a good employer addresses their needs.

'Atos is making huge profits. The system needs changing, not the welfare state.'

Another union backing the campaign against Atos today, the PCS, would be a major union in representing workers assessing disabled people if the service was brought back in-house.

General secretary Mark Serwotka said: 'It is a scandal that the likes of Atos are profiting from this government's cold and calculating assault on sick and disabled people. The demeaning tests should be scrapped and the work to provide the kind of professional and caring support that disabled people need and deserve should be brought back in-house.'

Today marks an important escalation in the campaign and through social media, rather than the mass media, this injustice being heaped on the disabled and sick will not go unnoticed.
---
17 February 2014:

University of Birmingham student Deborah Hermanns describes her experience of being arrested, released without charge and subsequently suspended from university and banned from running in the Birmingham Guild of Students elections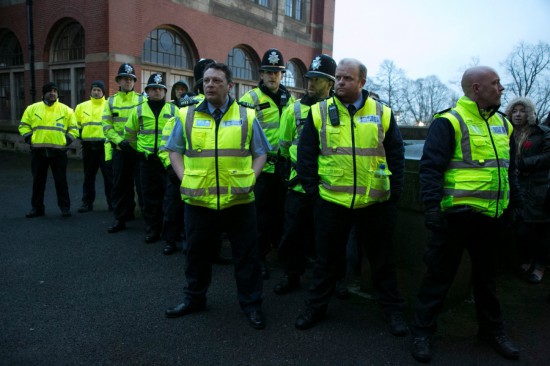 On January 29, students from across the country gathered at the University of Birmingham to discuss the future of the student movement and develop a set of shared demands opposing the privatisation of education and calling for improved pay and conditions for university workers. Following the meeting students held a demonstration on campus and proceeded to occupy the Great Hall. The occupation was broken up by security and the West Midlands Police. Students were then kettled for up to four hours and denied access to shelter, food, water and toilets. Thirteen students were eventually arrested, with one student being hospitalised. In the following account, Deborah Hermanns, a student at the University of Birmingham, describes her experience of being arrested and released without charge and the University's decision to suspend her and four other students. Deborah's account provides an unsettling insight into the increasingly hostile environment encountered by those undertaking political activity at universities in the UK.

'Arrested, suspended, then banned from elections: my student experience'

'On Wednesday January 29 I made a decision which has defined my short-term, if not long-term, future. It was a decision that I made after being kettled in the pouring rain by police for three hours. The decision I made was not to give the police my name. Maybe it was naive, maybe it was stupid, and it was probably mostly stubborn, but I did so for one simple reason: I felt I had been treated unjustly, along with all of the other kettled protesters. I knew of my right not to give the police my name as a condition to be released from a kettle, and of my right to not be arrested for it. I knew that I had done nothing wrong. I had not committed criminal damage or assault and so I had nothing to fear. Having experienced similar situations in London, but in the position of an observer, I expected to be brought to the police station, to be interviewed immediately and to be released in a few hours without charges. But that is not what happened.

Instead, I was released without charges, but only after spending 28 horrible hours in a cell—not counting the 4 hours between my actual arrest and my arrival in my temporary home. I was released to find my bail conditions essentially banning me from doing anything—from going on campus, from seeing my friends, from going to any parties or sport matches, from even sleeping in a house that is not my own. I was released to find myself temporarily suspended from my University—meaning that instead of finishing my degree in a few months I might have to spend another year as a student. And I was released to find myself banned from the elections of my own union, leaving me with no opportunity to run for the position of Vice President Education, something which I had been looking forward to, had been preparing for, and into which I had invested considerable time.

The University's reaction to the events of January 29 and the subsequent suspensions have to be seen in the wider context of harassment by University bosses against protesters. They constantly single out students who do not fit their agenda, put them through disciplinary procedures, threaten them with expulsion and generally try to intimidate them as much as possible.

As sad as it is, the University does not care about the welfare of these students, nor does it care about me or any of the other suspended students. What it cares about is its image. Instead of letting an ambulance onto campus, instead of stopping the unlawful activities of the police, University management actively encouraged those activities through collaboration with the police and statements and emails sent to staff and students.

The suspension of "only" five of the four hundred protesters shows that they are simply playing a game of odds. With no evidence whatsoever from either the police or the court—again, the only "crime" the five of us committed was to not give our name—the University decided that it was us five who destroyed poor old Joe (the clock tower) and consequently suspended us. It just looks better politically to blame five students rather than 50, doesn't it?

Furthermore, it has been shown time and time again that the University does not come down as hard on students who are accused of breaking the same university regulations when it is not in political opposition to the University. For example, students are regularly thrown out of Fab & Fresh (Birmingham Guild of Students' venue) for harassing security or sometimes worse. They then face disciplinaries and if proven guilty and worst comes to worst might be banned from going to Fab for two weeks as punishment. I, on the other hand, despite not even having been proven guilty of a single offence or having given any opportunity to defend myself, have not only been banned from going to Fab, but also any other single event, academic or non-academic, taking place on campus.

Those who have suspended us claim simply to be following the rules, yet it is obvious to a casual observer that they are using these rules in an highly unusual and excessive way. An immediate suspension, prior to any conviction, is premature, highly problematic and in this case possibly unlawful. My lawyers are currently preparing to take legal action and sue the University. However, this process could take months. Months, which neither my degree nor my candidacy in the VPE election have time to wait for.

Therefore, the Guild must finally step up now and recognise the clear political nature of the actions of the University and allow an election accessible to all candidates, including myself. As our Vice President Democracy and Resources stated yesterday, that could take different forms. If the Guild does not defend the most basic principles of union autonomy and democracy then there is serious risk of it and the University becoming an environment within which the expression of divergent and sometimes critical views are dealt with punitively. This is important not only internally, to current students and staff, but also in terms of the Guild´s external image.

Looking back on the last 2 weeks, I can say that they have been by far some of the most stressful of my life and if it had not been for the support of my fellow Defend Education activists and friends, I probably would have not been able to cope with the situation. However, being treated like a criminal by my own University for simply opening my mouth, quite loudly, has only reassured my wish to stand for the position of Vice President Education.

Our University does not care for my or your welfare, but your Student Union, the Guild of Students, should. It should be an autonomous institution which stands up to the University and consistently opposes its damaging plans. One step which will bring us closer to such a Union is delaying these elections until the suspensions are overturned. You do not have to agree with the protest that took place, you do not have to like my politics. This, however, is simply a matter of democracy, fair elections, right and wrong, of justice and injustice. Over the last two weeks the five of us have experienced injustice by the University and the Police, now it is time for students to change that. Come to the weekly Wednesday demonstrations. The next one is at 1pm by the clock tower this Wednesday'.

On February 10 a number of prominent activists, academics and politicians, including Noam Chomsky and Ken Loach,  signed an open letter condemning the actions of the University of Birmingham as being 'at odds with freedom of speech'. The letter goes on to 'condemn these suspensions in the strongest terms' and calls for the 'immediate reinstatement of the students affected'. Defend Education Birmingham has been holding frequent meetings and demonstrations demanding the reinstatement of the five suspended students. For regular updates see @DefendEdBrum
---
17 February 2014:

Workers from the 3Cosas campaign will over the next two weeks travel across the UK to raise awareness of their fight for sick-pay, holidays and pensions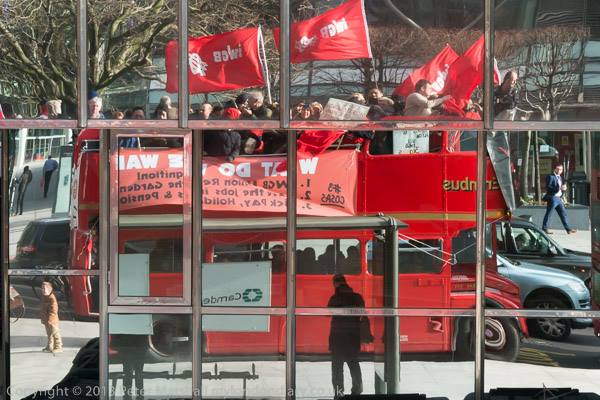 The 3Cosas campaign began its national speaker tour today with a meeting in Oxford that took place earlier this afternoon. Today's meeting is the fist of fifteen being held across the UK over the next two weeks with the intention of raising awareness of the 3Cosas campaign—the fight for sick-pay, holidays and pensions for outsourced cleaners at the University of London (UoL)—and 'to promote discussion of recent student-worker struggles and how they can contribute to reviving our movements'. The tour has been organised by the UoL branch of the Independent Worker's Union of Great Britain, which represents  the majority of outsourced cleaners at the UoL, and the National Campaign Against Fees and Cuts, a coalition of campus groups fighting against the privatisation of higher education.

The series of talks marks the continuation of a period of considerable public activity for the 3Cosas campaign that began with a three-day strike in late January that saw workers and their supporters travel through London on a traditional double decker bus. Unfortunately, the 'battle bus' will not be available for the national speaker tour. The next event is tonight (Monday 17 February) at Warwick University, 19.00.

Below are the full listings for the tour. For more information contact the 3Cosas Campaign at 3cosascampaign@gmail.com, or alternatively, @3CosasCampaign

3Cosas national speaker tour dates:

Monday 17th February:

Protect the Public University – Warwick host the speaker tour!

19.00, Room SO.20

Tuesday 18th February:

Birmingham 'Defend Education' bring the 3 Cosas campaign to town!

19.00, Chaplaincy.

Wednesday 19th February:

University of Derby, 12-1:45

Nottingham University, 15.00 – 16.30

Nottingham Trent University, 17.00 – 19.00

Thursday 20th February:

Reclaim the Campus Manchester Presents a talk by the 3 Cosas Campaign

Council Chambers, University of Manchester Students' Union

3 Cosas campaign speaker tour: Sheffield!

19.00 Discovery Room 1, Level 5 Sheffield University Students Union, Western Bank

Friday 21st February:

Leeds city: 3 Cosas: the University of London Struggle and Beyond

3 Cosas speaker tour: Newcastle city meeting 

Saturday 22nd February:

Edinburgh University and Scotland meetings

More dates TBC
---