24 April 2014:

Matthew Franklin reports on a protest that closed Benetton's flagship London store today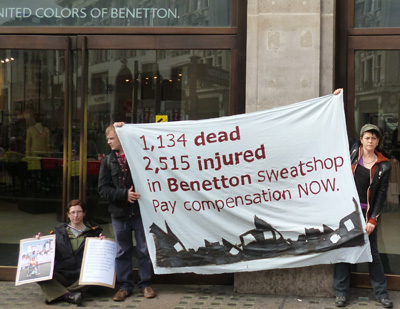 Today, on the anniversary of the Rana Plaza factory collapse, the largest garment industry disaster in history, the doors of the flagship Benetton store on London's Regent Street have remained shut. That's not out of respect for the 1,134 workers who died in their Bangladeshi factory exactly a year ago, but because a handful of people have decided that they will not allow the store to turn a profit today, when they still have not paid any compensation to those affected.

Benetton's excuse for not paying compensation is based upon the fact that they have given some money towards supporting a charity called BRAC, which amongst other things provides micro-loans for survivors of the Rana Plaza collapse. This does not constitute compensation. Many of the survivors and the families of those killed have received little or no support since the disaster, and some are struggling to provide basic necessities for their family on a reduced income.

At 9.30 this morning, shortly before the store was due to open its doors, a handful of people with bicycle D-locks attached themselves to the door and made sure that it could not be opened. I accompanied them to hand out leaflets and speak to people. Three hours later we were still there and the doors remained shut. The pavement outside the United Colors of Benetton's flagship store has been turned into a memorial, with photos of victims and testimony from their family members and survivors. In the hustle of Oxford Circus hundreds of people pass by every hour asking about the demonstration, queuing to read the quotes and offering messages of support. One passer-by said 'Benetton buy their clothes from Bangladesh, they need to take responsibility when people are hurt'. Others offered to buy us tea.

In Bangladesh today, relatives of those killed and the families of survivors have taken to the streets chanting 'we want compensation!' These actions are echoed around the world, with the Clean Clothes Campaign directing protests across Europe, and War on Want taking action with Labour Behind the Label today on Oxford Street. The hope is that these protests will put pressure on the brands including Benetton and Matalan who have so far refused to pay into the Rana Plaza Compensation fund.

In the words of Martha Jones, who D-locked herself to the doors: 'People in Bangladesh are standing up and fighting for justice, it's time people in the UK stand beside them and hit these brands at their most prized outlets'.

Tweet to show your support: .@benetton #payup for the victims of #RanaPlaza, it is long overdue!
---
15 April 2014:

Experiments with banning out-of-hours emails show that how much time off we get is political, writes Adam McGibbon

I'm doing it right now. If your work involves a computer, you probably are too – almost inadvertently, sending work emails or working outside of hours. You check your inbox, end up sending a few emails and then before you know it, you're working from your sofa, out at the pub, in the park – or even on holiday.

The 21st century has brought us massive technological advances – devices fitting into your hand where we can access the sum total of human knowledge. The ability to communicate with anyone, anywhere, anytime. But that comes with its tradeoffs. As we break down the distances between us, we also break down the walls between our work lives and our private lives. This means many people can never truly 'switch off'.

And that is doing many of us great harm. 80 per cent of American workers recently reported being stressed out at work. One in 5 UK workers take time off because of the affects of overwork. The European Commission believe stress accounts for half of all lost working days. And this makes us sick, unhappy and, ultimately, can shorten our lives.

In a world with instant access to our workplace, where people continue to compete for status, there is tremendous pressure to work outside of set hours. A time when you could walk away from your workplace and leave your work there too has disappeared for many.

Luckily, on the continent, people are beginning to recognise this. In France, an agreement between unions and employers means that employers are not to contact workers in the French arms of Google, Deloitte and other companies. This follows a similar move by a small number of employers in Germany – including the Labour Ministry – last year.

The French case has been widely misreported as a change in the law, rather than just an agreement that affects a small amount of workers. But the fact that this has hit such a nerve across the internet seems to indicate that this idea resonates with many – and indicates that many worry about how their free time has been eroded by new technology.

Across the world, slowly, there is a growing recognition of how long working hours – and the intrusion of work into our private lives – is making us sick, making us unhappy, unproductive and even wrecking the planet. Gothenberg City Council in Sweden are now experimenting with a 30-hour week.

Keynes thought that by the 21st century we would all be working about 8 hours a week and getting paid liveable wages for it. The history of human progress up until fairly recently has been people working less and less, and having more time to actually live and enjoy life. The triumph of neoliberal doctrine has reversed this – and to the benefit of nobody.

The UK has some of the highest working hours in the EU – and if 'hard work' was inherently a good thing, we would have the highest wages too. We don't. Far from it. Overworking causes mental health problems, bad health, unfulfilling lives, and early death. And breaking down the barriers between workplace and home makes this worse.

The New Economics Foundation's '21 Hours' report is compelling reading into how we can all live happily, productively and sustainably while working much less, and simply enjoying life. These protections of workers' free time – and placing a long-forgotten value on it – are workers' rights for the 21st century. Time off is political. The UK needs similar and stronger protections for our free time, now.
---
13 April 2014:

Eve Carnall invites you to join a 'walking university', sharing skills to tackle climate change
"What can I do about climate change?" "Very little. What can WE do about climate change? EVERYTHING."

I have had the pleasure over the last two years to meet many people who are working for a future without fossil fuels – people who are taking steps to protect habitats, or change emotions, or change the system we live within. From 15 April I will be meeting hundreds more as I walk with others across England for four months.

The Buzz Tour will visit a cross-section of England to help 'pollinate change' through inspiration and skill-sharing. The walk is open to anyone who wants to shape a better future, so please join us! Some people are coming for a few hours, others for a month and they are all part of the journey. You can also keep track of our journey on our website and social media pages, and help us by donating cash or equipment.

We will visit projects where people are practising permaculture, mindfulness, direct action, local economic trading schemes, Transition towns, art and craft as dissent, community energy production, habitat conservation, divestment and alternative education. If you haven't heard of some of these things – fantastic! You'll find many new experiences and tools.

A window of opportunity

We are no longer ignorant of the consequences of our actions, individually and collectively. When our grandchildren ask us what we did to stop climate change it will not be a defence to say that we did nothing because we did not know. Our society has known for decades but the evidence is now overwhelming.

In March, the IPCC (Intergovernmental Panel on Climate Change) released its report on the widespread consequences of man-made climate change, which will affect every human on the planet. Its language is technical and scientific, and the news coverage uses emotionless, passive language. The content, however, should be a call to arms for us all. We live during a quickly closing window of opportunity to protect life.

To make the large emissions reductions that are required in the next two decades will take a massive cultural change. There is no single solution to save us; there are hundreds! Changing our lives will not be quick or easy but we can help each other to do it, and bridge the gap between good intentions and systemic change.

Culture change

There is a lot that behavioural psychology can teach us about how to approach culture change. All group change starts with individual change. The society that we have been born into narrows our choices and rewards destructive behaviour. For example, how easy do you find it to buy food that has not been harvested and transported with fossil fuels or wrapped in plastic? Environmentally harmful actions have become the norm.

It is extremely difficult to act against the persistent tide of a harmful system which surrounds you and so we are forced into harmful choices. That does not mean we consent to them. But to change this society, we must do more than not consent: we must actively show our dissent together, and work together towards the future we want.

There are three broad types of action on climate change: protecting the natural resources we have left, changing ourselves, and changing our system and culture. Maybe you already do work in one of these areas and would like to help others? Maybe you know about climate change but have no idea where to start? Maybe you know the types of action you want to take but need to find people to work with, or to build your skills? Connecting with the Buzz Tour will be a way to do all these.

A vital part of changing our lives is the time to reflect upon what we experience. On the tour we will walk together, to reflect, understand, inspire and learn. The Buzz Tour will be a 'walking university' where people can come and share their skills. Every week we will be posting what we learn and the contacts we make on the website building up a store of inspiration.

Culture change not climate change.

For more, visit buzztour.org. The Buzz Tour is currently raising money on Indiegogo.


---
10 April 2014:

Miller and the Tory leadership seemed baffled as to why her actions were deemed quite so repugnant, writes Jessie Thompson


Politicians being out of touch can sometimes be vaguely amusing. The recent grasping attempt to reward 'hard-working people' by making beer and bingo approximately £1 cheaper a year will be keeping Private Eye in material for months to come.

But waiting for Maria Miller to resign was more excruciating than an episode of The Thick of It – and far less funny. The entire debacle demonstrated a frightening chasm in the ability of politicians to understand how the public feels about their behaviour. The disconnect between the public mood and the government's understanding of it is no longer just embarrassing – it's completely insulting.

One can't help but feel that it was breathtakingly stupid of Miller to exploit the system, since the 2009 expenses scandal had already demonstrated just how disgraceful the electorate finds such behaviour. But, nevertheless, she did, and seemed baffled as to why her actions were deemed quite so repugnant.

Indeed, the most ridiculous aspect of the whole affair must be the self-righteous outrage with which Miller and David Cameron responded to the public uproar. The media were accused of creating a 'witch-hunt', yet it seemed that, for once, they were doing their job: holding a corrupt politician to account. However, Miller insisted she was 'devastated' and was described as a 'victim'.

In fact, the very definition of words became fluid: Miller kept insisting she had apologised 'unreservedly', but she still appeared to have plenty of reservations, including paying back the full sum she had claimed, and resigning immediately so as to not show total disdain for the public.

And perhaps most importantly, she was said to have 'resigned', but, in truth, she'll keep her £66,000 MP's salary, retreat to the backbenches for a while – and probably be reinstated to the cabinet at a later date, since women MPs are such slim pickings in the Conservative party. Scandalously, she was even offered £17,000 in severance pay, until public pressure saw her donate the sum to charity.

Miller and Cameron's handling of the incident has been breathtakingly misguided. Such a blasé attitude to the public's opinion can mean one of only two things: a total ignorance of the public mood, or total contempt for the people the government claims to represent. Whichever it is, at least we can draw one conclusion: neither of them are very good at their jobs.
---
3 April 2014:

Prossy Kakooza and Siobhán McGuirk report on the recent Anti-Homosexuality Act passed in Uganda, and the UK's own draconian approach to LGBT asylum seekers.
(Aderonke faces death if sent back to Nigeria, sign her petition to stay)

Being Lesbian, gay, bisexual, or transgender (LGBT) is dangerous in many parts of the world. Every day, millions face persecution for their non-conforming sexual or gender identity. In more than 70 countries, being LGBT is a crime, punishable by imprisonment, flogging, and fines. In five countries, and certain regions of two more, it is punishable by death. Sadly, those numbers are on the rise. Over the past six months, Russia, India, Nigeria, and most recently Uganda have each enacted new laws to persecute LGBT people, and in some cases, their allies.

Fuelling Hate

Prossy is Ugandan. She is also a lesbian. As far as she can remember, there has always been homophobia in her home country. She grew up surrounded by it. It was a preaching topic in church, a theme at school parades, and a focus for preachers and politicians alike. The LGBT Ugandans Siobhán works with share similar memories. They, like Prossy, fled home as leaders there capitalised on people's latent fears, deepening their hate, and making homosexuality the social and political issue of the day.

Ugandan President Yoweri Museveni has been in power for 28 years, an eyebrow raising period of time in a supposedly democratic context. His legacy is one of broken promises and increasing social strife. Many Ugandans though Museveni's time was up, that nothing could distract the population from the corruption, cronyism, and social inequality his government now represents. They were mistaken.

He has followed the lead of some MPs – such as David Bahati, whose profile has risen sharply since he first tabled the Anti-Homosexuality Bill in 2009 – to exploit widespread, latent homophobia, and say something the majority would subscribe to: LGBT people are a menace to society and must be imprisoned.

Adding a veil of legitimacy to this draconian ideology, Museveni tasked researchers to find 'scientific evidence' that homosexuality is a product of nurture, not nature. The document prepared by his handpicked team did not initially prove this, concluding that evidence either way was inconclusive at best. The report also noted a long history of non-normative sexuality in Africa, refuting the popular claim that homosexuality is a 'western import'. This did not stop Museveni's National Resistance Movement party, however, which promptly misrepresented the findings. Behind the scenes, a new team was assembled, and a longer document produced. This, unsurprisingly, was more in keeping with the government's agenda.

Armed with 'evidence', Museveni signed the Anti-Homosexuality Act (AHA) into law, live on television. This is extremely unusual, as legislation is normally signed behind closed doors. Yet, surprisingly, few have regarded the AHA with scepticism, or asked bigger questions of a government clearly scapegoating a minority, marginalised population for a litany of social ills. Along with other morality-based laws, such as the Anti-Pornography Act, Ugandan legislation is becoming increasingly conservative, punitive and patriarchal.

Brave LGBT-rights activists in Kampala are challenging the constitutionality of the Act. Meanwhile, allies in the United States are taking Christian Pastor Scott Lively to task over his role fuelling hate speech in Uganda and petitions to cut aid to the country circulate online.

While these efforts might eventually see the AHA overturned, thousands of LGBT people are in imminent danger. National newspaper, Red Pepper [no connection to our publication, see our statement below] recently ran an incendiary article 'outing' suspected LGBT people, and fuelling homophobic mobs. Politicians are roundly celebrating the Act.

A similar pattern is emerging elsewhere in Africa. As a result, more and more people are fleeing their countries of origin to seek safety in ostensibly tolerant countries – those where leaders are denouncing anti-gay laws, such at the United States and the UK Deputy Prime Minister Nick Clegg called the AHA, 'an abhorrent backwards step for human rights'. LGBT people would be excused for expecting sanctuary in the UK, a signatory to the 1951 United Nations Refugee Convention. They face a harsh reality, however, and an impossible task: 'Prove that you are gay'.

Barriers to Asylum

The UK first recognised persecution of sexual and gender orientation as the basis for granting asylum in 1999. However, suitable training on the particular needs of LGBT claimants was not forthcoming. Case owners – the Home Office representatives who deal with asylum seekers - were not equipped to make informed decisions when adjudicating claims. With little available information on country conditions regarding sexuality and gender non-conformity, decisions were based on subjective, often stereotypical ideas about LGBT people, and hugely inconsistent.

The Home Office has repeatedly announced measures to improve the system, yet serious problems remain. It is extremely difficult to win asylum on the basis of a persecuted sexual orientation and gender identity. In 2010, gay rights charity, Stonewall, found that the denial rate of people seeking asylum on the basis of persecuted sexuality or gender identity was as high as 98 per cent, compared to 73 per cent of all other claims.  Claimants are routinely disbelieved, and regarded as guilty until proven innocent.

Legally, asylum seekers should be provided with housing and a small stipend while their case is assessed, yet immigration detention is widespread, with eleven percent of asylum applicants detained. Privately run detention centres are ill prepared to cater to a multi-cultural, multi-lingual population with complex needs. The treatment of detained asylum seekers is so dire that numerous deaths in custody have been reported, and hunger strikes are common. For LGBT people, detention can be particularly harrowing: Trans people are frequently segregated according to their sex-at-birth rather than gender identity, and homophobia persists among detainees and staff.

Interviews are likewise unnecessarily disturbing. Asylum seeker members of the Lesbian Immigration Support Group (LISG), a volunteer social support group based in Manchester, say that lack of privacy at the initial interview makes them extremely hesitant to reveal details unknown parties may hear. Some have previously suffered homophobic persecution at the hands of uniformed state representatives. Nearly all will have previously made considerable efforts to conceal or deny their same-sex desire or gender identity. Yet here, they are expected to immediately open up, trust, and 'come out' to the strangers investigating their claims.

Claimants' feelings of nervousness, distrust, shame, or fear, are deemed unacceptable excuses for hesitancy or errors in recounting their experiences in detail. There is no second chance, and details remembered at a later date can negatively affect a case: Adjudicators presume the claimant must be lying.

This process is particularly difficult for women. Many mothers have explained to LISG that they do not feel able to reveal their sexuality in front of their kids, as they are expected to do at the initial interview. In any case, being a mother appears good grounds for rejecting a claim. The sadly common notion that a lesbian would never marry a man due to social pressure to conform, or have a child, disregards high incidences of forced marriages and rape in so many parts of the world. It also denies bisexuality.

Other reasons for refusal heard at the LISG include: 'The applicant has been in this country for a couple of months and haven't visited any gay bars' and, 'The applicant's answer that she uses contraception is indicative that she is not a lesbian, because she would not have any use for it otherwise'. Evidence cited by the Home office as proving a claimants sexuality include 'how/when the person first became attracted to the same sex'; how the person reconciles their homosexuality to their religious beliefs; knowledge of the legal status of homosexuality in their country of origin and whether they have had any 'contact with the gay community in UK'.

These are as offensive as assuming that all women should be buying make-up and know their waist measurements; that all black men should be visiting reggae clubs and be invested in the 'black community'; that all straight people should know when and how they became attracted to the opposite sex, and have precise knowledge of their legal rights as heterosexuals. Such ideas are detached from reality, and reduce complex lives into stereotypes. Defenders of the current system ask: What do you expect the Home Office to do?

How else can it determine these cases? Their presumption is that, as national press and politicians tell us, the majority of asylum seekers are trying to hoodwink the system. In reality, it is the UK that is hoodwinking the asylum seekers: announcing itself as a safe haven, but at best, a limbo. For those detained, abused, refused, and deported, it is another kind of hell.

Prossy Kakooza is Ugandan asylee in the UK, and volunteer at the Lesbian Immigration Support Group (LISG) in Manchester. Siobhán McGuirk is a Red Pepper Commissioning Editor and currently carrying out PhD fieldwork with LGBT asylum seekers in the USA.


Statement on Red Pepper Uganda
Red Pepper (UK) is a proudly pro-LGBTQ (lesbian, gay, bisexual, trans, queer) publication. We are in no way connected to, or affiliated with the Ugandan newspaper which shares our name. We are horrified over their activities, just as we are despairing of the political and religious leaders in Uganda who have backed the 2014 Anti-Homosexuality Act. New laws persecuting homosexuality - such as those in Nigeria, India, Russia to name but three - are not products of debate over culture, science, or sexual morality. They are designed to scapegoat minority, already marginalised populations and distract attention from corruption, cronyism, rampant social inequality and exploitation of the poor at the hands of the wealthy and powerful.
We at Red Pepper believe that everyone - regardless of their sexual or gender orientation and identity - has the right to live free from fear and harm.
We condemn Red Pepper Uganda for repeatedly publishing the names of people their editors have decided are homosexual. This is not 'journalism.' To name, shame, and seek to bring harm to members of society are actions simply designed to fuel hate, and sell papers. Red Pepper Uganda are promoting, endorsing and celebrating violence against people who have done nothing that calls for censure. It is a sickening move.
We support the activists and advocates opposing the Anti-Homosexuality Act both on the ground in Uganda and from safe havens overseas, and join calls for the Ugandan parliament to reconsider their decision. We likewise support LGBTQ rights activists the world over, who are seeking the right to live and love as they choose, free from state-sponsored persecutions and social stigmatisation.
---
27 March 2014:

Leigh Phillips says the so-called heavyweight rumble over the EU between Nigel Farage and Nick Clegg had no real discussion of the threats to European democracy, internationalism and social justice
---
25 March 2014:

And other recommended reads from feminist blogger Emma Frankel-Thorin.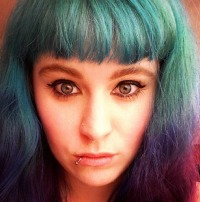 100 LGBTQ Black women you should know - A great post in honor of Black History Month

Comic about slurs - This is very important to me. Many people will throw around words as if they mean nothing, however to many they can hurt very deeply and trigger painful memories.

Why I stopped identifying with white feminism - A personal and honest post.

The 'fierce black woman' inside you doesn't exist - a fantastic response to Perez Hilton's recent display of racism.

A failed experiment in social engineering - A long read about the Nordic model; what happens when we criminalize the purchase of sex.

Why I can't stand white belly dancers - An angry piece which certainly makes one think about how one consumes other people's culture. We all walk through life differently & it's important not to forget that.

Just eat it: a comic about food and cultural appropriation - I think this is one that will make many of us squirm with recognition.

Blue Valentine - Finally someone other than me had some issues with this film. It's so easy to call a woman a bitch, it is much harder to look properly at the situation women often find themselves in.

Emma blogs at: www.emmaquitefrankly.blogspot.co.uk and Tweets: @ExtraFKawaii
---
24 March 2014:

Campaign demanding the University of Birmingham drop the suspensions of two student protestors gains pace as demonstration called, writes Andrew Dolan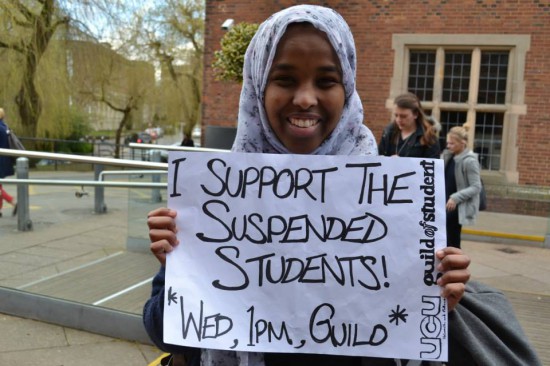 Less than 24 hours after a demonstration at the University of Birmingham on 29 January, at which 13 students were arrested, the University suspended five students. The invitation of police onto campus, the arrests and the subsequent suspensions have been met with intense criticism, with the University being accused by students and staff of draconian punishment and silencing dissent. On 10 February, the Guardian published a letter signed by over forty academics, artists and politicians, including Noam Chomsky and Ken Loach, condemning the actions of the University of Birmingham as being 'at odds with freedom of speech.'  The letter went on to condemn the suspensions in 'the strongest terms' and called for the 'immediate reinstatement of the students affected.'

Although the University of Birmingham has so far refused to publicly respond to criticism it has recently reinstated three of the five originally suspended students, one of whom, Deborah Hermanns, wrote an account of her experience. Nonetheless, two students, Simon Furse and Kelly Rogers, remain suspended and as such are prevented from coming onto campus and from completing their degrees. Kelly Rogers remarked how the suspensions 'are an attempt to use Simon and myself as examples to intimidate other students from protesting in future. The suspension is having a severe impact on my life, studies and health. I have . . . no idea when or whether I will be able to continue my studies, despite not having even been charged, let alone found guilty. It's a disgrace, and utterly ludicrous.'

Demonstration called

The Guild of Students and Birmingham UCU have called upon the University of Birmingham to lift the remaining suspensions and have jointly organised a demonstration for Wednesday (26 March) to further emphasise their demand and defend the right to protest on campus. Speaking of the forthcoming demonstration, Vice President of Education, Hattie Craig, said: 'If we want our movement to continue to be able to take radical action it's essential that we stand up for activists who have been victimised. If we allow our universities to get away with arbitrarily suspending students for their involvement in protest then I fear that this is a sanction that we will see employed with increasing frequency. Students at Sussex and Birmingham have been suspended this year, who knows where we'll see it next?'

In anticipation of Wednesday's protest 228 University of Birmingham staff have signed a letter to the Vice Chancellor, Professor David Eastwood, expressing 'concern at the practice of suspending students for exercising their right to free speech and their right to protest on campus' and imploring him to 'reinstate the two remaining students with immediate effect'.

The demonstration takes place this Wednesday at 13.00pm at the Guild of Students, Edgbaston Park Road, B1. For more information visit the event page. Alternatively, Defend Education Birmingham provide regular updates and advice on how to get involved with the campaign.
---
24 March 2014:

Purchase Red Pepper's latest campaign briefing: 'The student loans sell off', by Andrew McGettigan
Following our recent teach-in at the House of Commons on the sale of student loans, Red Pepper and higher education expert Andrew McGettigan have produced an A4 double-sided briefing on the student loans sell off, providing much needed insight into what is actually happening and why it's a bad policy.

The pamphlet, titled 'The student loans sell off', gives an overview of past, current and future student loans sales, the figures and financial engineering behind them and their consequences. The briefing is concise and accessible and can be understood by those with little knowledge of finance. In other words, it's a great source of information and a vital campaigning resource.

We're trying to get the briefing out to as many individuals, organisations and students' unions as possible. If you think you'd be interested in acquiring a batch to help with your campaign we'd love to hear from you at student@redpepper.org.uk.

The pricing (including p&p) is as follows:

£10 per 100 copies

£45 for 500 copies

£90 for 1000 copies

These prices allow us to cover our costs, but if you or your institution are able to contribute a little more than the above rates we welcome the support. We also welcome donations to help fund further printing. Additionally, for those interested in larger bulk buys we can work out further price discounts. Payment can be done by cheque or online. An digital version of the leaflet will be available soon.

Help us spread the word: If you know any organisation who you think would be interested in our briefing please tell them to contact student@redpepper.org.uk.
---
24 March 2014:

The Modern Slavery Bill provides an opportunity to address the long-standing problem of slavery in the UK, writes Gary Craig

In 1807, after years of extra-Parliamentary action and slave rebellions in the Caribbean Island plantations, William Wilberforce finally managed to achieve a parliamentary majority for ending the slave trade in the British Empire. In 1833, the issue re-emerged with the passage of a second Act, this time abolishing slavery itself. So that was that: Parliamentarians could reflect in the moral glory of a job well done. Or was it?

Forced labour in fact remained a familiar part of the colonial landscape throughout much of the early twentieth century, most appallingly in the genocidal landscape of the Congo, regarded by King Leopold of Belgium as his personal fiefdom. At the end of French colonial rule in the 1960s there were still 200,000 in slavery; their descendants remain slaves today in the countries of the Sahel. In India there remains today the largest single concentration of slaves, with tens of millions of adults and children enslaved in debt bondage, a link between the so-called historical and contemporary worlds of slavery. These slaves can now be found in more modern industries, including brick-making, fish processing, mining, carpet production, gem-making, clothing and fireworks.

None of this, however, appeared to resonate in the UK. Yet recent revelations about the severe exploitation of children picking cotton in Uzbekistan, the clothing factory disasters in Bangladesh and the forced labour camps of Nepalese workers — more than a hundred of whom have died building Qatar's World Cup facilities — have begun to shift public attitudes. Thanks to the tireless efforts of many campaigning organisations, people are starting to realise that many of these slavery-contaminated goods and services end up being purchased within the UK.

Slavery in the UK

So too are people beginning to understand that slavery is also here in the UK: the critical moment was probably the death ten years ago of 23 Chinese cockle pickers in Morecambe Bay. Detailed research funded by the Joseph Rowntree Foundation has shown that forced labour in the UK is much more widespread than originally thought, with at least 4,000-5,000 cases likely to be current, although very few reach the courts. Additionally, it is estimated that there are over 5,000 women and children who have been trafficked into or within the UK. As researchers and journalists have shown and as the recent rescue of three women enslaved in South London reminds us, the trafficking and exploitation of women is occurring on our doorsteps. (See, for example, Chinese Whispers, by Hsiao-Hung Pai.)

The UK government has in recent years attempted to address the problem of forced labour in the UK: the 2004 Gangmasters Licensing Act was created to regulate labour providers in a selection of industrial sectors, including agriculture, and in 2009 a new criminal offence of forced labour was introduced. Furthermore, in response to growing awareness of trafficking in the UK, the government established the UK Human Trafficking Centre, signing up to European Conventions on trafficking in the process.

The Modern Slavery Bill

Overall the UK government response to the 'discovery' of modern slavery in the UK is widely criticised as inadequate and in some cases — for example, the question of restricted visas for domestic workers (see www.kalayaan.org.uk) — as making things worse.

Enter the home secretary, Theresa May, who is now seeing a Modern Slavery Bill through parliament, aimed at clamping down on trafficking and slavery offences. Her political motives aside, the Bill presents an opportunity for those concerned to get involved. MPs, although often sympathetic, are generally ill-informed and lobbying them can be quite effective. Organisations like Anti-Slavery International can provide guidance on which points to emphasise. It will not be an easy struggle: the two key battlegrounds will be ensuring that victims of trafficking are not labelled as criminals or illegal immigrants; and that proper regulation of businesses is introduced to limit the possibilities of forced labour. That, of course, goes completely against the grain of coalition policy.

Gary Craig is Professor of Community Development and Social Justice at Durham University, and Emeritus Professor of Social Justice at the Wilberforce Institute, University of Hull.
---