3 July 2015:

Pam Foster from Residents Action on Fylde Fracking tells the story of a weekend of furious campaigning

The eyes of the world were on Lancashire County Council on Monday 29 June – and Little Plumpton, a quiet rural spot in the Fylde, situated in West Lancashire. The previous week had seen a previous planning application to frack the Fylde village of Roseacre thrown out by Lancashire's councillors and another, for seismic arrays at the same site, rather bizarrely given the stamp of approval.

The planning officer had recommended that the application to frack at Little Plumpton (Preston New Road) be given the go-ahead as there were no valid reasons for turning it down. If they turned it down and fracking firm Cuadrilla appealed, the officer said there could be steep financial penalties for the council. A vote to refuse Cuadrilla's application to frack Preston New Road was taken, resulting in seven in favour, seven against and one abstention. It was decided to adjourn until the following Monday as councillors asked for that advice to be provided in writing. We had been so close to getting this application refused – now the agony was to be prolonged until the following week.

So we had one weekend. What could we do? The Frack Free Lancashire machine, which represents almost 40 local groups, went into overdrive. Both the Preston New Road Action Group and Friends of the Earth each obtained independent legal advice that confirmed the view that the committee would have valid reasons for refusal on grounds of noise and landscape, and that the risk would be small if it went to appeal. How were we to get this information to the councillors though? The planning officer had made it very clear that there would be no further opportunity for public participation, or for members of the public to circulate written evidence collected over the weekend to any of the councillors.

The value of having many small grass roots groups under the Frack Free Lancashire umbrella is that we are able to act nimbly and quickly. It didn't matter that it was the weekend – this precious legal advice was hand-delivered to all the relevant councillors, along with greetings cards and good wishes expressing our empathy for them. We have always appreciated the pressures they were under – meddling from central government, conflicting advice, tons of documents, and now the threat of financial penalties. We also needed to tell them that we'd decided that in the event of an appeal, we would crowdfund in order to raise the necessary cash to pay for any costs incurred.

Crunch time

Monday dawned and we found ourselves back in the council chamber, enviously leaving some of our colleagues outside in the sunshine, where a large crowd of supporters was gathering – much larger than we had dared hoped for. After all, many people had taken time off work, re-jigged schedules or had travelled from outside Lancashire in order to offer support the previous week.

We were nervous – this was crunch time. Most of us admitted that we hadn't slept well over the weekend. The national and local press had gone into overdrive and nearly all, without exception, were predicting that permission was bound to be granted and that Lancashire was about to become the test ground for fracking in the UK.

A tetchy atmosphere pervaded the council chamber, with the chair and councillors sniping at each other. It was agreed that there would be a ten minute adjournment to look at our new legal advice received over the weekend. It seemed that the councillors were to see it after all. It was being taken seriously.

It was a tense time. Would the council take on board this latest legal advice and make a decision based on the best interests of the community and the people they represented, or would they kowtow to the wishes of a planning pfficer who was under pressure from George Osborne to make planning an easy passage for Cuadrilla? We dared to hope that this new information might be influential. The councillors came back in, there was more discussion – they took a vote 9-4, with one abstention. The chamber erupted with a noisy standing ovation. We had won! Minutes later the committee unanimously voted to also throw out plans for seismic arrays at Little Plumpton.

We emerged from the chamber into the sunshine and to the sounds of hundreds of happy people. Amid all the hugs and kisses was a general air of astonishment. We always believed that we could stop this but we had been faced with the very real possibility that the democratic process could be determined by councillors' fear of legal fees.

Hats off to Lancashire councillors who had the courage to listen to their constituents. What a great victory for localism – and what a huge blow to a government that said it was 'going all out for fracking'!
---
2 July 2015:

Jacob Wills writes from a Europe-wide meeting on housing struggles, held in Athens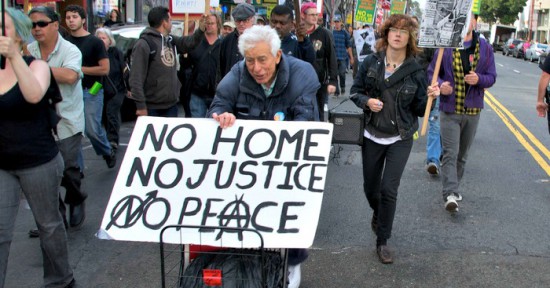 As negotiations rage over the future of Europe and the lives of the Greek people, another less conflictual debate was happening in Athens. Europe's housing movements gathered to discuss the way forward across the continent, and build the relationships of trust needed to underlie any international movement. For once, there is some small linkage between these meetings. With some activists now working for the state, Greek left movements are finding it easier to influence their government than in living memory – just look at the coming referendum on the moneylenders' austerity. It can be an uneasy relationship, as strident interventions from some autonomous squatting communities demonstrate, but it gives hope to all of us visiting from more hostile climates.

The European Coalition for the Right to Housing and the City began to meet at sites of struggle two years ago in response to the worsening crisis across the continent. Despite the huge array of issues and contexts, conveyed in Athens both through a public conference and a two day internal meeting, there are remarkable similarities in the 16 participating countries. Spiralling rents, evictions, state funding of the private sector, and the criminalisation of homelessness are occurring all over, but so are peer support groups, blockades of the banks and courts, and the squatting of empty buildings to house migrant families. This sharing of tactics and strategies has given a huge motivational boost to participants, including the three of us attending from London's Radical Housing Network.

We hosted the coalition's last meeting, during which we briefly shut down the MIPIM real estate fair's first venture to London, and held a counter conference of 1,000 people in a squatted social centre. Along with some inspirational local campaigns and the mass March for Homes, this gave us the confidence to start speaking of a housing movement and not just a struggle. Organising on a European level has given perspective on our power, with mass movements in Spain, Greece and France amongst others winning concrete gains, often in the face of stiff opposition. Opportunities to learn the detailed organisational strategies behind these successes are few and far between, rarely featuring in mainstream or even independent media reports. Meanwhile there is a surprising amount of interest in the London scenario, as a grim taste of the hyper-financialised Europe to come. With booming London house prices giving George Osborne most of his much-vaunted GDP growth, policies will continue to escalate our crisis over at least the next decade. We need all the help we can get.

It's not just solidarity for our local and city-wide struggles we're exploring though, but also the potential for common action. We will be campaigning against the privatisation and financialisation of public assets at this year's MIPIM property market in October, before it skulks back to Cannes in March 2016. And from October 10-20th this year we'll be taking concerted European action on the issue of homes standing empty while evictions abound. These disgraceful policies forcibly break up communities and lives on the whims of profit-makers, while developers land-bank and empty out estates, and buy-to-leave investors laugh the short distance all the way to the bank. As the Focus E15 occupation of the Carpenters estate demonstrated so forcefully, these homes need people, and these people need homes.

It's not just the problem that's a common European one, it's also the targets. With huge transnational landlords controlling hundreds of thousands of units across borders, the potential for effective international action and solidarity increases. As states begin to say no to international financiers, and researchers begin to get organised too, we're slowly putting in place the conditions for an international social movement to emerge.
---
23 June 2015:

Chris Jury on why he wrote his new play The Liberty Tree, an agitprop musical that aims to be as entertaining as it is political
"Art is not a mirror held up to reality but a hammer with which to shape it."
Berthold Brecht

"The Liberty Tree is 'effin brilliant! If you haven't seen it, you better get down to The Cockpit in June or regret it forever!"
UCU trade union activist

The Liberty Tree is an agitprop, political musical playing at The Cockpit, in Marylebone, London, from 24th-27th June, and is a deliberate attempt to use theatre as a tool to bring about progressive political change – but it's also a romping, hilarious, feel-good antidote to the austerity agenda and a great night-out for anyone sick to death of being over-worked, underpaid and powerless to do anything about it.

I wrote the play as a response to a perceived crisis of political education in the UK. It appears to me that many young people have been told little of the history and character of our social democracy and how we got to be supposedly free citizens in a free country, let alone that it is possible to resist the exploitation they are all too aware they are experiencing in the workplace. And the entire cast and crew are all students and young activists – this is 'community theatre' but with a community of young people defined by their common experience of capitalism rather than geography.

Visually the production is inspired by the 18th century political cartoons of Gillray, Cruickshank and Hogarth, and the work of 19th century artists such as Walter Crane and Arthur Rackham, who were in turn influenced by William Morris and the Arts & Crafts movement.

The show is part of a tradition of British political theatre going back to the Workers Theatre Movement of the 1920s and 30s, the Unity Theatre movement that followed it, and on to the late 1970s 'agitprop' movement led by companies such as 7:84, Red Ladder, C.A.S.T, Belt And Braces, North West Spanner and Monstrous Regiment.

The narrative structure of the play is a taken from The Wizard Of Oz, and this is a statement of our primary commitment to put on a piece of political theatre that above all entertains the audience. So while I hope the audience get a lot out of the show in terms of political ideas and information, above all I hope they have a bloody good time. Fingers crossed.

Chris Jury is artistic director of Public Domain Productions and an award-winning actor, writer and director, best known for playing Eric Catchpole in 5 series of BBC antique classic Lovejoy. www.chrisjury.co.uk


---
19 June 2015:

Claire Fauset looks ahead to an international anti-fracking camp in the Basque Country next month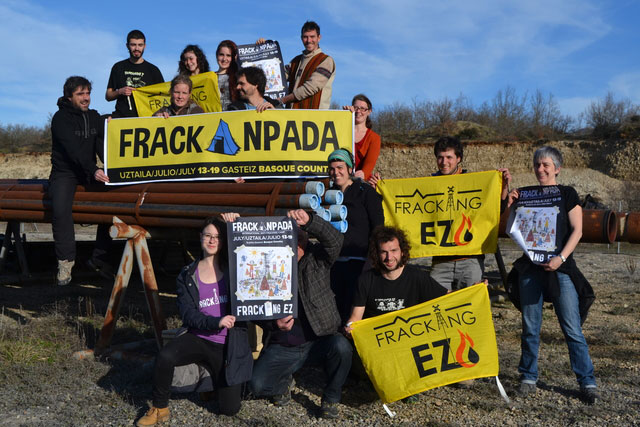 What better way to resist fossil fuel expansion and capitalism this summer than to occupy a beautiful site slated for destruction, sharing tactics and ideas with people taking action from across Europe?

People fighting fracking and campaigning for a more just and sustainable energy and economic system will come together this summer for an international anti-fracking camp in the Basque Country, Spain. The Frackanpada will take place from the 13-19 July and here's a few reasons why you might want to pack your tent and sunblock for a trip to the Basque Country:

1. The industry is trying to get a foothold in Europe, so our resistance must be Europe-wide.

The fracking industry is eyeing up the trillions of cubic metres of gas spread across the European Union's member states as though it were a single resource. The stronger a grip the industry gets in any one location the more power it will have to push expansion elsewhere in the continent. With strong resistance in almost every country in Europe where the industry has tried to drill, including bans in the largest economies of France and Germany, Spain is the latest country to have caught the eye of the frackers. They hope to start drilling in the Basque-Cantabrian Basin in the northern part of the state in 2016. The locals have other plans!

2. 2015 is an important year for opposing fossil fuel expansion

2015 sees world governments meeting again in Europe to attempt to make a binding treaty to tackle climate change. At best the Conference of the Parties (COP) in Paris in December will be a corporate-friendly programme with targets that fail to tackle the scale of the problem. Tackling climate change means keeping fossil fuels in the ground and the most effective strategy is to fight for that goal and to connect these struggles up across Europe: stopping the fracking industry through actions like the Frackanpada, opposing the coal industry through actions like the climate camp in Germany where thousands of participants will shut down the giant open cast mines in the Rhineland coal fields, through to campaigning for divestment from fossil fuels and resisting the economic system that values profit over life.

3. The Basque Country has a strong history of defence of the land against infrastructure development

The anti-fracking movement in the Basque Country is inspired by a long history of struggle against exploitative development, for protection of the land. The anti-nuclear movement in the 1970s prevented five nuclear power stations being built along the Basque coast and has kept that industry out of the country to this day. The movement to oppose the high speed train line that will cut through the countryside, and which offers no benefit to local people, has been going since the early 1990s and is still a major focus of resistance.

Recently the Basque Country has been mobilised in one of the largest disobedience initiatives ever undertaken in Europe in solidarity with young people who have been jailed for six years for their political dissent on the issue of Basque independence. As police came to arrest the young people, the population turned out in force and formed human walls around them in protection.

4. Holidarity

If I can't dance it's not my revolution, and the Frackanpada offers an opportunity for a holiday and solidarity action all rolled into one.

The Frackanpada will take place on common land owned by the local village of Subijana de Alava near the capital Gasteiz. The village has welcomed the camp onto their land, which is also on the site of an old conventional gas well and sits around the Subijana aquifer, a major resource for the entire region and massively at risk of contamination if fracking commences.

As you might expect, there will be updates on the anti-fracking campaigns across Europe and further afield, workshops linking this issue to broader struggles against climate change and fossil fuel extraction, in defence of the land, and the search for alternatives to energy and economic systems. But aware that we are more than these struggles, the camp's programme includes walks up the nearby mountains and along the waterways we are seeking to protect, a march in the capital and the creation of land art to warn off the fracking industry, concerts featuring some of the best Basque music and a fair of local produce and alternatives and traditional dances. The whole experience will be an adventure of resistance, solidarity and movement-building. Go to this page to buddy up for transport.

frackanpada.frackingez.org


---
10 June 2015:

Yesterday Red Pepper co-editor Emma Hughes was refused entry into Azerbaijan ahead of the European Games. She wrote this in detention in Baku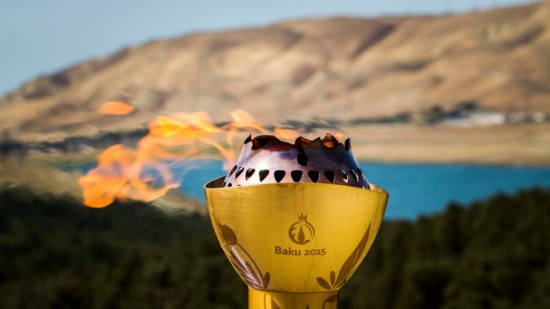 As I sit detained in Heydar Aliyev international airport Baku is tantalisingly close. The broad surface of Heydar Aliyev Prospekti stretches out in front of me. A year ago to the day I took a taxi along this freeway – catching glimpses of the Baku Olympic Stadium which was under construction. Today the national stadium is just three days away from the opening ceremony of the first European Games.

I was always expecting this visit to be difficult, although I did think I'd at least make it into the country. Since my last trip here the situation in Azerbaijan has rapidly deteriorated. Civil society has been stamped on hard with journalists, academics, lawyers, bloggers and democracy activists all being jailed. Many of the people I met before are now in jail, hiding or have fled the country.

These Games, a subsidary of the Olympics, are being used to goldwash a corrupt regime and the oil company that serves it – BP. The purpose of them is to present the Aliyev family as progressive and open to the world. In reality it has an appalling record of human rights abuse, crushing freedom of speech and assembly, and incarcerating any voices of opposition.

BP is the largest foreign investor in Azerbaijan. Since 1994, when BP became the operator of the biggest oil field in Azerbaijan, the corporation and the Aliyev government have become evermore intertwined. The Aliyevs depend upon BP to maintain the supply of oil revenues into the state and the personal finances of the First Family. The oil wealth brought by BP has entrenched the Aliyev regime and failed to raise living standards for the majority of Azeris. BP in turn is dependent upon the oil production in Azerbaijan and the staunch support of the Aliyevs when the company hits troubles in other oil provinces.

The sixteen days of the Games will be used to showcase Baku to the international community. What neither competing teams, visiting fans nor the media will see is the massive inequality in Azerbaijan and the growing dissent.

While I face many hours in detention for speaking out against BP and the Aliyevs, political prisoners in Azerbaijan face many years in jail. This year alone has seen wave after wave of arrests.

The charismatic young democracy activist Rasul Jafarov, who founded the Sport for Rights campaign, has been sentenced to 6.5 years. Investigative journalist Khadija Ismayil was imprisoned for reveling the how the elite grabbed and squandered the country's money.

Leyla Yunus, one of the country's most respected human rights advocates, and her husband, Arif Yunus, were charged with treason – a sentence that could see them spending the rest of their lives in jail. Human rights lawyer Intigam Aliyev was arrested a few days after Rasul. Eight months later, in April 2015, he was sentenced to seven and a half years in jail. There are serious concerns about Leyla, Arif's and Intigam's health.

After many months in detention, eight activists from the youth movement NIDA! were sentenced to between six and eight years in prison. Opposition politicians such as Ilgar Mammadov were also given long sentences. The election monitor Anar Mammadli was sentenced to five and a half years in prison and the founder of the Institute for Reporters' Freedom and Safety, Emin Huseynov, was forced into hiding in the Swiss Embassy after being stopped from leaving the country. Emin is still there and has now been charged with tax evasion and abuse of powers, meaning that were he to leave the embassy he would immediately be arrested.

Isa Shahmarly, a former chair of the Free (Azad) LGBT group, hung himself with a rainbow flag in his Baku apartment, writing in a note that Azerbaijan society was "not for me".

Seymour Hezi, a columnist with the Azadliq newspaper, was attacked at a bus stop. When he tried to defend himself with a bottle he had in his hand, he was arrested by police who appeared to be watching from close by.

Ilgar Nasibov, a journalist who worked ay the Nakhchivan Resource Centre, the only independent rights group in the region, was beaten unconscious and left with multiple broken bones and temporary loss of vision in one eye.

Three weeks after Khadija Ismayil's arrest, the offices at Radio Free Europe were raided and shut down. Staff were detained for questioning and their computers seized. The station must now operate from outside the country.

Such a list of names, brutalities and injustice. The past year in Azerbaijan has seen a burgeoning movement full of creativity and optimism stamped on hard. Far from presenting a more liberal face as it prepares for the eyes of Europe to be turned in its direction, the regime has been getting ever more repressive as it clamps down on dissent in the run up to the Oil Games. BP carry on regardless remaining resolute in their support for the Games and the Aliyevs.

The democracy movement appears all but destroyed. Yet most of those in prison understood where their politics, journalism, blogging, monitoring, legal work and other activism would lead. This is what makes them remarkable. As Intigam Aliyev said when he was sentenced, "In this country it is a crime to have an alternative opinion, to talk about election fraud and discuss issues of political prisoners. I do not regret my arrest. Even while in prison I plan to continue my work. Through our arrests our struggle continues."

Emma Hughes is a co-editor at Red Pepper magazine and a campaigner with Platform. She is part of the Sport for Rights campaign, which is working to highlight cases of political prisoners in Azerbaijan in the run-up to the European Games.

All that Glitters – Sport, BP and Repression in Azerbaijan,a new book from Platform London will be published this Friday 12 June
---
8 June 2015:

Michael Calderbank asks you to help get Jeremy onto the ballot paper for Labour leader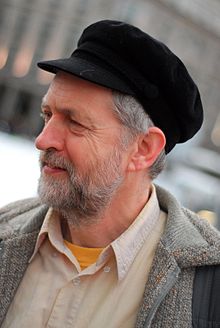 Prior to Jeremy Corbyn's bid to stand in the Labour leadership contest, the debate over strategy in Labour was utterly sterile – full of media cliches about the 'aspirational middle classes', welfare 'scroungers' and the need for stricter immigration controls. For millions of people across the country – inside and outside the Labour party – the hunger for an anti-austerity alternative has been palpable.

That is why Jeremy's candidature has been widely welcomed. He has widespread respect across the left for his principled and consistent defence of socialist ideas, his internationalist commitment to global justice, and his rejection of imperialist war and nuclear weapons.

It's not only Labour party members that want to see Jeremy allowed to stand in the leadership contest. The debates that will be conducted in the full glare of the media would hugely benefit from a credible advocate of a break from the neoliberal consensus that dominates politics in Westminster.

But Jeremy needs the nominations of 35 MPs before he is able to take part as a candidate in the election. Whichever candidate Labour MPs intend to support once the contests begin, they have a duty to allow the fullest possible discussion on building the alternative to Tory austerity and attacks on trade unions, the welfare state and public services.

Below is a model letter you can adapt and send to Labour MPs encouraging them to nominate Jeremy:

Dear ___________

I am writing to you regarding Jeremy Corbyn's decision to seek nomination for the Labour Party leadership. Jeremy's announcement has undoubtedly electrified the leadership race. In the first 24 hours of his campaign, he managed to secure the nominations of ten MPs, 2,800 people signed an online petition asking Labour MPs to nominate him and an incredible 10,000 people 'liked' the Facebook group 'Jeremy Corbyn for Labour Leader', more than all the other candidates put together. This is a clear indication that there is a thirst for a real debate amongst grassroots Labour Party members. It is now in Labour MPs' hands whether that debate takes place, or whether we have a leadership election where large swathes of our membership feels unrepresented and ignored.

As has been witnessed already, an election where the candidates broadly agree on the main issues only increases the public's cynicism for the political process. It casts the Labour Party in a bad light after the shock of the general election not to be seriously discussing the issues raised by that defeat. For that honest, serious debate to happen, it is vital that Labour Party members, supporters and affiliates are able to pick from a broad range of candidates representing the full range of opinion within our party. Jeremy will stand on a platform against austerity and in favour of a democratic economy which provides housing and services for all, while arguing for a fair immigration system and in favour of nuclear disarmament and humanitarian foreign policy. On those issues, Jeremy speaks for a substantial section of the grassroots of the party. If Jeremy is unable to overcome the substantial barrier to entry and make it on to the ballot, then we will not get that choice and the quality of the debate will suffer as a result.

It is in all of our interests to have an open and extensive leadership debate, one which is about the future of our party and how we move forward, stronger together towards the next general election in 2020. Whether Jeremy is your preferred candidate or not, there is an overwhelming case for including a voice like his in this leadership contest. At this stage, it is not necessarily about who you are voting for – and we saw in the 2010 race how many MPs 'lent' their nominations to candidates in order to ensure a proper debate. That can be explained to both the candidate you intended to nominate and the wider electorate. In doing so, you will be putting the future of the party at the top of your list of priorities.

If you agree with me that a serious debate is needed and are able to offer your support to Jeremy's campaign, I would very much appreciate it if you could let me know and cc in info@jeremyforlabour.com

Yours sincerely,

____________

You can use writetothem.com to write to your MP for free.

For more on the campaign see www.jeremyforlabour.com. There is also an e-petition here.
---
8 June 2015:

Activists from London Palestine Action call on anti-arms and Palestine solidarity campaigners to join a mass action at Elbit arms factory on July 6


Israel's attack on Gaza last year exposed once again the awful consequences of the ongoing brutal occupation and colonisation of Palestine. The scenes of mutilation and devastation shocked people everywhere. Once again, the struggle faced by Palestinians in their resistance to Israeli oppression was impossible to ignore.

Across the world, the sheer ferocity of the massacre had thousands, even millions of people responding to the call for global solidarity and action. Many took to the streets in enormous demonstrations of outrage, others organised occupations of government buildings and complicit businesses. In the US, dock workers formed the #blocktheboat campaign and refused to allow Israeli ships to land. Unprecedented public pressure mounted for governments and arms companies to stop arming Israel.

In Britain, our complicity runs deep. In the heart of England, near the small village of Shenstone, stands a small factory. Once it made engines for Norton motorbikes, but now it makes engines for drones. The current operators are UAV Engines Ltd, a wholly-owned subsidiary of Elbit Systems.

Elbit, one of Israel's largest arms companies, manufacturers of the Hermes drone, a sickening piece of military hardware that was used to terrorise and kill Palestinians in the horrific attack on Gaza last year. Even since the ceasefire, drones still patrol the skies above Gaza, and the IDF intends to increase their use in the occupation, removing the risk to their personnel and further dehumanising their operations.

The apparent remoteness of a sleepy West Midlands village from devastating explosions on Gazan streets seems almost grotesque, but the connection is all too real. Israel itself is home to a thriving arms trade and there is extensive collaboration between Israeli and international companies in developing weapons. Part of what makes the Israeli arms trade so strong is the fact that they can use Palestine as a testing ground for weapons development.

Israel is the world's leading exporter of drones with more than 1,000 sold to different countries around the globe. The drone engines Elbit make in Shenstone are all over the world. The profits Elbit reap from their business are then used for further investment in the brutal technology used against Palestinians.

As part of the wider Boycott, Divestment and Sanctions campaign, Palestine solidarity activists have called for the UK to end its extensive collaboration with the Israeli weapons industry and to institute a two-way arms embargo. Unsurprisingly, the government has refused to listen.

The Stop Arming Israel campaign requires action. At the height of last year's carnage, which killed more than 2000 Palestinians, nine activists occupied the Shenstone factory's roof, shutting it down for two days. The cost to Elbit was more than £100,000.

Those who profiteer from suffering should not be allowed to continue with business as usual and the lie that their industry is a grim economic necessity must be challenged and defeated. Now, as the first anniversary of the attack approaches, groups and campaigners from across the UK have issued a call out to activists to return to Shenstone on Monday 6th July and block the factory from it's deadly business.

The aims of this mass action go beyond just shutting down the UAV Engines site for the day. We want to build on the incredible response to the attack last summer, which brought together a huge variety of activist groups in solidarity with Palestine and powerfully demonstrated how our different struggles intersect.

By uniting behind the call to Stop Arming Israel, we want to transform the road to the factory into a fun, creative and inspiring space, celebrating the collective power of our diversity. Whether it's by telling stories or holding workshops, making art or flying kites (not drones), playing music or sharing food together, we want to create place for activists to build support networks, find new allies and make new friends. Everyone who shares our values is invited to come and help make this an incredible, beautiful day.

For more information, visit www.blockthefactory.org or visit our Facebook page.
---
5 June 2015:

Notes on practical solidarity from a discussion with the Black Liberation Collective at Reclaim the Power camp. By Jenny Nelson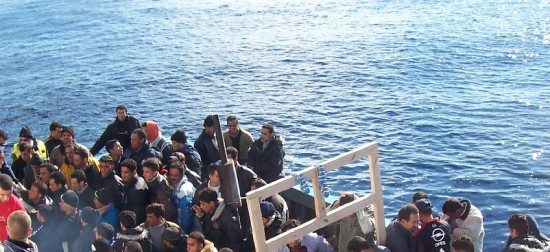 Recent headlines remind us how desperate the situation is for many people migrating to Western Europe, said participants. Whatever the reason for travel, whether to flee persecution and war or to join family members and find work, nobody should be left to die at sea. In fact, a closer look at the push factors for migration only brings responsibility closer to home - with a critical view of foreign policy, environmental policy, neoliberal economics and the role of multinational corporations.

Supporting people on the move

Weary travellers camp in the 'jungle' at Calais where NGO's and the grassroots Calais Migrant Solidarity try to help meet people's basic needs. Practical support including English language classes are welcome along with light relief - a visit from a cricket team recently broke the boredom. Could your group take a solidarity trip or send materials such as tents, blankets and bikes?

At detention centres

Applying for asylum in the UK is an intimidating process and the threat of detention looms at all times. Earlier this year detainees went on hunger strike and protested against being treated like animals. Noisy demonstrations from the outside at least send a message that they haven't been forgotten by all and in June this year protesters breached the fence at Yarls Wood women's detention centre. Surround Harmondsworth, the biggest detention centre in Europe on 11 July and Yarls Wood on Saturday 8 August.

Anti raids

Immigration officers in London conducted 33 raids per day in 2014 on homes and businesses to make arrests and gather intelligence. The Anti Raids network encourages people to organise resistance in their local area, they publish multilingual information on knowing your rights, and write:

'We have a vision. A city – a country, a world – with zero tolerance for attacks and harassment by cops, home office "enforcers", or private security. Where if the uniformed bullies turn up to smash someone's door in, barge their way into a workplace, or stop people in the street, they get surrounded by neighbours and passers-by who know the score and won't take their bullshit.'

Earlier this month residents in Pekham sent two immigration enforcement vehicles away.

Against vouchers

After a successful campaign in 2002 by refugee welfare groups and unions the impractical and unfair voucher system was scrapped, but unfortunately by 2006 the system was reinstated. So today asylum seekers are given £35 per week in vouchers to spend at certain supermarkets only. No change is given from the vouchers which leaves people without cash to use public transport, launderettes, pay phones or local independent shops, for instance. It makes life particularly difficult and forces people to spend time walking long distances to supermarkets. This is just one area where a campaign victory could make a big difference, another is the reinstatement of legal aid - recent cuts here mean that most migrants are left without legal advice.

Housing

Contact your local housing support network if you could offer a temporary spare bed for someone living in destitution, such as the Bristol Hospitality Network or the Cardiff Destitution Network. Or there could be a shelter near you looking for volunteers.

The Black Liberation Collective is the group's working title, see the Facebook page here. Amongst other things they are currently producing videos to show the reality of life for migrants in the UK and exploring the possibility of launching a rescue boat mission.

Reclaim the Power's mass action camp took place in the shadow of Didcot power station from the 29 May to 2 June 2015. The weekend involved training and workshops and a day of action against the fossil fuel industry.
---
2 June 2015:

Back for a third year, organisers of The Spark space give a taster of what can be expected at this year's London-based social justice festival.


The Spark is a week of free workshops, discussion, films, poetry, music and more taking place between 20th - 26th July 2015.

What's on?

The Spark will host over 70 workshops on a huge range of topics. Here's a few tasters:

· What is "Social justice" anyway?

· The journey of food: audio, textural and sensual experience of the story of food and seed from Africa and the Caribbean to the UK/Europe.

· Introduction to basic economics for social justice

· The ability in disability: questioning the idea of being healthy and being well

· Start your own band" DIY or Die: How to Start a Punk Band and Make Change

· Tell Me Your Story: make your own autobiographical zine

· Palestine 101

· Stop and Search training for young people" Y-Stop Stop and Search Training for Young People

· How to make a podcast: get your ideas across on the radio or online

· Equality and being inclusive and accessible: how to organise accessible events

… and 60 more!

The event strikes a balance between practical and creative workshops, with sessions that focus on sharing understandings, theories and information.

Find out more

What's the ethos?

The Spark aims to bring together people from all walks of life who are struggling for social justice but might not normally meet each other. It's a space to make new friends, share skills and understandings, and get involved more deeply with the struggle for social justice.

We know there isn't one formula for what 'activism' is. At the Spark you'll encounter a wide range of social justice work, including art, music, youth work, community organizing, peer education, direct action, workplace organizing and much more!

One of the organizing group, who came to the event as a participant last year commented

"Without a doubt it was the most significant event of the last 12 months for me. If not for the workshops one should attend the Spark for the opportunity to engage with a space which will attract many interesting, passionate, switched on people."

How do we organise?

A group of 10-15 people meet regularly to organise The Spark, including everything from the venue, to the food, to the massive task of choosing and timetabling over 70 sessions for the week.

The idea of the event is an ambitious one, it's a lot of work, but we're excited about organizing a space to connect and empower people through learning, connection and expression.

See you there!!

P.s….Help needed!

We need help during the week with tasks like running the reception desk and making food, if you're interested in helping out please get in touch.
---
17 May 2015:

Jacqueline Robbins, a student at King's, has launched a campaign against the pay gap at the college

I am a PhD student working with human stem cells to try and understand what happens to our brains in Alzheimer's disease. I love researching this – but I can't help thinking that a career in academia would be hugely demoralising, knowing that I would be paid up to 20% less than men in the same field.

The gender pay gap figures published in Times Higher Education really shoved in our faces the profound gender inequality in academia. Among the worst was my university, King's College London, where women academics are paid £46,030 on average while men are paid £56,301 – a 19% difference. That's a bigger pay gap than what the 'Made in Dagenham' women encountered at Ford in the 1960s.

This realisation forced us to wake up to the fact that we need to change this, so we've launched a campaign to end the gender pay gap at King's. The University of London was the first in the UK to admit women, and it is imperative that it now leads the way with fair pay.

With the tireless work and legal battles of feminists in the 20th century, I find it hard to understand why we still have to argue this case. Uta Frith, Professor of Cognitive Neuroscience at UCL, points out that 'Working towards gender equality in academia is pointless without the commitment to pay equality.' For aspiring academics such as myself the current situation sends a discouraging message that research and teaching done by women is not valued as much as if performed by men. Moreover, at the current rate the pay gap will not be closed during my career, as The Fawcett Society, the leading charity for women's rights in the UK estimates it will take 52 years. In addition to the moral imperative of reducing gender pay gaps, it is increasingly recognised that there are significant macroeconomic gains [pdf] to be had from reducing such disparities.

Khalida Ismail, Professor of Psychiatry and Medicine at King's, points out that 'Female academics have more onerous job plans and workloads (perhaps to prove themselves) and get paid less.' I have heard from women academics at King's that they had assumed they were not performing as well as the men in equivalent positions, which is upsetting to hear from the fantastic women role models I have here.

The lack of transparency when it comes to pay in the UK is a huge part of the issue, and countries that enforce transparency such as Sweden, Denmark and Belgium report smaller pay gaps. We are petitioning King's to make publicly available the results of a pay review conducted two years ago, including salaries related to both gender and ethnicity. This transparency is needed to help ensure that pay is not affected by one's gender or the colour of our skin, and that employees have the power to challenge this if they find that it is.

Progressive work is being done by the Athena SWAN committee at King's, an initiative in UK universities to advance gender equality, updated this month to recognise intersectional factors and include trans staff. However, more needs to be done to ensure things improve in areas such as pay equality. One simple measure is equal representation amongst selection committees and those involved in salary negotiations. Athena SWAN certification is now needed to attract major research grants, so it is important to ensure that boxes are not just ticked to secure research funding and that permanent change is actually the driving factor.

We want information in the pay review to go beyond gender as although I'm upset about this situation in regards to how it affects me personally, it is a fundamental issue of equality and people of colour and transgender people are worse affected by unequal pay. Throughout this campaign we've worked closely with the inspiring intersectional feminist student group at King's to ensure our campaign is as inclusive as possible. Our aim is to bring about positive change on fair pay across a diverse spectrum of people.

So please sign our petition or better yet, set up a campaign at your university or workplace.
---