15 July 2014:

The South East Alliance (an offshoot of the Essex branch of the English Defence League) is a sad bunch of specimens labouring under the delusion that they are part of a master race.


These idiots include Hitler-worshippers and have links to Ulster Loyalist groups. They have declared their intention to march to 113 Cricklewood Broadway, which they claim is the UK headquarters of the Muslim Brotherhood (nb. it isn't) this Saturday, July 19.

North West London United is asking everyone who is opposed to SEA's message of hate to join in a peaceful demonstration this Saturday at 12noon on Cricklewood Broadway.

A spokesperson for North West London United said:

"Cricklewood is one of the most multicultural areas in the UK and we are proud of our diversity. The intention of this fascist group is to provoke hatred and division, something that has no place in our community. A big presence of local residents to oppose the fascist march on Saturday will send a clear signal that their violent racism is not welcome here."

Follow the campaign on Twitter at @NWLondonUnited
---
15 July 2014:

The fictional scenario of fracking in Regent's Park demonstrates how companies are set to gain from policy that offers them a 'licence to trash'.



In theory, 'biodiversity offsetting' involves measuring the habitat that is likely to be affected by a proposed development, then calculating the financial compensation necessary to replicate the habitat at a new location.

In reality, as this mockumentary shows, it's a license that can make bad developers' dreams a reality.

Across the world offsets already justify the destruction of irreplaceable ecosystems to make way for mining projects, motorways and pipelines.

Now Europe is the new frontier; currently the European Union is considering new legislation that permits biodiversity offsets.

Tell the EU that nature is not for sale by responding to their public consultation before 17 October 2014 and sign this mass letter to the EU at naturenotforsale.org/letter2EU
---
11 July 2014:

John Millington reports on the July 10 strike

As Birmingham basked in hot sunshine, the burning issues of a national 1 percent public pay cap, the rolling out of controversial free schools and plans to make firefighters work up to 60 took centre stage outside the city's town hall yesterday.

Like the other 1.5 million workers out on strike across the country, they wanted to send a clear message of defiance. 2,000 demonstrators joined in with music, chanting and cheering as union leaders and workers laid bare the reality being faced by them and their families if things don't change.

"I am worried because I am going to have to cut back the amount of hours I have my heating on this winter," said Sally Maybury – a low paid worker in benefit services. Ironically she revealed she claims in-work benefits herself, just to pay all her bills and feed her family. "How many people here," she asked the crowd to huge cheers, "would like to be on £26,000, the national pay average?"

The life and death nature of the dispute was underlined by firefighter Dave Pitt, who took to the stage revealing the dangers posed to firefighters and the public if government plans to make them work till they are 60 are not opposed. "Government pension changes will see firefighters in their late 50s and early 60s attempting to rescue people from house fires, road traffic collisions and potential terrorist incidents. This is dangerous for the public and for firefighters," he said.

A recent academic report on firefighter fitness by the University of Bath undermined the government's proposals, arguing that higher fitness levels are required for firefighting than those suggested by the government to defend the idea of working until 60. The FBU is worried the cynical proposals will lead to the sacking of firefighters before they can claim their pension. Pitt added: "That is a shocking way to treat men and women who risk their lives day in day out."

What is clear from the show of strength was the varied reasons people were on strike: those who are politically opposed to the government, militant activists and those who simply feel they have run out of options. But with the looming possibility of increased ballot voting thresholds and shorter time frames for them to be legitimate, PCS assistant general secretary Chris Baugh believes the time has come for increased and wider coordinated action.

"There is now a momentum building up in local government, in the fire and health service, to put pressure on this government in the build up to the general election," he said. "We're fighting not just for our terms and conditions but we're fighting for quality public services, something which represents the fabric of our society. All of what we are doing is geared to getting a negotiated settlement."

The next nine months will be critical to see who holds the balance of power in the dispute. Prime minister David Cameron has said the next Tory manifesto will see a tightening of the anti-trade union laws, while the leaders of the country's biggest unions promise escalation of industrial action in the private sector in coordination with the public sector workers. With both sides refusing to budge, industrial peace in Britain looks a long way off.

First published at The Industrial Reporter
---
5 July 2014:

Behind closed doors, the EU and US are drawing up a new trade deal called the Transatlantic Trade and Investment Partnership trade deal (TTIP) that must be stopped.



If agreed, TTIP would extend the power of big business over our society to unprecedented levels. It would grant corporations the power to sue governments for making laws that 'damage' their profits, threatening to make the privatisation of our public services, like the NHS and education irreversible.

This deal is also about undoing hard-won regulation that protects workers' rights, the environment and our health. Harmful industries like fracking would be given an easier ride and banks and financial institutions would gain even more power. Meanwhile, food safety standards would be undermined and pay and conditions at work could decline.

Trade deals like this have been beaten before. From 1999 until 2013 the World Trade Organisation was unable to sign a global agreement and protests held up attempts to embed the extension of corporate power into an international treaty. Today a coalition of groups are calling for a new global resistance movement. Read more about the trouble with TTIP. 

Join the day of action on 12 July #NoTTIP

Just some of the events planned so far:

Edinburgh robot dance-off

Brighton 'boxing match'

York: 'fat cats' and their 'puppets'

Cambridge People's Assembly action

Central London action

Derby action

Manchester action

Nottingham action

Sheffield action

Full events listing here.
---
5 July 2014:

The charity tries not to be 'political' – but it is embracing a highly ideological privatisation initiative, writes Mike Marqusee

In a letter in today's Guardian, the Chief Executive of Macmillan Cancer Support defends the organisation's leading role in the proposed privatisation of NHS cancer services in Staffordshire and Stoke-on Trent.

As a cancer patient, I know Macmillan makes all kinds of wonderful contributions, but this initiative raises the most serious questions about its approach.

The biggest threat to cancer patients in England is the attritional break-up of the NHS. In that context, the comprehensive privatisation of cancer services across a region is an alarming step in the wrong direction.

Charities like Macmillan are reluctant for a number of reasons to engage in politics, and that has blunted their ability to represent and fight for the interests of those they're supposed to serve. But here we see Macmillan wholeheartedly embracing a highly political initiative, closely identified with a particular ideology.

It's about more than naivete. Macmillan have taken this plunge partly because of the way they tend to define cancer support: as a managerial issue to be resolved without reference to political or economic policy. But it's a classic lesson in how politics comes back to bite when you think you've left it behind.

Macmillan claims that the new programme will offer "an integrated approach": "By appointing one organisation to take responsibility for managing the whole cancer care journey, we can demand truly seamless care."

But this integrated, seamless care is what the NHS itself already provides, without assistance from the private sector, as I know from my experience at Barts and the Royal London. And where it fails to do that, as it sometimes does (and did in Staffs), there's not a whit of evidence to suggest that private capital and its managerial prerogatives have anything to add to the solution. What we're seeing, not for the first time, is a weakness in public provision being exploited to rush through a self-interested corporate privatisation with long term damaging impact.

Previous experience of health care privatisation suggests strongly that this latest scheme will increase costs, create new inefficiencies and undermine coordination. Given the recent history of NHS contracts with large corporations, Macmillan's sweeping assertion that whoever wins the contract "will be subject to rigorous oversight and scrutiny for quality, patient safety and outcomes" is mere wishful thinking, and in the context, irresponsible. They owe the cancer patients they serve much better than this kind of complacency.

For the private healthcare industry, the Staffordshire contract is just the beginning of a potential gold rush. The numbers of people living with cancer are expected to increase massively in coming years: from about two million in Britain today to four million in less than twenty years time. Cancer care, in all its many forms, is an irresistible opportunity for private capital, a growing market that promises vast profits in an austerity-shaped future where individual patients can no longer rely on the support of collective provision like the NHS.

Mike Marqusee is the author of 'The Price of Experience: Writings on Living with Cancer' (OR Books)
---
3 July 2014:

House of Commons, Wednesday 9 July, 7pm

Ukraine is suffering from war and a deep social crisis that has implications for all of Europe. Many are asking what has happened in Ukraine. What is the role of Russia and the West? How should we respond? This forum is a unique opportunity to hear an alternative, first hand analysis from leading socialists and trade unionists from Ukraine and Russia.

- Nina Poltarskaya, of the Left Opposition. Director of the Centre for Social and Labour Research, Socialist candidate in the recent Kyiv elections.

- Kirill Buketov of the Praxis Centre Moscow and the Global Labour Institute.

Committee Room 10, via the main St Stephen's Entrance, House of Commons, London.

Hosted by John McDonnell MP.


---
3 July 2014:

And other online reads recommended by feminist blogger Emma Frankel-Thorin.
(picture from Dazed tribute)

Elliot Rodger and the price of  toxic masculinity - We need to talk about the men who hate women, we need to talk about toxic masculinity.

Not all men - This is a great piece about people who continuously derail the conversation by saying 'not all men'. Society must take a shared responsibility to end violence against women.

Domestic violence and the difference between attacks on women and attacks on men - I watched this viral advert recently and thought that they had probably presented the figures somewhat dishonestly. It turns out they had. This is a good response.

A comic about people's worst fears

Tribute to Maya Angelou, a phenomenal woman - I was deeply saddened by Dr Maya Angelou's passing.

How my Korean mother gave me the courage to transition - The loving support this mother gave her daughter brought tears to my eyes.

Senior Met advisor says rape has been 'decriminalised' - Vulnerable women 'face almost unsurmountable obstacles to justice'.

An open letter - Please stop playing 'devil's advocate'.

They're not really sex chromosomes - A little bit of misinformation is a dangerous thing and can feed into bigoted ideas. This is an important piece on what we've come to learn about chromosomes.

Jacob Tobia: Why I'm genderqueer, professional and unafraid - This person is just amazing!

Black feminists: the social context of micro aggressions - If you don't understand what people mean by 'micro aggressions' this is a great piece.



Emma blogs at: www.emmaquitefrankly.blogspot.co.uk and Tweets: @ExtraFT
---
3 July 2014:

Disabled People Against Cuts to host tea party in London this Friday to protest against the closure of the Independent Living Fund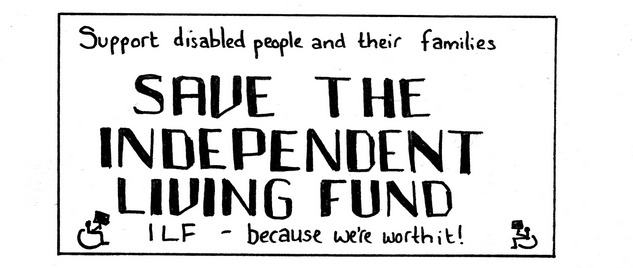 In response to the Coalition government's decision to close the Independent Living Fund (ILF)—which provides support for more than 18,000 disabled people—Disabled People Against Cuts (DPAC) are hosting an 'Independent Living Tea Party ' in celebration of Independent Living Day. The party will begin at 2pm at DWP, Caxton House on Tothill Street (SW1), and DPAC are inviting you to join them in an afternoon of fun, games, entertainment and of course, some civil disobedience.

The announcement of tomorrow's event follows an attempt by DPAC, UK Uncut and and Occupy London to set up an occupy camp in the grounds of Westminster that was prevented by an extensive police presence and what DPAC have called 'a total lack of respect and support bordering on cowardice by the Church of England'.

DPAC is also encouraging people to host their own party and create the kind of energetic, positive and welcoming spaces they have long been associated with. For those planning their own party DPAC has offered the following suggestions:

"1) Choose your target: Focus on the important issues locally; support, education, transport etc – it's up to you. Identify what you want to celebrate and who represents the biggest threat to that locally. Is it your local council or Uni? Is it a transport provider? Or is it someone else?

2) Tell everyone : yes, everyone. Media, campaign networks, activists, local people. DON'T FORGET TO TELL DPAC so we can list and support your action!

3) Be heard, be seen: make your event loud and proud. Bring music, choirs, drum, bells, whistles. Remind everyone out there that we won't be separated from society, we are society. We won't go quietly."

DPAC are also holding a Twitter Party with the hashtag #IL4JULY so that people at the DWP and at other events round the country can tweet in pictures of their events and join in the celebration and protest.

For more information on the Independent Living Day tea party visit DPAC's website, or on twitter: @Dis_PPL_Protest
---
29 June 2014:

Join us for an evening of discussion at the London book launch of Mike Marqusee's latest book 'The Price of Experience: Writings on Living with Cancer', Wednesday 2 July.

Book Launch: Wednesday 2 July, 7-9pm, Housmans Bookshop, 5 Caledonian Rd, London N1 9DX


Mike Marqusee is an American-born writer, journalist and political activist who has lived in Britain since 1971. He is the author of numerous books including If I Am Not for Myself: Journey of an Anti-Zionist Jew, Wicked Messenger: Bob Dylan and the Sixties, Redemption Song: Muhammad Ali and the Spirit of the Sixties, a novel, Slow Turn, and a collection of poetry, Street Music. Mike also writes a regular column for Red Pepper, 'Contending for the Living'.

Mike's latest book explores the personal, social and political dimensions of living with cancer, an illness that will affect one in three people in the course of their lives.

At this event Mike will speak on the politics of cancer in the age of austerity, and will be joined by Wendy Savage of Keep our NHS Public.

There will be time for questions, comments and discussion on the issues raised by the book. Refreshments will be available at the event.

***£3 entrance, redeemable against any purchase***

***Copies of the book will be available to buy at the event***

"Eloquently written, passionate, sad, joyous, and above all politically engaged, this book is an epiphany. It shows us how health and disease are socially made, and how disease priorities are set in societies by larger economic and political forces. And that we as people will collectively have to claim our futures... It is compulsory reading." — Mohan Rao, professor of public medicine, Jawaharlal Nehru University, Delhi

"A wonderfully written book combining the politics of health with the experience of having cancer" — Dr. Jenny Edge

Mike's writing has featured in Red Pepper for many years. For a taster of the book, take a look at this article from 2009 on The politics of cancer  from 2009, that reads as powerfully as ever today and is featured in the book under the title A conscript in the 'War on Cancer'.

Red Pepper is delighted to be sponsoring this event, alongside OR Books and Keep Our NHS Public.
---
23 June 2014:

Join us at the House of Commons, Thursday 26 June


Event this Thursday, 26 June 2014  7pm-8:30 pm in Committee Room 14, House Of Commons, London, SW1A 0AA.

One of the most important events for Britain will be taking place in September: the Scots will be able to vote for independence. Yet public discussion in England has been set by political parties arguing that independence is a reactionary and retrogressive step. Red Pepper and openDemocracy are bringing Scottish independence campaigners to the heart of the establishment, Westminster parliament, to hear their case and determination to vote Yes.

Book your place for a discussion with:

Cat Boyd, Radical Independence Campaign

Pete Ramand, co-author of Yes: The Radical Case for Scottish Indpendence

Robin McAlpine, Jimmy Reid Foundation David Greig, playwright

Joyce McMillan, theatre critic

Neal Ascherson, writer

This is an opportunity to understand the importance for a whole section of the Scottish people of seizing the opportunity to establish a different state. The opposition sets a negative tone: you'll lose the pound, there will be no oil, you'll be pushed out of the EU, you will be defenceless... But what we in London have not had is any flavour of the passion and determination increasingly heard in the fervour of discussion now sweeping through Scotland.

The voices in the Yes campaign are wider and larger and more dynamic than just the SNP. Writers, dramatists, poets and artists as well as many ordinary folk are talking about their relationship to Scotland as it has developed and been expressed in the last 20 years.

A Scottish independence vote also has implications for England, and they could be liberating, opening up a dynamic to weaken the most reactionary centres of power - from the dominance of London itself, to the Treasury and the City, the monarchy and the media oligarchs.

All this is why Red Pepper and openDemocracy have organised a meeting with speakers from Scotland talking about their determination to vote Yes.

Please arrive from 6:30pm for a prompt 7pm start, and allow plenty of time to get through security at the House of Commons. Book your place.

The event is free, but please do make a donation via the ticket option above if possible, however small, so that we can cover the costs of organising this meeting including train travel from Scotland and overnight accommodation for the speakers
---