19 May 2016:

A gathering of health workers on 22 May is an important initiative, writes Neil Faulkner

The political and corporate elite is privatising the NHS. They are doing this to enrich the 1 per cent, by stealth, behind the backs of the people, without any democratic authority.

Despite countless exposés, meetings, and protests over the last 25 years, the demolition of the NHS in England has not been halted. Begun in 1991 with the introduction of an 'internal market', it has continued ever since under the Major, Blair, Brown, and Cameron governments.

It is now at a critical stage, and either we act collectively to save the NHS, or we move to a US-style system of private provision and personal insurance – an expensive and wasteful system geared to profit, rather than an egalitarian and cost-efficient one geared to need.

NHS Solidarity is an initiative of rank and file health workers – junior doctors, nurses, and students. The aim is to launch a mass campaign of disruption and direct action to expose, block, and reverse NHS privatisation. This is necessary and legitimate because 85 per cent of the people are opposed to NHS privatisation and all other methods to prevent it have failed.

And time is now running out. Forty-four Sustainability and Transformation Plan 'footprints' from health authorities across the country are due for submission to NHS England in June. For 'sustainability', read 'cuts'. For 'transformation', read 'privatisation'. And Simon Stevens, the Privatiser-in-Chief who heads up NHS England, has made it absolutely clear that authorities that fail to get approval for their plans will lose funding.

This is the fast-forwarding of the sell-off. The lying and deceit, the contempt for democracy, the absence of any accountability, the arrogance of the political and corporate elite in relation to the NHS is staggering. So I would urge everyone to get down to the meeting called by the junior doctors and nurses at 1pm this Sunday. This is not just another meeting on the unfolding scandal of NHS privatisation. The aim is to launch a mass protest movement on the streets to confront the state and the corporations head-on. Hope to see you there.

Sunday 22 May, at The Bussey Building/CLF Art Cafe, 133 Rye Lane, London SE15 4ST. Facebook event.
---
19 May 2016:

Behind the junior doctors' strikes is a battle to save the NHS from creeping privatisation. Organiser Kevin Allard reports on efforts to escalate and broaden the action.
"We took the political struggle over the future of the NHS from the hospital gates into the city centres, targeting the companies directly profiting from the NHS sell-off", said one participant in a day of action called Picket the Profiteers.

While the junior doctors were on strike on 26 April, eleven additional actions included an early morning blockade of a Virgin Care office and the picketing (and attempted storming) of a conference of CEOs of companies in London, plus flying pickets in other towns and cities across the UK which shut down Boots and Virgin stores.



For those watching the mainstream media coverage of the junior doctors' strikes and the ongoing negotiations it may come as a surprise that the causes for industrial action go way beyond the issue of wages and working conditions alone. But if the working conditions of NHS staff are diminished the sector becomes more attractive to businesses aiming to make inroads into healthcare provision.

 Junior doctors have been very clear about the impact these changes would have on the care ultimately delivered. By stretching them thinner, it is more likely that Jeremy Hunt can claim the NHS is failing and use this to make a case for opening more of it up to private firms.

The private sector is already estimated to deliver 18% of elective surgery (non-urgent surgery) and this is a market that private healthcare companies are increasingly poised to dominate, if more changes in the NHS are implemented.



Escalate and socialise the strikes

While the strikes have been greeted with massive support from the junior doctors themselves (98% of those balloted voted in favour) and the wider public, the government don't seem too inclined to listen.

Although the strength of political arguments is important for attracting the support of the wider public and mobilising one's own supporters, other forms of power are also needed to build the political leverage needed for victory. Caught within the confines of restrictive trade union laws, and the political challenges common to all care work – how to fight for better wages and conditions whilst looking after those in one's care – the BMA will find it a challenge to escalate this dispute.

Picket the Profiteers allows those not directly involved in the dispute to show their solidarity, and further expand the struggle over the future direction of the NHS. By bringing this tactic - UK Uncut style decentralised action against private companies – into an existing industrial dispute we are attempting to further socialise this strike: bringing more people into the struggle and expanding its leverage in ways which the BMA can't themselves.

We recognise that simply halting this wave of privatisation is not enough. We know that our vision for healthcare in the UK can't be based on retuning to a mythical 'golden age' but needs to be grounded in critiques of the present state of healthcare currently being developed by workers and patients. So we wrote a series of demands which we hope will spark discussion and debate to help provide some orientation for the movement which is building around the NHS struggle.

Our mixture of short and long term demands includes the resignation of Jeremy Hunt and the ongoing development of a free, universal and democratic healthcare system.

How was the #PicketProfiteers action received?

The public, in general, were very supportive of our pickets and generally 'got' the connections we were trying to make between the doctors' strike and a wider political perspective against privatisation and for community control of our common institutions.

The doctors that we spoke to, or organised with, were mainly on board – some expressing thanks that we were taking action they were legally forbidden to take. However, of course, on the day a small minority complained about #picketprofiteers being 'overly-political' by trying to broaden the discussion beyond wages, whilst for others direct action was a step too far.

Alongside my own organisation – Plan C – who called this action, groups such as Solidarity Federation, the Industrial Workers of the World, Disabled People Against the Cuts, and other groups of experienced organisers provided the logistical backbone and mobilising power to make the day a success. As time progresses we aim to build stronger alliances across the left whilst making the case for those not currently involved in political organising to hit the streets.

All our actions had some level of success and, potentially more importantly, our strategy has spread beyond the initial groups involved. We are excited to hear of discussions and plans being formed in other cities since. While this form of action will at some point lose its effectiveness, at the moment Picket the Profiteers is asking important questions about what is needed to win both the Junior Doctors Strike and to not only resist the current round of austerity programmes but, eventually, to get onto the offensive. If you wish to participate please get in touch.

Kevin is a member of Plan C and was actively involved in organising the Picket Profiteers action.
---
13 May 2016:

John Millington writes on how blacklisted workers won – and where the campaign is going next

The victory this week for blacklisted workers in the High Court marks a significant step forward in the fight for justice. Unite the union announced it had reached a settlement with construction companies that will see 256 workers receive more than £10 million between them in compensation, for the years of not being able to find work in the industry they were trained.

The GMB union, which reached a similar settlement last month, said the total value of compensation in the case was around £75 million for 771 claimants, with legal costs on both sides estimated at £25 million. Aside from the substantial settlements workers will receive, the construction companies responsible were forced into a humiliating apology in court.

The lawyer for the companies said: 'The defendants are here today to offer, through me, their sincere and unreserved apologies to the claimants for any damage caused. The defendants apologise as providers of any information and for the loss of employment suffered as a result of communication of information during the operation of the Consulting Association. They also apologise for the anxiety and hurt to feelings caused as a result.'

There has been significant scepticism voiced by the Blacklist Support Group, which has been instrumental in achieving this result, as to the sincerity of the apology. After all, these are companies who used information obtained on files kept by the Consulting Association to target workers, sometimes for legal trade union and political activity. But many of those blacklisted were not 'militant trades unionists'.

In some cases workers suffered 20 years of being unable to get a job, lost houses, saw their families torn apart and have suffered mental health conditions as a result.

Rank and file resistance

The Consulting Association was raided and closed down in 2009. But this has not stopped companies working together in the construction industry to undermine workers' terms and conditions. When I worked for the Morning Star in early 2011, I was the one of the first national daily newspaper journalists to report major construction companies' plot to reduce electricians' ('sparks') pay by up to 35 percent.

This led to a wave of rank and file trade union resistance not seen in decades. Unofficial action, site occupations and demonstrations would take place weekly for months on end. I met workers who had suffered blacklisting and were key to providing sparks employed in the industry much needed support as this industrial conflict escalated.

The campaign began with demonstrations outside building sites on the Crossrail project and soon workers were outside the glitzy hotels, interrupting dinners for industry CEOs. By the end, Unite had called a ballot and was launching huge demonstrations in London and unofficial walkouts took place at several sites across the country.

The anti-trade union laws were successfully broken several times and I witnessed industrial workers show great resolve and cool heads under intense pressure from the police when they were kettled and threatened with arrest.

My overriding memory of the dispute was when I covered an early morning demo and site occupation in London. I went to the site manager who had just arrived at 8.45 to start his shift. I asked what he thought about the accusation that employers were planning to dock pay by up to 35 percent. His response was astonishing: 'If it was up to me, I would pay them one pound an hour,' he said in a rage. I confirmed that he wanted quoting on that and he agreed before scurrying off.

This attitude is not just something unique to that individual manager but represents that basic contradiction between worker and employer – the fact that the boss is trying to get as much labour for the least amount of money out of the worker. In contrast, the worker is trying to get more money and better conditions for the work they do. 

With the technological advances society has made in the last seven years and attitude that profit trumps the need to pay people properly, the possibility of further blacklisting of people at work must be investigated.

As the Blacklist Support Group said on the evening of their outstanding victory: '[We] demand a full public inquiry to fully expose the blacklisting human rights conspiracy and the collusion between big business and the shadowy anti-democratic elements within the police. We are hardworking men and women used to getting our hands dirty. We are not giving up until the job is completed.'
---
13 May 2016:

Kelvin Mason reports from Reclaim the Power's camp against opencast mining in Wales, looking at its organisation and future actions
Protesters throw inflatable 'cobblestones' into the air. Photos: Reclaim the Power

'End Coal Now', the Reclaim the Power occupation and camp at an opencast coal mine in Wales last week, was a resounding success. As it kicked off the Groundswell year of action for climate justice, understanding exactly how the Reclaim the Power action resounded is vital to the climate justice movement.

In Wales, more than three hundred people dressed in red boiler suits drew a line across the coal mine to symbolise that carbon emissions are exceeding viable limits for future life on Earth. The line included a fire-breathing Welsh dragon and the inflatable cobblestones that have become synonymous with climate action since protests at the COP21 climate summit in Paris last year. Singing, dancing and playing football, occupiers non-violently closed the mine for twelve hours.

Media coverage of the action exceeded Reclaim the Power's expectations. It was the lead item on TV news in Wales for three days straight and featured in the Guardian, Western Mail, the Times and even the Daily Mail. And all this just two days before Welsh Assembly elections, coverage of which typically focuses on the same old places, people and issues.

Opencast mining and coal-fired power

The four-day camp took place adjacent to the notorious Ffos-y-Frân opencast mine near Merthyr Tydfil. The 11 million tonne coal mine has a devastating environmental impact both locally and globally. Dust, noise and visual pollution has generated opposition to the mine in the local community since 2004. Developers Miller Argent have monstrously reshaped the landscape, creating mountains of filthy over-burden along with a hole in the ground the size of 400 football pitches. This in an area that is otherwise reinventing itself as a centre for tourism and clean industry. In terms of climate change, were it to continue to mine until 2025 as proposed, the coal produced from Ffos-y-Frân would result in the emission of a sickening 25 million tonnes of carbon dioxide.

Around 95 per cent of the coal from Ffos-y-Frân goes to the 1,555 megawatt Aberthaw power station. In January this year Aberthaw received a public subsidy of £27 million pounds to continue operation. However, the power station is the subject of a case before the European Court of Justice because it emits more than twice the legal limit of harmful nitrogen oxides. As a result, in late April, Aberthaw was forced to announce that it was downgrading its operations. From now on it will only generate electricity at times of peak demand, and even then will source cleaner coal than Ffos-y-Frân can produce.

Despite this seeming death blow, the developers of Ffos-y-Frân are seeking planning permission for another opencast mine. Right next door to Ffos-y-Frân, Nant Llesg would produce 6 million tonnes of coal and so be responsible for around 13.6 million tonnes of carbon dioxide.

Groundswell

Groundswell is a call to escalate climate justice actions. Across the world actions are planned on every front, from fossil fuels through border controls and the arms industry to financial markets. Groundswell aims to help groups taking action to form links and support each other.

Following the End Coal action, the next big one re-kindling the fire in the eyes of climate activists across Europe is Ende Gelände, roughly translated as 'here and no further'. In 2015 a lignite mine in the Rhineland was occupied and shut down by fifteen hundred people. From 13 to 16 May this year the target will be a coal mine in Lusatia owned by Vattenfall. Reclaim the Power activists will be heading for Germany together in minibuses, via public transport and on bicycles to be part of Ende Gelände.

A Reclaim the Power spokesperson said, 'Thousands are expected to join the Ende Gelände mass action. If Czech state company ČEZ buys these coal fields from Vattenfall, they're also buying massive resistance from the climate justice movement. We are the investment risk!'


Blockading the coal depot.

Impressive organisation

The Reclaim the Power camp was a hugely impressive feat of organisation. For four days on a bitterly cold hill-top three hundred people made use of marquees and geodesic domes for meetings and workshops, enjoyed gourmet vegan food, generated all the energy they needed with a small wind turbine and an array of photovoltaic panels, and made use of virtually odourless compost toilets.

Consensus decision-making

The Reclaim the Power network organises horizontally and participatory democratic process is key to its success. That highly disciplined process features exercising care and respect for others, making certain all voices are heard. At its heart is consensus decision-making which, though sometimes time-consuming, invests the network with its solidarity and collective resolve. Though the process is well-known in social movements from anti-G8 mobilisations to the Camp for Climate Action, it is still poorly understood and ill-appreciated by more traditional political organisers.

Local common cause

Reclaim the Power did well to find ready common cause and form a coalition with the United Valleys Action Group (UVAG) which opposes opencast mining across south Wales, particularly Ffos-y-Frân and Nant Llesg. Indeed, this coalition resulted in RtP formulating its action consensus for the occupation to accommodate UVAG's concerns, including a commitment not to damage machinery. UVAG are acting against the mine on a number of fronts, including through the courts, and are wary of anything that might be used against them.

In response to an unfounded smear campaign that the End Coal camp had left rubbish behind, UVAG and Reclaim the Power organised a collective mass clean-up of the whole of Merthyr Common for later in the year. The Common is an infamous site for fly-tipping. Despite commitments to do so, Ffos-y-Frân developers have failed to clear it up.

Alyson Austin of UVAG said, 'Having Reclaim the Power here is such a boost to our morale. It's given us the fight to carry on. We feel now like there's light at the end of the tunnel and we can actually win this.'


The campers occupy coal trucks.

Timing and targeting

Although the timing of the action just a couple of days before Assembly elections helped get media coverage, it may have been too late to guarantee that open-cast mining and climate change were hot election issues. That they had already set out their stalls for the election may also help to explain why some NGOs and climate alliances in Wales did not lend Reclaim the Power their active support. By contrast, the Frack Free Wales network rallied round to be at the camp and take crucial parts in the action.

Plaid Cymru, the Liberal Democrats (now a singular in Wales) and the Green Party already had manifesto commitments to end coal and make the transition to renewable energy. The target for Reclaim the Power's efforts in Wales should always have been the environmental dinosaur of Welsh Labour. Reclaim the Power's red dragon should have gone straight for Welsh Labour's soft underbelly, now flabbily re-elected to government. The unions and the climate justice movement also need to come together. In Caerphilly last year, supporters of UVAG were heartbroken to be opposed by workers of the Unite union.

Despite Bethan Jenkins and Jill Evans of Plaid Cymru being active, long-term opponents of opencast mining, neither could make it to the camp because of hectic pre-set election campaign schedules. Only the Green Party found time to support the occupation. Natalie Bennett visited the camp together with Welsh Greens leader Alice Hooker-Stroud. Alice told the media: 'Fossil fuels must stay in the ground if we're to act responsibly on climate change. There is huge potential for renewables in Wales, creating a clean energy economy fit for the future.' Tragically, though, the Green Party did not win a single seat in the Assembly, while UKIP, who are committed to cut all Welsh government spending on climate change, won seven new seats.

National politics

Finally, Reclaim the Power did not have the time and resources to put into mobilising a mass movement in Wales. In 2009 Climate Camp Cymru (CCC), part of the Camp for Climate Action network, attracted more than 500 people to a camp at Ffos-y-Frân. Such a mobilisation was only made possible because CCC held gatherings all over Wales for a year in advance of the camp. When one activist this year encountered the red dragon, the most potent symbol of Wales, he asked 'Is it Chinese new year?' Social movements for climate justice mobilising globally need to engage with not only local issues and communities, but also regional and national cultures and politics.
---
12 May 2016:

Izzy Koksal reports on a campaign that shows how councils are using dirty tricks to deny housing help to people in need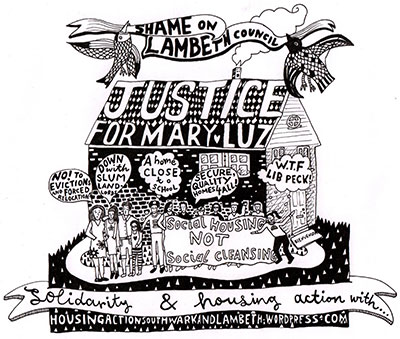 When Mary Luz first went to her local council's housing office for help, she, her husband and their two children were living in one, crowded bedroom, in a flat shared with several other families.

Legally, under the Housing Act, her family was homeless – the council had a duty to at least provide interim accommodation for them while their case was assessed. Yet Mary Luz was denied help from the housing office in Lambeth, south London, on that visit last May and on subsequent visits.

Mary Luz is one of an increasing number of people to come up against 'gatekeeping': the problem of housing offices and other services trying to avoid their legal duties by fobbing off people who walk through the door, inventing non-existent rules, deliberate misunderstandings and flimsy excuses.

Gatekeeping is a scandal in plain sight: homeless people, housing officers, lawyers and advisers have all know that it has become institutional. Last February, a High Court judge warned Southwark council 'to cease with immediate effect the policies and practices' that had resulted in homeless people being turned away without assistance.

According to Haringey Housing Action Group, one staff member – describing recent training he had received on assessing a person's vulnerability – said 'if it has a pulse, it's not vulnerable'. He added: 'If I referred everyone who presented as vulnerable to the homelessness team, I'd be out of my job within a day.'

By its nature, gatekeeping is not captured in the official homelessness statistics, as it keeps people 'off the books'. That means that the number of homeless people recorded – already at a seven-year high in England – is most definitely an underestimate.

Denied help

For Mary Luz this took the form of being passed around, from Lambeth to Westminster council (where an advice agency she had contacted is based) and back to Lambeth, who still refused to help. All the time, her and her family were forced to remain in their severely overcrowded, unsuitable housing. She also sought the help of local MP Kate Hoey, but instead of helping her, she says Hoey interrogated her about why she had come to Britain.

When Mary Luz next visited the Lambeth housing office, in December, it was with the support of Housing Action Southwark and Lambeth (HASL) and her English teacher from English for Action. The previous day, Mary Luz had been physically assaulted in the shared kitchen by someone from another household sharing the property. Had Lambeth council accepted their duty to the family when they first approached for housing help in May, this assault would never have happened. Mary Luz makes this point herself. At the housing office, staff again used gatekeeping tactics to avoid opening an application, first demanding evidence of the recent assault on Mary Luz and then claiming they did not have the staff to open an application that day.

'It has been very hard for me because they haven't helped like they should have,' explains Mary Luz. 'I have done everything I can, and my whole family have. Lambeth kept denying us help.'

After waiting the entire day, spending a night in an emergency hostel and coming back the next day – and a group visit from HASL in support of the family – interim housing was finally provided. However, like many homeless families in London, Mary Luz and her family were sent out of their home area, in their case to Lewisham.

Mary Luz, who has a visual impairment, now faces long, difficult journeys to visit her doctors and hospital, as well as a journey of up to two hours each way to take her children to school. 'It's my daughters who have suffered most,' says Mary Luz. 'It's made me feel really bad. I have only asked for my family to be safe and to have space.'

Demanding action

The family's campaign continues. A recent Twitter storm called on Lambeth council and its leader Lib Peck to provide #AnswersAndAction on their case, and a gathering of 30 people, including lots of kids on half term, joined Mary Luz and her family outside the council offices with colourful banners, chalking messages on the pavement and decorating a giant cardboard house.

Mary Luz's daughters had made their own signs: 'no more long journeys', 'I miss my after-school clubs' and 'new home, please'. Lambeth council are reviewing the case. Mary Luz is determined to continue to challenge the council until her family are brought home – and to highlight the growing problem of gatekeeping as part of the wider struggle to end homelessness.

Find out more about the problem of gatekeeping and join the campaign at the HASL website
---
10 May 2016:

Oil sponsorship is a way of running public institutions for the benefit of corporations, writes Jo Ram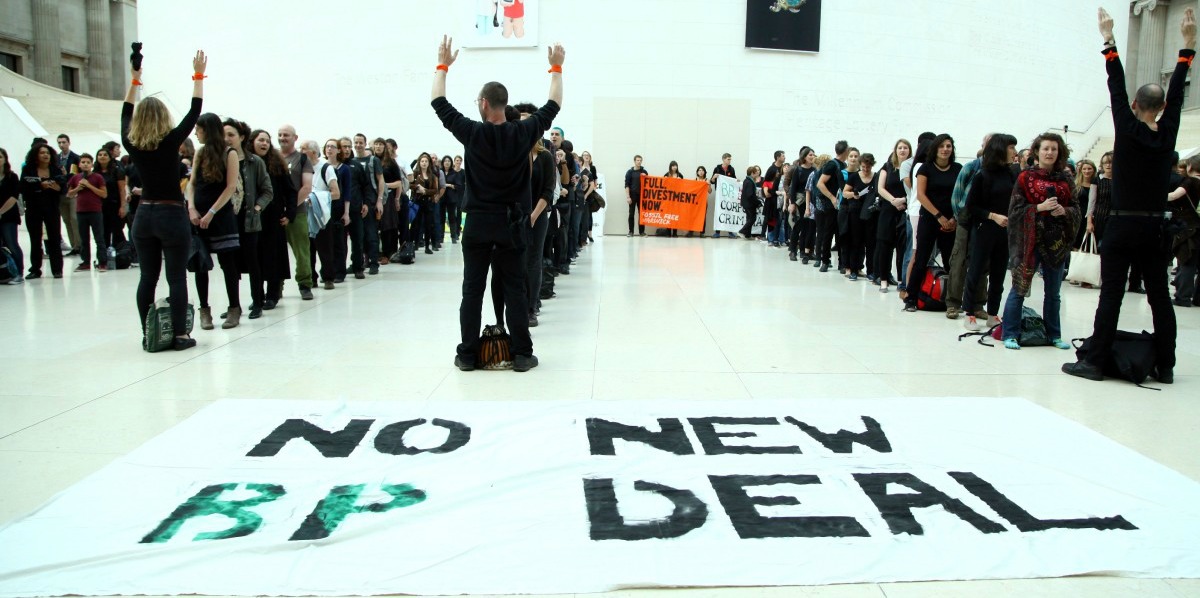 On 17 February 2014, the British Museum was offered to buy a painting by a group of Aboriginal women painters in Australia, for use in its Enduring Civilisation exhibition. A British Museum staff member then sent the following email to a counterpart at BP:

"We have heard back from the Spinifex women's painters ... We have been offered the opportunity to purchase one of their current works. The curator of the Australia exhibition is keen to move forward with this so we just wanted to make sure you had no objection to this?"

The BP respondent promptly replied, "That's fine - thanks".

Think on this a little while. The team curating the biggest show of Aboriginal Australian art ever to take place in London gets sign-off on a curatorial decision from an oil company who at that point, incidentally, is pushing through controversial plans to drill in the Great Australian Bight.

This story and others surfaced among internal emails released by the Art Not Oil coalition.

While it was announced recently that Tate's BP sponsorship would end in 2017, the British Museum, the National Portrait Gallery, and the Royal Opera House are all still BP-sponsored. The deals are currently under review as they are due to end within a year.

And this week, Tate goes to court to defend its secrecy over BP. We'll be watching the court case closely. Here is why.

Managing dissent

"Dear all – we have had an indication that there will be increased activist action around the BP arts & culture programme in 2015. The BP security team have requested a meeting to discuss the impending action, I'm hoping we can arrange this during the first two weeks of February. Can I please ask you to provide [name redacted] with your availability in February, the meeting should include a representative from your security team."

BP sent this email to its partner institutions on 15 January 2015. Managers from the British Museum, Tate, National Portrait Gallery and the Science Museum all gathered at BP's invitation to discuss 'suggested measures' for dealing with protest.

Marketing objectives

BP was able to actually instigate museum events for its business convenience, by offering extra cash. In this way, BP instigated the 'Days of the Dead Festival' in the British Museum in 2015, involving a VIP reception where members of the Mexican government mingled with BP staff. At just the right time for bidding on newly available oil leases in the Mexican portion of the Gulf of Mexico.

A British Museum employee told Art Not Oil on the condition of anonymity:

'The feeling from the majority of staff on events such as these is 'why are we doing this'? ... There is no doubt in anyone's mind that the project is due to the whim of a funder, ... we don't have a choice in the matter.'

Sponsorship is in effect a way of running public institutions for corporate benefit - a soft and creeping privatisation. BP can intervene in curation, BP can apparently even instigate museum events and programmes as and when suits it, and BP can shape the museums' response to criticism and inquiry.

Privatising information

All these revelations were possible through a long series of Freedom of Information (FOI) requests. But the more public institutions are run in commercial interest, the less they are answerable to FOI. 'Commercial interest' is being used to evade disclosure by Tate, British Museum, and others. This is what activist art group Platform are battling in the Information Tribunal against Tate.

Last time the dispute went to trial, Tate tried to argue in court that disclosing information about the sponsorship would 'offend' BP or undermine its trust in the gallery.

The campaigners won the previous case. But still, the gallery was only bound to disclose the amounts BP gave up until 2006 - which, incidentally, amounted for not more than 0.5% of Tate's total income. Hence the new appeal for disclosure on figures past that date.

What does it take to go BP-free?

Since then, in a major victory for the movement for fossil-free culture, it was announced that Tate's sponsorship by BP was ending.

BP spokesperson Shannon Wiseman claimed to us that Tate and BP's breakup had nothing to do with pressure from artists, protestors, or museum-goers or as a result of last year's informational tribunal. She said,

"We are facing an extremely challenging business environment and are reducing spending and taking many difficult decisions throughout BP. As a result we have reluctantly decided not to renew our long-term partnership with Tate Britain."

Tellingly, a Tate spokesperson provided a statement that matches BP's almost word-for-word.

Why is Tate really obfuscating sponsorship details? Does BP's influence end as the sponsorship deal ends? Judging by those press statements, we can be pretty certain it does not. And will the new Freedom of Information court case help expose how BP runs its sponsored museums? Let's hope so.

The Information Tribunal hearing is open to the public and takes place from 10am on 11 May at Court H, Residential Property Tribunal, 10 Alfred Place, London WC1E 7LR. Read the full report by Art Not Oil. Call on the new director of the British Museum to drop BP here.

Photo: Art Not Oil perform in the British Museum, credit to Natasha Quarmby
---
8 May 2016:

Labour's results are better than you'd know from the pre-prepared despair by the media and some internal critics, writes Michael Calderbank

Even before the polls had closed, the attacks from Corbyn's opponents had started. It didn't matter what the actual results were – the narrative had been set already. Lord Kinnock, that fount of wisdom on electoral success, opined in Prospect magazine that the leadership's policies 'are an impediment to getting the kind of support we need'. Neil Coyle MP pre-briefed BBC Newsnight that Labour was 'moving further away' from election victory under 2020 under Corbyn.

The pollsters, influenced by assumptions of the Westminster bubble, projected substantial losses for Labour. Peter Kellner spoke of a 'consensus' that 150-200 seats would be lost. Corbyn's Labour would lose control of a slew of councils it previously ran. The party's internal number-cruncher Greg Cook was issuing similar warnings. They had already concluded that Labour had retreated into its ideological comfort zone, and decided to play primarily to its core vote – with adverse consequences in the key electoral battlegrounds in the South and East.

When the results came through, this pre-cooked story did not hold up. The losses on the scale predicted simply failed to materialise.

The verdict passed by voters across the country was substantially more positive. Far from having collapsed, Labour's national vote share was up on that achieved by Ed Miliband in last year's general election. Of course further progress still has to be made if we are to regain power in 2020. But the direction is generally positive, even despite the slew of media attacks, and dissent from the inside the parliamentary Labour Party.

Given that the corresponding local election results in 2012 represented a high water mark – as voters took the opportunity to vote against both of the coalition parties – it was always going to be difficult to make substantial advances this time round. MPs arguing Labour needed to be making hundreds of gains were setting a deliberate impossible target to paint a false picture of failure. They key is to be more successful than before in terms of sustaining forward momentum throughout the government's term and building a platform for a general election victory.

In actuality, Labour had a good deal to celebrate in England. London elected Sadiq Khan, with 57 per cent of first and second preference votes. The election of a Muslim mayor with such a handsome majority represented a clear rejection of the vile racist smear campaign run by allies of Lynton Crosby for the Tories. The London Assembly results saw Labour take the constituency seat of Merton and Wandsworth, previously a Tory stronghold. No adverse effect there.

Elsewhere, too, Labour performed better than expect outside its heartlands, retaining control of councils such as Southampton, Crawley, Hastings, Exeter, Nuneaton, and Redditch. In Worcester, previously regarded as a 'barometer' seat in Middle England, Labour made gains to deny the Tories a majority.

One of the few disappointing results in England was Labour's loss of Dudley council to no overall control. Here the local Labour MP, a loud-mouthed enemy of the Corbyn leadership without care for the consequences of his own irresponsible behaviour, had never ceased to publicly attack his own party leadership and undermine the credibility of his own party's policies. Dudley Labour councillors can feel rightly aggrieved that their MP has undermined their own electoral fortunes. This demonstrates the need for the party to unite ensure that hostile elements within the parliamentary Labour Party are confronted, isolated and effectively silenced going forward.

There are no grounds for complacency. Holding our ground was merely the first prerequisite for extending our support, and picking up the momentum we'll need as we approach 2020 – or earlier, if the civil war in the Tories escalates in the wake of the EU referendum. If Labour fails to recover some ground in Scotland, the gains needed in England to take back power will be all the greater. Yet the Corbyn leadership has proved popular in large parts of the country, including those marginals we'll need to win back. The Cassandras have been left looking foolish. It's now time for all sections of the party to unite behind our leader. Those giving ammunition to our opponents must be told that they will not be allowed to wreck our chances in future.

This piece was first published by Labour Briefing.
---
3 May 2016:

Cat Hobbs introduces an event on 7 May looking at public ownership in the 21st century


Public ownership. Public services, public spaces, public resources that work for all of us and belong to all of us. Some say it belongs in the past. We know it belongs in the future.

Of course, it's true that we're on the back foot after 30 years of being told that 'private is best'. We're living in a country:





Where the government is completely committed to transferring property from public to private hands



Where George Osborne is trying to sell off national treasures like the Land Registry as fast as he can



Where outsourcing of public services to private companies doubled under the last government



Where the government uses cooperatives and charities as an excuse for more procurement - but big corporations often get the contracts



Where inequality is growing and people who most need resources are denied them



Where cuts to public services are biting and undermining dedicated public sector workers



Where public space is being taken over by corporations



But there are signs of hope too. We're also living in a world:


So what will things look like in 2030? It's up for grabs – and up to you. How do we respond to changes in technology (like the potential for robots to deliver public services)? How do we create the future we want to see? Let's talk about the future of public ownership.

Join us at Own the Future: Public ownership in the 21st century, Saturday 7 May in London. Get your ticket now.
---
26 April 2016:

There are just days left to reach the £2,500 target
1. The mainstream media is 94% white

There is a lot wrong with the mainstream media, from the vast influence of moguls like Rupert Murdoch, to the pressure that journalists are under to avoid upsetting advertising clients. A lesser-known fact is that 94% of British journalists are white and almost all are graduates, with 54% of leading print journalists having been to Oxford or Cambridge.

This presents an obvious problem for a democratic society, where the media as the 'fourth estate' is expected to alert and mobilize public opinion to injustices; set the political agenda, and allow political pluralism to express itself. Despite the best efforts of individual journalists, being part of a fairly homogenous group means they will have blind spots. A privileged elite are unlikely to pursue major changes to the status quo and if they do, they're unlikely to feel the same sense of urgency as a person who has first-hand experience of oppression.

2. Alternative media is too white

Calls to 'be the media' and 'have your say' are more readily picked up by people who have both the confidence to speak out and the time away from work to craft their words. At Red Pepper magazine we welcome all enquiries but we can't help noticing that most people who get in touch are graduates, sometimes with multiple degrees, looking for voluntary work experience in the media. We aim to be a platform for the marginalised and oppressed who are often busy surviving and fighting on the front lines, so we recognise that we need to offer support and encouragement to particular groups if we're to encompass a diverse range of viewpoints.

That is why we're fundraising for a black journalism fund, so we can recruit a section editor with first-hand experience of the struggle for black liberation. We hope this will help set a trend across the alternative and mainstream press in the UK, as Guardian journalist Gary Younge says: "It is remarkable that for all the column inches written about race that there is not a single print journalist with the specific responsibility of reporting and researching it. Funding one is not just a good idea in itself - it will raise the standards elsewhere".

3. Talk is cheap

If you're part of a project seeking social justice then simply stating that you value diversity doesn't compare to actively considering barriers to entry and breaking them down. Listening to others is the first step. The black journalism fund was inspired by the work of groups such as the Black Dissidents and Media Diversified. For instance the social media campaign #AllWhiteFrontPages shows that frequently every image featured on the front pages of the national newspapers is of a white person - when the media does cover stories of people from diverse backgrounds the stories are often negative, reinforcing stereotypes. At Red Pepper we're making it a priority support black and minority activist writers to cover the Black Lives Matter movement, black feminism, detention centres, borders, the impacts of climate change, the sharp edge of austerity and more.

4. Radical media matters

Strong and successful social movements need sympathetic media to raise debates, strategise, call for support and bear witness. Although classroom history books will simplify great victories so only moments or charismatic individuals of movements are remembered, the reality of success involves a hell of a lot of organising. Red Pepper exists as a resource for activists and aims to react to the most pressing needs of the day, as well as being a space to imagine what a better world could look like.

If you can afford to, please consider donating to the blackjournalism fund. We operate on a shoestring budget so the smallest of contributions will have an impact.
---
21 April 2016:

Democracy takes a hit as local politicians play dirty against anti-cuts campaigners, write Sarah Cheverton and Tom Sykes
Sisters Uncut stage a protest at a meeting of Portsmouth City Council. Photo: Sisters Uncut

Last month our hyperlocal news website Star & Crescent was the first media outlet to report on a leaked email sent by Conservative councillor Scott Harris in which he expressed that 'it might be a good idea to play dirty' in the 2016 local elections.

In the email—sent to all Portsmouth's Conservative councillors—Harris revealed that he was 'compiling some stuff' on Jon Woods, a social worker for Portsmouth City Council and a trade union activist; on Sameen Farouk, a local resident and campaigner; and on Shonagh Dillon, CEO of a local charity, Aurora New Dawn. All three individuals have been active critics of Portsmouth City Council's cuts programme. One of the tactics proposed in the email was a vindictive complaint to Farouk's employer, with the intention of getting him dismissed from his job.

After the story broke, Harris faced calls to resign and apologised for his conduct (if only to Farouk). Despite this, local Conservative councillors have continued to make negative statements about Farouk and Aurora New Dawn.

Council leader Donna Jones described Farouk's behaviour as 'horrific' in an interview with The News. The reason why? Mr Farouk had submitted Freedom of Information requests on a variety of local issues, none of which have been challenged by the Council as 'vexatious' (the mechanism by which local authorities can challenge FOI requests that are frequent, offensive, or overly burdensome). Readers unfamiliar with the regulations and processes around FOIs were implicitly encouraged to believe the leader is right to assess as 'horrific' a citizen's democratic right to interrogate the decisions of local government.

Jones also made a series of false claims in The News about Aurora New Dawn, a Hampshire charity working with victims of domestic and sexual violence. She said that the charity was complicit in a 'hate campaign' questioning the wisdom of reducing the council's specialist service for domestic violence victims by £180k without any clear plans to safeguard victims and their families.

Despite the campaign against cuts to services for domestic violence victims—led by national direct action group Sisters Uncut, and supported by the End Violence Against Women coalition, trade unions and Star & Crescent—clearly being run and supported by a diversity of partners, Conservative councillor Rob New—the cabinet member responsible for cuts to domestic violence services—has also targeted Aurora New Dawn.

He has blamed Shonagh Dillon personally for 'orchestrating a campaign of protest' and has strongly implicated her in a direct action taken by Sisters Uncut at a Council meeting in December. According to New, Dillon used 'her domestic abuse provider [sic] to further a hurricane of disruption that was led by Sisters Uncut against this city council.'

Like Jones, New has offered no evidence for his claims and was quickly proven wrong when a Sisters Uncut spokesperson stated that they were solely responsible for the direct action.

Democracy compromised?

Whilst the accusations made by Portsmouth councillors are no doubt damaging on their own terms, together they reveal the presence of a more worrying trend, with serious implications for local democracy.

Jones has attacked the protest against council cuts by stating that 'we have had democracy compromised in Portsmouth.' She was joined in this sentiment by John Ferrett, the right-wing leader of Portsmouth's Labour group, who have entered into an informal coalition with the Conservatives and UKIP in Portsmouth and chosen to abstain on the most recent cuts. 'I'm not a fan of direct action in a democracy,' Ferrett tweeted.

For senior local politicians this shows a breath-taking ignorance of local politics. Almost all political progress made in the history of Portsmouth—from pamphleteering against the corruption of the monarchy in the 1810s to university students disrupting arms industry events two centuries later—has been won by 'ordinary' people standing up to elite interests, often by taking direct action.

A more critical observer might conclude that rather than local residents and a charity disrupting local democracy, it is being compromised by Portsmouth councillors themselves. When public servants like Scott Harris refuse to resign despite being caught conspiring against the very people they are supposed to represent, then local politicians start to look as arrogant, self-serving and disconnected as their national counterparts when they accept cash for questions or blow public money on cleaning their moats.

Thanks to the eccentricities of our electoral system, the Tories narrowly won the 2015 general election with only 24% of the eligible vote. Jones and other Tories conclude from this that their austerity agenda has broad public support. So when they make damaging cuts that directly contradict the will and needs of the people, nobody should be surprised when groups like Sisters Uncut resort to peaceful direct action as the only available democratic platform left. That local councillors are quick to attack political resistance by the electorate to their policies as abuse, as 'horrific' and as somehow against the ethos of democracy itself speaks to a level of privilege and power that should concern us all.

Yet perhaps these actions are less surprising in a political landscape where the Prime Minister responds to criticism over closing children's centres by telling his opponent to 'put on a proper suit, do up your tie and sing the national anthem.' The electorate are becoming increasingly accustomed to a politics that harnesses insults, insinuation and intimidation instead of evidence-based debate—but at what price?

Whether by chance or design, the worst consequence of the smear campaign in Portsmouth has been to deflect attention away from the real scandal: needless Tory cuts that will almost certainly result in the deaths of more Portsmouth women. Alongside these victims are the voters of Portsmouth who are caught in an elaborate web of 'he said, she said' facilitated and encouraged by the mainstream local press. Far more of a threat to democracy than direct action, this dirty politics is causing the electorate to become ever more disengaged and disenfranchised with politicians at a time when it has never been more important to take a stand.
---